POV Holder:
Paul
POV Competition
June, 24th
POV Used
?
POV Ceremony
June, 26th
HOH
Nicole
Next HOH
June, 30
Roadkill Competition Winner:
Frank
Original Nominations:
Paulie, Jozea, and Paul
After POV Nominations:
? and ?
Have Nots
?
Watch the 1st WEEK of the live feeds for FREE:

Big Brother 18 Alliances Help Guide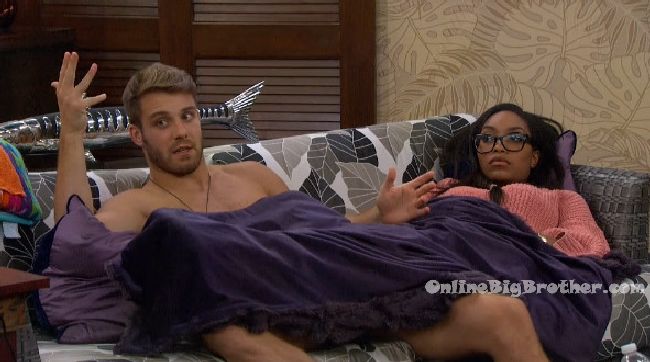 8:45pm Cam 1-2 HOH room – Paulie, Nicole, Corey, Zakiyah are talking. Frank tells Paulie that on his season he was up on the block and stayed to an 8-1 vote. ..and I didn't pack. Frank tells Paulie to not even pack. Paulie says I'm convinced I'm going to have votes against me from him (Victor) and Natalie. Frank says the only other person I think might be Bronte and Paul. Paulie says if I have four votes against me … I'll be like Paul you're dead to me, Vic you're dead to me, Nat you're dead to me, Bronte you're dead to me. Paulie says they think only one person is against them.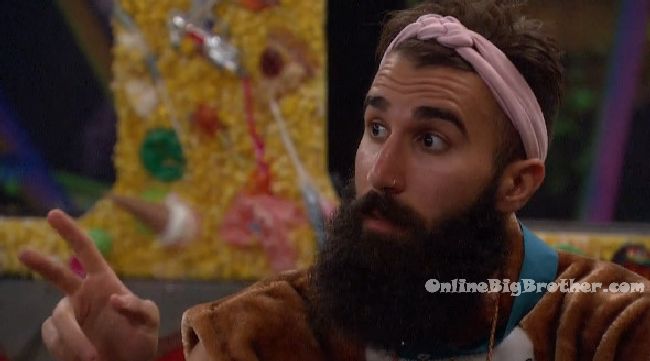 8:50pm – 9:10pm Cam 3-4 In the Havenot Room – Victor, Paul and Jozea. Paul says the next HOH winner needs to get James out. He's always locking eyes with me. Frank is not worried right now because eh knows James one. James is a lot more of a threat than Nicole is. Vic says Oh I know he is. Pual says that Nicole sasy I didn't put you on the block because I like you more than the other guys. Victor says that's why I don't think she's a threat right now. Pual says James is the brains behind it. James, Day, Bronte and Natalie join them. James asks having a meeting up in this b***H?! What's going down?! Vic says if we have all these votes to get Paulie out then we're good. If we have 5 and we have Frank then that's six. James says ya'll got my vote. Count me in the six. Bronte if Paulie comes to us and asks us to vote for him … they're going to use it against us to tear us a part. Don't be paranoid. Jozea says I honestly know that we as the union don't have it (Roadkill Competition power) We run this house! Tiffany and Michelle join them. James and Victor leave. Jozea says I only had one agenda .. I only want one person out. I don't have an agenda against anyone else.
Help support us at no extra cost to you by getting your feeds through us: CBS All Access

9:15pm Cam 1-2 Bathroom – Bronte, James, Natalie and Frank are in the bathroom talking. Victor and Paul join them. Paul tells Natalie and Bronte that as soon as they (Bronte and Natalie) left the room Tiffany and Michelle asked why did they leave the room. That was so shady! Paulie joins them. Paul asks Paulie any interesting sh*t going on up there? Pualie laughs and asks anything interesting happening down here?!
Safari room – James, Natalie and Bronte. Bronte says at the end of the day they're going to crumble. James says we have to win HOH. Bronte says they're so paranoid ..like if they say there's a meeting and you say you don't want to go .. they get all paranoid why you don't want to go! Hitler status! There's nothing I can do to save Bridgette ..if they want her out. I can't put my butt on the line.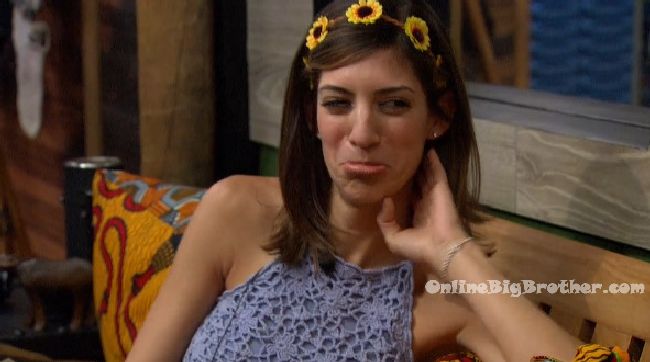 9:20pm – 9:30pm Cam 1-2 Paul and Paulie are talking in the bathroom. Paulie says silence is golden. Paul asks are you questioning me? Paulie says no. I've said it since the beginning PP.

9:35pm Cam 1-2 Havenot room – Tiffany tells Paulie that everyone is voting him (Jozea) out. I've talked to 9 people and they're all voting him out. Paulie asks what is it Vic and Nat. Tiffany says yeah. Zakiyah says now you know which b***hes you can trust and which you can't. Paulie says I just don't want to be blindsided. Tiffany says you won't. Zakiyah says he is going to try some real slick stuff when he (Jozea) leaves the house. He wants to be remembered. Tiffany says he'll be remembered as the worst player in bb history. Paulie busts out of the havenot room and catches Natalie walking away and Paul sitting on the floor outside the room. Paulie goes back to the havenot room and tells Tiffany and Zak. Paulie says I can't f**king stand Natalie's f**king voice.
9:50pm Cam 3-4 In the Bathroom – Frank tells Paul that people don't want to be seen on the wrong side of the majority on the first vote. If you vote out Paulie and he stays and wins HOH … who do you think he's going to put up? The three people that voted against him. Frank tells Paul you're good. You beast'd it out and won but even if you stayed up, I don't think you would have gone home. Paul says I just want to cruise through and have fun. Frank says next tim you get a chance with Nicole. YOu kind of said this thing "What do you think about that B***H!" And I don't think you meant it towards her but you don't want other people thinking that. I think you were just saying it to the cameras but going forward I think its best to cover your bases. Paul says yeah I was going to talk to her. Frank says I jsut don't think in the heat of the moment I don't think people take losses as good brother.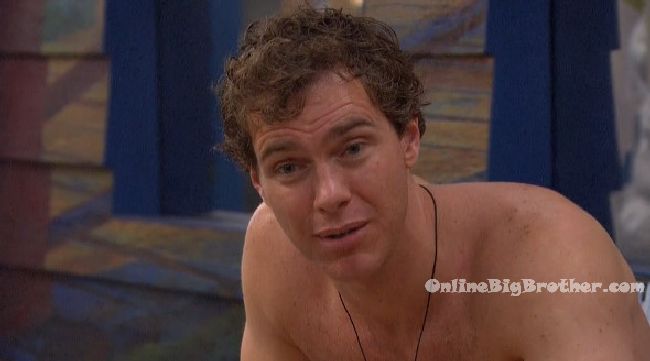 10pm In the bedroom – Tiffany tells Paulie that she wants to tell him something but just wanted to see where his head was at. (She's about to tell him about being Vanessa's sister but Frank and James join them.) Frank talks about how he doesn't like how people are bully Bridgette and how he's not going to let it happen.
10:20pm Cam 3-4 HOH room – Corey, Zakiyah and Victor are talking about girls that reply to guys that text them when they're in a relationship.
Havenot room – Paul tells Paulie the one thing about me .. you don't need to worry about me. Paulie says I don't. I was just messing with you. Paulie says I've got your back so have my back come Thursday. Pual says I've got you. Paulie says now can you enjoy your veto win!? You win and you're stressing out.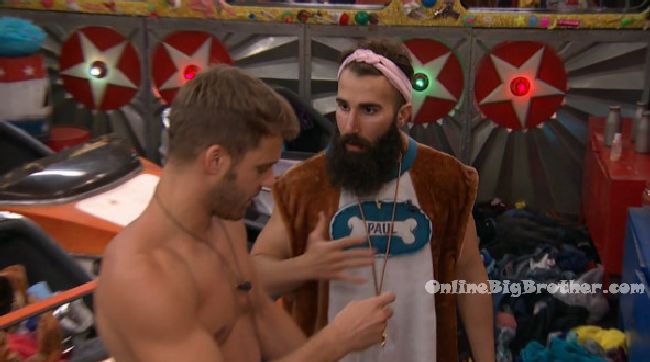 10:35pm In the bedroom – Tiffany tells James that if Paulie comes back if he could leave so she can talk to him. She tells him that she's going to tell Paulie about being Vanessa's sister. He'll know that you know but not all the newbies know and I'd like to keep it that way.