POV Holder:
Paul
POV Competition
June, 24th
POV Used
?
POV Ceremony
June, 26th
HOH
Nicole
Next HOH
June, 30
Roadkill Competition Winner:
Frank
Original Nominations:
Paulie, Jozea, and Paul
After POV Nominations:
? and ?
Have Nots
?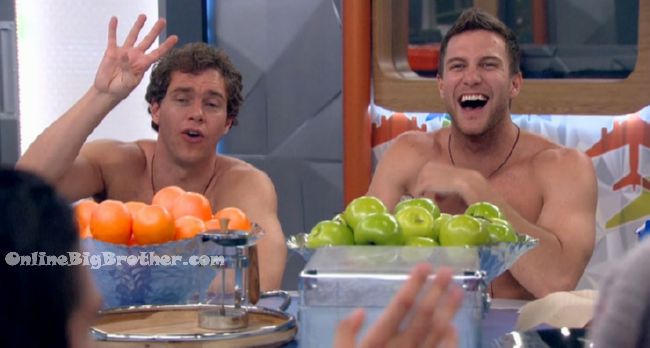 12:06am Cam 1-4 Truth or dare continues in the Kitchen
12:51am Frank and Corey
Moment before Corey was talking to Natalie and James about his truth or dare question from Natalie. Corey is upset by one of the questions, Natalie asked him something about 2 different sexual partners in a 24 hours period. His answer was he has had two with 24 hours. Thinks it looks bad.
Frank tells him he can flip Natalie, Paul and Bronte. Frank says he was "fu***ng" with Natalie in the bathroom, and he told her next week Thursday morning he'll tell her who to vote for.
Frank – I really think I can flip them right there and then.. We don't need to but I can.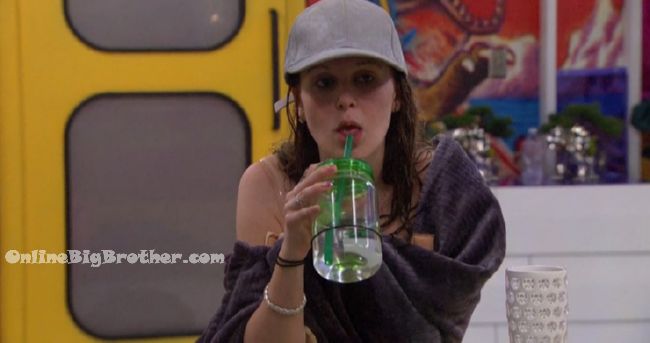 1:00am Frank, Da'Vonne and Michelle
Frank telling them he can flip Bronte, Natalie and James, "But we don't need to"
Da'Vonne leaves..
Michelle doesn't trust Bronte thinks she's two faced and has a mean streak, "Did you hear her on truth and dare? She was being rude" Frank can see the mean streak, doesn't think she's two faced, "She's not mean she's a nice sweet girl she's reserved.. .she was embarrassed, I actually think she is a nice girl she got caught up in the wrong group". She will be targeting Victor. Frank agrees. Frank says "The Boys" Like Corey want to get Paul out before Victor but Frank wants to get Joeza out this week and Victor next out. Frank says it will be 7-4 for Jozea to leave. Da'Vonne joins them. Frank goes on about the other newbies getting blindsided by this. Michelle points out Victor thinks all the votes are going to keep Jozea.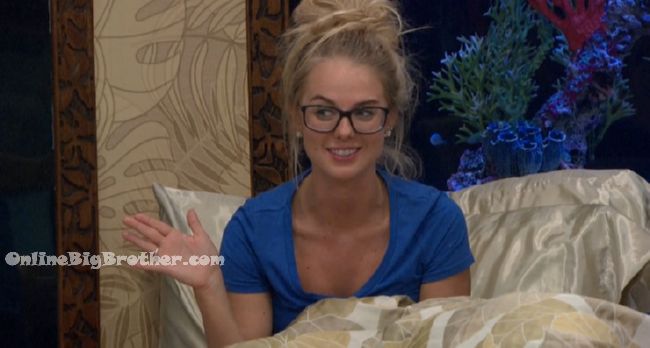 1:07am HOH Nicole and Da'Vonne
Sounds like Nicole said during Truth or dare that she liked or is attracted to Corey
Nicole tells Da that Corey is super cute. Da'Vonne teaes here says she liked him and wants to "kiss him" Nicole blames it on the alcohol they were given.
Nicole – I'm done with Big Brother Boys
Da – That's a Big brother MAN honey.. That's a MAN
Nicole – PLease save me.. Will you make things not awkward.. He's told me I'm cute but I've never reciprocated
Da'Vonne says Corey has manners, "He's a sweet guy, He's tall.."
Nicole – I've never told a boy he's cute to his face… I think he's cute but I'm not into it.. I'm here to win
Da'Vonne – that's fine.. But the way he watched you going up the stairs,,, Man he's been waiting for you for something.
Nicole – God he's now going to try and get me out of the house…
Da'Vonne – no..
Nicole says Victor picks on Corey
Da'Vonne says Zakiyah is sleeping with Frank.
Nicole is surprised there isn't much room in the bed. Da'Vonne is surprised to.
Nicole leaves to get pizza, Da'Vonne talks to the camera says she thinks her and Nicole are going to be friends for life… DA'Vonne loves Nicole, Sober Nicole and Drunk Nicole she likes them both. Nicole comes back up.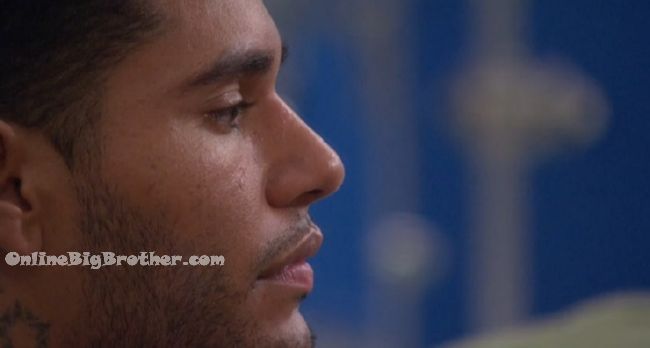 2:11am Jozea waiting for the meeting to start..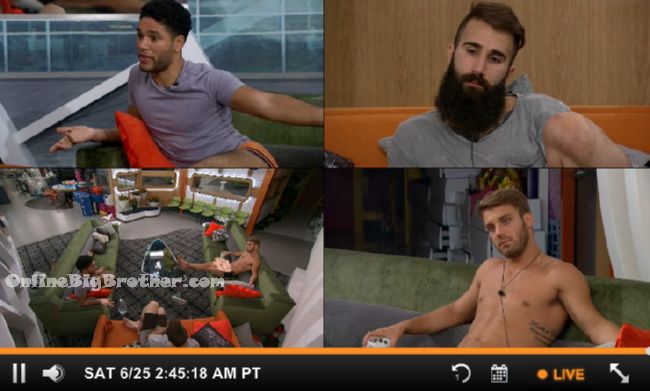 2:44am 3:45am Paulie, Jozea and Paul
(Hard to make sense of this conversation.. Jozea and Paul kinda rambling)
Jozea says they had the perfect time to call a meeting they had everyone in their alliance collected in the living room.
Paul says if there's 1 or 2 people missing it's easier to relay information.
Paulie says Tiffany doesn't give up a lot of information "Very smart"
Paulie asks them why they feel so comfortable with Da'Vonne.
Joeza says him and Da have the same events in their background, "Upbringing" Joeza trusts her, "We connect.. I Vibe with her.. I trust her she trust me that's what it is"
Paulie asks him what he went through. Jozea doesn't want to get into it, rambles on. Paul rambles about the nature of the game, eye contact, etc..
Paul gets called out by Big Brother to move the microphone lower indicated they can't get clear audio from him.
Paul goes on about being in every situation already, he knows what's it's like to be on slop, He wasn't confident going into this game, he thought he was going to lose the POV, Last night he couldn't sleep.
"This whole game is a f***g gamble"
"Hindsight is 20/20"
"They (Production) want us to get ahead of ourselves"
Paul – lets talk about something uncomfortable..
Paul asks Paulie where would the the votes go if it stays Paulie and Joeza on the block
Paulie – I don't know man.. I feel .. against me
Paul – why.. is it because you haven't connected with them.
Paul says he won't vote again Joeza or Paulie, Neither will Vic.
Jozea – there's 500 hundred thousand dollars on the line.
Paul – it's a gamble it's a game
Paul – it's going to get to the point where people are going to hurt people's feelings
Paulie says he has no idea who the renomination will be. Paul thinks it's going to be a girl from Paulie's team or it's another strong guy like Frank.
Jozea – I'm always 10 steps ahead all the f***g time… That girl will never beat me
Paul – the advice Frank and James gave me.. Stay calm stay cool.. they always told me f***g take it easy
Paul – they've been on the show before they must know something
Paulie – mmmmhmmmm
Joeza says the roadkill winner has as much power as Nicole. "Whoever the roadkill bitch is.. just as much"
It's 3:46am the meeting of minds continues..
Paul – No matter what a strong guy will go home
Joeza – that what they've wanted
Paul – we're already outnumbered
Jozea – Glenn's gone
Pau l- these girls aren't f***g stupid
Paulie says if they go down 2 guys they're finished.
Paul – you boys just gotta keep your cool
Paulie says he keeps his cool. Goes over the votes says if they have the 5 votes Joeza says they have as long as one of those 5 don't go up they will be fine.
Paulie – it's a done deal
Paul – we're fine
Jozea – my brain is hurting i'm stressed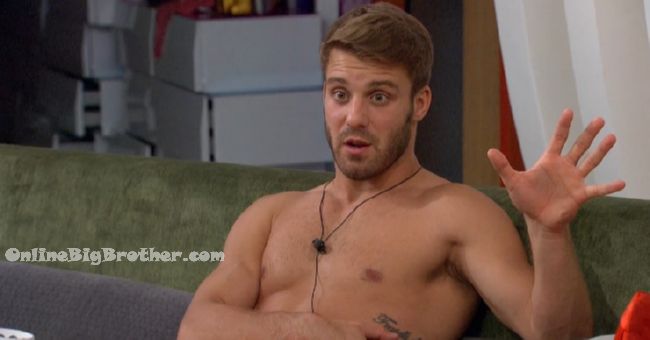 4:02am Paul leaves Paulie and Jozea.
Paulie goes over their numbers Bronte, Zakiyah, Paul, Victor are on board with them.
Paulie – You got Da and I mean Da likes me to.. They're Frank and JAmes..
Paulie – that almost puts 7 guaranteed votes against that other person (Whoever the roadkill renom is)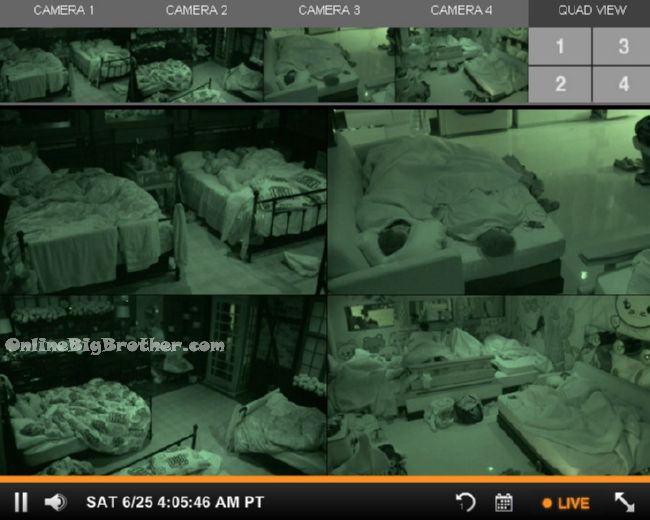 They decide to go to bed.. All houseguests sleeping.
8:01am All feeds on sleeping houseguests.