If you plan on buying anything from Amazon. Use this link Amazon home
Doesn't cost you anything and we get a small cut.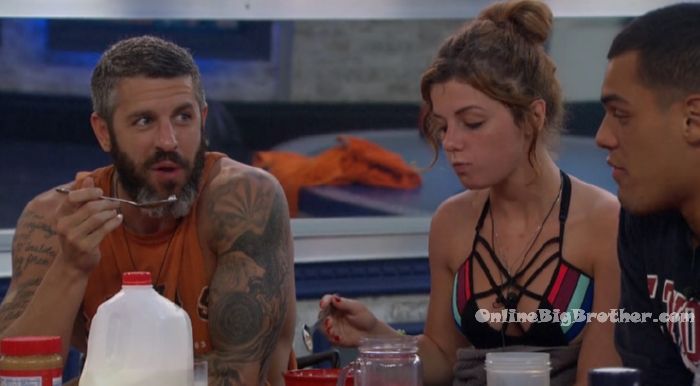 9pm Kitchen – Josh, Matt and Raven.
Matt – I've had an awesome time. Josh – you've been a straight shooter. Raven – you know what he's won? He won a gypsy! Matt – not a bad prize. Josh – as soon as I walk out you better greet me with a f**king bottle. Matt – I don't want to see you but if I do. I will be so pissed if I see one of you guys next week.. or right after or this week. Josh – you won't. If you think I turned it up on Mark to throw him off.. you have no f**king clue. Raven – what is going to happen on Thursday if he leaves, are you going to turn it up? Josh – we can't. We have to play it off like its the house against Matt. And then its a whole different ball game. Josh to Raven – you can't explode. Matt – I am very excited to be friends with Paul after the show. Matt and Raven head to bed. Raven – on a scale of 1 – 10 how much are you going to miss me? Matt – Like a 13! Raven – nailed it.

See what they can't show you on TV Try the live feeds for FREE!

10:05pm HOH room – Paul and Christmas.
Christmas – I don't mind taking the shot. I've talked to Alex and she has offered to go up. I just need you to have my back after and to help me do damage control. Paul – I will always damage control for you. Christmas – I know. Paul – I think we're in a pretty sweet spot right now. You've been talking to Matt and Raven and they feel pretty comfortable with us right now, right? Christmas – they want me to have it or Josh. Paul – perfect. They don't associate us three as a thing. Same with Alex and Jason, they think we're just pawns in their game. All we need to do is not f**k up. Christmas – I've been telling Josh not to tell people what he is thinking. Answer questions, with questions. Be real f**king vague with everybody. Paul – once we take Jason out we can keep Kevin under the wraps. The only thing here is clipping Raven. When? At five? Christmas – yes. Paul – so Jason and then Alex. Christmas – I would prefer Jason before Alex. Paul – so Jason, Alex, Kevin, that's the order. Paul talks about faking a fight with Christmas so "we can separate". Paul – we need to just keep pumping Alex to her. If we get Jason and Alex out I can give you 100% guarantee we will make it to the final 3. Kevin wants to take a shot at Alex. He would put up Alex and Raven. Once Jason is gone I can really see him on me and him final 2 and then we clip him. Paul heads down stairs.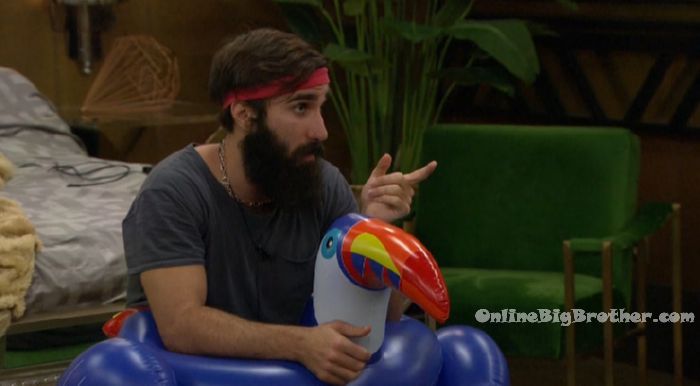 10:10pm Backyard – Jason and Kevin.
Kevin – oh my god I hope I win HOH! I'm only going to put one person (Alex) up twice! I've got no one else to put up. I'm going to put her up first and second. Like in the DR can I put her up twice. Can you put two pictures of her up? Jason laughs. Kevin – she is doing this for no reason. It wasn't a bar fight. Once you and Paul came I stopped and walked away. Jason – I know, it was no worse than the pots and pans. Kevin – thank you. I was no worse than the Mark thing. He threw sh*t in Josh's eyes. Jason – its because its the new thing. I don't know how to get back to ground zero here. I don't know how to protect you. I don't know how to protect me. Kevin – just don't vote against me and I won't vote against you. Jason – I won't. Kevin – is Alex going to vote against me? Jason – you're not on the block! You're not going on the block. Kevin – you know what they should do is whoever wins HOH put her on the block .. when it's 6 I'll go up. Don't put me up against her, you know what I mean? Raven is going up next right? Jason – f**K yes! Kevin – I say we get Raven out first this week. Shock the sh*t out of Matt. He'll have to do another week in the havenots because he gave it up. Wouldn't that be shocking if she left and he was here. Jason – just keep being Kevin. Kevin – I will but is she going to keep standing beside me being a little a##hole? Jason – just act like she doesn't exist. Kevin – clearly no one thinks I am actually going to harm someone in the house. Alex joins them.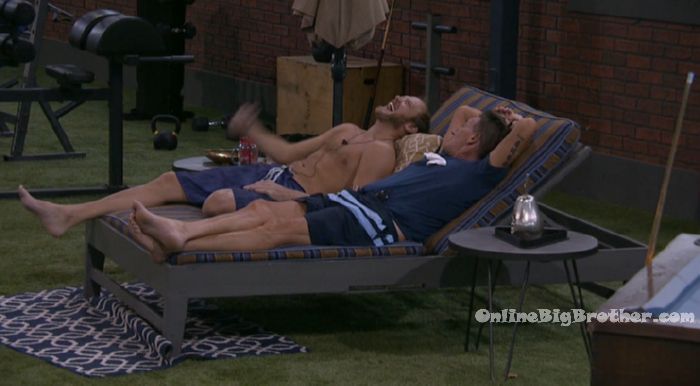 10:55pm HOH room. Paul and Christmas
Paul – I just talked to Alex and said if we throw it to Josh and Christmas they can take the shot at Raven and Kevin. We don't have to get blood on our hands. She was like yeah, yeah, definitely we need to do that. So we just have to keep selling it to her. Keep telling her your distaste for Raven and Kevin. Then I went to Raven and said that Alex is on board with throwing it to Josh and Christmas but I don't think she will ever throw it to you, so you just need to out beat Kevin. I told her code word is Tray-ho. If I say anything about that she is to drop. It will be a tough next two weeks. Paul – I wouldn't be surprised if someone tries to take a shot at me. Alex joins them.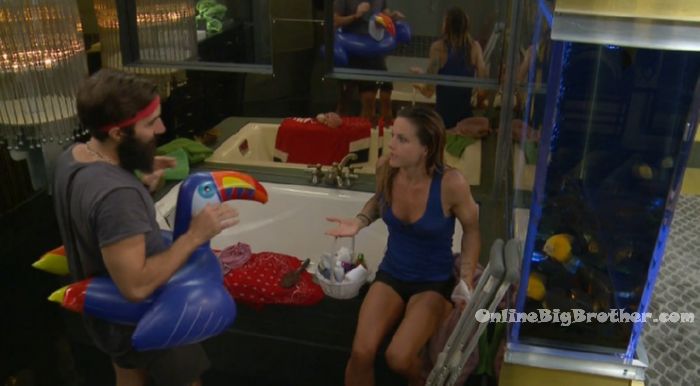 11:40pm HOH room – Paul and Josh.
Paul tells Josh that he confirmed with Raven and Alex that they'll throw it. Paul – I'm going to get Raven to drop off immediately. Josh – what's it going to be? Paul – I don't know, you just have to survive dog! Do your best to survive because Alex isn't dropping until Alex is out. Or maybe I can just get Kevin to throw it to me. Josh – who would you go after? Paul – I don't know. Josh – who would you tell him you would go after? You could say me. Paul – so I was talking to Christmas and after Jason, I think Raven might take a shot at me. Josh – I don't think she would.
Paul – should I start promising them to get them far? I don't want to start going around saying sh*t like that unless you and Christmas trust me 500%. Josh – I trust you 500%. Josh – Raven and Kevin are never going to compare notes. Paul – in any scenario Alex and Jason go up with Kevin as the replacement. Josh – we need to split them up ASAP!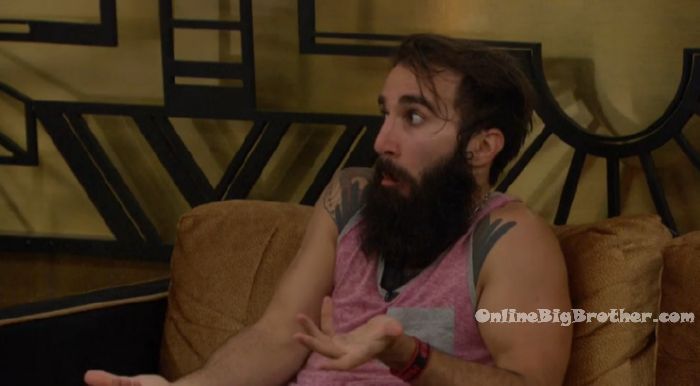 12:30am Paul, Josh and Christmas.
Josh – If I was in a serious relationship, I wouldn't be here. Christmas – why? Josh – because when I'm in a serious relationship I get very consumed. Paul – why does she eat you? Christmas – have you ever been in love? Josh – once. Christmas – tell me about it. Josh – girls get very attached and clingy. If I'm not in love, I am not going to waste my time. Josh – I feel like she was the one that got away. Christmas – why are you still with her. Josh – because I f**ked up. Christmas – is it repairable? Josh – we've said we would always be in each others lives even if we got married. Paul – you tell her to f**k off. Christmas – she wants to keep you on a string. Paul – you tell her if you get married you will never speak to her again because you will be focused on your life. Christmas – if you get married and you still talk to your ex like that, then you shouldn't get married. You have to release her to be able to fall in love again. Josh – I've dated older girls. Paul – how old. Josh – 2 to 3 years older. Like Elena. Josh – girls like Elena drives me nuts. Christmas – why? Paul – because you like sassy b***hes.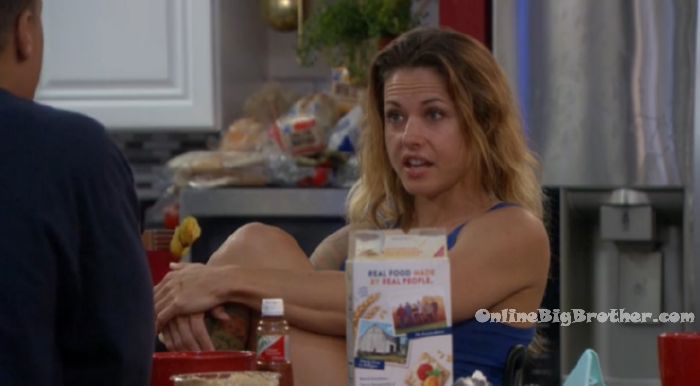 12:55am Alex hides in the bathroom vanity and scares Jason.
Alex scares Jason @bigbspoilers #BB19 pic.twitter.com/WcGLOoFniX

— Dawg (@DawgsBigBrother) August 29, 2017
1:55am – 3:10am Lounge room. Paul talking to the camera.
Paul – so my plan right now.. final 8, so I told you guys about the pairs. Christmas and Josh, Alex and Jason, Matt and Raven, and Kevin. SO I positioned myself between the couples. I've been feeding Mat and Raven to take a shot at Jason and Alex. I've been telling Jason and Alex to take a shot a Matt and Raven. I convinced Jason not to use the veto so he drew a line in the sand between Matt & Raven and Jason & Alex. They f**king blew up. I've been promising Kevin I will take him to the end, even that is not going to happen. But at lease Kevin won't take a shot at me. Josh and Christmas are the real people I want to take to final 3 because I think I could win against either of them. Once Jason and Alex are out of this game, its a clear road for me to the end. This next two weeks will be the hardest of the entire season. I am pretty much getting the green light to tell everyone that I am going to take them to the end and keep me safe. I have Kevin, Josh, Christmas all pretty much promising to take me to the end. Paul continues to rant about the season and other random-ness.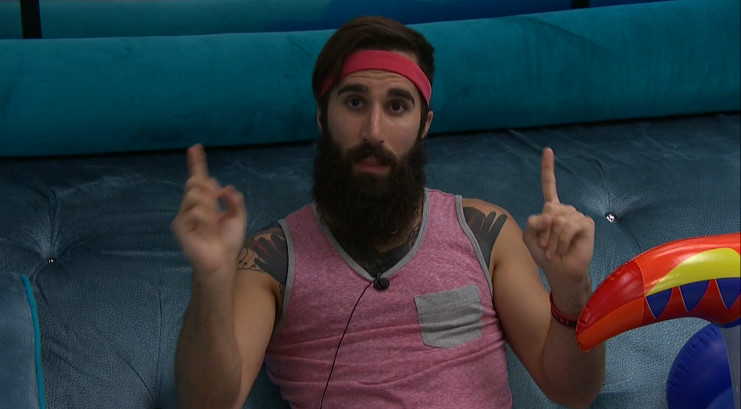 3:15am All the house are sleeping..
Donations help keep the lights on. If you would like to support the site please consider donating.
Links to the ranking system
Rank your house guests here
For those of you that like Statistics here are some expanded reports.