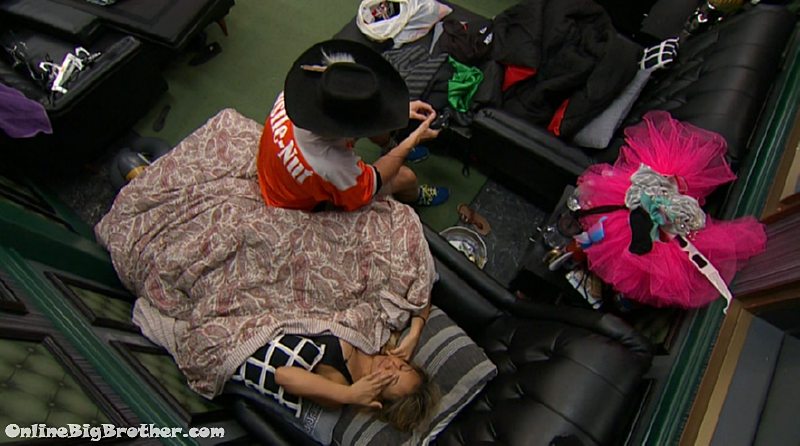 11:30am Jason and Alex
Jason didn't want to put Kevin up because he felt that Alex and Paul had a plan and if he had put Kevin up as a pawn everyone would have voted him out (correct)
Alex – I said we might I didn't know if we wanted to or not.. We wanted the option
Jason – why didn't you have that conversation with me
Alex- I did tell you, you didn't listen
Jason – apparently not in the right spot..
Alex – it's not a big deal Matt goes.. This is what Happens when you're HOH until the person leaves it's hard.
Alex – we're going to f*ing surprise him (Kevin) on Thursday.. F*ing Lay into him .. Scare the sh1t outta him (Not surprised that's the only game you guys have)
Alex – that's when we're going to bust out everyone and f*ing freak him out
Jason – why THursday
Alex – we have to wait until after HOH, he can't win
Alex – THursday on.. It might be Friday after Nominations.. He might wig out
Jason – That's when you want to do it
Kevin walks by
Alex – here he comes…. mother f*er ..
Alex says Kevin is so paranoid.
Jason – I told him this morning.. Kevin, we're a team.. I can't keep.. I feel like I'm protecting you for some reason.. I don't want to go home so if I'm protecting you I need to know why
Jason – he's like I have no f*ing idea.. I'm not lying..
Jason – he's f*ing swearing on everything
Jason says he's going to get his posse together Alex/Paul if they want to vote kevin out then he's going with them.
Jason – it's 2 vs 1
Alex – you can't say my name and Pauls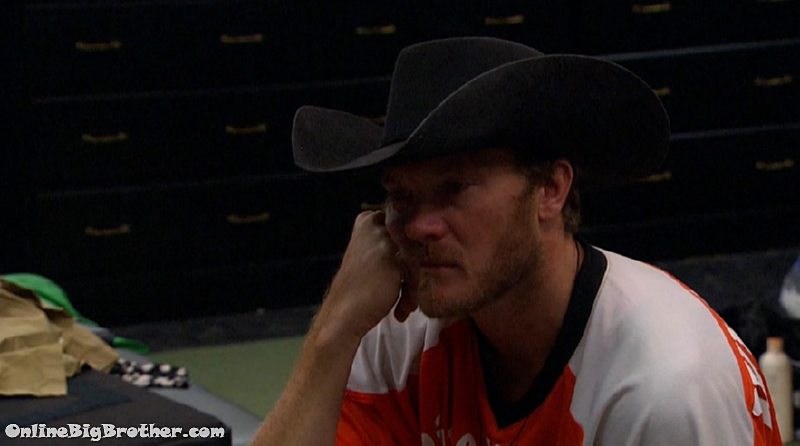 Kevin walks by again
Jason – he's a douche bag.. He just is..
Jason – I know what we're going to do we'll put up him and Raven (if alex wins HOH but they also think Xmas/JOsh/Paul are in on this plan)
Jason says all he thought was that they were going to scare Kevin
Alex – we're going to scare him
Jason – I thought we have
Alex – we're going to scare him when he's acting crazy.. We wanted to see what he would do
Jason – we saw it the other day
Alex – MAtt told me last night that he's (Kevin) going around throwing you under the bus
Alex – mother f*er, Jason f*ed up his game to save you (Kevin)
Alex says Matt is mad and Jason and Kevin but they think that Kevin is manipulating Jason and that's why Jason didn't put Kevin on the block.
Alex – I tell you he (kevin) wears your rag all the time he tries to do stuff with you
Alex says Kevin tried to take a piece of Xmas' cast "that's f*ing weird"
11:38:28am Alex – he steals my shi1t… He acts like a predator shows.. A murderer ..
Alex laughs
Alex – he establishes a connection with you and you can't get rid of him it's like Stockholm syndrome
Alex – he's like beating you.. But I love you./. Here's some food
Alex says Kevin was trying to get her out if she hadn't won the Veto when she did she would have been gone. (I swear Alex will blame Kevin for shooting JFK soon)
Alex – it's your HOH, we're not going to bully people and say this is what we're going to do
Alex about Kevin "I just don't like people that are condescending. He thinks we're stupid dumb kids
Alex – it's insane that he thinks he's so much older than us.. F* off .. he's not that much older than my parents he acts like he's so old
Alex – he's trying to be a weakling .. he says raven's pretending to be sick and stuff, we'll he's pretending to be old
Alex – he does the exact same thing she does.. (no)
ALex – he says I do everything for you guys
Jason- he hasn't don sh1t
Alex – exactly.. He tries to build a relationship with you so you feel bad, and you want to take him.
Jason brings up how Kevin calls him "Ja" now
Alex – it's a nickname
11:45:02am Alex – he sees a weakness, that's what ch!ld mol$sters do, they see which kids are going to f*ing tell.. They coddle them and they pet them it's called conditioning (WOW)
Alex – he conditioned you.. Now you are like I can't turn against my family member.. I can't turn him in even though he's doing all this f*ed up stuff.. I see it but
Jason – I feel like a real idiot.. (you are now that you believe Alex)
Alex – we wanted MAtt and raven pout anyways.. If you want to go that route that's fine
Alex says to "Drive him insane" talk about cows a sh1t to him
Alex says the only reason Kevin still talks to Jason is for information he's stopped asking Alex because she's like "NO"
Alex – if he wants to talk about game.. i'll be like remember when we used to talk game and you told xmas and would laugh about us that's why I don't talk game with you anymore.
Jason – that's the real reason right there.. you got cold hard evidence
Alex – we have to wait and play stupid.. then we'll bust that cap
Alex – it'll be a Big BRother history move (if they win HOH and nominated him)
Jason – you're caught red f*ing handed
Jason – I honestly want you or Paul to win.. if it's not me
Alex – if Kevin wins I'll be depressed.. if he comes in second I'll be depressed.. even if Matt and Raven won they haven't done anything
Jason says Matt can "s* his D!ck" Jason never told Raven that they were safe.
Jason – that' mother f*er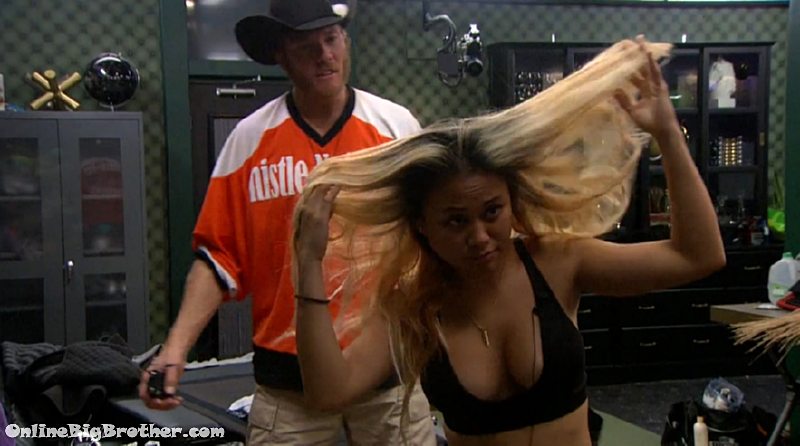 11:54am Alex and Jason.. Still going
Jason – sometimes you get b1tchy
Alex complains that someone broke her top drawer. Says it was either "her" (raven/Xmas) or that' mother f*er upstairs (kevin)
Jason looks at it says no problem he can fix that..
ALex – Why they trust us is because they trust me, everyone trusts us in the game because they trust me.. I showed them loyalty throughout the game.. they trust you because they trust me and I trust you
Alex – we need to stay calm.. And do what we need to do
Alex says Kevin stirs the pot and makes the paranoia himself.
(Somehow Alex told Kevin about her dad making 5 million dollars in the past.. )
Alex – he had no reason to come after Josh.. If you didn't win the money swear on your kid
Jason – you me have put everyone in the jury house on the block
Alex – I know that's why we have to keep xmas and Josh around they have to put up Kevin and raven and then we have to take shots at xmas and Josh
Alex – in the real world I'm super nice .. sometimes when I crack I get like this.. in here everything is amplified.
Jason – sometimes I'm worried if they are going to hate you.. I don't want them to hate you
Alex says she's warned Josh "when you get out here you'll see a lkot of sh1tty things I said about you and how much I hated you but you can watch the season and think that is what I think of you now or"
Jason – that was in the beginning because he f*ed us
Alex – or you can watch it (the season) and laugh and now I'm your friend
Alex – I think our friendship is real
Alex brings up all her stories are true but Kevin has admitted 1/2 of his stories are not true
Alex doesn't know when to believe Kevin
Alex – we'll if you are this big bad gangster do you really want to hang around with a bunch of kids and screw around
Jason – it's confusing
Alex – he's playing us all like we're stupid kids.. I'm not letting someone like that win and I'm not carrying him to the end
Alex says they have to keep Kevin nice and calm becuase he still thinks he has Jason and Paul in his pocket.
Alex – he's going to try and make it like a triangle
Jason – he's trying to, he wants to talk about you bad.. he wants to I can feel it
Jason – nobody is going to say something about Alex to me..
Jason called to the diary room
(Maybe time to start calling Alex potatohead)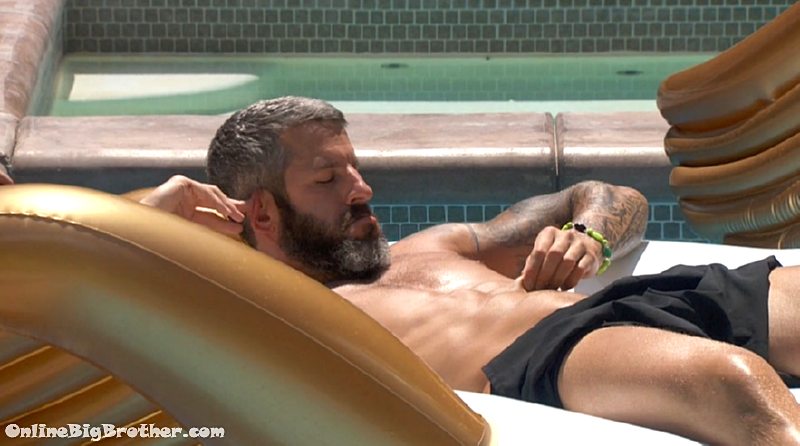 12:22pm one of the bigger flops in recent memory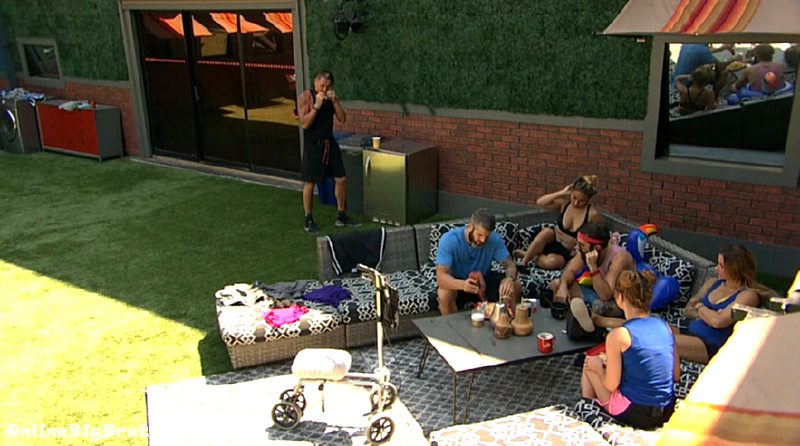 1:04pm ….
Kevin alone poolside the rest or them on the couch chit chatting..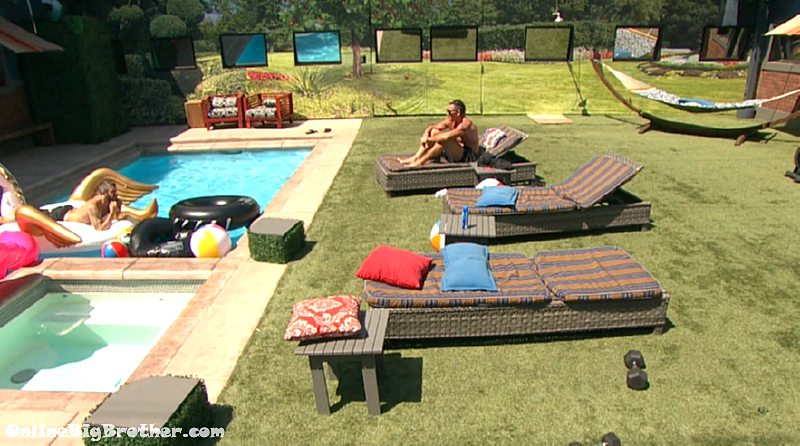 2:00pm Kevin and Matt
Kevin says he's not making it to the end he'll be in Jury in a week or two. The only thing he didn't tell people in the show was the 25K. Matt agreed this was a good idea.
Kevin says Alex has been badmouthing him because she doesn't like him and Jason together.
Kevin says his social game has been on point up until Alex started bad mouthing him.
Kevin boasts that he'll end up with the second most money in the game because of the 25K.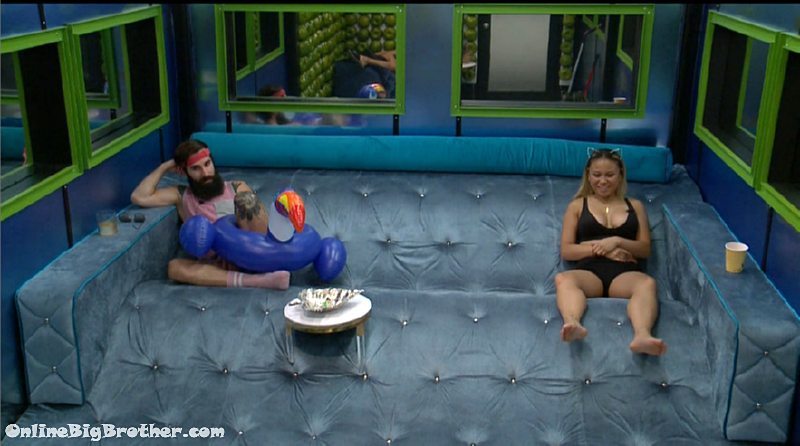 2:07pm ASPR Alex, Paul and Xmas
Xmas is saying that Matt is acting different now and Raven isn't liking it.
Alex – he's not listening to her no more.
Donations help keep the lights on. If you would like to support the site please consider donating.
Links to the ranking system
Rank your house guests here
For those of you that like Statistics here are some expanded reports.