(just a heads up I've reached my limit with this Kevin talk. I'm not going to continue repeating all these separate conversations. Just know if I put Shitting on Kevin that means they're basically just shitting on Kevin and if you listen to one conversation you've pretty much heard all the talking points. )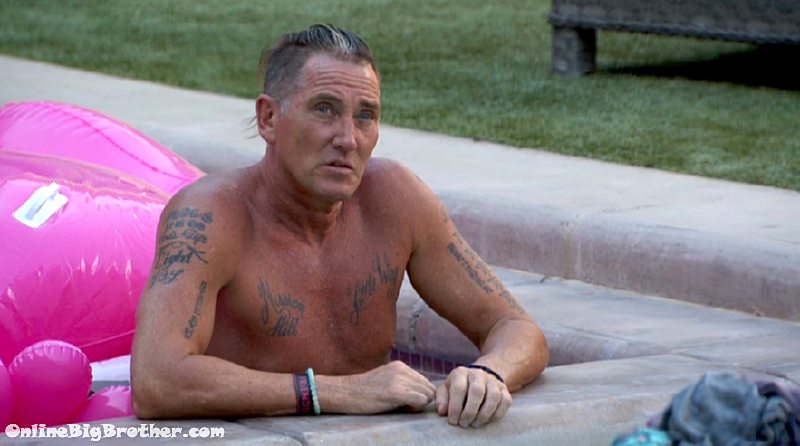 3:56pm Kevin and Paul
Kevin says Matt calling Jason a b1tch 40 times then bringing jason's wife into it. "You Try saying that to me"
(wait until you hear about jason wanting to tie up your kids)
Kevin says he never told JOsh that he won the 25K, it was Josh that told him he won.
Kevin telling him the only comps that count are the first one and the last one.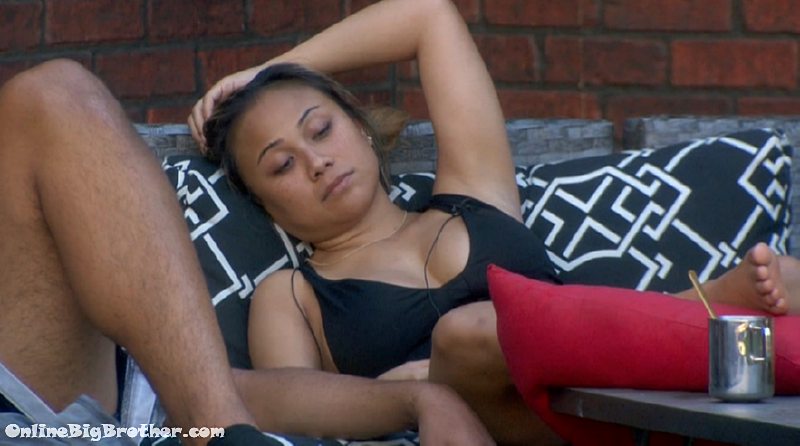 4:03pm Alex and Josh.
Josh is feeling like he may have went too far pushing on Kevin.
alex doesn't think so tells him they should have all went at him had a roundtable.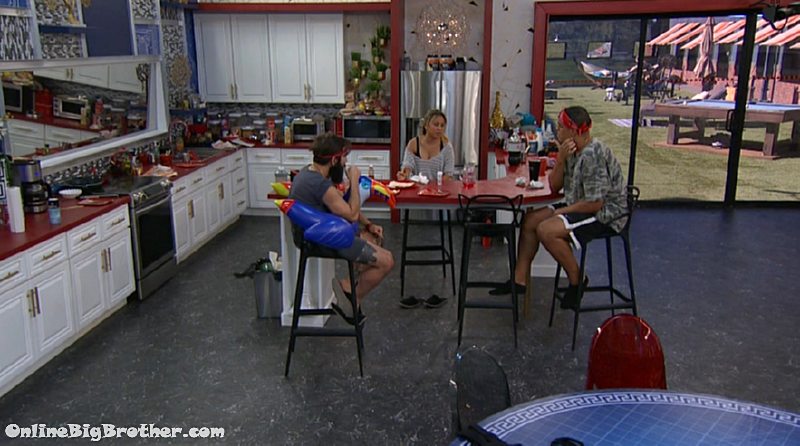 4:10pm Alex, Josh and Paul
Paul saying all they have to do is outlast Raven and Kevin in the HOH so that Josh can win. Josh says he'll take Kevin out next week.
Josh going on about how Kevin is a liar
JOsh says he can't deal with people threatening to bash his head in.
Paul – let him calm down then we'll blow him up again..
Paul says Kevin has a boner ego trip against Josh
paul explains that Kevin was telling him he'll make just 6 grand less than thes second place houseguests
Paul – he's a$$hole.. for some reason he wants to beat you..
Paul adds that Kevin thinks someone is controlling Josh to do all this. (bingo they are)
Josh wants to call Kevin out again..
Alex – heel josh
Paul says when Josh wins HOH they can attack him.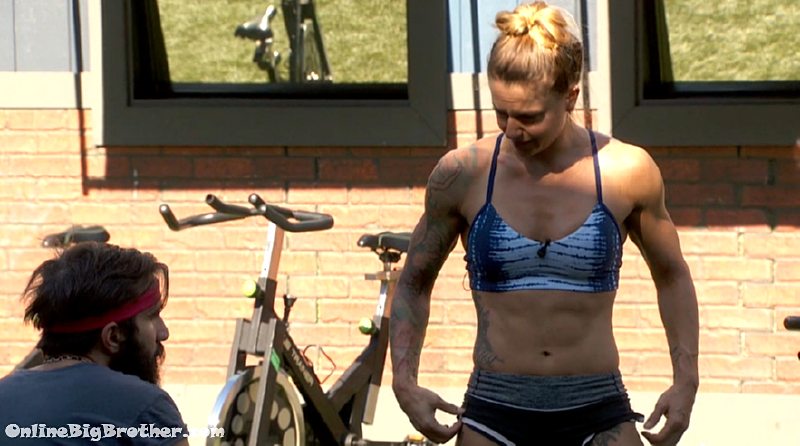 4:21pm Xmas and Paul
Talking about Kevin…
Paul – all it'll take me me blowing up on him next week then I won't be his best friend anymore
Xmas says Kevin will put up Raven and Alex if he wins the HOH.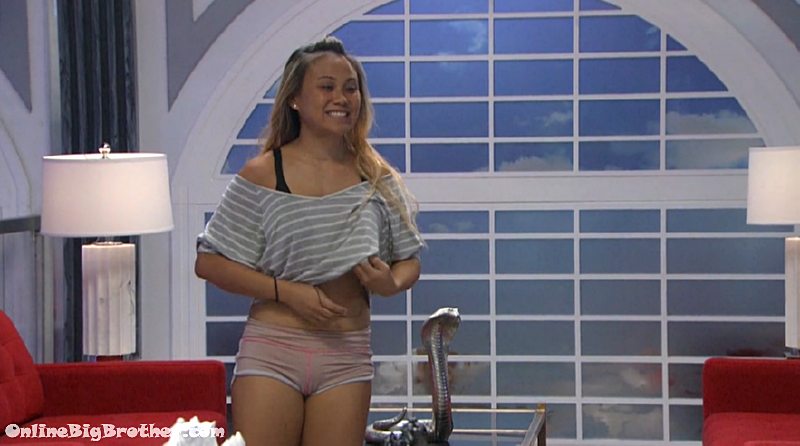 4:26pm Josh and Alex
Guess what talking about kevin being horrible in Jury.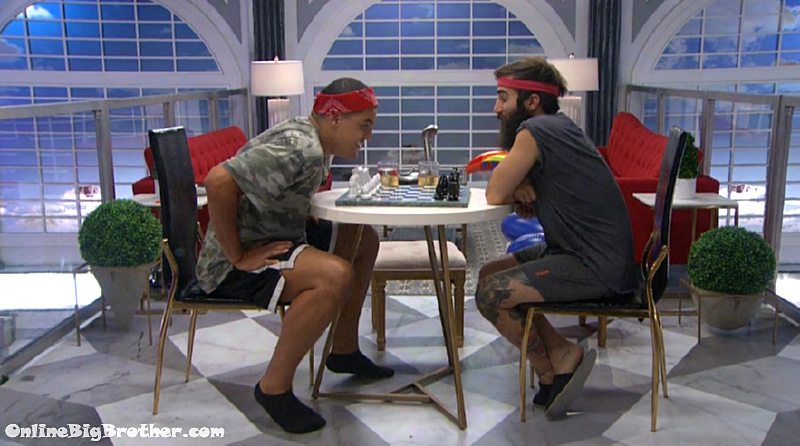 4:30pm Josh and Paul
Paul – we just gotta keep playing these fools
they laugh
Josh – they think I'm stupid.
Paul says Kevin told him he's going after Alex because he thinks Alex is controlling everything
They laugh
4:32pm have nots Jason and Kevin
They agree josh shouldn't have jumped in. Kevin mentioned that Xmas also told him Josh shouldn't have jumped in.
4:34pm Jason joins Paul and Josh playing chess. they start talking about Kevin.
4:42pm HOH Josh, Alex and Jason
Alex calling kevin "old and senile"

4:51pm Kevin joins them.. "the slop was thrown out.. the entire bag"
Alex – well Matt made it ..
Alex says that Raven was pissed because she thought Kevin was getting aggressive and she comes from an abusive home.
Kevin points out she throws stuff and punches Matt all the time.
Alex doesn't think Raven throwing out the slop is a big deal.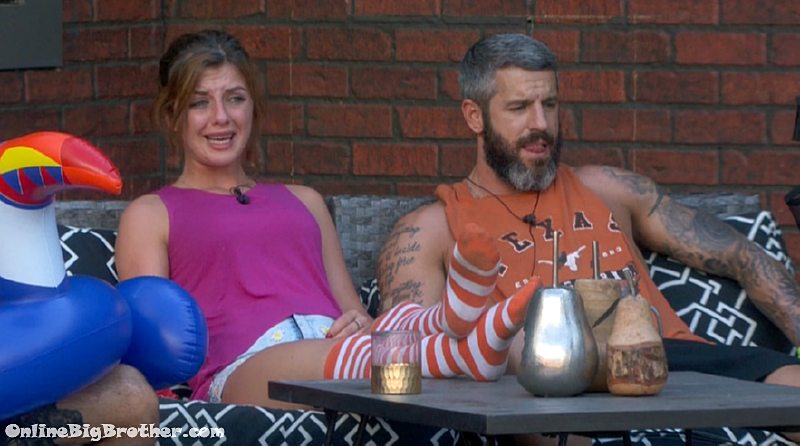 4:45pm Raven, Matt, Xmas and Paul
Raven saying that she's putting up Kevin and Jason if POV is played Alex is going up. Adds that Kevin doesn't deserve top be here they deserve it more.
Raven calls Jason the cowardly cowboy, "he's not a real f*ing cowboy.. he's a rodeo clown"
Xmas laughs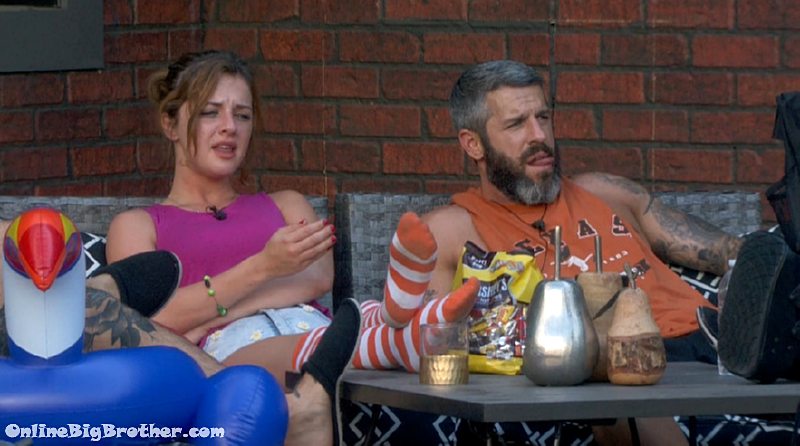 5:21pm backyard Xmas, Paul, Raven And Matt
Talking about how arrogant Alex and Jason are getting. Especially Alex. Paul more or less tells them Alex was the other vote against Matt last week.
Xmas says she had a conversation with Alex were she said if "things work out" on BB she doesn't have to go back to her job and starts her bikini company
Matt – if her and Jason make it. I'm the first person in big brother history that refuses to vote.. (Poor sport)
They start shitting on Kevin again..
Raven – he told production to f* off..
Paul – he cracked..
Xmas – lost it..
Paul – Big BRother is not difficult
raven – nope
Paul- it's the people that make it difficult.. that's a book I should write.. friendship
Raven says she wants to make a cookbook.
Xmas- I have a really good again ..
Paul says Alex threw out all the slop.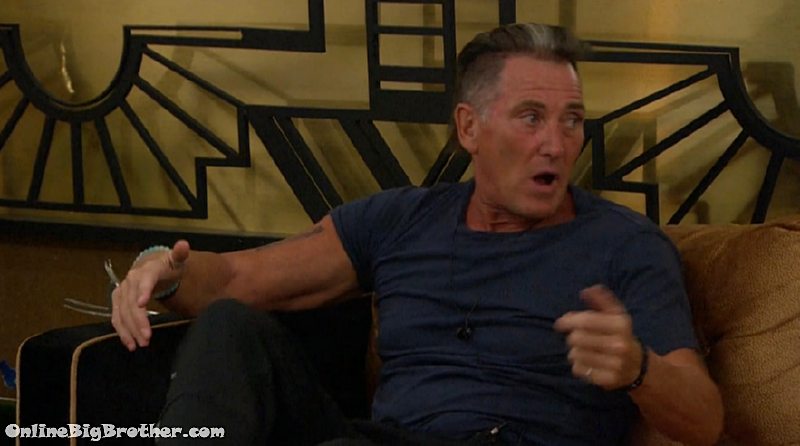 5:42pm Kevin, Xmas and Jason
Kevin going on about Raven throwing the slop out. Kevin wonders why production
Xmas and Jason recommend he hides some protein powder.
Kevin says how come production doesn't do anything about it. How can you be allowed to throw out the one food he's allowed to eat.
Kevin – you guys don't think that's vicious .. for a 22 year old girl that's Jive.. I can't believe they called me in..
Jason – you're the mother f*er that put her on the block.. why is she' pissed at me.. why is she yelling at me
jason – she said you're worst than Cody.. youre more violet that Cody
Kevin – he's a con artist..
Alex joins them (the person that really did throw out the slop)
Alex – you're complaining about nothing.. Jesus.. the time you were complaining you could have made a new batch.. it's not a big deal
Kevin – it's being a jerk ..
Alex – everyone is heated it's not a big deal..
kevin – the only thing I can eat is slop..
Alex – Kevin you can make your own it's not a big deal..
Alex says all he's doing is talking about Sl;op.. "I'm going to watch Chess again.. no more slop stories"
Jason says he's going to go make slop with Kevin then they'll play pool
6:03pm There's an announcement everyone collects in the living room.
Houseguests.. Matt has decided to break the have not rule and will now get a penalty vote.
6:20pm Xmas still complaining to Alex about Kevin asking her if she's swimming. (this is what started some of the fight earlier today)
7:03pm Josh, JAson and Alex in the kitchen
Talking about Kevin.
Josh says they know what Kevin is up to with the lies there's no point making things miserable for Kevin.
Alex – whats the fun in that..
Alex says if she's only getting second place she'll make Kevin's time miserable here.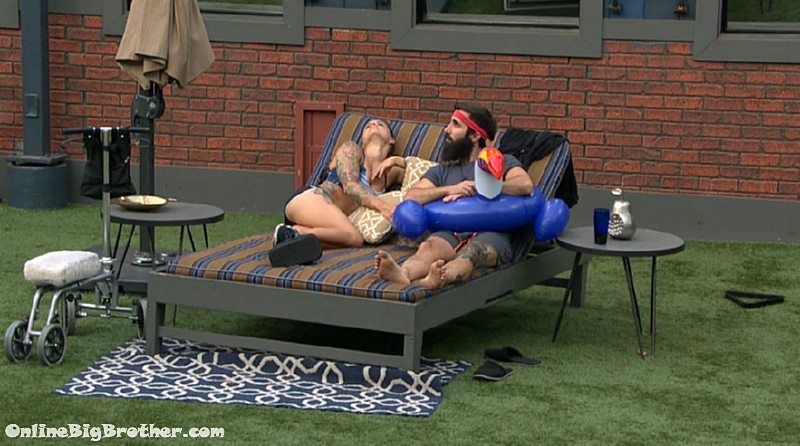 7:06pm Paul and Xmas
xmas – dude Alex is f*ing nasty (true but what about you?)
Paul – mmmmhmmmm
Xmas – nasty
Paul – yup, true COlours come out to play (ZOMG)
Xmas – i'm just like laughing and playing along but.. man cut throat.. brutal.. gives zero f*s
Xmas mentions that Just today Alex was talking about winning again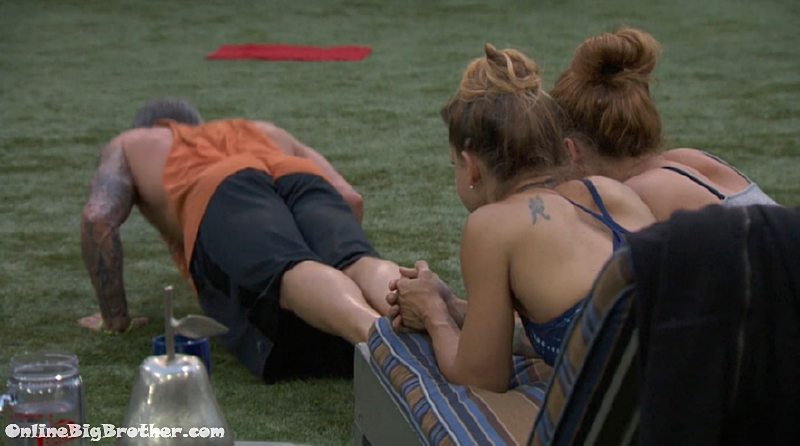 7:30pm Xmas, Matt and Raven
Xmas saying that make sure Kevin and Alex have fallen out of the HOH then throw it to her and she'll take them out.
Raven says as much as she wants to take Jason out she will.
Xmas – are you OK about your mom
Raven – yes… she just really sick..
Raven starts to cry
Xmas – i'm a a$$hole I'm sorry.. here bite my wrist..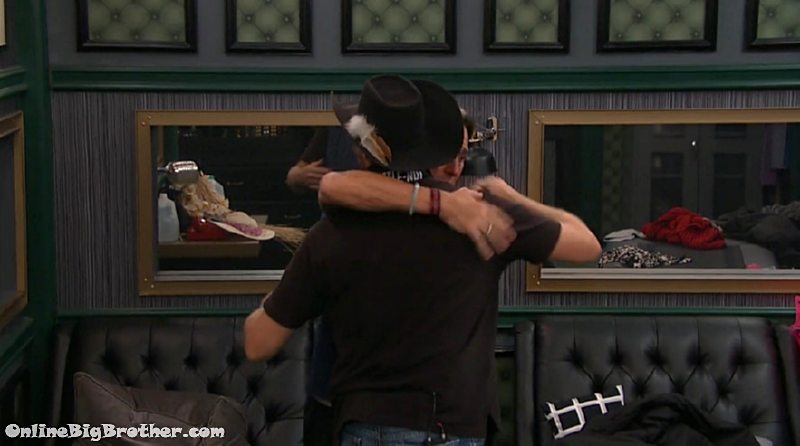 7:37pm Kevin and JAson
Kevin says him and Jason are close and Alex doesn't like it.
Kevin – I'm telling you again today.. I did nothing.. she said my slippers are too noisy, she said I was pouting about things..
Kevin – she said hey Big Boy you make it yourself.. you talks to me like that
Kevin talking about how disrespectful Alex is to him.
Kevin – you live with your mother and father I raised 7 kids.. Gimme a break
Kevin – I don't want to go home before Raven
Jason swears he's not.
Jason tells him if someone raises hell with him don't argue, "everyone is starting to gang up"
7:57pm Kevin and Jason playing pool
Kevin says the only people that deserve to go further than him are Alex,jason and Paul
Kevin – Don't you think they turned on me they'll turn on you
Jason – well f* I hope not..
Kevin – I mean that's what they're going to do right..
Kevin – it'll be Raven and Me going up.. I got your vote I got Paul's vote I thought I have Josh and Xmas' vote..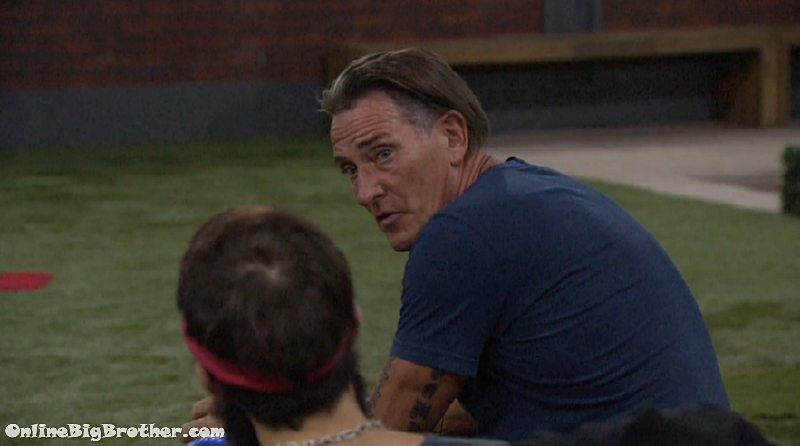 8:10pm Paul, Kevin and Jason backyard couch
Jason saying that everything Paul has said he's been right about. Paul says he's just trying to help. Paul tells Kevin not to feel like people are ganging up on him.
Paul – the more you feed into that .. the more you make it out to be that the more it becomes that.
8:27pm Alex, Jason, Raven and matt hot tub
Alex is talking about her bikini business. Her supplier is in Bali.
8:33pm Paul and Josh kitchen
Josh is saying he can't stand Kevin, he was about to throw a glass at his head and now he's being cool.
Paul – we got to take him to four
JOsh – I know ..
Kevin joins them.
8:40pm Kitchen Paul, Raven, Matt and Josh
Matt commenting that Alex is taking this Kevin hate a little too far.
Raven agrees.
Matt is skeptical that Alex will throw the HOH.
Donations help keep the lights on. If you would like to support the site please consider donating.
Links to the ranking system
Rank your house guests here
For those of you that like Statistics here are some expanded reports.