POV Holder:
PAulie
POV Competition
July 30th
POV Used
Yes
POV Ceremony
Aug 1st
HOH
Paul
Next HOH
Aug 4th
Original Nominations:
Bridgette AND Paulie
After POV Nominations:
Bridgette AND Da'Vonne
Have Nots
Natalie, Paulie, Corey, Zakiyah
CBS All Access: Live feeds are only $5.99 per month – Try it FREE for 1 WEEK!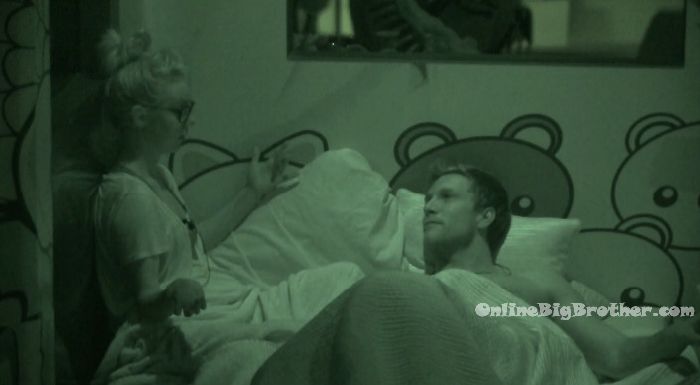 12am – 2am Bedroom – Nicole tells Corey I swear to god I didn't do that to make you mad. I didn't touch him in the bathroom. I didn't tell him to come into the bathroom. I would never use someone else to make someone jealous because I don't feel that is a nice thing to do. I would not want it done to me and I would not do it back. That's not something I would do. And the fact that you think that?! Corey says under the circumstances .. and James agreed. Nicole says James agrees with everything. Corey says no he brought it up, I didn't even bring it up. Nicole asks what did he say? Corey says he was just right there when it happened and he looked at me. I said its all good. Nicole says I will honestly admit that I hate that Natalie called you sexy a million times. Rubbed your leg a million times and still tries to get under my skin. So if I'm drinking and see her twirl her hair at you yeah that's going to annoy me but I'm not going to be rebellious to try and get you back. I swear to go no! Corey says ok. Nicole says if its something you're interested in .. then that is 100% fine.. but then I would just like to know so I don't sit there. Corey asks is this a joke!? Nicole says no, its just been brought up so many times. Corey says well you clearly don't trust me. Nicole says I've never done that to any of my boyfriends. James is an instigator if you didn't know that. Corey says it was so blatantly obvious what you were doing. Nicole says but it wasn't true. Corey says okay I believe you.. but I saw what I saw. That part I don't care about you can give guys hugs all you want. Nicole says he's jealous of you. Corey says I don't care ..it just confirms he is a douchebag. There is zero part of him that I am jealous of. They head into the havenot room and get into a bumper car together.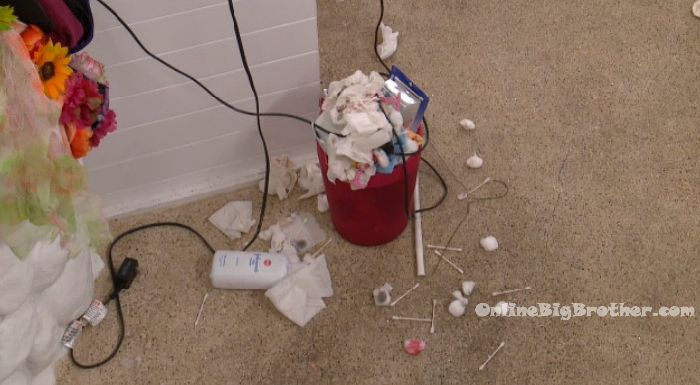 1am HOH room – PP – Paul says I've been peppering up Bridgette. I've been feeding her sh*t about the girls. Saying like F**k bla bla bla. You know these girls are really rubbing me the wrong way. So I think she's on board. I'm trying to tie her in with me .. like if one of them wins we're both f**ked. We're in this together. She's on board.. like win this week and take some shots that way. Paulie says Michelle and James confronted me about telling him. I was like yeah I told them. Paulie says by the way .. girl can't handle her liquor… kisses my neck once and gives me a hickey. Mom and Dad pissed! Paul says pissed.. marks you! Paulie says James said he's not going to try and win the HOH at all. He says he doesn't have any clear targets. Paul says that kind of pisses me off. Why are we .. that's bullsh*t. Paulie says he didn't say it to me. He said it to Corey. I was going to be like yo bro lets handle some business. There are targets we need to get. Paulie says Nicole goes next. Paul says we have to think strategically like who we can beat and who we think we can mold. James is a lot easier to mold than Nicole. Paulie says James doesn't play on emotion. Paul says In a perfect move Bridgette wins HOH and can make some moves. Paulie says that would be perfect and then we could take her (Bridgette) out next week. Paul says I think Corey is in the best position of the house. Paul asks what do we want her to do? Paulie says big guns James and Nicole up. Paul ask but would she do that, not with Michelle in the house. Paul says I don't like how James and Natalie are double votes. Paulie says its the same way with Corey and Nicole. Paul says I think its a bad idea to keep all these strongs till the end. Paulie says Cody did with Derrick. I don't think its that bad an idea. We've already proven we can beat exec (Vic). Paul says it might be perfect if Nicole wins too. She would take a shot at those girls. May be Bridgette too. Paul says we just need to pull a W tomorrow. Paulie says I'm going to try to win it. Paul says that would be true friendship.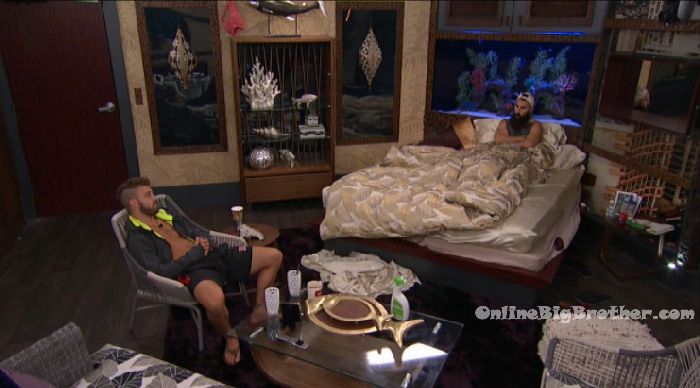 2:10am – 4:40am Corey joins Paulie in the HOH room. Paulie says that Paul is a little sketched out about James because he came down to you, Nicole and him talking. I told him its nothing. Corey says he shouldn't be sketched out at all. Paul joins them. They talk about wanting to get Vic out but will wait till later. They worry about him having the return ticket and coming back. I doubt he is lying to us. He gravitates to power. Da joins them. They talk about putting up Vic and Natalie in a double eviction. Da says our odds are good, there's a lot of us. Da asks does he (Vic) still have a problem with itty bitty? (Natalie) Paul says yes. He heard her goodbye message. Paul says I just hope home girl doesn't have a round trip ticket. I would punch Natalie in the face. Da says at the end of the day if she (Bridgette) comes back we just send her right back out. Z joins them. James joins them. They chat about random things and then head to bed.


4:45am – 5am Paulie and Z head to bed. James and Natalie eat pizza in the kitchen. James says let me do all the work you just sit back. You just go shopping.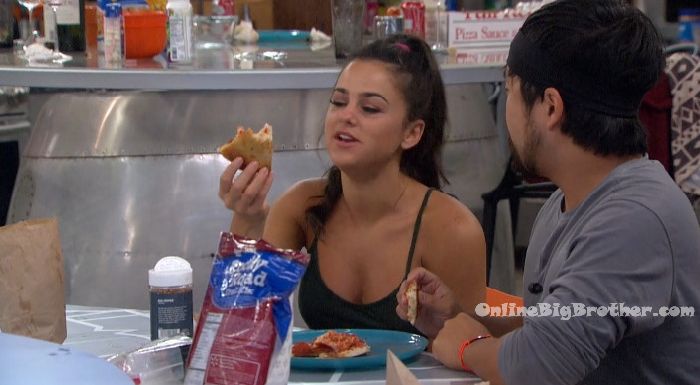 9:32am Still sleeping..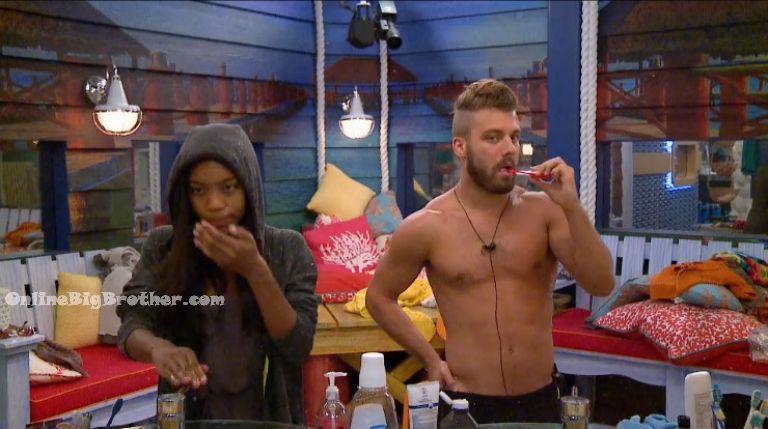 10:00am WAKE UP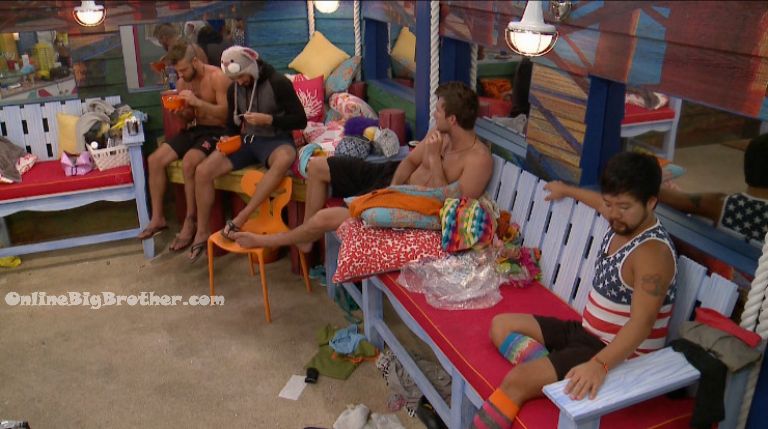 10:43am bros making the bombing run sound effect
Check out the bottom of this post about the story behind this .. They plane on making these sound effects of a bomber dropping bombs after Da'Vonne leaves. This will be directed towards Michelle and Zakiyah.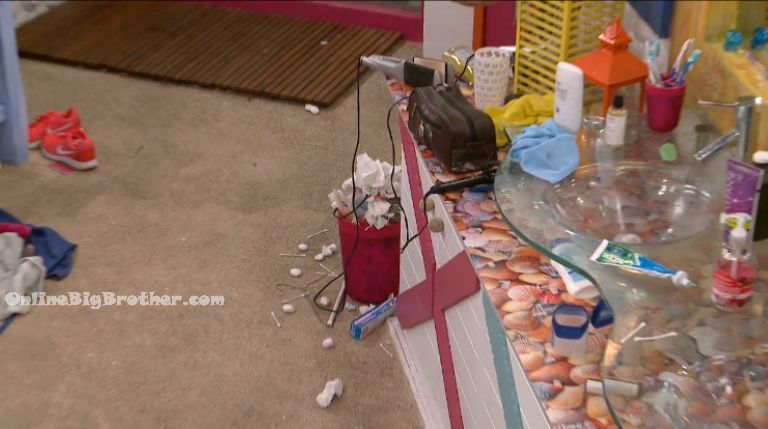 Checking out the state of the house commenting how gross it is..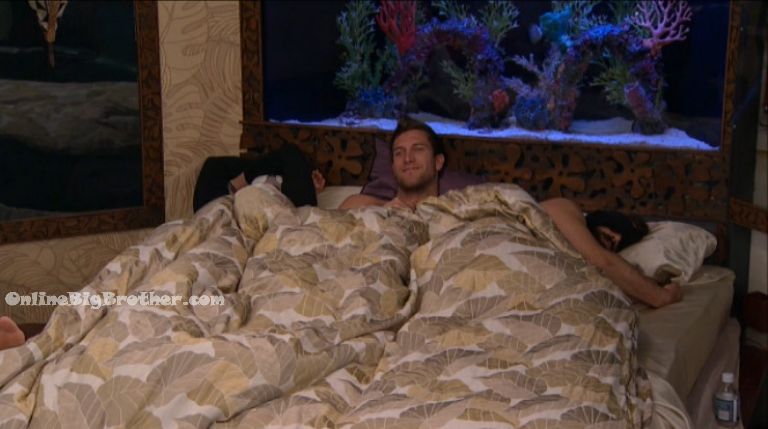 11:13am HOH Paulie, James, Victor, Corey and Zakiyah
James- why are girls so F****g grumpy when they wake up
Corey laying between Paul and Victor never looked happier.
11:26am Live feeds cut for HOH lockdown.
1:05pm NO

1:32pm Bathroom Paul and Bridgette talking about "them" pissing their pants if Bridgette wins HOH, Paul "We win Back to back"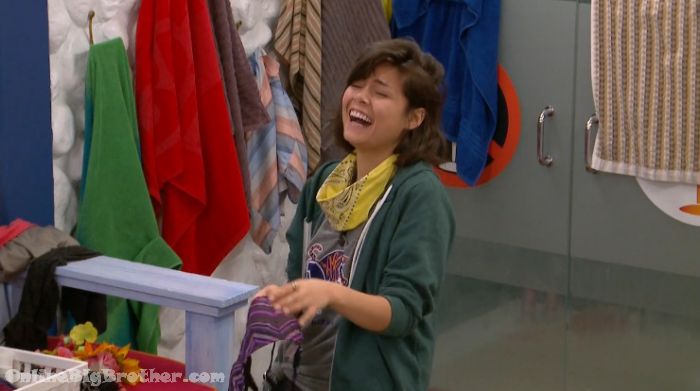 1:21pm Feeds are back Natalie is stretching, James is trying to.
Paul walks in "What the f*** is going on in here"
Thers's giggles about Victor having a wet dream.. (WTF BB18)
Natalie – I'm not very flexible right now
James – you're flexible enough for me.

[polldaddy poll=9486231]
[polldaddy poll=9485811]
[polldaddy poll=9485817]