POV Holder:
PAulie
POV Competition
July 30th
POV Used
Yes
POV Ceremony
Aug 1st
HOH
Paul
Next HOH
Aug 4th
Original Nominations:
Bridgette AND Paulie
After POV Nominations:
Bridgette AND Da'Vonne
Have Nots
Natalie, Paulie, Corey, Zakiyah
CBS All Access: Live feeds are only $5.99 per month – Try it FREE for 1 WEEK!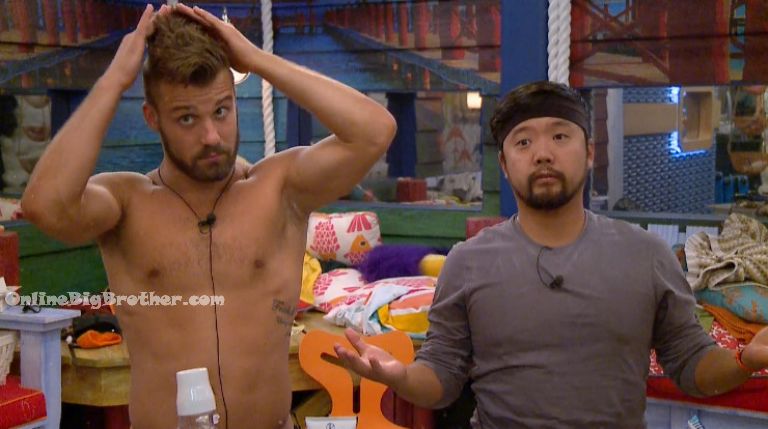 9:15pm James and Paulie
James – Natalie came to me was like Paulie.. He's going to float to the end..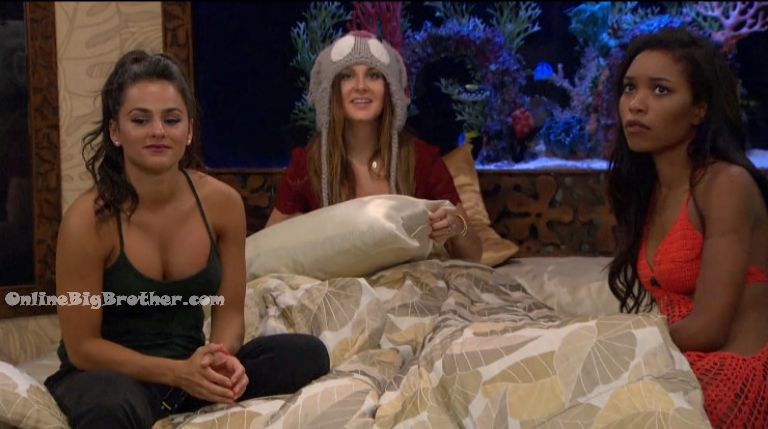 9:17pm HOH Natalie, Michelle, Da'Vonne and Zakiyah
Zakiyah says the only time she kissed PAulie was during the truth or dare, "He won't kiss me"
Natalie – I won't kiss James..
Michelle – I was this close to kissing Victor
Da'Vonne says after she danced with Victor he rained to the bathroom
Zakiyah – to do his thing..
Zakiyah says when she's on her period she feels like a dog in heat her eyes go red.
Zakiyah thought Paulie was a bit short at first but he's grown on her.
Zakiyah says her and Paulie are in a flirtmance.
Michelle – I feel like you (Natalie) and James are more emotional
Natalie – we're more emotional less physical
MIchelle – Corey and Nicole are in the middle
They agree Nicole and Corey are in the real showmance
They agree with Frank gone the house is a lot quieter
Natalie asks if they're is a guys alliance
I don't give a sh1t us being women… we're strong we bare children.. IN the bible why would men intimidated me.. Why should man intimidate me.. I'm a strong a$$ women.. You know how many sperms we bet out.. A lot.. Just the truth just the truth.. I'm never going to put all my eggs in one basket.. I'm a strong a$$ women.. No man is going to determine my faith..
Natalie – At home I'm single as a pringle and I love it (LOL)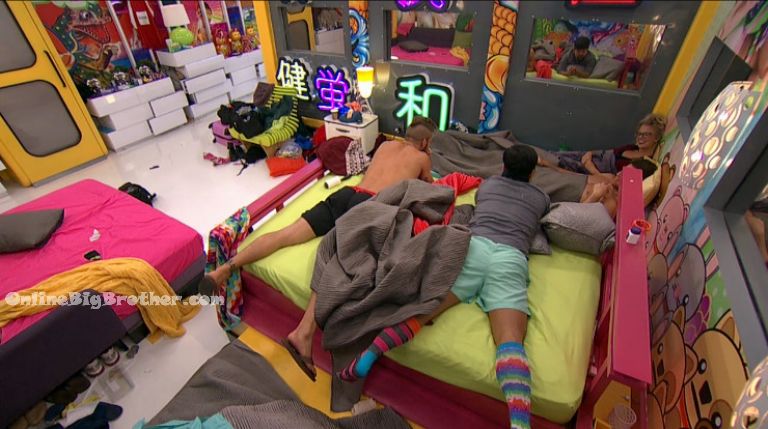 9:41pm James, Corey, Nicole and Paulie
Chit chat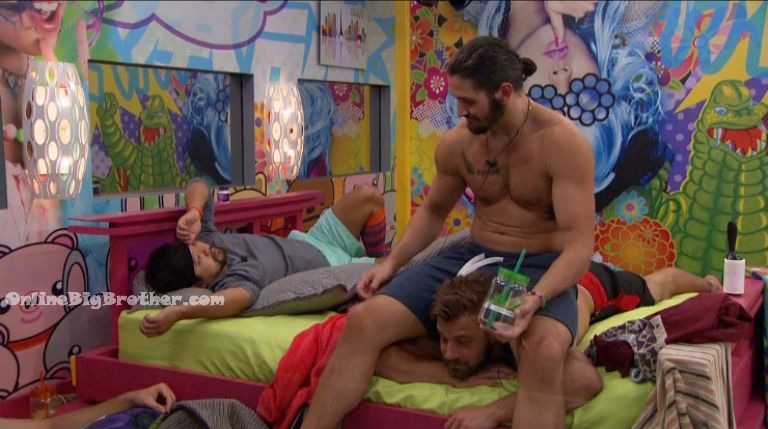 Victor joins them..
Paulie tells James he knows all of Natalie's friends she's a "Wild Child"
Nicole chimes in "She says she dances on tables"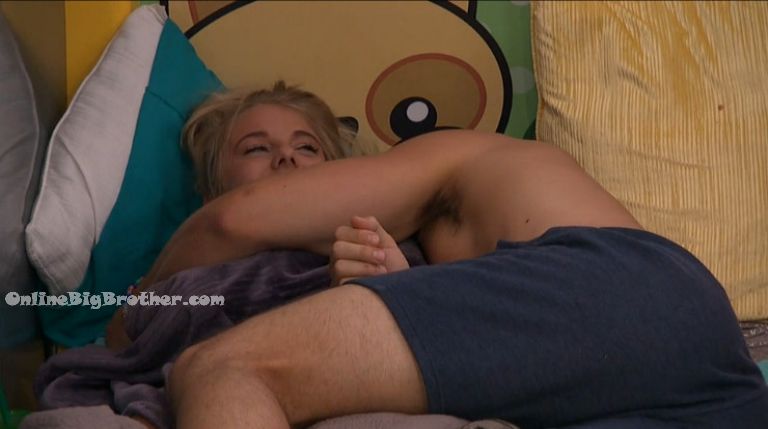 9:58pm Corey leaves and Victor moves in..
Nicole laughs.. "Vic.. you're going to get your butt beat" (LOL she has no idea)
Corey and Paulie #BB18 @DawgsBigBrother pic.twitter.com/p53TlWUwn3

— OnlineBigBrother.com (@bigbspoilers) August 4, 2016
10:08pm Paulie, Nicole, Victor
Nicole – Everyone knows he's too cute for me … I'm cute he's hot
Paulie – Hot guys don't always want the hottest girl
Victor – you're hot if anything you're more attractive than he is..
Nicole says Tiffany told her that too
Nicole – he won't even look at me.. was I acting like a idiot..
They explain to her she needs to relax about it.
Nicole leaves.. They talk about Nicole just doesn't have the self confidence in her self because she is beautiful.
Victor talks about this girl back home with Tattoos.
Paulie – ladies if you are into Tattoos and a bad girl I 'm into you .. when I look at you i'm like damn that chick's bad.. fierce looking all tatted up..
Paulie says Zakiyah bit his ear, "The feeds are off but they're still rolling"
Nicole comes back.. Says she hasn't fully watched her first season she's seen about half. She doubts she'll watch this season at all.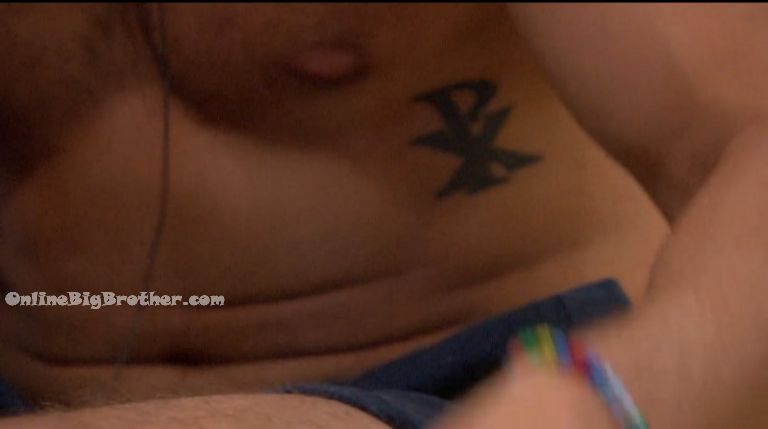 Victor talks about his Chi Rho tattoo.. The emperor Constantine used the symbol as a battle standard. Victor leaves.
10:18pm Nicole tells Paulie Corey doesn't like Victor.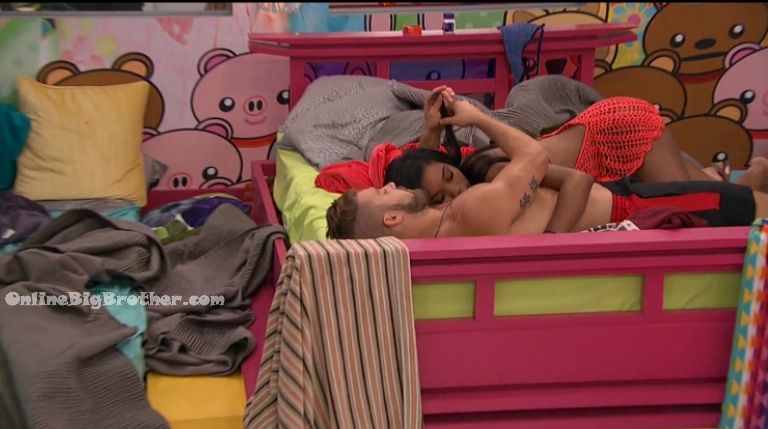 10:20pm Zakiyah joins them.. Says she still a little tipsy..
10:21pm Michelle and Natalie HOH
Michelle – I'm putting 2 boys up for sure..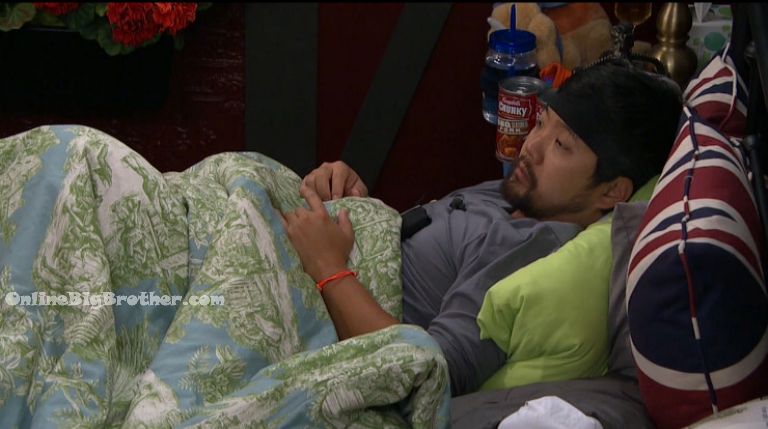 10:21pm London room James and Da'Vonne
Da'Vonne telling him what they said about James and Natalie having a emotional showmance. Natalie said she had a emotional connection with James.
Da'Vonne – I think it's genuine I don't thin it's strategic.. her flirting with everyone else is strategic.. has she talks to you about it.
James- kinda sorta.. She doesn't like being overly watched.
Da'Vonne- can you make sure the guys don't vote me out tomorrow
James – i'll try i'll do the rounds..
Da'Vonne – Michelle is one of the funniest people I've met in my life.. She's going to go far…
James – I agree.. she'll make it to at least 8
Da'Vonne – I think about the 8 pack all the time it would have been great.. even if we sent Tiffany out and replaced with PAulie.. would have been great
James- Frank was in the 8 pack.
Da'Vonne- I don't understand that move.. that didn't even benefit your (Frank) game.. what were you board..
James – He blew up the 8 pack, Frank did a lot of crazy stuff..
Natalie and Michelle joins them.. 10:44pm talking about how cute wiener dogs are, "They are so perfect"
Animated Gif associated with this dialog —> https://twitter.com/bigbspoilers/status/761083626855333888
11:14pm Paulie to Corey
(After the above rubbing happened Paulie had this conversation with Corey.. )
Paulie – now she's coming in hot..
Corey – yup I can tell
Paulie – my ear lobe my neck.. I feel Heat coming from… there… I'm like oh my god there are cameras everywhere relax you teach kindergarten.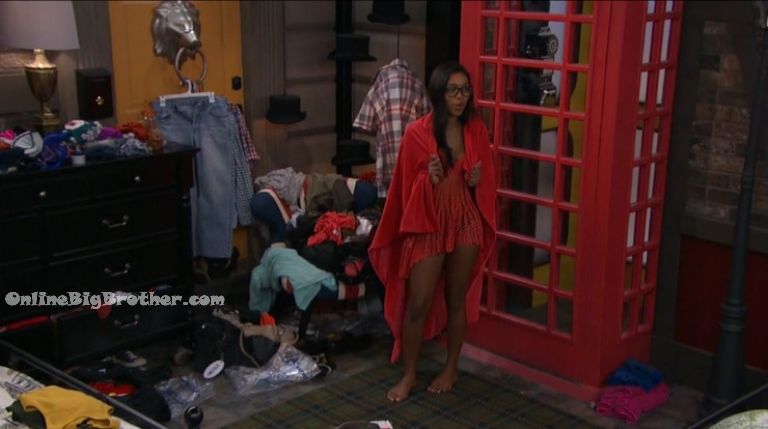 11:20pm London room
Zakiyah – I've been told I need to put some pants on
Michelle – Who said that.. by a boy.. the DR.. Nicole… Did day
Zakiyah – ya .. I guess .. I need to put some pants on I look like a little hoochies.. America is looking I don't want them to thin I'm a hooker
Michelle – If anyone is a hooker it's Victor .. you dance like one..
11:40-11:50pm Nicole and Corey kissing.. (And i'm pretty sure other things under the covers…
[polldaddy poll=9486231]
[polldaddy poll=9485811]
[polldaddy poll=9485817]