POV players picked
Alex, Jason, Elena, Matt, Mark, Paul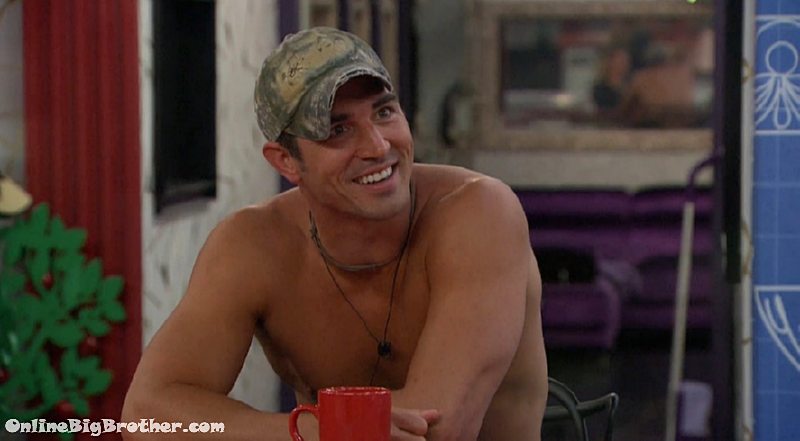 8:30am Xmas, Jason and Cody
Christmas – did you drink a whole pot of coffee this morning
Cody – I do every morning
Just general chit chat about fitness.. They're the only ones up.
Cody says he's watched Big Brother since the beginning "It seems like a non typical cast"
Cody says it feels like they picked the cast because everyone is interesting.
Cody says his is the strongest female cast in the game
They agree Meghan and Jillian leaving early was expected.
Cody says he was shocked when he saw Dominique walk out to join the other evicted houseguests
Jason – the second she went on the block.. she sh1t the bed..
Xmas says she didn't know what happened she was gone for 2 days and when she came back Dom was super aggressive
Jason – she went right to seclusion
Jason doesn't believe Dom was a nuclear engineer with the government.
Christmas thinks she was "She's a smart cookie"
Jason – she looked at me like I had 6 heads..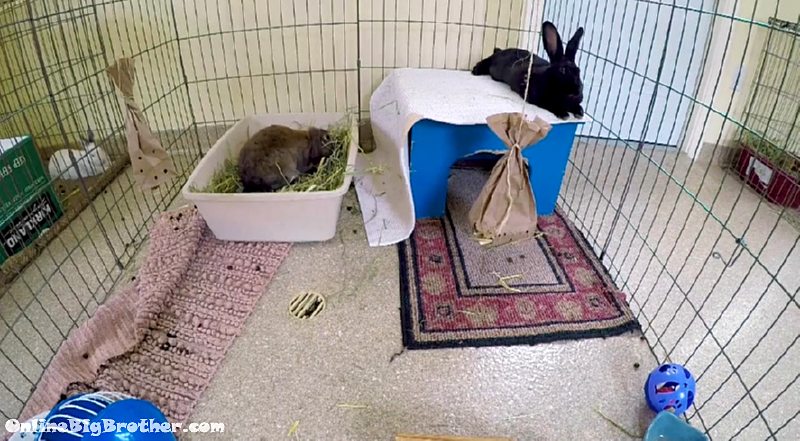 9:01am pound rabbits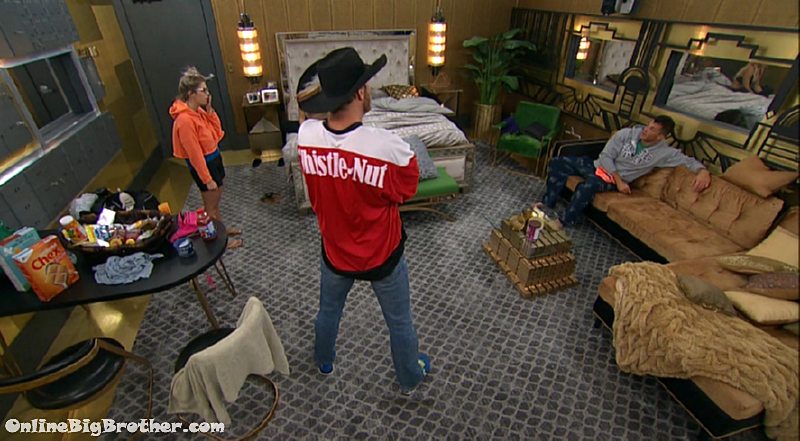 9:21am Alex, Mark, Jason, Elena HOH
Mark – Today's going to be a really long day
Elena – hey I can put random food in my move.. look I snacked.
Mark – I need to go back to sleep
Jason – we have like 2 hours don't you think
Elena leaves..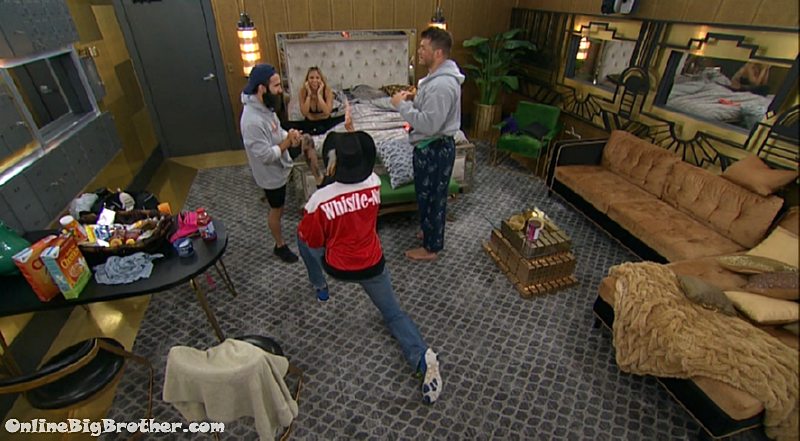 They rock paper scissors for the have not
mark losses …
Mark – there's no food so I'll be eating sh1t food anyways..
Paul says theirs only 1 carton of eggs..
Mark Leaves..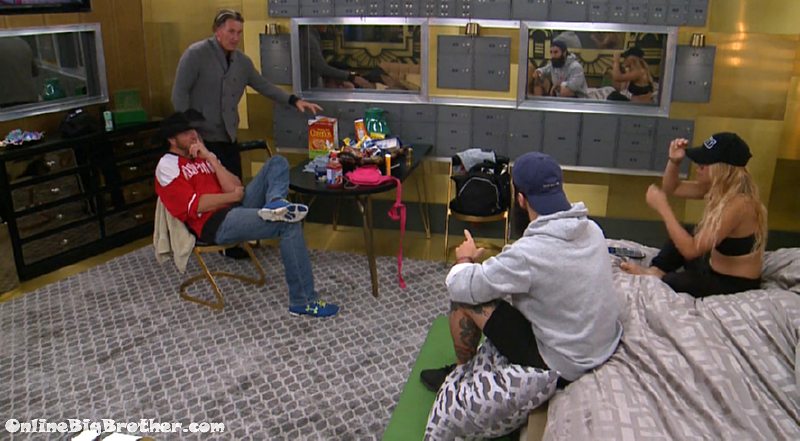 Paul – that means I have energy for DOuble eviction I'll keep you two safe..
Jason – if he pulls Elena down
Alex – then we put Cody up
Kevin joins them
Paul – It's all set… we don't ever have to talk game for the rest of the week
Paul – Should mark go before Elena.. cause at this point he has done more things..
Jason – I don't care..
Jason now saying he would rather Matt and Raven out because Elena and Mark are easier to hang out with. Alex and Paul poo poo this idea they tells Jason he has to separate game and personal.
Paul says it was very smart "they" put Elena on the block because Mark know he has to use the Veto or Elena will go home.
Paul – we have to make sure the 2 couples don't band together..
Kevin leaves..
Paul – he's being so weird..
Alex – he never comes up here.. he's getting sketched out..
Alex – I want to have a conversation without him in the room..
Alex – I think he's playing the family card because he does miss them but….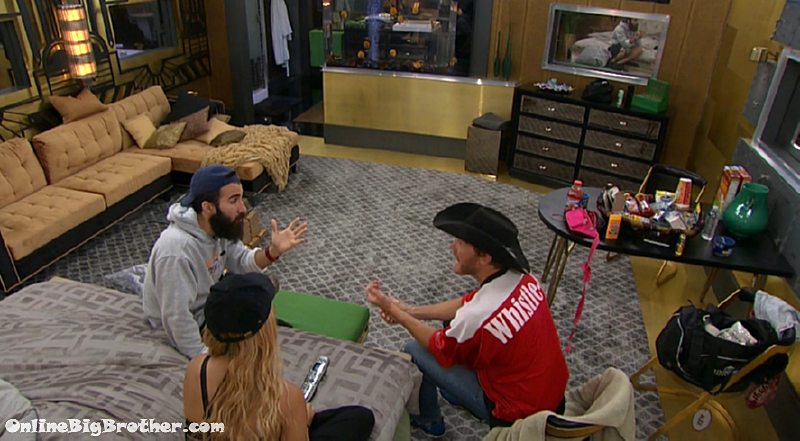 9:39am HOH Paul, Alex and Jason (Paul starts to turn on Kevin)
Paul – why isn't he happy that COdy's going.. why doesn't he give a f*, that's a BIG win.. like Cody's gone..
Alex – I'm hoping he pulls outta it after Cody goes because if he doesn't he needs to go, He's stiring the pot..
Paul – he told me he's been married to his wife for 37 years and his kids are all grgown up. 3 of them he never sees them anymore..
Alex – He's faking, he pulled the same thing when Jillian left
Paul – Kevin's a dope a$$ dude.. you have to understand we're playing a game.
Alex says she's been planting the seed with Christmas she's down with him being sketchy, but Josh still is "well we still have to be nice to him"
Paul says leave Josh at that otherwise Josh is going to get under his skin and get a bottle broken over his head. (LOL)
Alex says missing his Family isn't' a excuse for him being shady..
Alex – he plays the victim card.. he has kids.. he f*ing take all my sh1t
Jason – he does use everyone's stuff
Alex – He does it on purpose it's a control thing.. all the girls cook for him, he knows how to work the system.. he's working us.. he makes us feel bad..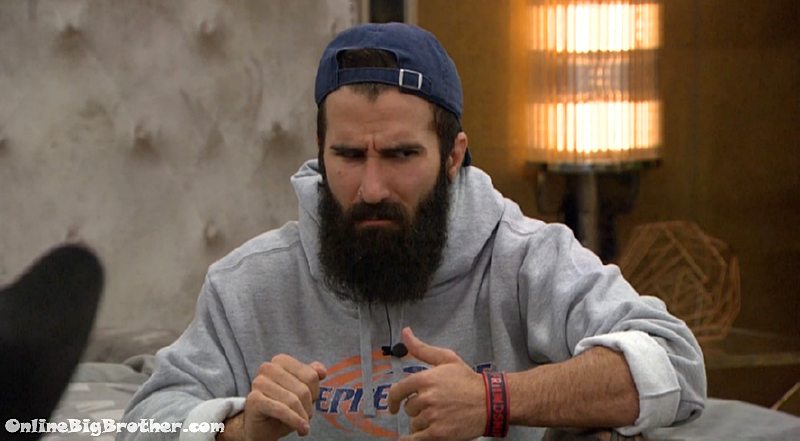 Paul says Christmas mentioned to him that Kevin made a deal with Cody to keep them all safe.
Alex – he was trying to save us all.. and now he's pissed because she (xmas) never told him about the ring and now we're all starting to figure out he's trying to watch himself..
Alex – he's stronger than you think.. he's not a sleeper than Victoria..
Jason – he did 60 of those 135lbs benches..
Paul – Noo..
Alex – he's getting caught for being shady and now he's sad..
Paul – what if we put him up as a pawn what do you think will happen
Alex – he'll wigg out..
Alex – the reason I don't want to put him up now.. well I could (if Paul wants it).. he's been talking to Mark .. he's looking or people.. if we put him on the block he'll wig out. .
Alex – He's (Kevin) the real snake
Alex – his stories have stopped about him being a gangster.. its always I'm missing my family..
Alex – then there's the weird stuff with his wife
Jason – why the f* is he laying in Bed with Christmas
Paul – that's weird you're a married man with 7 kids it's weird..
Alex – she's 35..
Paul says he could do thins with Christmas but that will piss Kevin off.
Alex – right now we need the numbers
Paul – xmas can't physically win anything..
Alex – she's crazy.. she gets super super crazy..
Jason – I don't hate her anymore..
Alex – I'm starting to trust her more
Paul says Christmas stays level headed some time other times she's so pissed..
Paul says they still need to make Matt and raven believe they are the 5
Jason would rather take his chances with Mark and Elena..
Alex – are you stupid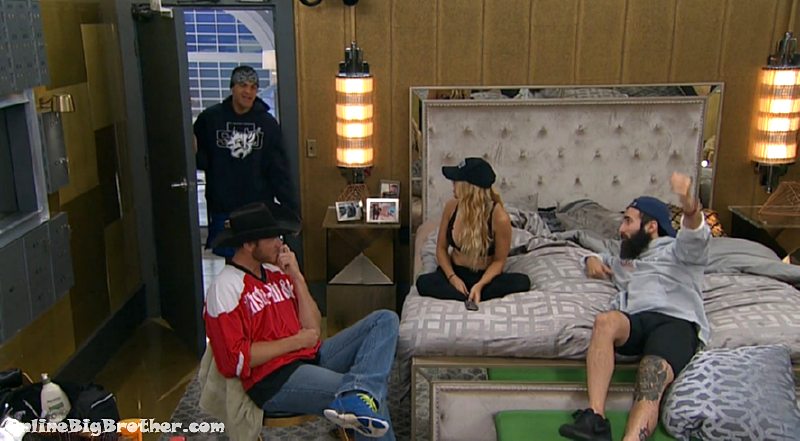 A meatball comes in.. "You're foods ready"
Paul and Josh leave.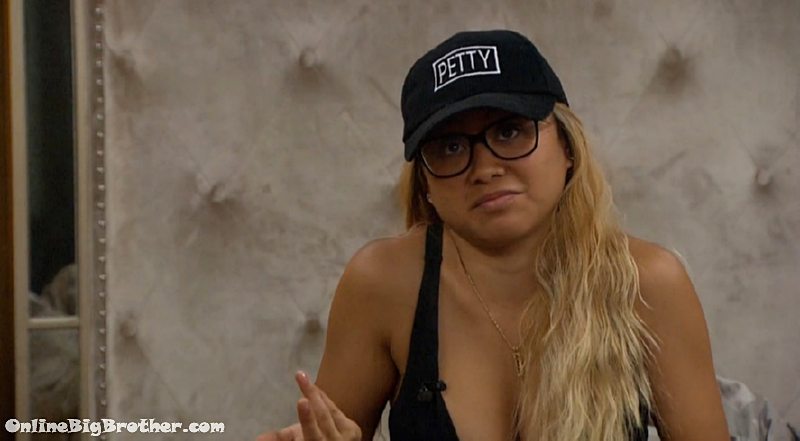 9:5am Alex and Jason
Alex says she wants to make it look like Cody going up and out is Paul's doing "Make it look like he's on our side and we're doing what he's doing.. he thinks we're Paul's pawn"
Alex wants Cody to still have the animosity against Paul in the event that any of them in final two against Paul they can get Cody's Jury vote.
Jason – I like Paul
Alex says her, Jason and Paul can steamroll to the end..
Alex – Me, you, Paul and Josh that four for sure..
Alex wants to keep Christmas over
Alex – he can't turn on his franchise or he'll make zero dollars the whole show is friendship.. (WTF is Alex smoking.. Seriously.. she's supposed to be know about this game.)
Jason – when Mark and I are playing Chess he told me if we wanted to win this game we have to get Paul out..
Jason – don't repeat it.. It bothers me..
Alex says if it's Paul and Jason he has a good solid chance to win.
Alex about Raven – if you are so sick why are you eating all this junk food
Jason – she only eats junk..
Jason – we don't know anything is true..
Alex going on how her Jason and Paul can get to final 3. Any three of them deserve to win. "Matt and raven have done sh1t"
Alex – I'm going to make sure you have the best shot to win
Jason – same ditto
Alex – I will never ever cry no matter what people say to me unless it's planed..
Alex says Raven is starting to get petty with her (moving her soda around)
Alex – I saw him hide the coke.. Kevin Motherf*er
Jason – why is Kevin f*er with you
Alex – I'm the shot caller I learned this on Gang land..
Jason says one reason he wants Elena in the game is her Dad has rodeo connections and he wants those contacts, "I want contacts because I have no contacts" (BB is turning more into a business opportunity for people than a reality show)
Jason – Cody is gone.. if Matt wins the Veto we're f*ed..
Alex – he won't win the veto.. we'll tell him he has to lose.. he needs to stay in this position.
Jason – what if Mark wins..
Alex – He pulls down Elena Cody goes home..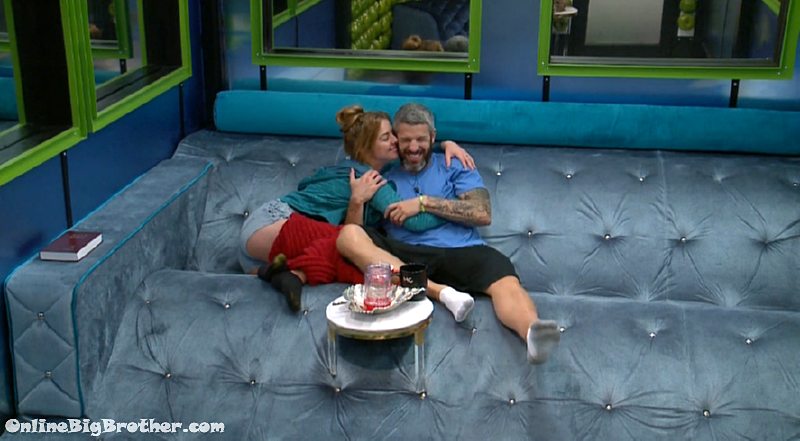 10:19am Raven and B2Men
Raven – if Mark and Elena win (HOH) Christmas and Josh are going up
B2men agrees
Matt – you don't go up as a pawn unless you are close to people..
They play some grab a$$
Matt – us sending Cody out this week is SO huge.. PAUL might not get Nominated until Final 5. (ZOMG)
Matt – he can help us work everybody.. everyone trusts Paul
Matt – Paul is such a useful man..
Raven – he's smart..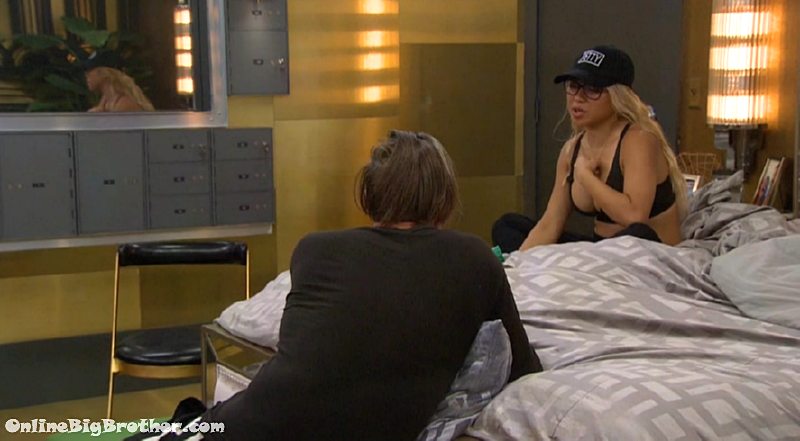 10:29am HOH Kevin, Jason and Alex
Alex is explaining he dangers of a double eviction for their power players.
Alex leaves..
Kevin – I trust what you guys say just let me know.. Everything is fine
Jason – everything is fine.. just calm down.. calm down..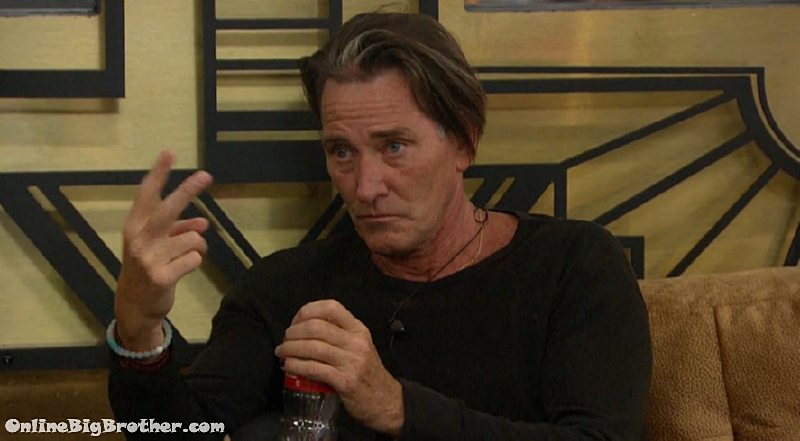 10:37am Kevin and Jason HOH
Jason tells him that it's all set this week unless Matt uses the veto Cody goes home.
(Don't remember the context of this line but it's funny..)
Jason – It's like walking around with a boner and not using it ..
Kevin – I've been walking around with a boner for 53 days..
Jason explains to him why they are keeping Matt and Raven. Jason says he doesn't like it but "we really don't have a choice.. "
Jason explains they have to take Mark and Elena out because they've already taken a shot at them.
Kevin – who annoys you the most .. be honest outta the 4 .. the 32 couples
Jason – MATT AND RAVEN
Kevin – ok than we're on the same page.. Cool
Jason – but.. we can't do it.. ..
Kevin – it's nothing personal it's a game..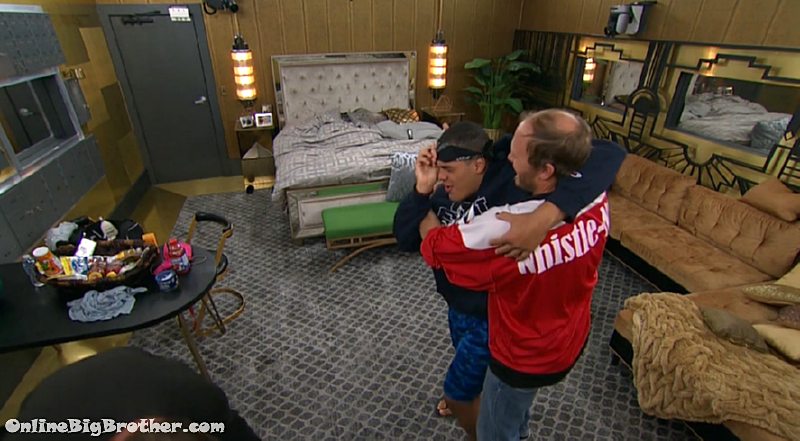 A meat ball comes in..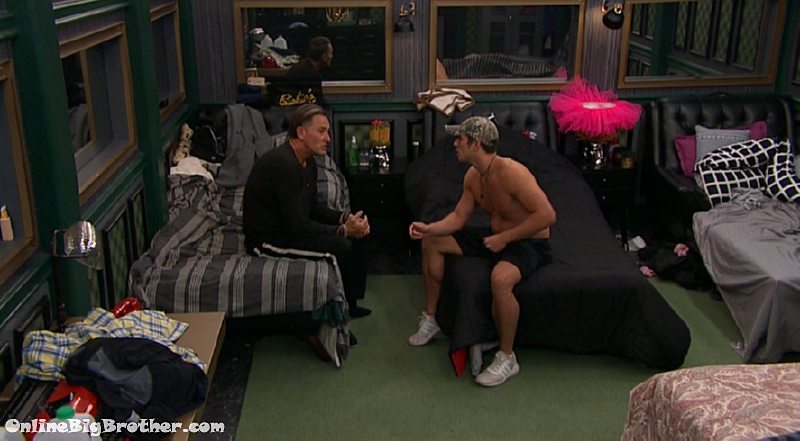 11:00am Cody and Kevin
COdy tells her he has a daughter whose 5 he's close to her and spends the summer months with her.
Kevin – Does Jessica know
Cody – yeah..
Kevin – were you married
Cody – no
Cody – my brother died while I was in Afghanistan.. Motorcycle accident..
Feeds flip..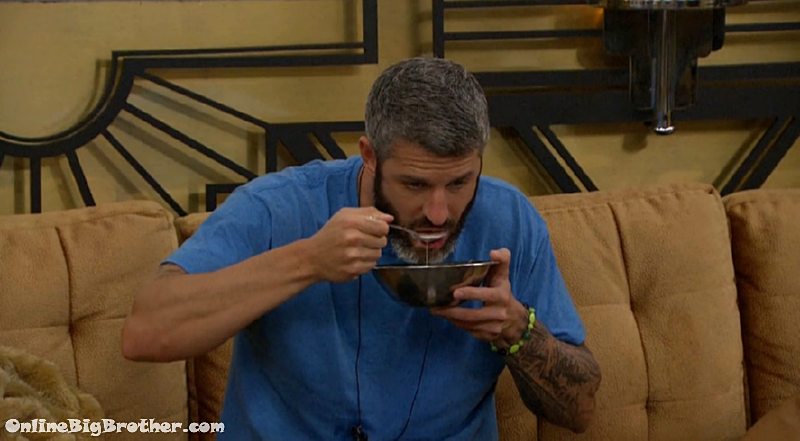 11:35am Matt, Paul and Raven HOH
Paul says he has to use the veto on Jason
Matt – is that good for us
Paul – you can just throw it .. if you win it you have to use it on someone else..
Boyz – shouldn't we just all agree to throw it to Alex.. (You're throwing the game to Paul so it's not a real stretch)
Paul – then we're making Alex do all the work and I feel bad
Paul says If Mark doesn't take Elena off the block Elena goes home.
Paul says Alex would prefer that Jason comes down.
Boyz – whats the best for the three of us
Raven – you to throw it
Paul – I'll throw it
Paul – mark takes Elena off, Alex takes Jason off, Elena takes Elena off, Jason takes Jason off..
11:50am
Alex, Paul, Jason, Kevin and Josh
talking about how Matt and Raven are always hanging in the HOH and Alex is downstairs in her usual bed.
josh – they like to look at teh screen..
Josh – when I'm on slop i'm just eating protein
Alex – you'll sh1t your pants.. (HAHAHAH.. I wish Alex wasn't so misted by Paul she's pretty funny sometimes)
Noon Paul, Kevin, Josh, Alex and Jason
Joking around about Nicknames..
Kevin brings up that Josh was once called the blob .. Along with a few more.. J-Money… Miami Sounds machine.. Gloria Estefan (thats mine)
Josh says she doesn't like j-money because it's corney..
If you plan on buying anything from Amazon. Use this link Amazon home
Doesn't cost you anything and we get a small cut.
Links to the ranking system
Rank your house guests here
For those of you that like Statistics here are some expanded reports.