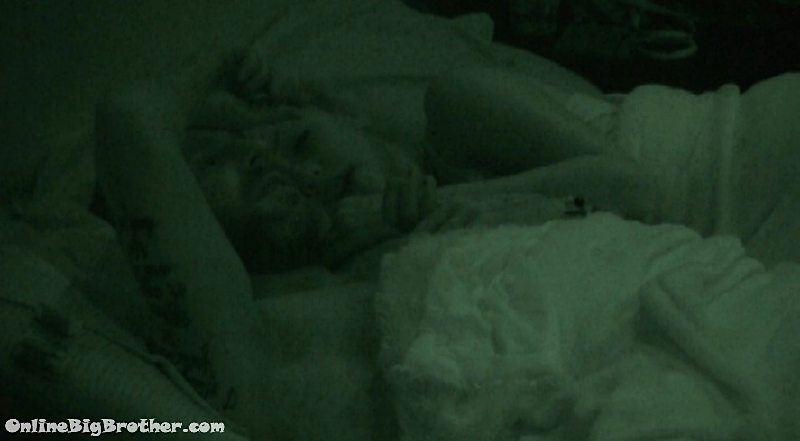 Midnight Matt and Raven
Talking about the temptation competition and how it involved the sounds they've been hearing lately.
They are concerned with Mark's competition winning abilities, "He Needs to go"
Matt – he's won 2 safety competitions and a Veto
Paul – hey Matt and raven can you guys come out for a sec.. actually just Matt Raven you can sleep.. so who put my Bowl up hi..
Matt says it was a group effort..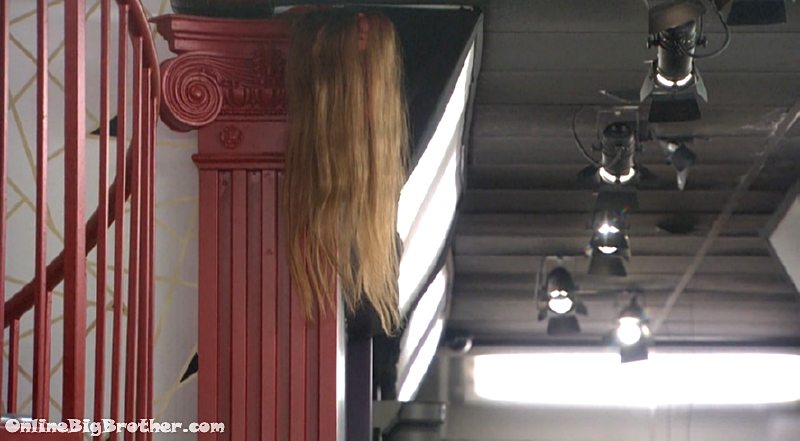 Paul shows them where he's put Raven's hair..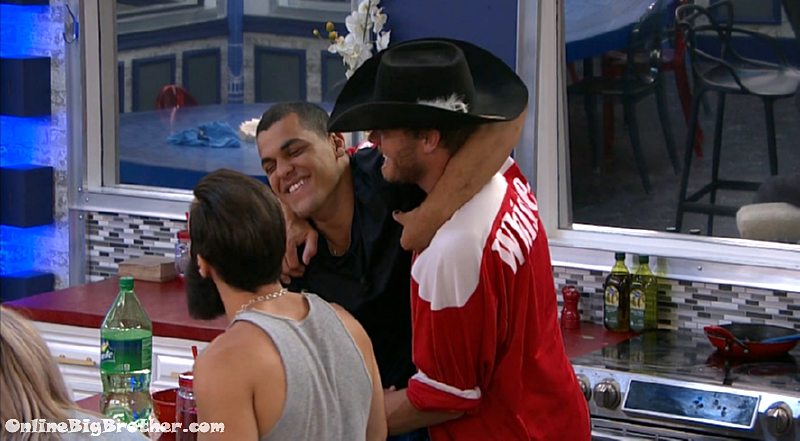 12:21am Josh and Jason cuddling around.. (lol)
Production- Safety first no horsing around..
Josh – Okay we get the point..
Josh – it's 12:22 we're not starting this sh1t..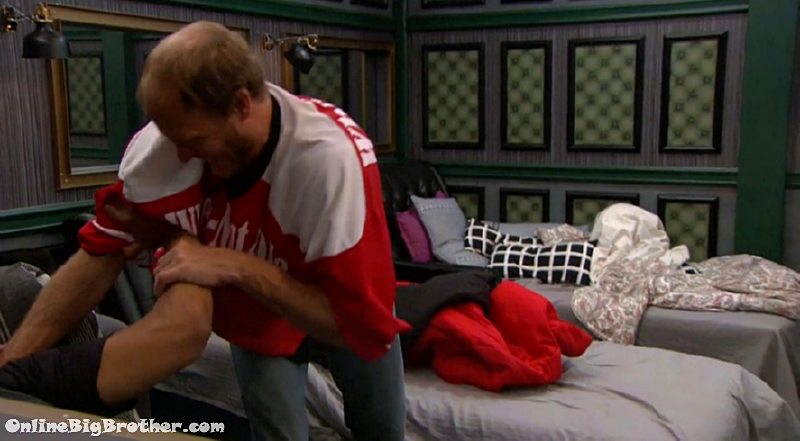 12:42am Kevin, Jason, Josh and Alex
Horsing around..
Production – Shut it down..
Josh – my neck my neck.. stop.. whistle stop…
Feeds cut..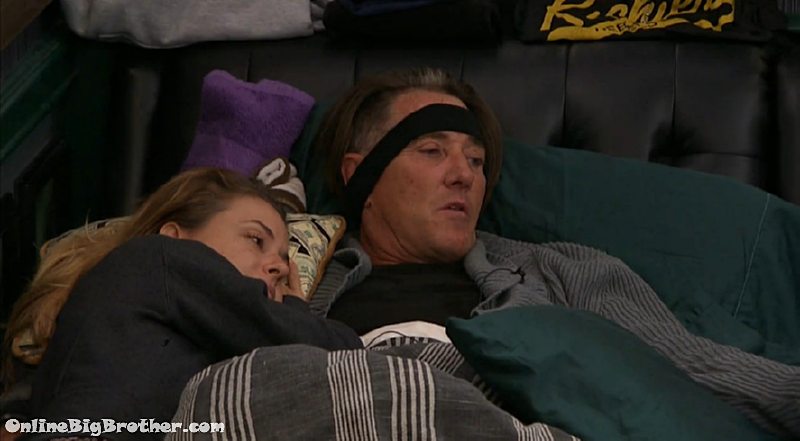 12:49am Alex has gone back to the HOH Christmas climbs in bed with Kevin.
Josh – Paul called me intricate
Jason – he had that wrong
Kevin – you're a simpleton
Josh – no i'm not ..
They laugh..
Jason – Paul called him intrinsic
Josh – what does that mean..
Jason – I dunno… the definition.. it's still a compliment..
Xmas – do you know my favorite 2 places in the house..
(I think he said here and somewhere else.. )
Christmas – how did you guess that so easily
Kevin – I can read your mind girl
Xmas – he he he he
Xmas – I have the best smile here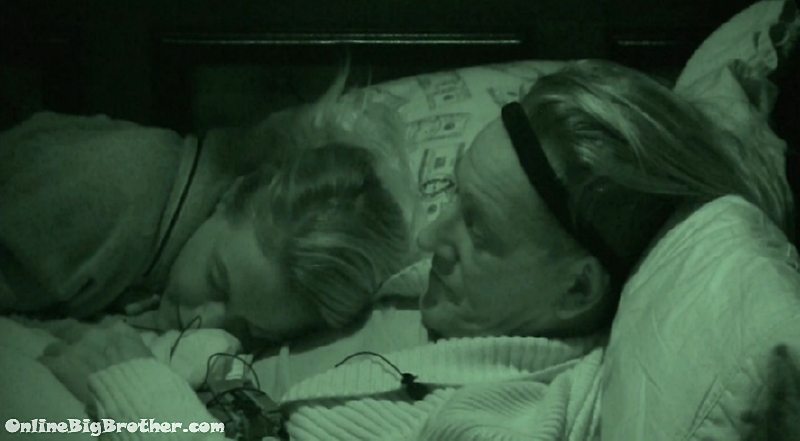 1:24am Christmas and Kevin chit chatting with Jason
Kevin saying he hopes the set for tomorrow is easy to take down. (so they get the backyard quicker)
Xmas – I need to go to sleep
Kevin – Get up and go
Xmas – otherwise I'm going to stay here all night
Kevin – then go to sleep and be nice and comfortable ..
Xmas – I'm more comfortable here than in my bed..
Kevin – no one wants to be by themselves, it's the worst thing in the world, remember I said that to you Ja..
Jassn – yeah
Xmas – thank you for cuddling with me..
Xmas leaves..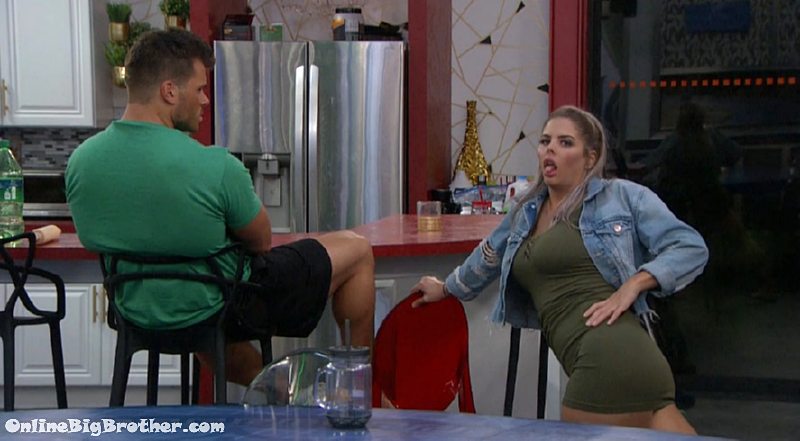 1:26am Mark and Elena
Mark – you look so pretty
Elena – I want to pop my hips..
1:34am Jason and Kevin
Talking about getting Cody out this week being the priority
Jason – If Matt wins the POV that motherf*er better not use it..
Kevin – that means Elena is going and he's a a$$hole
Jason – yeah..
Kevin tells him if Cody doesn't win the veto he's only got 4 days in the house they should talk to him be nice.
Kevin – no more temptation .. just a chance to win POV..
Kevin – next week we should take out Mark.. we should take out 3 guys in a row.. Cody, Matt and Mark
Kevin that leaves Raven and Elena to take out. Kevin thinks they should put Matt and Raven up if they win HOH.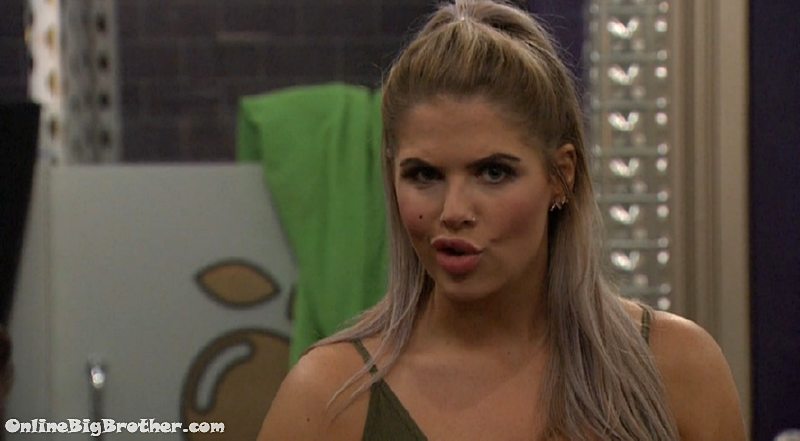 1:40am Elena and Mark
Elena says she feels pretty safe.. Elena says Ideally Cody wins the veto takes her down but it wouldn't look good in front of the house. "It would have to be well executed with my speech"
Elena says if Cody wins HOH next week that's great.
Mark – you me and Paul (Paul? )
Elena – If Cody wins he has to take out someone else.. we're safe. If you win HOH.. we'll have to … do something to COdy or the house will be pissed (UGH.. )
Mark laughs "Who do you think the targets are when Cody leaves the house"
Elena says that Paul has reassured her that after Cody is out everyone has side agenda's and they're going after different people
Elena – But we're at the bottom of the totem pole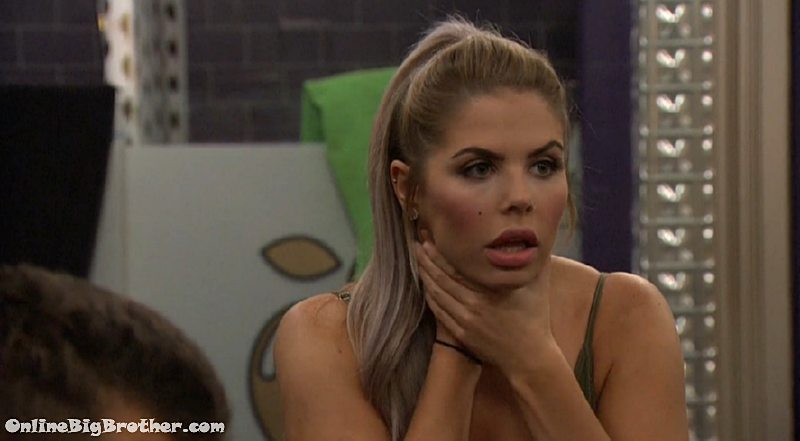 Elena looks off at the mirror "I hate this side of my face.. I wish there was no mirrors in here.. and I didn't have to look at this"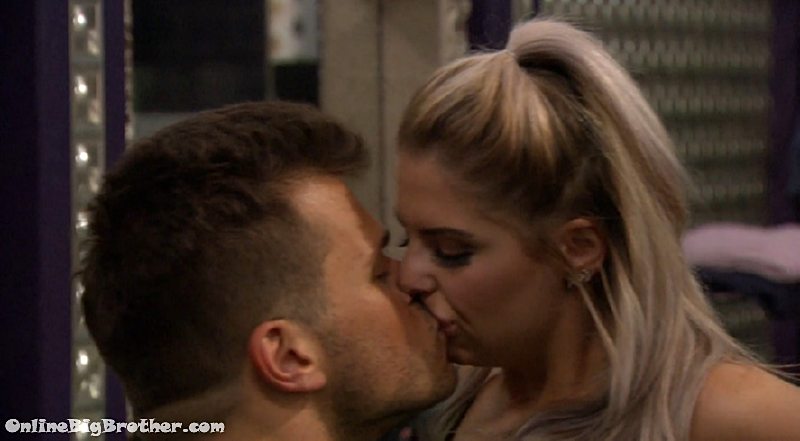 Elena goes into the kitchen to make sure nobody is around. Goes back to kiss mark..
Mark says they have to get the HOH next week. Elena says she was gunning for it this week. Then corrects her self says "gunning-ish"
Elena – I know Paul has a deal with Kevin and Alex and Jason..
Elena wants to call "Call that shit out" she'll do it to Jason "Cause he's weird he can't handle sh1t.. anybody can crack him"
Mark – he was wrong about last week.. he just got nervous.
Elena – something was going on and he didn't know what to say..
Elena says maybe they were going to spread their votes but because she was onto them they didn't
Mark – if Me you and Paul don't win..
Elena – I'm nervous about Paul winning Now.. at this point..
Mark – why now
Elena – things are different
Elena – I don't think we're 100% safe if Paul wins.. he has a f*ing deal with them
Elena – why do you feel safe with Paul winning
Mark – so it's just me and you
Elena – at this point
Mark – I talked to Kevin he said.. BE careful Matt the people that you talk to you think have your back they don't
Elena – he said that
Mark – yeah..
Elena – I'm working into that.. Jason and Kevin
Mark – good keep doing that
Elena – Kevin is starting to… I don't not have a plan..
Elena – people would rather fight with you than me..
Elena says if she had that fight with Christmas Christmas would have lost. "I really wanted to step in"
Mark – Ok I'm not that bad
Elena – she thinks she's a walking right out of a episode of Empire like you're not b1tch
Elena – Stop calling people Honey and Booboo kitty like you live in North Carolina come back down to reality Like.. you're not a legitimate real life gangster b1tch
Elena – You're scooting around the house
Elena – Yeah you're a bad a$$ and yeah you're Aggressive.. But so am I .. Like just calm down..
Elena – then Josh jumping in .. I'm just like heartburn.. Wants to drink bleach
Elena – JOsh is so nice to be around and lovable and enjoyable until you have to have a intelligent mature conversation with him.. then I'm like give me a spork I need to cut my eye balls outta my face..
Mark asks if he looks like a idiot when he argues.
Elena thinks Josh and Christmas looked like the idiots today. She would have said a few things differently than Mark though.
Elena – Christmas has this Idea in her head that she's like a boss lady with this dominate personalty and she is
Elena – but she feels like she needs to reaffirm it all the time so like any conversation she has she has to like assert her dominance like I AM .. blah blah.. instead of just talking
Elena – so she like wants to make a argument like if there's every any disagreement (Elena is about right with her assessment)
Elena – like what are you doing just f*ing talk it's human beings having a conversation don't make a scene.
Elena – that argument was ridiculous.. Like are you kidding me.. B1tch
Elena – how productive was your one on one conversation with Christmas
Mark – it was good
Elena – I dunno.. That Christmas sh1t is annoying as f*
Mark says he's easy to argue with that's why people come at him.
Elena – I'm thinking about going to matt and raven and be like look.. we need to us Four
Mark – YEAH
Elena – I don't even like that plan
Mark – I trust Raven at all, or Matt for that matter
Elena – I don't either..
Mark says at this point he trusts Jason and Alex more than Matt and raven.
Elena says they need to flip the order of showmance targets. They have to make Raven and Matt higher priority than the two of them.
Elena – STAY away from Cody it's not helping you
Mark – I have been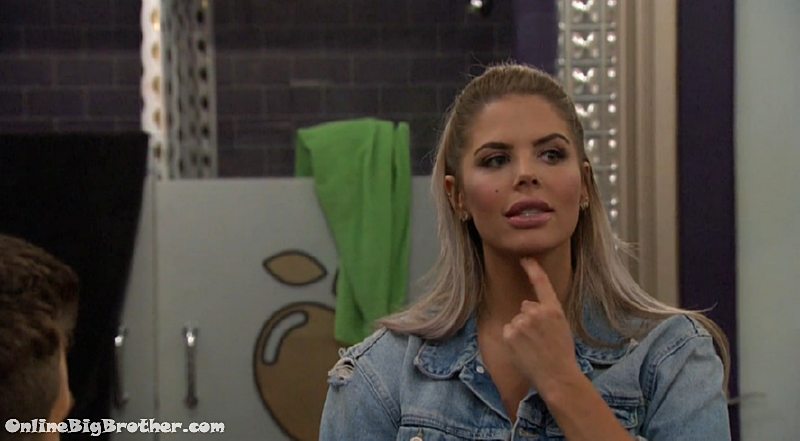 Elena joking around that she needs the money more than mark and she'll take him out if she needs to. Her reason is she needs to have plastic surgery done to her face.. points at the spot. (that's sad)
Elena called to the Diary room..
2:14am Everyone sleeping..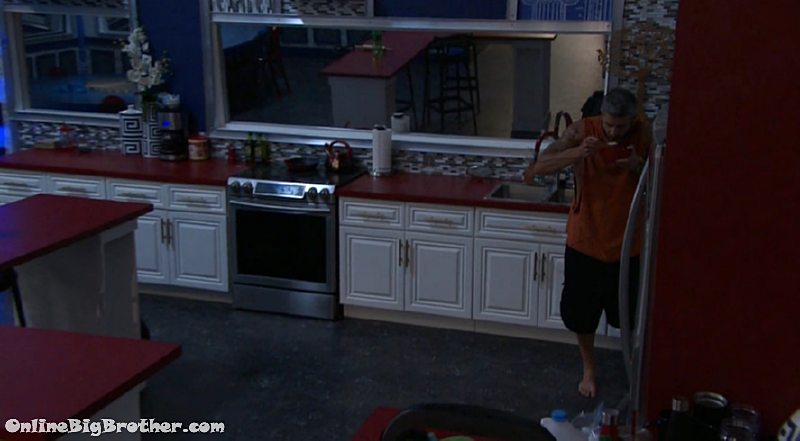 3:14am Middle of the night Game
Sleep eating
Matt game update #BB19 @DawgsBigBrother pic.twitter.com/rbmia6hhG4

— OnlineBigBrother.com (@bigbspoilers) August 12, 2017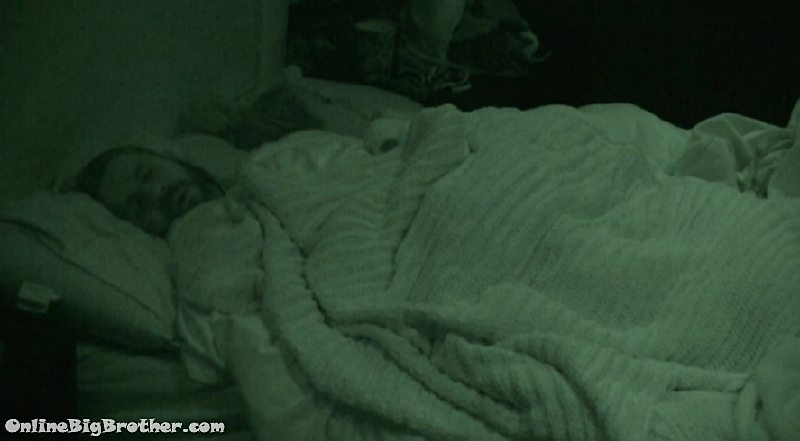 Back to bed.. next Cereal game update expected in 3 hours.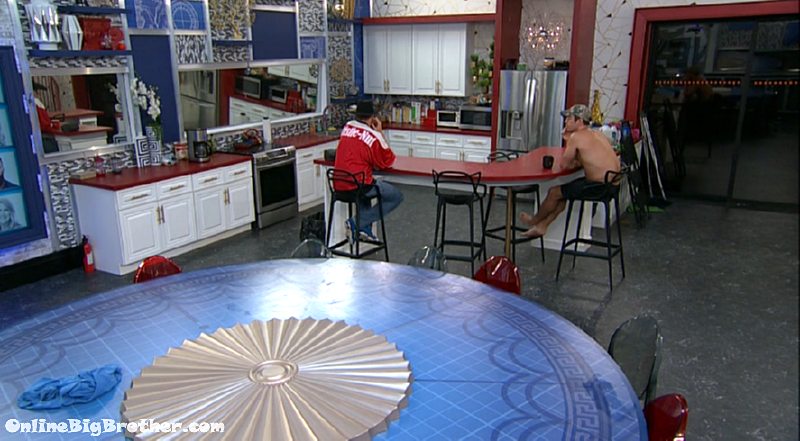 7:50am Just Cody and Jason up.. talking about David Blaine
If you plan on buying anything from Amazon. Use this link Amazon home
Doesn't cost you anything and we get a small cut.
Links to the ranking system
Rank your house guests here
For those of you that like Statistics here are some expanded reports.