If you plan on buying anything from Amazon. Use this link Amazon home
Doesn't cost you anything and we get a small cut.

10am Big Brother wakes up the house guests. The house guests stay in bed till after 11:30am. Kevin starts working out. Alex, Josh, Paul and Christmas are on the backyard couch eating breakfast and waking up.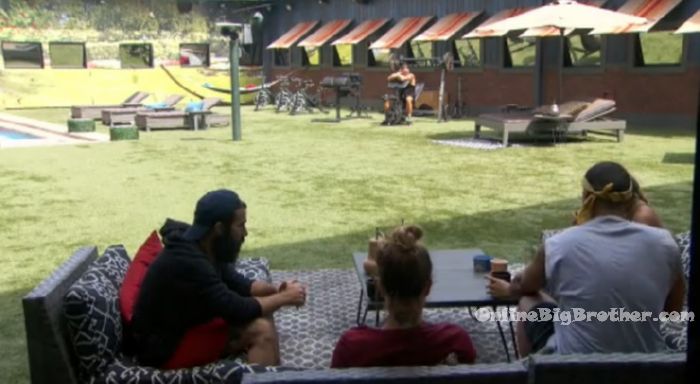 12:25pm HOH room. Josh and Paul.
Josh – it pissed me off his smart comment. Like oh now its time to turn it up. I'm going to win the HOH next week. Shut the F**K up, you don't do sh*t all season and now… Paul – get him all gassed and then I'll be focused mode. Get it and then we're done. Josh – I can't believe it. Paul – I told you we would do it.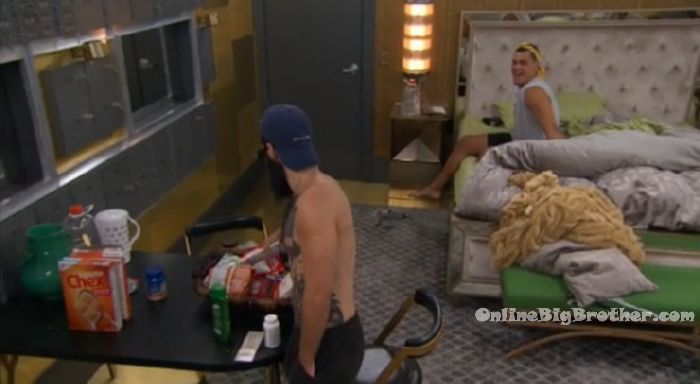 12:45pm Backyard. Paul and Christmas.
Paul – I talked to Josh.. to be sturdy. I don't want to prolong it. Christmas – then talk to her whenever you need to. It's going to affect you either way. We're going to have to deal with some backlash and somethings that aren't true. And have to continuously try and find a way to make it work. Paul – do you think Josh is ready for that. Christmas – I don't believe anything. It's like he knows what she's doing. Listen to her and then believe her and be conflicted. Now Kevin is being nice and she is being nice. Paul – they suck! Christmas – super suck. If it feels best, then go ahead and do it. Paul – I am definitely going to say that I talked to everybody and thought about it… and I think this is the best move for me because had you won, I wouldn't expect you to pull your self off. I would never ask that of you. Which means that I would have gone up and I would have gone home. She was like if you had gone up we would have campaigned and I would have tried to make you stay. I'm like okay we can try that route. I'm not going to use the veto and you'll be up there with Kevin. Go see what you can do. And I'm not going to make it a tie because then I'm sh*tting in my own bed. Christmas – and my position is that I cannot beat you collectively. With all of our games we're not hying. Were being straight forward. We're not making it personal at all. Paul – I'm just going to go tell her.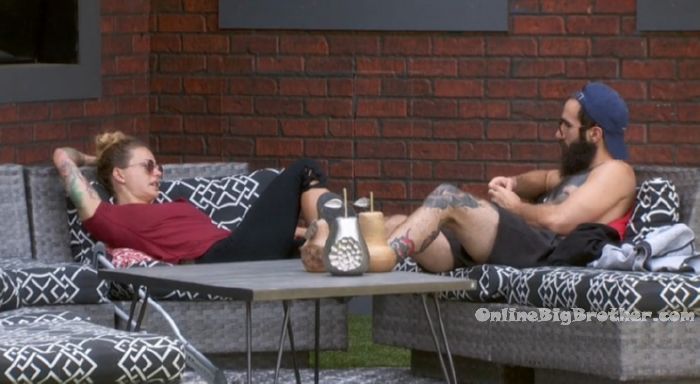 12:55pm Paul asks Christmas to come to the lounge room to talk.
Paul – alright .. I'm in a little bit of a pickle. ..So I think that if I use the veto on you I am pretty much throwing my game in the trash. Just listen to me real quick because I want to exhaust all options. I trust you. I've made an insane connection with you in this game and I don't want to compromise that. Josh nominated tto get one of us out this week. I've talked to Josh telling him I am taking him to final s… obviously I am not. If I pull you off, then I lose their jury veto. We sweep and go to the end and I loose their jury veto. If you had won the veto and used it then I would have gone up and gone to jury. I never thought Friends and family are watching and they would be disappointed if I made the same mistake. I am not going to blindside you. I don't know what to do. You have jury votes already. I would vote for you. The more I see these motherf**kers walking around and smiling .. it f**king pisses me off. Its been a really rough, tough journey for me. You would beat me. Mark and Cody are not voting for me over you. As much as I want to use it on your and sweep, I secure my loss. I think that I actually have a chance to win this year. If I did this I would be the next target. If you can work Christmas and Josh then we can send Kevin out.



Alex – to be honest I didn't want to throw that other competition to you. It secured you and I but I was going to save Jason. I was going to win that and pull Jason off. I put you before Jason. That's what's been killing me and why I've been so upset. ALex – we should have sent Kevin home that other one too. Paul – I hope you don't think I'm trying to screw you because I am not. If I make this move then I am screwed. I've talked to them and they're not going to budge. Alex – if one of them make it to the final 2 they're going to win. You do what you need to do.. outside the game we are cool but inside this game this is sh*tty. Paul – I am torn between myself and the situation. If I take Josh to the end I think I could win. Alex – that is exactly what Cody said he would do. Paul – Cody isn't a mind reader because even I didn't know I was going to do that. Paul – I could take kevin but he doesn't deserve to be there in the final 2. The only people that deserve it are you and I. Alex – if things were reversed I would have saved you. Paul – I've just been mulling it over and its killing me. I wasn't just going to do it and take the coward route out .. you're my friend. I'm torn because I would lose 3 votes automatically. Paul – they don't want me to use the veto. Alex – they said it? My problem is that one of them are going to win second place over me. Paul – we allowed them to get as far as they got. They don't know they didnt do it on their own. Alex – I want you to know that if the situation was reversed I would still take you even if I was going to lose. Paul – I am going to see what I can do and see if I can get in their heads and somehow convince them to keep you.

See what they can't show you on TV Try the live feeds for FREE!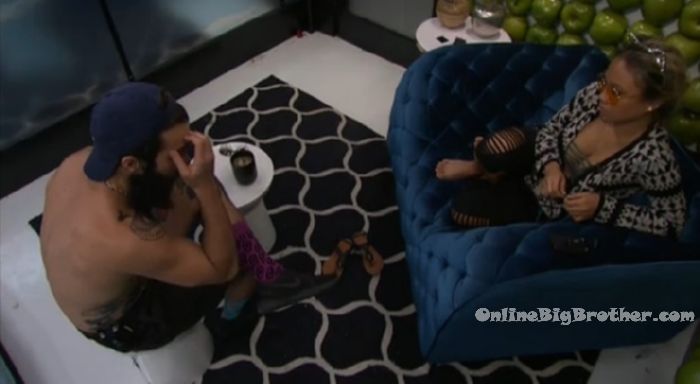 12:55pm HOH room. Christmas and Josh.
Christmas warns Josh that Paul is telling Alex that he is not using he veto on her. If she talks, just let her talk.. don't talk back. Josh – we have to win next week. Christmas – I know and all we need to do is beat Kevin. I hope it is something that I can fully contribute to. If I have to sit out and watch you and Paul beat Kevin again .. Josh – I am going to mentally break him. He has literally done anything and for him to say now is the time to turn it up .. dude you floated to final 4. I am going to f**king crack him and be like you haven't done sh*t all season. You don't have any blood… you think someone is going to give you 500k? You f**king played yourself. And they will give it to his a$$ and that's the scary part. Christmas – I know because he hasn't pissed off anyone. Pots and Pans.. I'm bringing those motherf**kers out. I am not going to let him.. Christmas – expect her to come up here raging. Josh – he needs to make it seem like he is going to take a shot at me next week to Kevin so that Kevin throws it and then we will secure top 3.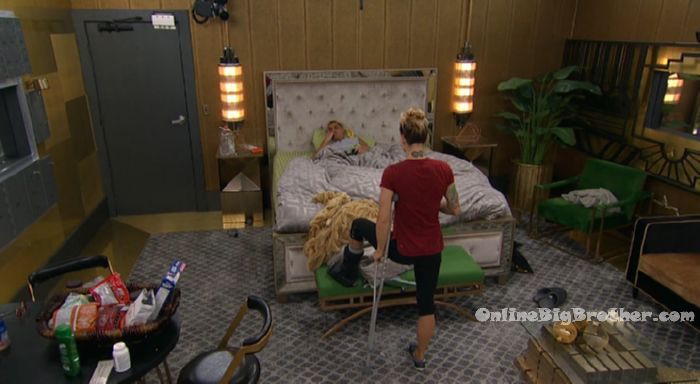 1:25pm Backyard – Kevin is suntanning and Christmas is on the bike.
1:45pm HOH room. Christmas and Josh start studying the days and events of the season.
1:55pm – 2:05pm HOH room. Josh, Paul and Christmas.
Paul comes up after his conversation with Alex crying. Paul – I took all the heat for it but I told her I would try and convince you guys to keep her. And she said there is no way they will keep me. And I said I would try. Josh – why would you take all the heat? Paul – because what the f**k else am I going to say to her. I lose if I keep her. As much as I would like to see you (Alex) win I can't keep her. She called me selfish but she doesn't know I am protecting you two. You guys have to give her a straight f**king no and not give her any hope .. because that will hurt her even more. (lol Paul is such a great guy he took all the heat for two seconds and then transferred to back to Josh and Christmas.) The way that I made it, I don't think she will even ask you. I made it my decision. She said if you make this move you're the one sending me out. And there is no way I am not making this move (To not use the veto). I said if I make this move (use the veto to save Alex) I am losing 3 jury votes. That was tough dude. That was tough. Paul – it hurts because she's not my enemy. Josh – she's not mine either. Paul – basically we have to say that get Kevin out next week will be easy and getting her out won't be.
Try the Live Feeds FREE for 7 DAYS! Click here for your: Big Brother 19 FREE Trial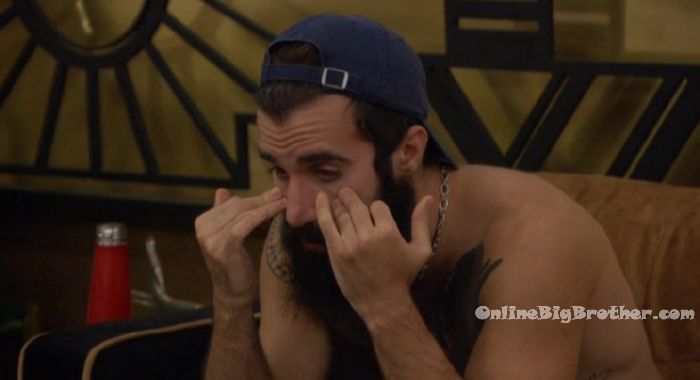 2:10pm – 2:45pm
The house is pretty quite. Josh, Paul and Alex are acting all sad. Alex tells josh in the kitchen that Paul told her he isn't going to use it on her. Josh – do you want to talk? Alex – no. Josh – why? Alex – because I don't want to cry any more. Alex walks away saying she doesn't want to talk game any more. Josh cries at the counter.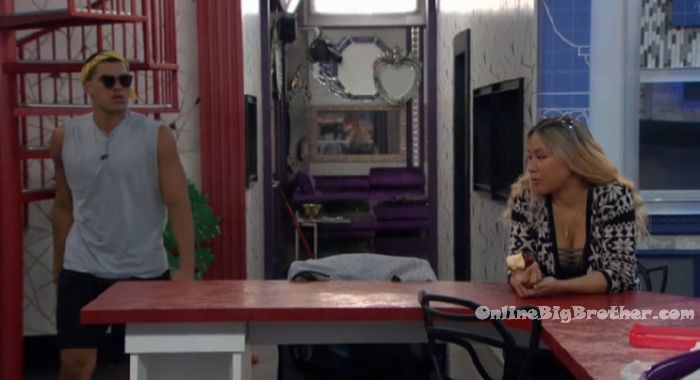 3pm Josh is under the covers in the HOH bed crying.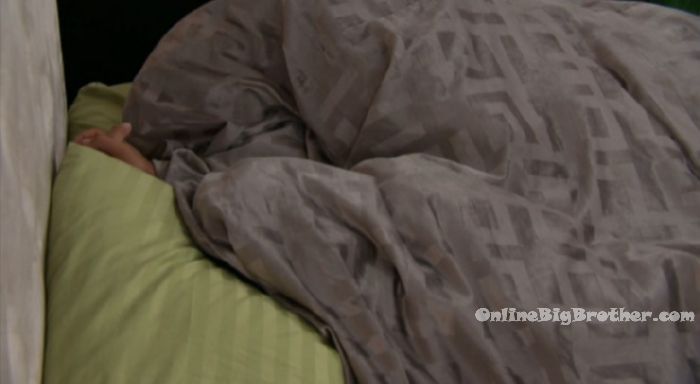 3:25pm HOH room. Josh talking to the camera.
Josh – they want to keep playing selfish, I might just ask for a split vote and keep f**king Alex. Keep being selfish I'll flip this f**king house up side down in 9 days. I'll tell them in front of Alex, make it a split vote… I'll send Kevin out. F**king selfish. I play for these people the whole f**king game and they want to be selfish. I am going to blow everything up. She is taking Paul because she won't beat me. Paul is taking me because he will beat me. I'm taking her because I want to beat her. She is not going to win.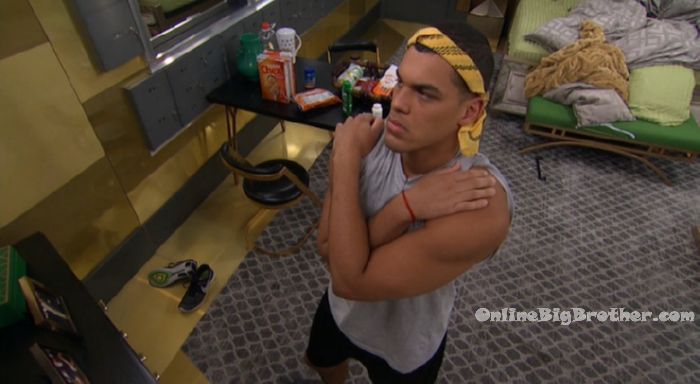 4pm Paul talking to Christmas – I can't win either way. I didn't even think I would make it this far. Christmas – you've done everything that you can do. You're not blindsiding her. I'm taking it away from her.
Christmas – I am having a really hard time seeing his perspective. Everyone is having a hard time. I really wish I had taken the HOH. I can have hard times but I wouldn't question my position. But then again it would have left him making that vote… and I would have been the tie breaker. I don't think he processes emotional trauma very well or at all. Paul – I don't see why he needs to talk to Alex. Christmas – its like when you guy goof off and hit each other .. he always has to be the one to have the last hit.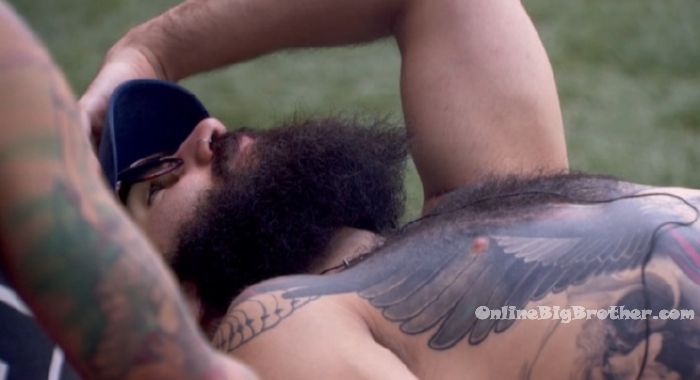 4:20pm Kitchen. Josh and Christmas.
4:25pm Josh – you guys will never understand how much you've helped me. Its hard because I don't want to go against me. I just want you to know from the bottom of my heart I just really do love you and I appreciate your friendship. I a really sorry tiger. I think when you get out you will see. I have been honest and I am in a really f**ked up position. Alex – you guys don't need to cry. I'm the one that should be crying. You guys want me out. Alex starts crying and leaves the room. Josh starts crying. (OMG what a bunch of cry babies! This is a game!!) Alex heads into the havenot room. Josh follows her and says I'm sorry. Alex – stop crying, you don't need to cry. Josh – I really do love me. Alex – it doesn't matter you guys are not our friends. Jason and I trusted you and you f**ked us. I will give you a fair vote. I don't want to talk to you any more. Alex – do you go to the Olympics to play the sh*ttiest players .. no! Just vote me out. I don't want to talk to you guys any more. Just go! Alex continues to cry. You guys have all shown me what kind of people you are and I don't like it. Just focus on winning. You can win against them.
4:35pm Kitchen – Christmas and Paul.
Paul – what is he doing. Christmas – he is trying to talk to her and she doesn't want to. He is sitting there balling like a baby. If he wants to play this victim role I will force him to make the decision. I have to shut my mouth before I say something I regret. Paul – why is he doing that? Christmas – he is sh*tting on both of us right now. If he wants to make things more difficult I will make things more difficult.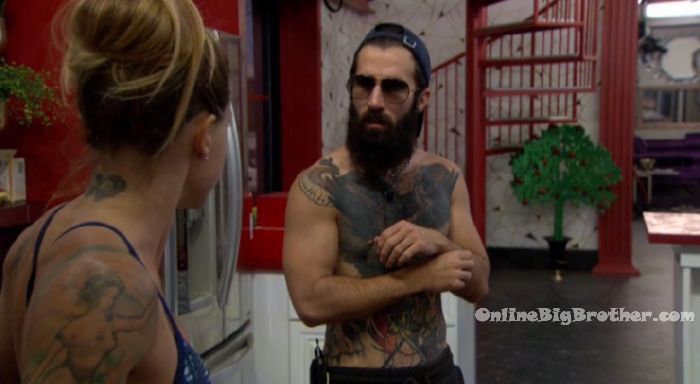 4:40pm Alex and Paul in the havenot room.
Paul – did you have any luck? Alex – I told josh to get the f**k away from me. They're sending me out because they know I'm better than then and they want to just coast by. I want you to take Jason to the Me, Myself and I. Paul – I'm going to figure out a way to give both of mine to you two. I'm super sorry I let you down. Alex tells Paul that she doesn't want to be his friend after. Paul – its a game. Alex – I will give you my vote and I will try and convince Jason to give you his too. You're going to win it.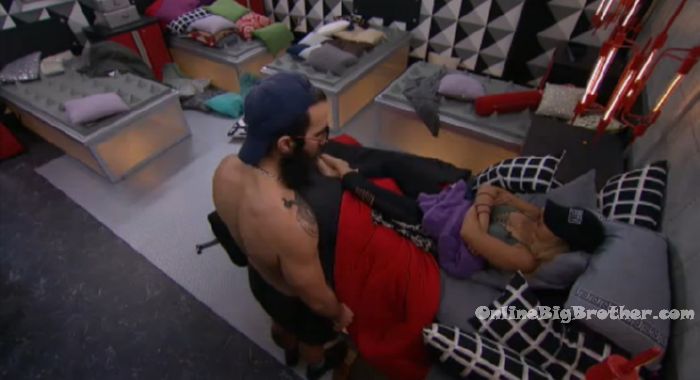 4:35pm Lounge room. Josh comes through the kitchen. Christmas tells him she needs to talk to him for a second. They go into the lounge room. Christmas – do you want me to go home? Josh – no. Christmas – because we can make it so she stays. Josh – no. Christmas – here are your three options. Josh – she is leaving. Christmas – let me talk. We have three options. One, we leave things the way they are. Two, Paul uses the veto and I go up. You'll be the split decision and Kevin or I will go home. Three, Paul uses the veto and I am the split decision. Thank about that and tell me what the f**k you want to do! Make a decision and stick to it. Christmas leaves. Christmas comes back to talk to Josh and tells him to give her (Alex) her space. Let her come back around. Paul comes in and tells Josh that he f**ked up. She is pissed at all of us. I told you if you're HOH you need to make a decision and stick to it. She would respect that more than crying. I gave her no hope and you just gave her a little bit of hope. Josh – I needed to have a conversation with her. Paul – no you didn't. Now she is looking at me to remedy the situation. Josh – do whatever the f**k you want at this point .. do a split vote and I will send her home. Paul – I tell you not to do something and then you go and do it. You just made this situation worse. Josh – do a split vote and I'll vote her out. Send me out next week. Paul and Christmas – no! Josh – if I f**ked everything up, then send me out next week. Paul – she is going to go to jury and f**k everything up.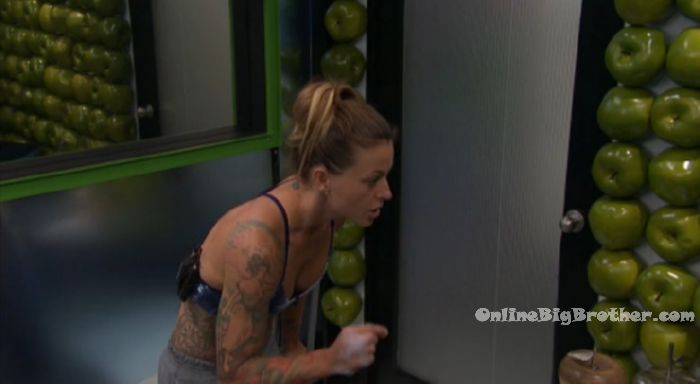 4:50pm Alex alone in the havenot room. Alex – f**king counterfeits! All of them f**king counterfeits.
4:55pm Kevin sitting pretty.
5:35pm Backyard. Paul and Alex.
Alex – this is the way I see it, we're friends and you're f**king me right now. I don't want to talk about this any more. You can't have it both ways. Paul – I am sorry for letting you down. I am going to try and win because I think I have a chance. Do you want me to leave you alone all week and then we can get stoned? Alex – I don't want to get stoned. Paul – do you want me to try with the split? Alex – its not going to work. They're wanting to go with you because at least they get second and that's what they're all aiming for.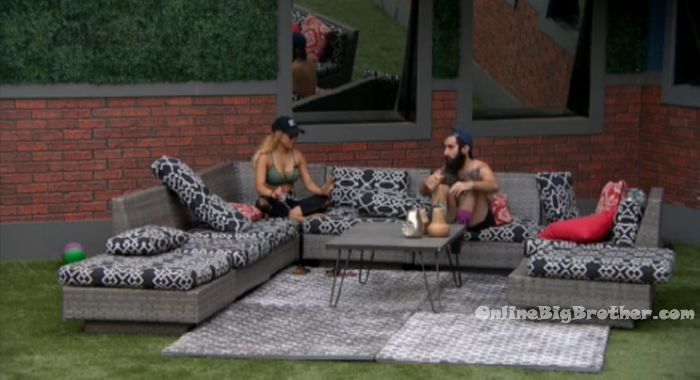 6:25pm Josh – we're done, we've got one more person to go. Paul – I am telling you that its going to be me and you on the balance beam. You've got to win the veto. Josh – I'm going to bring out the pots and pans as soon as Thursday drops. Paul – you've got to bring out more than that. Josh – it can't be anything personal. I wouldn't feel good about that. Paul – talk about his game. Sh*tty game. I am not going to trip any more. I'm going into the zone!

7:05pm Kitchen – Alex is telling Paul who on the jury would vote for who. Paul – Dr. Will will hopefully eliminate any saltiness in the jury. Meanwhile – Christmas and Josh study in the backyard.
If you've enjoyed our live feed updates this season, please consider donating.
Simon and I work 24/7 all season long to keep you updated on everything that happens inside the house. Any amount is greatly appreciated! Your donations go directly to paying the fees required to run this site.
Links to the ranking system
Rank your house guests here
For those of you that like Statistics here are some expanded reports.