If you plan on buying anything from Amazon. Use this link Amazon home
Doesn't cost you anything and we get a small cut.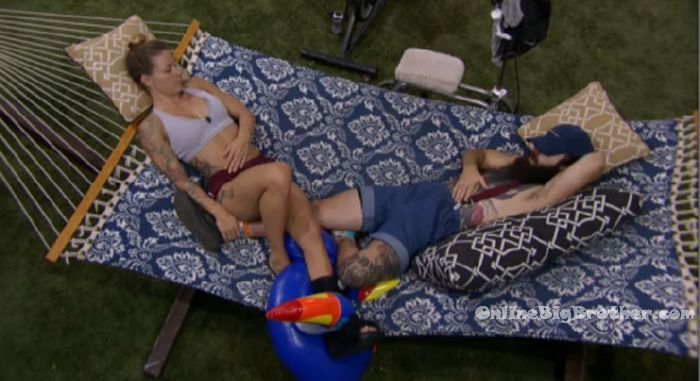 10:37pm Hammock. Paul and Christmas.
Christmas – are you just tired and cranky or did you have something happen? Paul – I'm just hitting another hump. Christmas – how can I help? Paul – I don't know .. just everything is annoying me. Christmas – you can vent? Paul – no because I don't want to sound like an a$$hole. Christmas – you're not going to sound like an a$$hole. Paul – its just taking a toll on me. Christmas – its what its designed to do. Paul – I've spent too much f**King time in this place. Christmas – you're almost out. Paul – How many more days? Three weeks? Two? Christmas – two, maybe 17 more days. Paul – if we're lucky. I'm just missing home. My family, my pets, my friends, my music. Christmas – you're allowed to do that. Paul – I just surround myself with different kinds of people and when I'm forced to be in a certain place it drives me crazy. And when I try to get away I can't. Christmas – do you want me to leave you alone? Paul – no, not you. I would tell you. Christmas – well if she (Raven) comes over I'll take her away. Paul – no, I can't have it be weird. Paul – its the epitome of what I can't stand and its eating at my soul. It's so bad. I can't be around that kind of energy. Its like a shell. Its unfortunate when she is just herself she is a very sweet girl. I just miss my comfort. I'm getting claustrophobic. Christmas – this place makes you who you hate. I don't even recognize things that I say. Paul – At first I was having fun and doing all this stuff. Plans and getting in front of the game. Christmas – Its the down side s what's wrong with continuing to make plans? Paul – I'm going to lose anyways .. so what's the point. I guess the point is to see you guys go as far as you can. Raven joins them Christmas – do you mind giving us a few minutes we're just having an issue. Raven – no problem.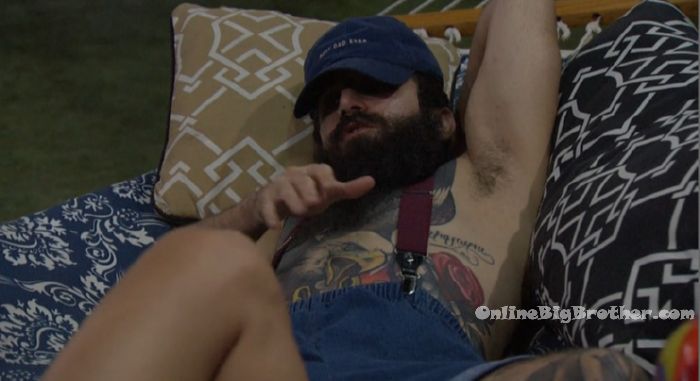 Paul – I got some personal news too and I am just ready to just get out. Christmas – today? Paul is silent. Christmas grabs Paul's foot and rubs it. Christmas – whatever is happening, they know that you love them and you're thinking of them. And they would want you to finish what you started. And terrorize some people in the process. Paul – its terrorizing me in the process. Christmas – is it anything you need to attend to? Christmas wipes away tears from Paul's face. Christmas – do you want to go upstairs and be alone for a while? Paul shakes his head no. Christmas tells Paul a childhood story.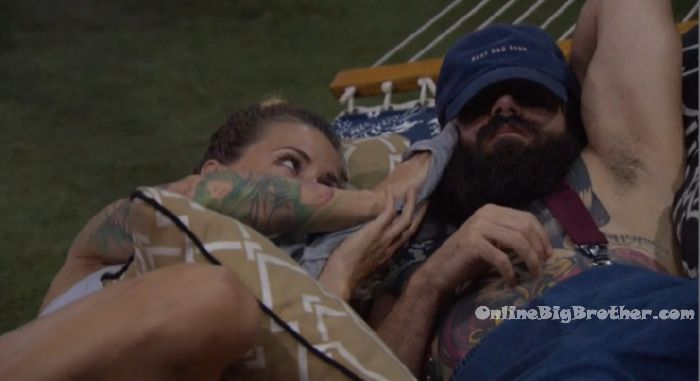 11:25pm – 11:40pm HOH room. Christmas tries to patch a hole in Trejo.
11:50pm Alex is snack in the storage room. Kevin comes in and grabs some MM's. When he leaves Alex fingers him.
12:14am Backyard Hammock. Christmas and Josh.
Christmas – this is how marriages work. Its supposed to be 50/50 and the averages it will be but there are some years its 70/30, 80/20, 60/40. Its never going to be 50/50 everyday. Sometimes one partner is going to pick up and carry the other partner for an extended period of time. Sometimes that one partner is going to have one f**king leg. It is never 50/50 evenly distributed. That is a dream but it is equal partnership where sometimes you're going to have to take the brunt of it and sometimes I'm going to have to take the brunt of it but that is why the three of us work so well together because individually we are dead in the f**king water. Josh – I am checking him so that he doesn't loose it but I need someone to check me. Christmas – I'm checking you. Josh – when I spoke to him this morning, it broke my heart. Christmas – he knows what he's doing. Josh – when I was in the Jacuzzi he started going in on Alex. What f**Ked me up was that Kevin knows he's leaving. I just started crying. Christmas – I put him on the block, I will take the responsibility for it. Josh – its the way that its being done. Christmas – its not that shaddy. Christmas – has he asked you for your vote? Josh – he thinks that he has my vote. Christmas – did he ask you for your vote. Josh – no. Christmas – then his arrogance is whats going to get him in trouble. He hasn't given you the respect to ask you for his vote. Remember that! Josh – he expects it because of the friendship we have. Christmas – we'll sit down Wednesday afternoon and decide together what to do. But do you want to give him 500K or do you want 500K. That's what it comes down to.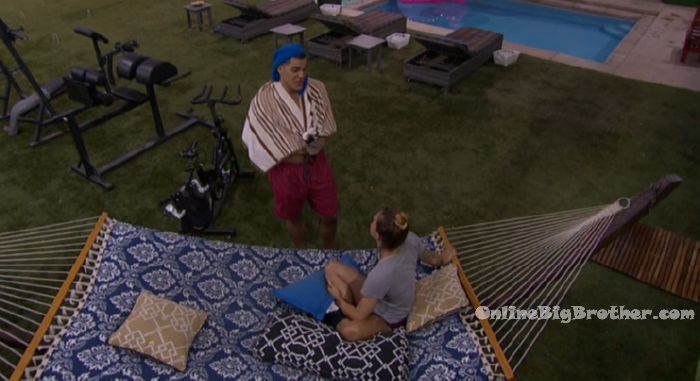 12:20am Paul and Christmas playing corn hole.
Paul – see what else is f**ked up? When I shift, everybody seems to shift and then I feel bad because I feel like I've got to pick myself back up again or else its going to throw people off. So I never have a chance to feel vulnerable. Christmas – no, its fine. Raven is jumping on board. Josh was talking to cowboy (Jason). Everybody had 2 beers and feelings came up. Like you had a legitimate challenge. Paul – what do you mean he was talking to cowboy? Christmas – not like that, he just feels bad. Paul – so what did you tell him to do? Christmas – I told him to not think about the vote for the rest of the week. Just block it out. Don't worry about it. Have a good time. Enjoy his time with him and to be honest if he wasn't so dang good he wouldn't be going. Paul – that's a lot of what I feel like. In my normal life its someone elses advantage to my disadvantage. You know what I mean. And I don't do that in my normal life. I don't put people at a disadvantage for me to advance. Everybody wins and I do too. It hurts, its sad. Christmas – it's designed to be.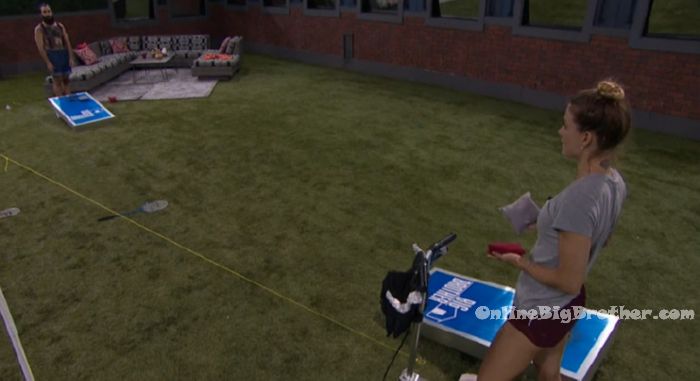 1:10am Josh reading the bible and then starts talking to the camera about how his dream is to be able to give back to his family. I'm living the dream being here. I am grateful.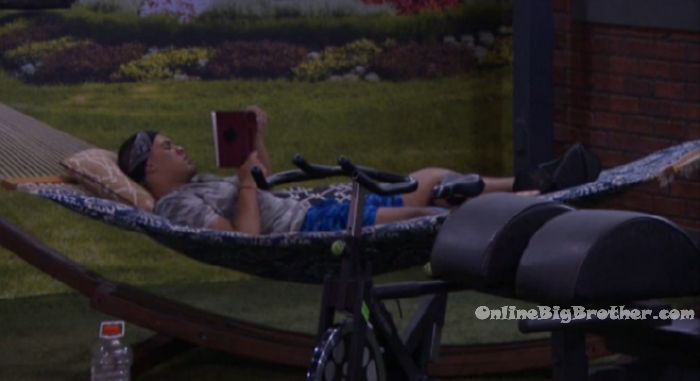 1:47am HOH room. Paul and Josh.
Paul – I almost said to Alex that next week we would just put up Kevin and Raven. I then I realized that she thinks Kevin would be gone. Josh – the way she is going to be raging after Jason goes.. Paul – that's my job and that's where you need to fight. Josh – Mean I'm not going to loose before f**king Kevin. Paul – she doesn't know that Jason is going to be gone and Kevin is still going to be here and Kevin is a huge target for her. HUGE! I've already planted the seed with Raven. I was like If I win, I am putting you up because I am gunning for you. And she was like oh yeah good, tell her that. And I'm telling Alex the same thing. Josh – you have to turn off game. Paul – no I can't. Josh – when you're off, I'm on and when I'm off Christmas is on. Paul – I need you just as much as you need me. I'm guiding and if I mess up then I would feel bad. Josh – I'm not worried about my game any more I'm worried about the three. I want to make sure if I don't win, that you or her win. Paul – that's how you know you found your ride or die. Paul – you're going to tell him (Jason) a few minutes before. Josh – yes. Paul – if there is a blow up I'll take the heat. Lines drawn in the sand. I'll pull Alex away from you. I already told Raven that I would be gunning for you. Josh – for me? Paul – no fool, for Raven. If I win I put Raven and Kevin on the block. Alex has no clue what is going on. Now Raven is forced to win some sh*t because if she doesn't she is gone. Worst case if Alex wins (veto) then Raven goes. And its her fault because she didn't win. They discuss how BB comics could be the veto next week. Paul – if I win the veto I could pull Kevin off and put Alex up saying that she already got Matt's blood on her hands so putting her up she wouldn't get Raven's blood on her hands. And then boom vote her out. They're going to hate all of us equally. Christmas joins them. They go over the scenarios again. Paul – I have thought all of these scenarios out. Paul – I want to win 6. (6th HOH) I am gunning for it this week.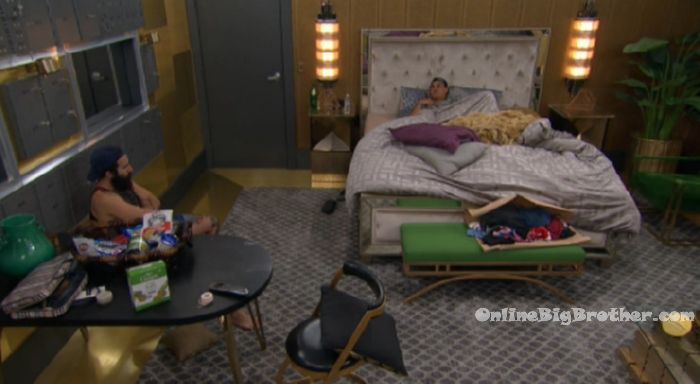 3:20am All the house guests are sleeping..
Tuesday Update
Nothing is really going on.. the next update will be later in the day. For the next 2 weeks this will probably be how things go down As less and less goes on.
If you've enjoyed our live feed updates this season, please consider donating.
Simon and I work 24/7 all season long to keep you updated on everything that happens inside the house. Any amount is greatly appreciated! Your donations go directly to paying the fees required to run this site.
Links to the ranking system
Rank your house guests here
For those of you that like Statistics here are some expanded reports.