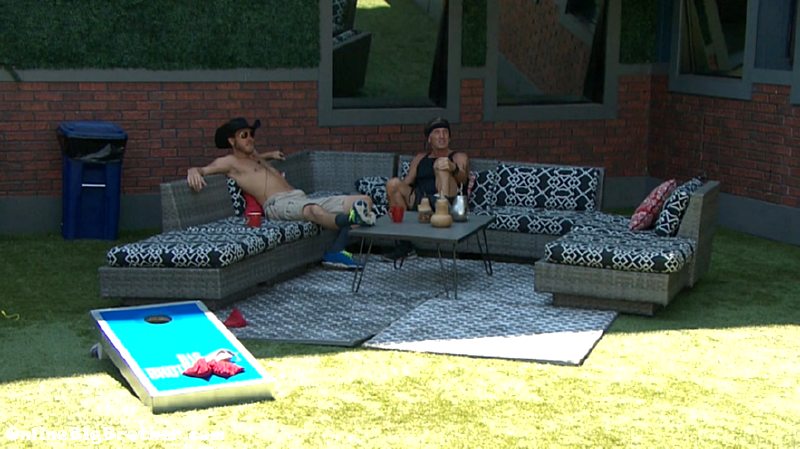 Noon Kevin and Jason
Jason saying all the fake crying is driving him nuts
Kevin – what would you do if you were me.. reside to the fact you're on the block and you may leave and just be cool right.. why argue and fight.. I don't want to argue with nobody
Kevin – let's say you leave and I stay .. it's going to be me next.. the age gap I just don't get it I can't do it.. if I was 24 years old it wouldn't be close who would win this game
Kevin – I was a great athlete and I got along with everybody..
Kevin – that's another thing.. you and me can't be hugging around.. I see Paul and Xmas are getting together Josh and Xmas
Kevin – what Am I gonna do hug a 22 f*ing year old girl
Jason – and that builds a hell of a connection.. we're missing out on that connection
Kevo – you at least had Alex
Jason – Alex is like dude repellent though
Jason doesn't know how they can beat Alex in the end.
Kevin – there's another person you can't beat..
Jason – Paul
Kevin – yeah.. it's like professional Big Brother's they put you and me in here..
Kevin – it's like me going in the bull ring
Jason – the only way to beat those 2 is to get rid of one of them and I mean .. .I have no interest in that.. (no interest in winning)
Kevin – let's say I'm gone and you win HOH who are you going to put up.. I'm not going to tell anyone
Jason – Raven for sure and probably Josh or Xmas..
Kevin – alright..
Jason – I have no idea.. I have so many f*ing things that bebop in and out of my f*ing Skull
Jason – I can't keep a thought
Kevin – for more than 10 Seconds
JAson – yeah
Kevin – even when you're thinking about sex.. it's jumping out in 5 seconds
Jason – If you didn't have ADD when you got here you are leaving with it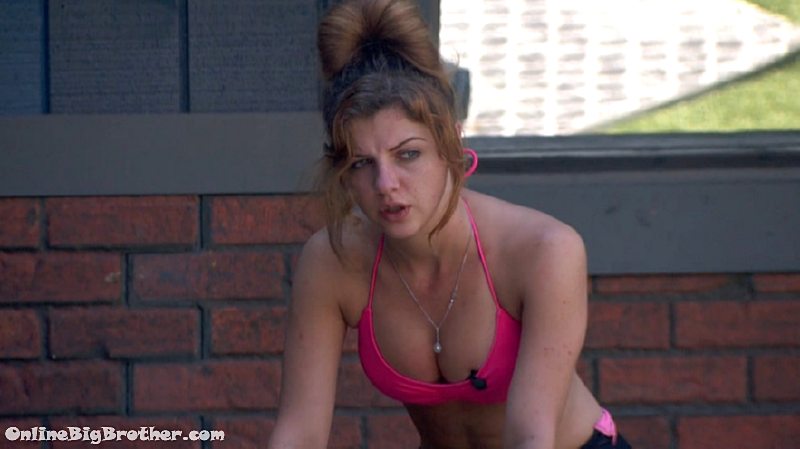 2:01pm Raven, xmas, Paul, Alex..
Raven going on about how her mom had breast cancer and now she needs to get checked regularly
Xmas says her mom had breast cancer so she gets checked every year
Raven – I get checked every 6 month because of my disease too..
Raven – my aunt passed away from breast cancer than 2 years ago My mother had breast cancer
Raven now saying she has cysts in her breasts ..
Raven – I can't have a breast reduction because of my fibrous cysts..
Paul – can you get the cysts removed
Raven – no it'll just grow more
Raven – I get it from my grandma
Paul – what the fuck
Xmas- I don't get it.. what if you get breast cancer how do they remove
Raven – I have them I can feel them..
They start talking about fitness and running.
Raven – I love running in general I'll run a couple miles before work
Xmas – what's your mile time
Raven – my Mile time like 6:20
Xmas – sooooo what's your 5K time
Paul – Your Mile was 6:20? that's f*ing good
Xmas – yeah that's fast
Raven – my 5K time is 18 or 19
Alex – mines was 8:40
Xmas – 6:20 is fast..
Raven – my mom holds the record in Arkansas her mile was 5 minutes and 45 seconds.. (WTF)
Raven – i'm good at long distance .. I get it from my mom
Xmas says when she trains for endurance her best times in in the 7's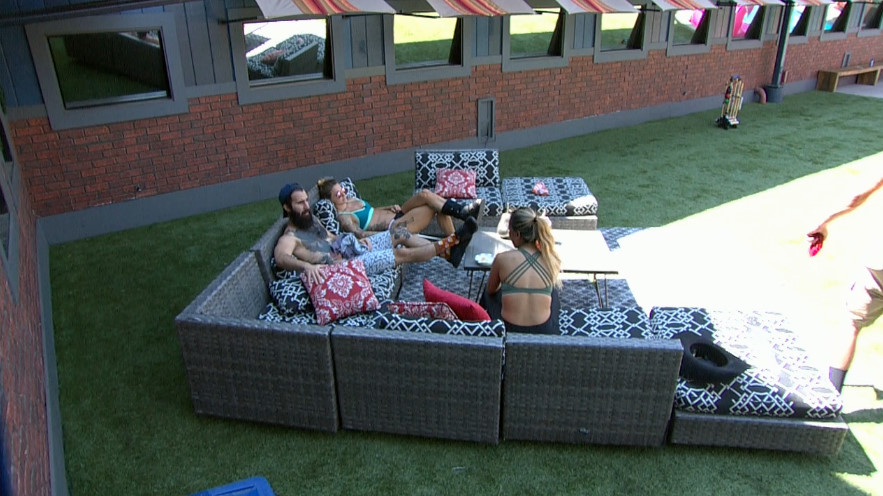 2:20pm After Raven leaves..
They talk about how insane a 6:20 minute mile is and they don't believe it.
Xmas says there's a guy on her team that runs a 6:30 mile and he's the fastest.
Alex says it took her months to get to a 8:40 mile and that was going hard at it
XMas says when she's super conditioned for endurance she can make 7:30 7:40 miles and that's PEAK conditioning for her.
Alex – I was 7:50 once, that was after running every single day
They talk about Raven saying she needs to be checked 6 months. Xmas doesn't believe that Raven needs to be checked every 6 months. She's over 30 and her mom had breast cancer and she only needs to be checked every year.
Xmas – she's not f*ing 30 there's no way she gets checked every 6 months for that
Xmas calls bullshit on Raven.
Looks like they got yard games to play..
Inverted spine must help with this #BB19 @DawgsBigBrother pic.twitter.com/zE1tGlwh1Z

— OnlineBigBrother.com (@bigbspoilers) September 5, 2017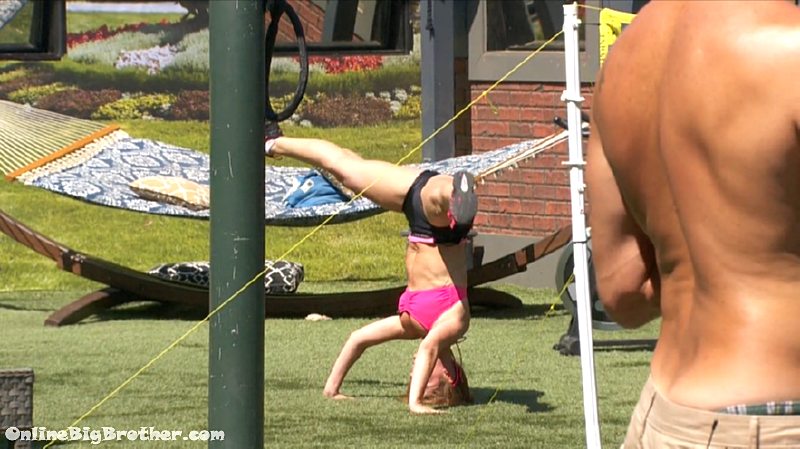 2:26pm Inverted spine must make this easier..
6:21pm Chit chat about Birth control..
The next update may be awhile.. nothing is happening..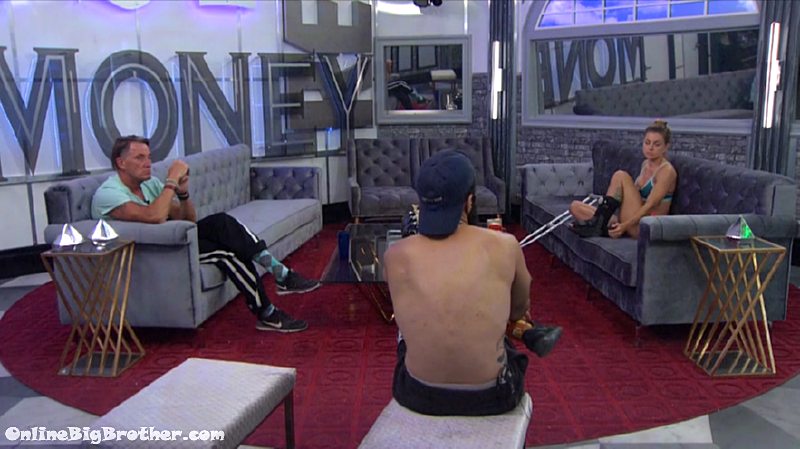 7:00pm Paul, Kevin and Xmas
Talking about Raven interrupting every time they have a story with a story that 1 ups them.
Xmas – nobody can finish a sentence or conversation
Xmas – I'm so frustrated and so at the end of it.. I'm at the end of my rope with her
Paul – at first.. all my sympathy and empathy were gone.. I was like this girl has to win this game
Paul – when I first met Raven the stories she would tell me about how you know.. her slim chances of continuing life and like her attitude towards life and like her bucket list thing her positivity and this and that..
Paul – I thought WOW what a exceptional human being, this is why she was cast.. to teach people a lesson
Xmas – it was beatiful
Paul – at this point the things she says do not match up with the things that she does or the way that she is
Paul – she painted a picture for us how what she is but know that we've gotten to know her..
Xmnas – it's a facade
Paul – it's a facade
Paul – she does have a legitimate illness.. It sounds so bad and so scary..
Paul – there's a feeling of sadness but there's also a feeling.. am I stupid because the things you are telling me don't add up don't make sense or flat out bullshit
Paul – do I humour these things because I feel bad becuase of you illness or at what point to I say Holy f* I can't take this
Paul – I can't keep showing face to things that are getting under my skin..
Paul – it's a really odd scenario of, we're in the public eye.. of course we're in the back of our minds I want to be the best version of myself. (holy lords of Kraken .. if this was the best version)
Paul – and be as politically correct as I can ./ be a stand up representative of who I am.. but at the same time..
Paul – all you are trying to do is make me feel bad around you.. your positive traits ..
Xmas – they're gone
Paul – I thought damn what A cool person
Xmas says there's a core of things that are true, "maybe when ashe came she's the person she wants to become.. that super positive person.. ma6ybe that was it.. over a time period she kinda slipped back into his older version of herself where if she plays it up she gets more sympathy"
Xmas – look at her family history.. she hasn't developed the skill set to become her own hero.. because of this tragedy so her default is to go back tas the victim
Paul says Raven said "Why the f* would I hide cat years I have a few years to live"
Paul – when she came in she made it sound
Xmas- 2 years
Paul – I thought she was going to die. AS time progress as she adds things and takes things away..
Paul – I'm not trying to clown on it.. I'm confused..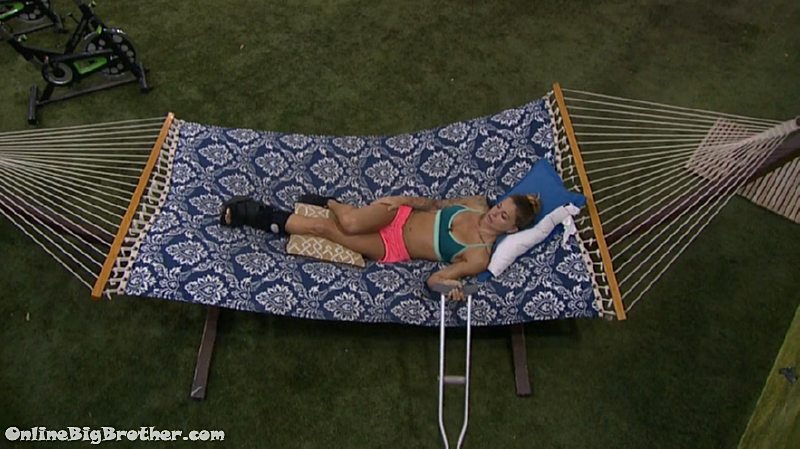 8:16pm Xmas loves her team she's glad to be friends with Josh and Paul. Xmas wants the three of them to make it to the end.
Xmas says if Big Brother asks her to come back she'll play a different game. (please for the love of Kraken do not bring anyone back.. )
Xmas – Paul talks about how last year wasn't like this year
Xmas – if Big BRother does ask me to come back next year (please Kraken no) and I come back I'm obviously going to be playing a different game it's going to be different people.
Xmas – I don't feel that they will be as awesome, Collaborative, or Cordial as this group has (Ohh man.. )
Xmas – yeah there was lots of blow outs.. we got Petty there was fights and pranks… and lots of arguments I really do feel that the chemistry between this team and this group of Big BRother houseguests has been unique and exceptional (Exceptional?)
Xmas – and I'm not sure if they are going to even go that route next year.
Xmas says she would like to come back to do another season and be a "dominating contestant with a good foot"
If you've enjoyed our live feed updates this season, please consider donating.
Simon and I work 24/7 all season long to keep you updated on everything that happens inside the house. Any amount is greatly appreciated! Your donations go directly to paying the fees required to run this site.
Links to the ranking system
Rank your house guests here
For those of you that like Statistics here are some expanded reports.