POV Holder:
Paul
POV Competition
June, 24th
POV Used
Yes
POV Ceremony
June, 26th
HOH
Nicole
Next HOH
June, 30
Roadkill Competition Winner:
Frank
Original Nominations:
Paulie, Jozea, and Paul
After POV Nominations:
Paulie, Jozea and Bridgette
Have Nots
?
Watch the 1st WEEK of the live feeds for FREE:
Big Brother 18 Alliances Help Guide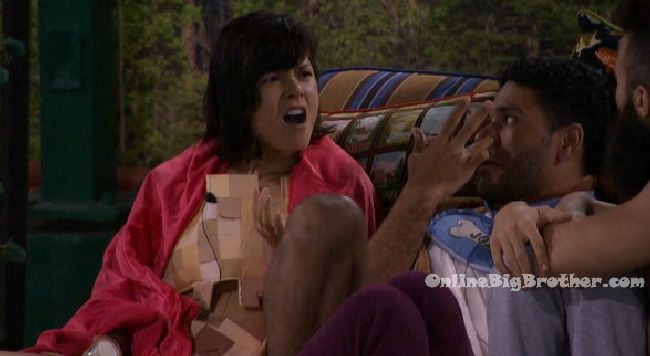 12am – 12:35pm Cam 3-4 Backyard – Bronte, Paul, Bridgette, Victor, and Jozea are talking. Bronte says they put up Bridgette so that in a couple days they can come to her and say we'll save you. Paul tells Jozea you need to confirm with Zakiyah. Jozea says she's not going to flip. She's with us. Natalie says I told her this isn't the bachelor. Natalie says she's interested in hearing what the votes are after. Jozea says he thinks Michelle is an air head. She's just here to float around. Jozea says that every time Frank walks past me he gives me the eye. (Winking that he's got me.) Jozea says Frank told me I'm good, I'm good and he's a church going man, he's not going to lie. Jozea says she (Tiffany) came out here to listen .. and got caught off guard by Natalie. Paul says oh of course f**king dumba$$ B***H! Paul says look in my eyes ..I f**king hate that girl (Tiffany) so much … If she died right now … The girls all say no no no.. Paul says look guys I'm an a$$ hole. Bridgette says I would resuscitate her. Then we'd shave off her eyebrows.
FLASHBACK and watch everything you missed: Live Feed 7 day FREE Trial!
12:40am – 1:05am Cam 1-2 HOH room – Zakiyah comes up to the HOH room and tells DaVonne the whole conversation the others were having talking about Tiffany. Zakiyah says they were getting nasty! Jozea joins them and then leaves when Michelle and Nicole enter the HOH room. DaVonne is shocked they were talking about shaving off Tiffany's eyebrows. They're being some b***hes! I dont think I could tell her how harsh they were about her. Paul said I don't care if Tiffany passes out and dies .. then I'd resuscitate her and shave off her eyebrows. Nicole asks oh my gosh what did they say about me?! Zakiyah says it was mostly from Bridgette. Like I don't trust that girl. Don't trust her. Zakiyah says for some reason they think the vote will be a tie. Nicole says I would never break the tie for him to stay. Zakiyah says he said then that b***h (Nicole) would go right after. Zak says Bronte is smarter than she puts on. Michelle says I am so glad I'm not a part of that group. Zakiyah says it was nasty. Nicole says I can't believe the would say something about her (Tiffany) when she was passed out and sick. Zakiyah says that to me was just ugly. Michelle says I would be surprised if they start saying off colour jokes and stuff. DaVonne says snatched his a$$ (Paul), but I'll keep it cute. Michelle says they're going to look like mean mean people. Zakiyah says especially Bronte. Michelle asks was it mostly Bronte or Jozea. Zakiyah says mostly Bronte and Paul. Nicole says I need need need our team .. alliance to win HOH! Michelle says James needs to throw it so his team doesn't win. Zakiyah says oh he's on board with that. DaVonne says I told James if I win HOH and get to pick whos havenots .. he's going to need to take one for the team because I need to weaken Victor. They continue to talk about Bridgette talking about wanting to shave off Tiffany's eyebrows and resuscitate her. Michelle says I hope she (Bridgette) loses her job for that. I hope she never works in a nursing home again.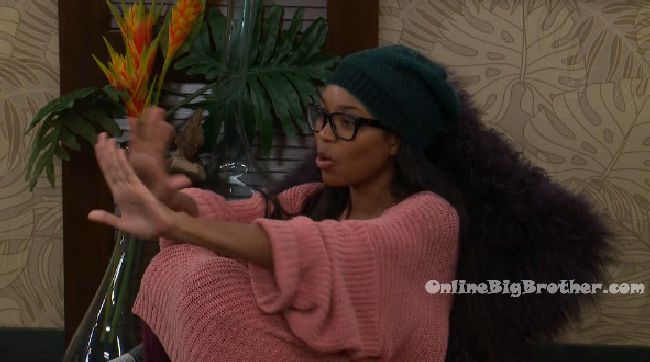 1:20am Bronte, Tiffany, Bridgette and Natalie are hanging out by the hammock. Tiffany is telling them about the emotional intelligence retreat she went to that was an amazing experience.
1:25am HOH room – DaVonne, Michelle, Nicole and Zakiyah continue to talk about the others. They talk about how Bronte straddled a box. Michelle says if I was a guy I wouldn't be attracted to her. Nicole says lets not stoop down to their level. They need to go for strategic reasons. Tiffany joins them. I think they think they're fooling the guys and I think they have their separate alliance. DaVonne says they do. Michelle asks who do they have Paul, Victor, Bronte and Natalie. They only have 4. Zak says they think they have Frank and James.. that's why this eviction is going to be funny.
1:30am – 2:45am Paulie talks to Frank and Corey. Paulie talks about how Bronte cracked a joke about how he wouldn't be here. He says then she came back and was laughing with Bridgette about it. Paulie says he was about to go off. He thanks Frank and Corey for keeping him level headed. Frank says Bronte is making a bigger target on herself. Paulie joins the girls in the HOH room. They're eating chips and chatting. Paulie brings up how annoyed he is at Bronte. I've already warned her so many times … that out in the real world is what sets me off .. and I'll break your jaw. She is a little brat. I would have more respect for them if they kept talking behind my back. The conversation turns to talking about Victor. Paulie says I'll bate him to take a swing at me. I bet he has a b***h a$$ punch too. I've had years of bating people to take the first swing.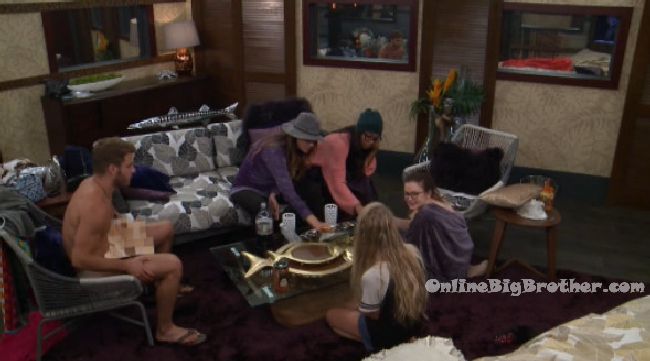 2:50am – 3:05am Paulie says I wish they were more spread out over more teams. There's three of them (#TeamUnicorn – James, Bronte, Natalie, Victor) in one team. Nicole says that means they could potentially all be safe. Paulie comments that he is 100% being egged on in the diary room .. They're just feeding it. Big Brother blocks the feeds. When the feeds come back – Nicole asks Paulie if he is going to tell Corey everything that's going on. Paulie says oh yeah. Nicole says because then he'll tell Frank. Coming from you will be better. If you decide not to tell him, then tell me and I'll tell him. Paulie says I have no problem telling him. Nicole asks Paulie if he has a bed? Paulie says he's sleeping with Paul. After this week I'm going to tell Paul to sleep with Victor .. he'll no longer be welcome sleeping in the bed I'm sleeping in.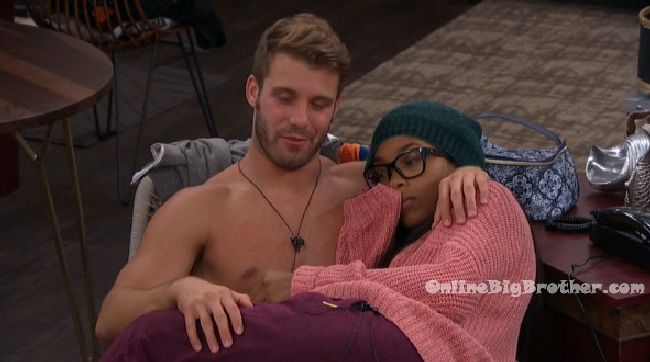 3:15am All the house guests are in bed sleeping …

7:16am All houseguests sleeping
8:50am houseguests waking up
10:21am Houseguests have woken up and are milling round the backyard, kitchen chit chatting. (Simon here, I won't be posting anything until after lunch PST But don't worry if something important happens It won't be missed when I publish. )
FLASHBACK and watch everything you missed: Live Feed 7 day FREE Trial!