POV Holder:
Paul
POV Competition
June, 24th
POV Used
Yes
POV Ceremony
June, 26th
HOH
Nicole
Next HOH
June, 30
Roadkill Competition Winner:
Frank
Original Nominations:
Paulie, Jozea, and Paul
After POV Nominations:
Paulie, Jozea and Bridgette
Have Nots
?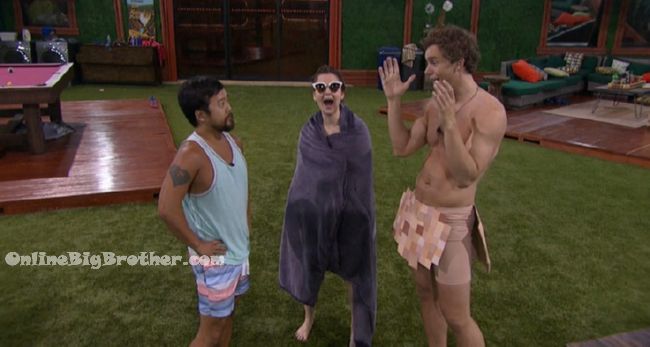 9:00pm Backyard Frank and JAmes
Having a "Live Feeder" segment where they talk to the live feeds… Frank jokes that he never followed James on twitter before the show but he will now. Mentions James "Pranking him" a lot lastly.
Michelle joins them says she's so lucky to be in a season with Vet. Frank jokes that at least they don't have to play with douchebags like Dan Goosling.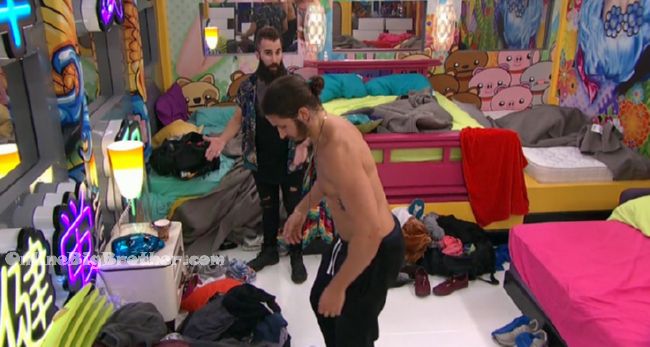 9:01pm Victor and Paul
Paul says he talked to Nicole and she's cool with them.
Paul – I like her more than some people
Victor r- Some of our people.. I'm going to go work out with her.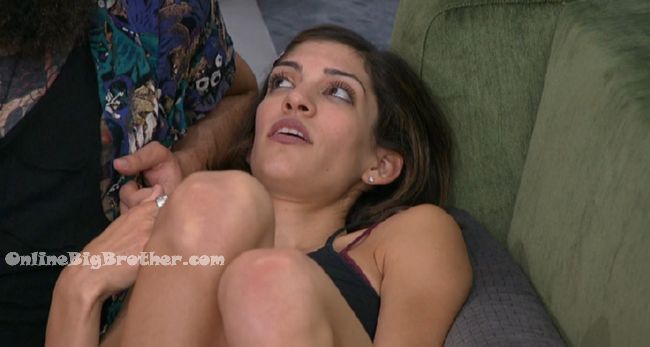 9:04pm Living room Paul and Bronte
Paul says Tiffany was wearing sunglasses at 10 pm in the house she was doing it so people couldn't see where her eyes were looking. Paul says he f****g hates her.
Bronte – She's sketch
Paul – she's a lawyer.
Paul – everything is so unnatural and fake.. It's strange…
Paul says he knew something wasn't right with her from the get go.
Paul says he studied philosophy "I like the think about things" says that Tiffany's knowledge of philosophy is proof she's a lawyer.
Bronte and Paul agree that jozea has a huge social network presences. Paul says he has 60 thousands instagram followers.
Paul mentions that Zakiyah isn't very bright. Bronte brings up how Zakiyah sleeps all day and misses out on important conversations. PAul says Zakiyah doesn't have independent thoughts.
Paul says Jozea is really pissing people off. "Me and Vic have been shaping him into places"
Paul says he wants "the good people" to get to final 5
Paul- If Tiffany won this game I would fuc*g kill myself.. 100% I would cut my n*ts off and throw it in the river.
Paul says during the pre show interviews Tiffany was always ahead of him. When she left the room she had everyone cracking up. In the house TIffany isn't funny at all. Paul thinks She's putting on an act in the house.
Paul asks her what she thinks of NAtalie. Bronte thinks Natalie is a strong competitor. She likes her. Bronte thinks Michelle is a man.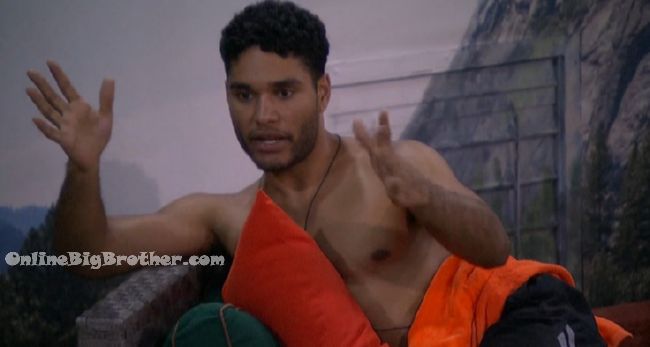 9:19pm Backyard Jozea, Frank and Michelle
Jozea shares a story about being abducted by aliens. Adds if aliens invaded earth he would ask them to take him with them because he wants to experience new things, new foods. Jozea adds "Everyone has seen earth"
Jozea says you can't touch the bottom of the ocean because the gravity is too great it will crush you
Frank says JAmes CAmeron went down to the deepest point
Jozea – in what suit.
Jozea thinks there's a dinosaur living in the deep ocean and one day someone will wake it up.
Jozea – there was dinosaurs that were reptilian and shit..
Jozea – imagine what is down they're in the pressure..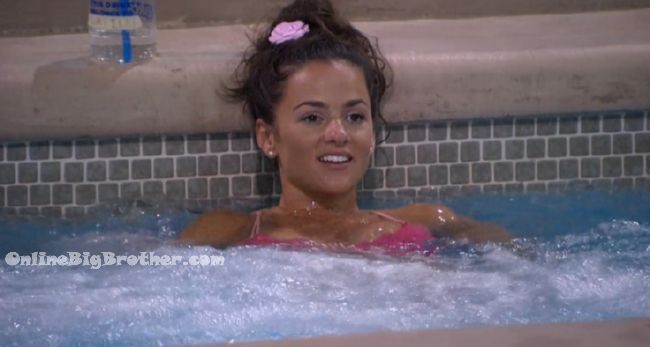 9:51pm James, Bridgette and Natalie
Natalie – I feel like we're a science experiment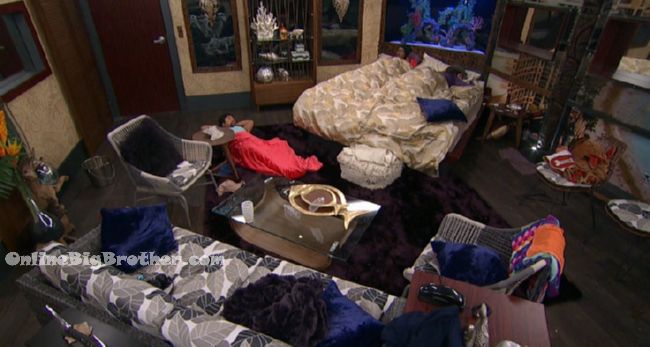 10:02pm HOh Zakiyah, james, Tiffany and Da'Vonne
Da'Vonne plans on putting Victor on slop, "I have to weaken him" she adds this means James' entire team will go on slop.
James says he's got the throw the HOH he's on the team everybody wants to get out.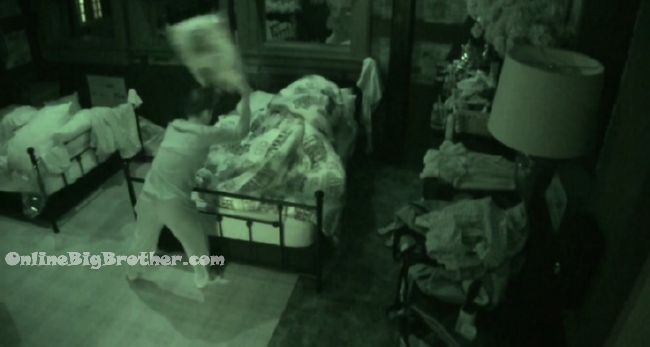 10:51pm JAmes pranks Natalie putting mayo in her lotion jar.
Natalie – I have mayo all over my body, It's oily
Natalie – I'm going to have silky smooth skin tomorrow so i'm not mad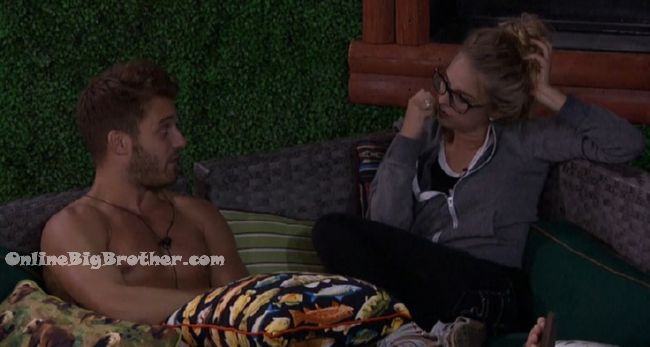 10:56pm Paulie, Corey, Nicole and Michelle
Nicole telling paulie he's safe this week, "you are 100% safe I've been been more sure about anything in Big Brother before"
Paulie says he would punch Jozea in the face if he's evicted over Jozea.
Paulie says he's disappointed in Bridgette he thought him and Frank had something with her.
James – she's moving to the dark side.
Paulie says he's going after Victor, Bridgette and PAul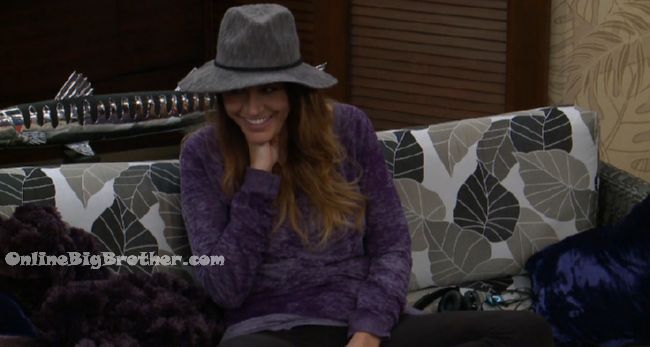 11:18pm HOH Tiffany, JAmes and Da'Vonne
Talking about Austin and Jace making giant plates of eggs. Tiffany says they should put chocolate sauce on the crack of Vicotr pants to make it look like he sh1t himself.
James is going to make it obvious that he threw the HOH competition.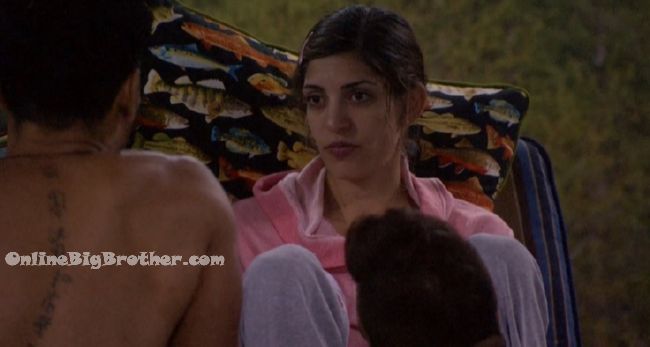 11:40pm Bronte telling Victor, NAtalie and PAul that she planted seeds of doubt in Bridgette about Michelle.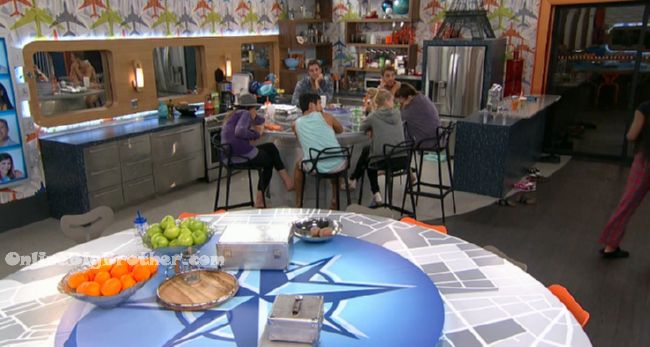 11:55pm James tells them Victor will lead the other side once Jozea leaves. Says "They're having a little meeting out there"
Adds that Jozea is going to start going "Stir Crazy". Michelle recommends they all circle Victor and tell him they are coming after him. Nicole suggests they wait until after the HOH.
James – he can't put up all of us