POV Holder:
?
Next POV
?
POV Used
?
POV Ceremony
?
HOH Winner:
Andrew
Next HOH:
March 13
Original Nominations:
Current Nominations:
Last Evicted Houseguest
Anick
Have Nots
Rachelle, Neda, Heather and Sarah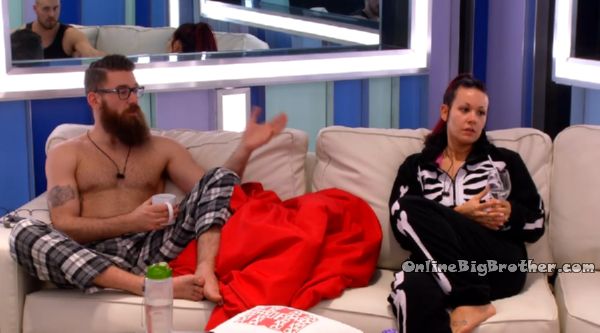 10:13pm HOH Kenny, Andrew, Sarah
Andrew tells her Paul and Neda are going up tomorrow and Neda is the pawn. If they win POV they will use it.
Sarah – "We're going to backdoor kyle if Paul comes off"
Andrew: "Ya we are going to backdoor Kyle"
They all agree Kyle is a more dangerous player, Kenny adds that getting rid of Paul isn't off the table brings up what would they do if Kyle uses the POV to save Paul. Andrew says they will put up one of the girls like Heather.
Sarah warns them they are the top threats for the girls.
IKA joins them
IKA says that Paul said something inappropriate. Kenny and Andrew really want her to tell them what Paul said. After some convincing she agree to tell them as long as Andrew doesn't repeat it.
Ika: "He said you (Andrew) were a racist and a sexist" She explains that Paul is really grasping at straws because the things Andrew said were not a big deal.
Feeds cut..
When we come back Sabrina is in the room and IKA is giving Andrew sh!t for just telling Sabrina about Paul comments about Andrew.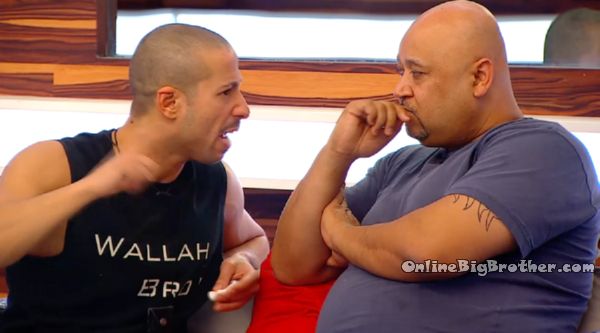 10:33pm POOL PAul and Adel
Adel: "We have to throw a monkey wrench into those three big bosses game.. we have to man"
Adel :"if we don't somehow f** Kenny, Jon and Andrew we're f*** man we're f****d we need to throw a monkey wrench.. we need to get a monkey wrench or they will pick us off one buy one.."
Adel – If you go up you have to win veto
Adel – they don't give a f** about you me and kyle.. they cornered me ..
Kyle joins them
Paul – if any of you two go up i'm going to use veto and save you otherwise they are going to pick us off one by one.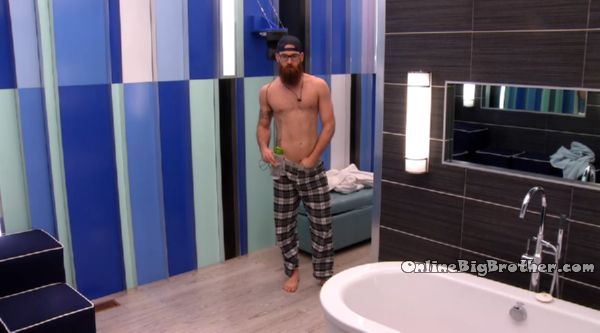 Random Kenny shot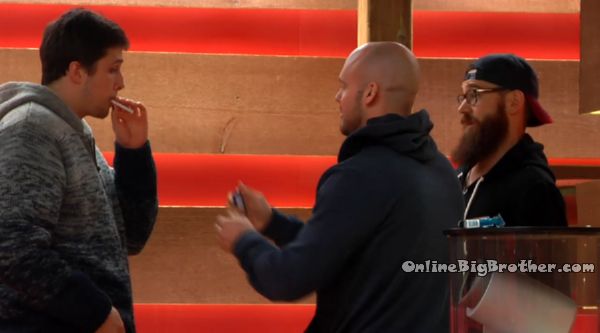 10:46pm Smoke hole Kenny and Andrew
Andrew and Kenny are now wanting to take out Paul. Both of them are pissed by Paul using the race card on Andrew and trying to "Mess up his sh1t outside the house"
Jon joins them. They fill him in on PAul calling Andrew a racist. They agree that Paul has to go . Andrew says Kenny wants to backdoor him but Andrew is just going to put him straight up. Andrew isn't worried that the POV will be used on Paul because everyone dislikes him. All they have to do is win the veto. Andrew is confident he's going to win it again this week.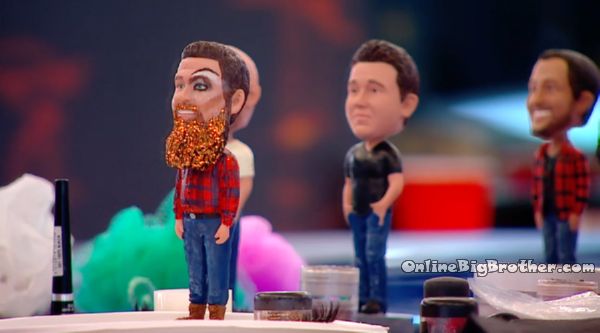 11:09pm Mystery houseguests
Painting bobble heads, drinking and exercising.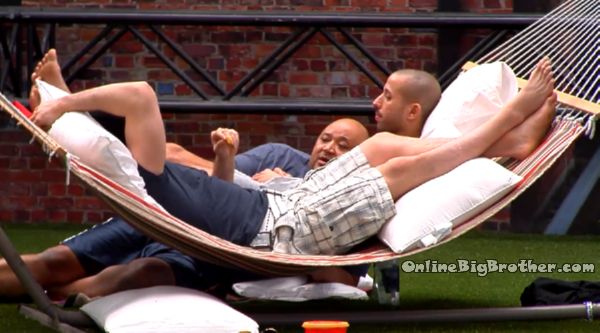 11:15pm Hammock Adel, Paul and Kyle They are trying to figure out who is running the girls alliance. Adel thinks it's Sarah. Paul mentions that Andrew is putting up the two brown people in the house, IKA and himself.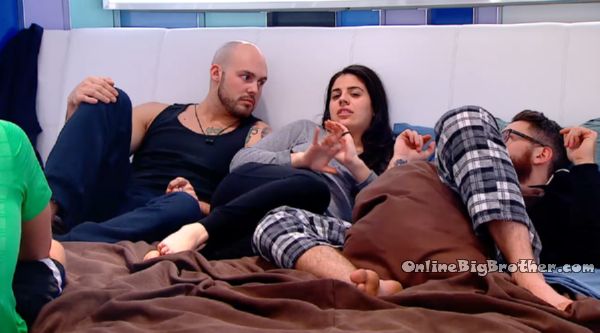 11:40pm HOH Andrew, Arlie, Sabrina and Kenny Andrew says he's nominating Paul and letting him sweat it out all week. Andrew: "I want him to have the worst week of his life".
They proceed to talk about how well Andrew handled Paul calling him a racist and how wrong it was for Paul to do.
11:45pm Scott give the Kenny bobble head a makeover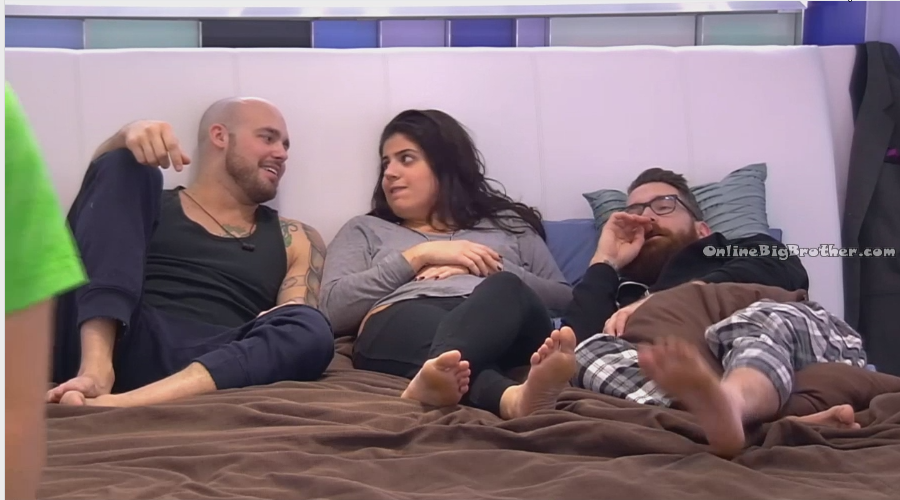 11:55pm HOH Arlie, Andrew, Sabrina and Kenny Andrew tells them he's putting up Paul he's going to win the veto and use it on Paul and backdoor Kyle. Kenny jumps in and says the plan was to get out Kyle all along. They start bringing up all the attributes Kyle has that make him a strong competitor in the game. (
12:05AM HOH Kenny and Andrew Feeds flash on for a minute with Kenny telling Andrew they need to take out Kyle this week but if Andrew is really riled up by Paulk calling him a racist than Kenny will support andrew in getting Paul out.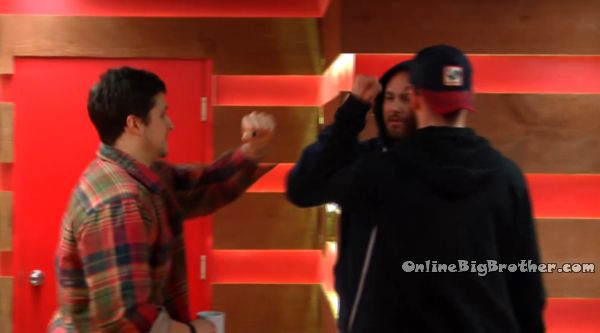 12:22am HotTub Smoking Kenny, Andrew and Jon
Kenny tells them that Kyle and Adel told Paul he's getting nominated. Kenny says tomorrow is nominations and POV.
They agree that the three of them have to stick together.
12:50AM Andrew makes steak wraps for Sabrina, Arlie, Jon and himself.
Sabrina savagely attacks her wrap.
1:07am Living Room Jon, Andrew and Kenny. Speculating what type of Power of Veto competition they will have have tomorrow.
1:37AM everyone in bed on their way to sleep
Kenny sleeping on Andrew's Couch "We're good Bro" #BBCAN2 pic.twitter.com/tv12CjxXGr

— OnlineBigBrother.com (@bigbspoilers) March 8, 2014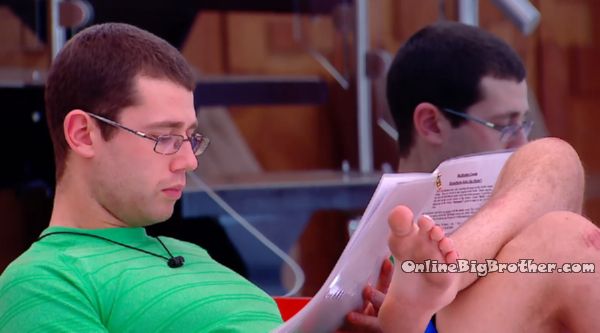 1:45AM Arlie talking to himself
Arlie: "This is the worst bro.. all I want to do is that"
Arlie: "I can't believe she heard me"
Sounds like he was caught by the girls saying something that is damaging his game ( I believe the Diary room isn't sound proofed enough) . He's reading the rule book saying "OK hmmm OK hmm"
Alrie: "Quick shoutout to J.D. That was fake just so you guys know"
Alrie: "Sound proof your f*** room man i'm so fu*** man"
Alrie marches to the bathroom. "F**** man"
Arlie: "This is devastating"
1:56AM IKA and sabrina are chatting in their bed while the rest of the houseguests are sleeping. Audio is off
2:00am ZZZzzxzzzzz
[polldaddy poll=7857961]