HOH: Tiffany
HAVENOTS: BIGD, Alyssa and Claire
Nominations: Alyssa Claire and Xavier
Power of Veto Players: Xavier, Alyssa, Tiffany, Hannah, Azah, BIGD | Host : Claire
Power of Veto: Alyssa
Power of Veto Ceremony: Alyssa used the power of veto on herself. Claire was nominated in her place.
Big Brother 23 Houseguest Rankings – – RANK THE HOUSEGUESTS –
View the previous day ranks on the – Ranking Grid
Big Brother Spoilers – Claire going to be evicted.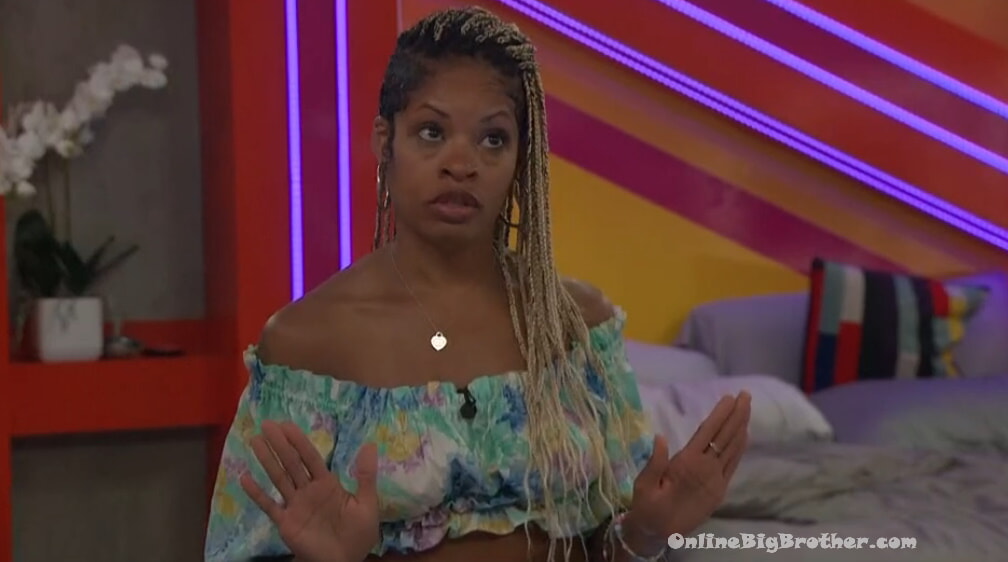 1:09 pm Tiffany to the camera
(Tiffany was chatting with Alyssa we caught the last 20 seconds of them hugging after Alyssa left Tiffany stuck out her tongue)
"I tried. maybe I should have tried early but my only reservations with trying any sooner was she was going to talk to X and there was NO WAY X wants to lose Alyssa this week or next week or the week after, the week after, the week after"
"So.. I had to wait and catch her at the last minute and hope that she would think about it become frazzled and thinks I was presenting her with the best option but.. People do need time to think .. I think X is.. GODDAMMIT "
(She catches X on the HOH TV)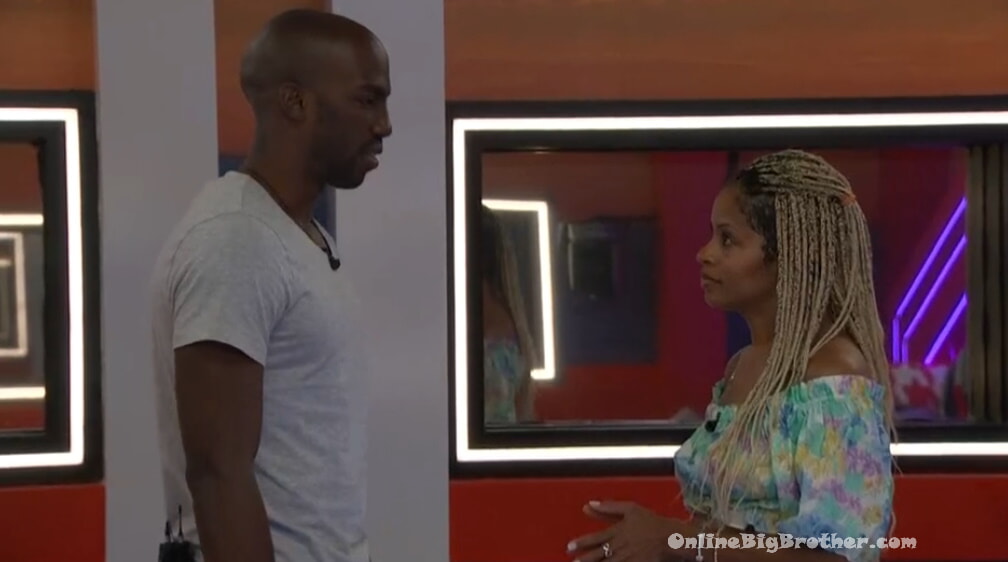 1:14 pm X and Tiffany
X – I'm not mad, I know how much Claire means to you. If I was in the same position I probably would have done the same thing to..
X – I really am not mad. She used it and you kept your word what you would do
Tiff – thank you, I am a woman of my word.
X goes on about how he understands Claire has had her back from day one.
X – This is a worst-case scenario and now it's happening
Tiff – I appreciate that and I appreciate you understanding that.
X – if she uses it on me it's not you going against me
Tiff (in her sweet voice) – No it not
X – I am safe.. I can't be mad about that.
X – to everyone else I'll be pissed because you clearly made me the target this week
Tiff – okay
They hug it out.
(Tiff has a "sweet voice" she uses it on Ky/X from time to time. Like a proto Bene Gesserit.)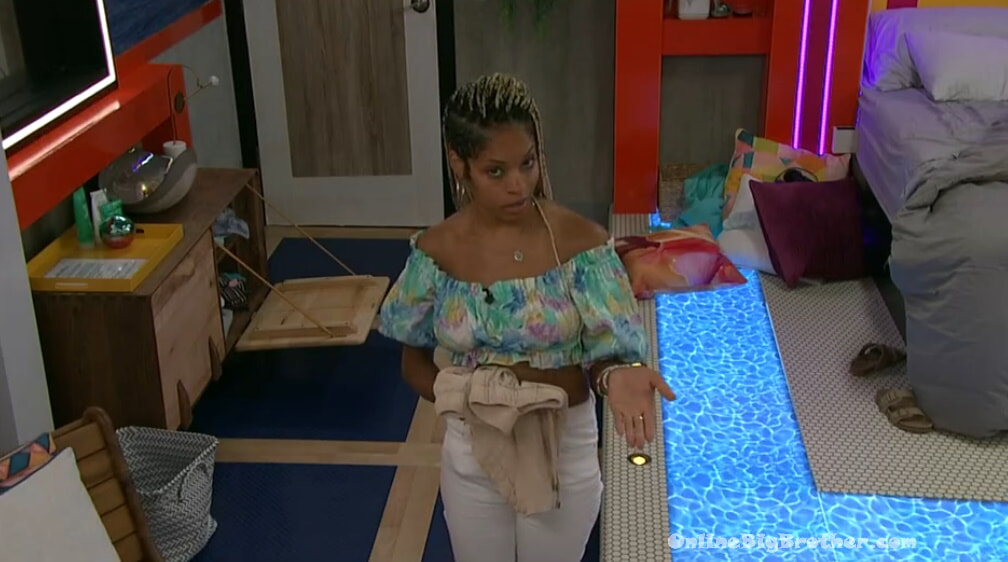 Tiffany to the camera "If you have learned nothing about me just know this I will let you turn left .. okay.. I am not going to force you to turn right. I have nothing to say. Minimizes the argument minimizes the conversations and also doesn't give anyone anything to say I said. All I said was thank you and I appreciate it and I did say I am a woman of my word.. and I am"
"Ohh but the sweet joy that would have come from me convincing Alyssa to use that veto on Xavier"
Feeds cut..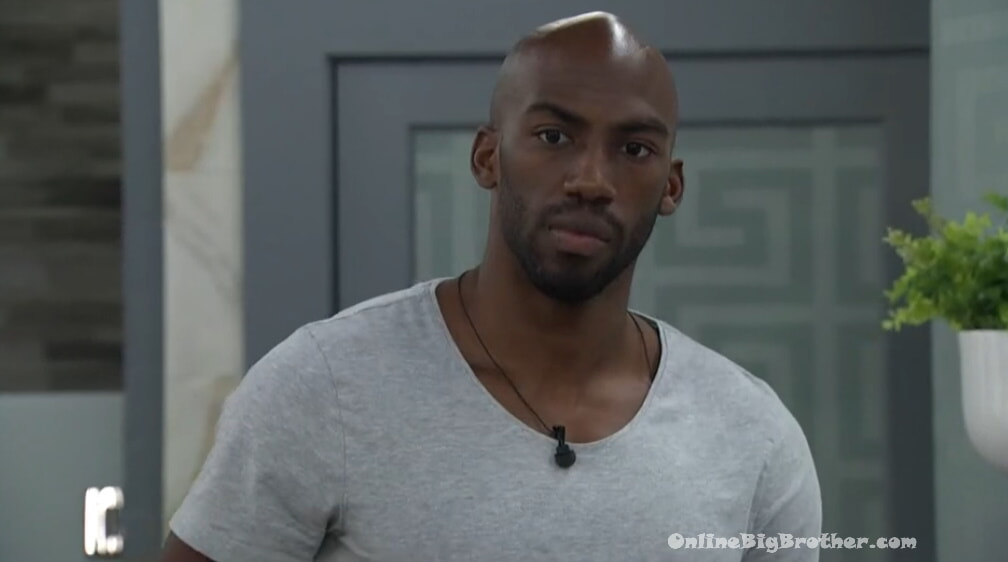 1:15 pm Xavier tells Hannah he's not mad at Tiffany.
X says if Alyssa used it on him he would have been guaranteed safety so why would he be made
X – I'm not mad if I was in the position you were in I would do the same
Hannah – I may not agree with what she did or how she did it I can't blame her for that
X – when it didn't work out you still went through with your word.. As far as I am concerned we're good.
X – you wanted me off the block and you wanted to protect Claire.
Hannah – it's hard because we care about these people.. Claire isn't my person but she's someone I've become close to and I don't want to see you go.
X says that Alyssa got called into the Diary room and Tiff "Snagged her" (this is when she gave her the pitch)
Hannah – ohh is that why she came to the kitchen so late.
X – I was like what's going on.
X says everything is good with Alyssa and everything is good with him and Tiffany "Sh1t hasn't changed we're good" (how boring)
Hannah – who is going for this HOH. It seems like everyone wants to throw it
X says he can't win it. Says that BIGD wants to win the next one.
Hannah is worried if it's her and Azah Vs Alyssa they might not win.
Hannah – how can we convince Ky to win this next one?
X – it just has to be the fact that he's one of the few remaining people that can take a shot at Alyssa
Hannah – if it's just me and Ky left do I throw it to Ky?
X – that is up to you
Hanna – if Ky wins does he put me on the block next to Alyssa or does he put you on the block next to Alyssa? What happens if Alyssa comes down do I go up
X- that I have no f***ing idea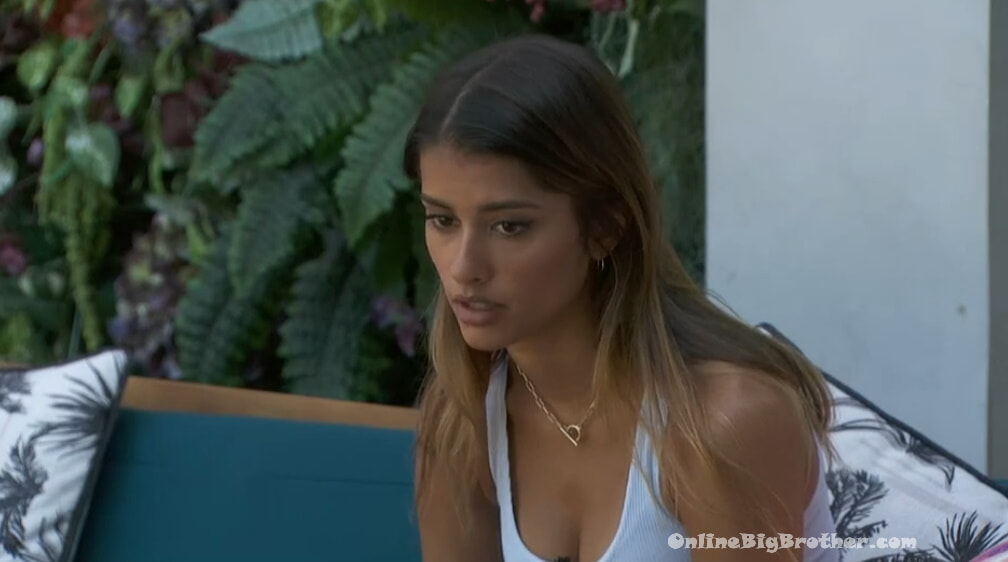 1:14 pm Alyssa and Azah
Azah says that Claire leaving is the best decision for her.
Alyssa – I can't believe it worked. Five minutes before she was saying I know you think X has the votes regardless but I'm telling everyone to tell you that. meanwhile, she doesn't know that I'm telling people to tell her that you guys want X out. She was saying she was telling you guys to tell me that she wants X to stay and you guys are lying to me.
Azah mmmm
Alyssa – she's like I'm telling everyone.. I know you think X is going to stay .. I was like I don't think X is going to stay I think if it's me on the block I'm going home if it's X on the block he's going home.
Alyssa – she goes I know you think everyone has your and X's back but I told everyone to tell you that they don't or that they want X to stay but in reality, they want X out.
Azah – MMMMMM, I wanted X to stay from the get-go.
Azah says Tiffany doesn't realize that the talks game to Azah and BIGD.
Alyssa – I've always been upfront
Alyssa – I don't know how your conversations have been with Tiffany and how she feels I do know she's very smart.
Alyssa – now that she's put up Claire I do think she thinks she's not necessarily running this house but has better insight than me, You and BIGD do.
Alyssa – her not putting up Ky and putting up me and Xavier and then Claire makes it clear she's out for herself.
Alyssa – Ky is her shield.
Azah asks about her pre-nomination one on ones with Tiffany.
Alyssa says that Tiffany thinks she's outsmarting her.
Alyssa – best way to weaken her now is.. we have an opportunity to do so. I know BIGD was worried about going up if someone says they have your back and they are questioning going up.
Alyssa – My HOH you guys have no nerves at all.. my HOH is your HOH I wouldn't lie about that
Azah – I appreciate that
Alyssa – I know X is the same way. If we win next week who should we do Ky?
Azah – Ky and Tiffany
Alyssa – if one of them wins veto the other on. But if they both stay on the block?
Azah – either way, one of them go. My preference would be Ky others would say, Tiffany
Alyssa – mine would be Ky.
Azah – I love Tiffany I don't know if I can put her up right now. In a group standpoint, I can understand why she could be a target
Alyssa – I feel like each week we know what was going on but this week it's not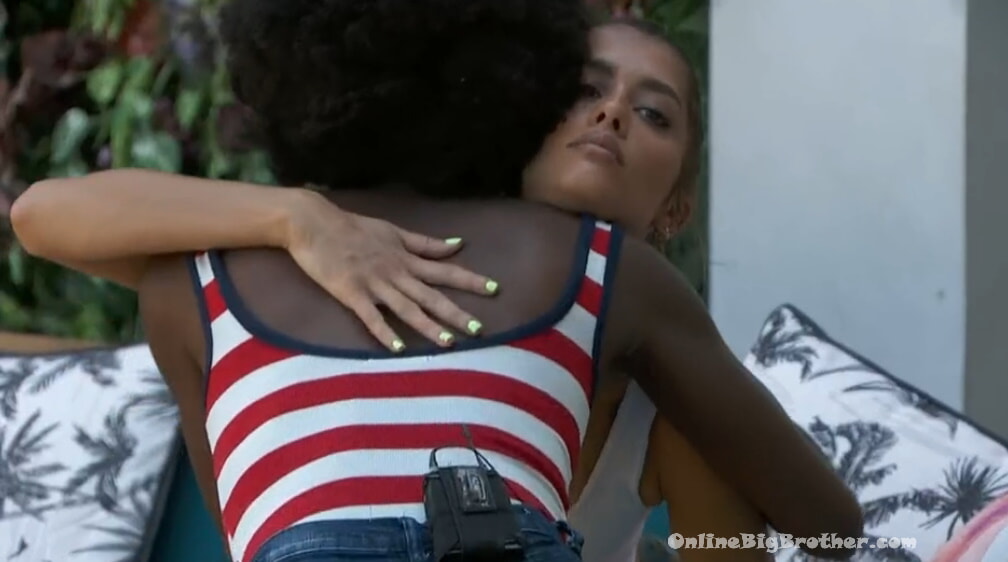 Alyssa – if you need anything or just want to be goofy just let me know.
Azah – thank you BOO
Alyssa – love you
Azah – love you to
Alyssa leaves.. Azah to the camera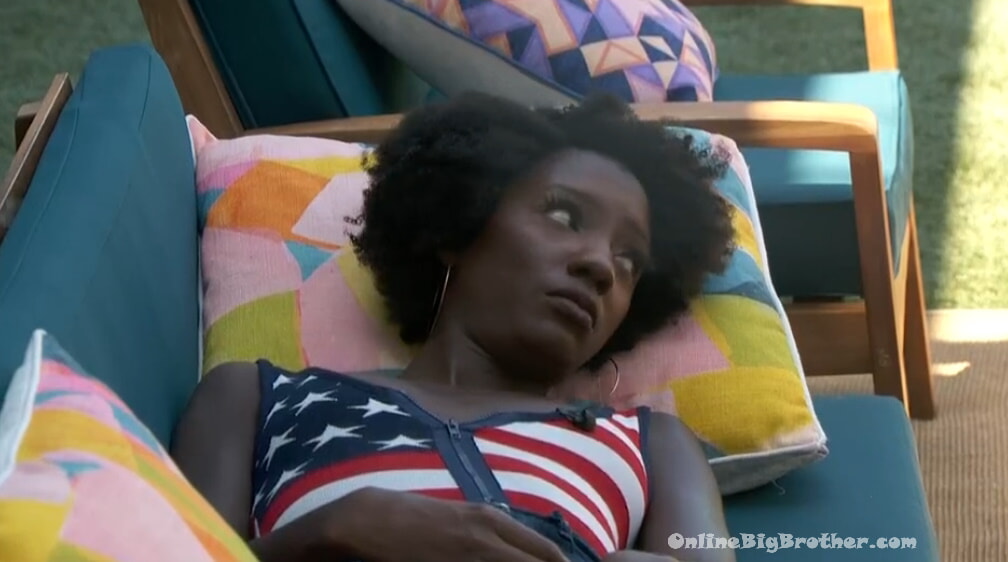 Azah – God I feel like SCUM. She has no idea YO. no idea at all. she has no idea that she's the next target.
Azah – that is why we should just tell the truth.. just tell the truth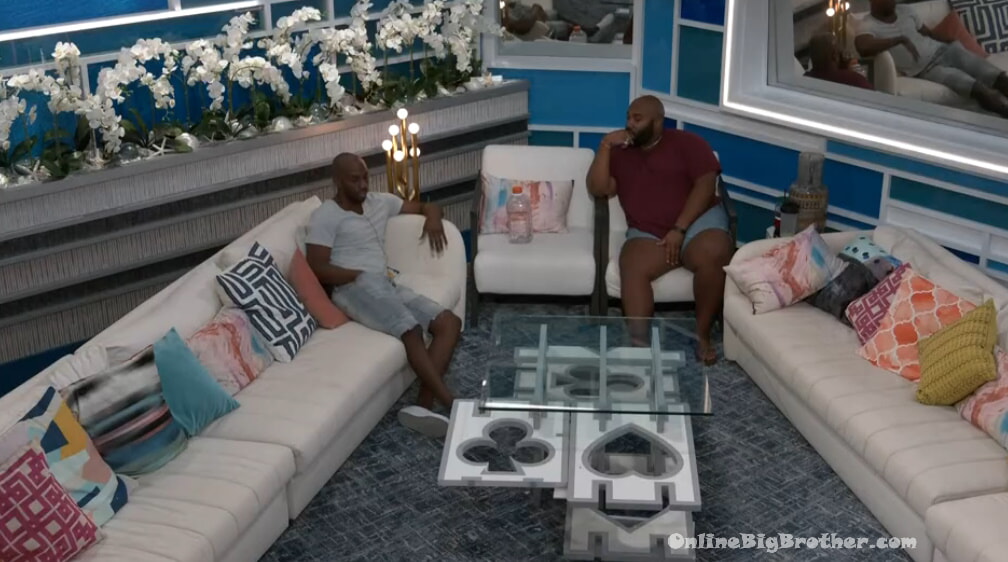 2:19 pm X and BIGD
X – Milwakee is dope
X – if you had a conversation with Azah do you think she will tell anybody else
BIGD says no. he's been telling her stuff from the beginning.
2:50 pm Claire and Tiffany
Tiff – could you have imagined me convince her to use the Veto..
Claire – ohh that would have been good
Tif f- she was messed up about it..
Claire – I cold tell
Tiff – she was like what should I do here. I told her I would put up Ky.. I said he would go home.
They go on about how ICONIC it would be if Alyssa used the veto on X and then going out.
Tiff – X was so mad.
Claire – x was?
Tiff explains right after Alyssa got called into the DR she pulled her aside "Can we talk for a minute"
Tiff – X turned around and looked like ..
Claire – what the f** are you doing
Tiff – YES, I had to take her all the way to the coral room.
feeds cut..
Please consider a donation to keep the madness going.