HOH: Tiffany
HAVENOTS: BIGD, Alyssa and Claire
Nominations: Alyssa Claire and Xavier
Power of Veto Players: Xavier, Alyssa, Tiffany, Hannah, Azah, BIGD | Host : Claire
Power of Veto: Alyssa
Power of Veto Ceremony: Alyssa used the power of veto on herself. Claire was nominated in her place.
Big Brother 23 Houseguest Rankings – – RANK THE HOUSEGUESTS –
View the previous day ranks on the – Ranking Grid
Big Brother Spoilers – Tiffany is going to try to get Alyssa to use the veto on X. I doubt this will happen if anything it'll piss X off enough for us to have some drama.

10:18 am Kyland and Xavier.
Kyland asks if "her" or anyone other than BIGD came to him and pitched to him ideas about what to do at six?
Xavier – mmmmmhmmmmm
Kyland- I appreciate hearing what and who pitched to you
Xavier – remember when you BIGD and I met in the have not room. We have this conversation we thought people were trying to get you and I like this (against Each other)
Ky – yup
X says people were trying to get him to take a shot at Kyland and he assumes people are trying to get Kyland to take a shot at Xavier.
Ky – when are you being told to take that shot..
X holds up a 6 with his fingers.
Ky – I think that. that stand out to me was completely on a basis of not ahh… of not.. knowing me. like the case being made. That's what I'm saying it solidified for me
X – what do you mean?
Claire and Alyssa come in and game talk takes a break.. Once they leave.
Kyland says the reason why he was further solidified with X is .. he trails off.
Ky – did she pitch you on that or did someone pitch you on that
X – Tiffany and Like.. the only person is Tiffany is looking out for is Hannah.
X – if we take out each other her and Hannah believe they can take out whoever is remaining by themselves.
Ky – the argument is anyone that is not them two puts me up. including you. My whole thing is like.. Azah will put me up but BIGD said he could get her to put up them two so I don't know.
Ky – I don't know if that's true.. between you and BIGD I would have the votes.
Ky – they are saying that .. (he trails off)
Kyland says Tiffany was implying that some of their conversations got back to X and she wants the one they had last night to not.
Ky – I was like not from me .
X – we have to keep playing dumb..
Ky – the solidification was their lack of awareness because they basically said.. well obviously anyone would be lying if they said their ideal final 3 is anything other than with themselves, Azah, and BIGD.
X – with that statement she's saying she would take BIGD, AZAH over Hannah
Ky – she is speaking for herself and for Hannah
Ky says if he takes x out at six then "they" (Hannah/Tiffany) will take him out at 5 because he can't play.
X – exactly
Ky – they said the reason why we wouldn't do that is because both of them would be worried that we would take BIGD or Azah to final 2. It's in their interest for those two to be taken out. To remove that temptation is gone for all three of us.
Kythe fact you guys do not how I have set myself up it's impossible for me to choose either of them to the final 2 shows me they are not paying attention.
Xavier says Hananha and Tiffany will have three solids votes in Jury, Britini, Hannah, and Claire
X – that brings anyone less incentive to bring you (Tiff/Hannah)
Ky – Maybe I'm wrong Maybe I'm Caleb I don't think so..
Kyland says he's more willing to give second to the right person more than anyone else in the house.
Kyland goes on about his loyalty and how X and him have two other votes outside of this house.
Kyland says Tiffany has built up a bad reputation so she might not be as convincing in jury.
Ky – Hannah can probably persuade DX and that's it.. Tiffany probably Claire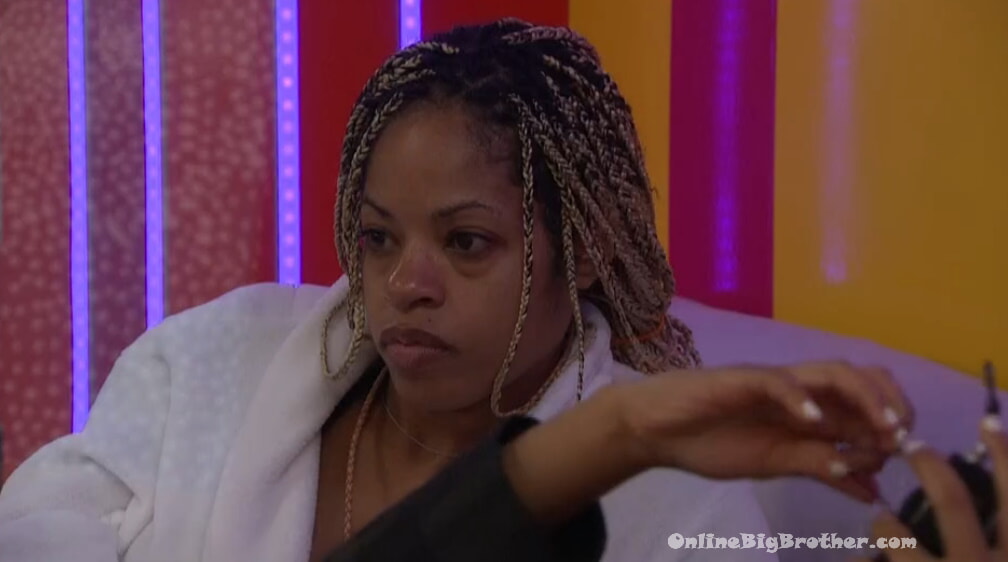 10:21 am Tiffany and Hannah
Going over She'll say to Alyssa to get her to use the veto on Xavier. Much of this was covered last night at 4:00 am. They've spent a good hour talking about all the points.
They discuss how they can prevent Alyssa from talking to Xavier about the veto before the veto ceremony.
Tiffany says she needs to make sure Xavier doesn't get to her.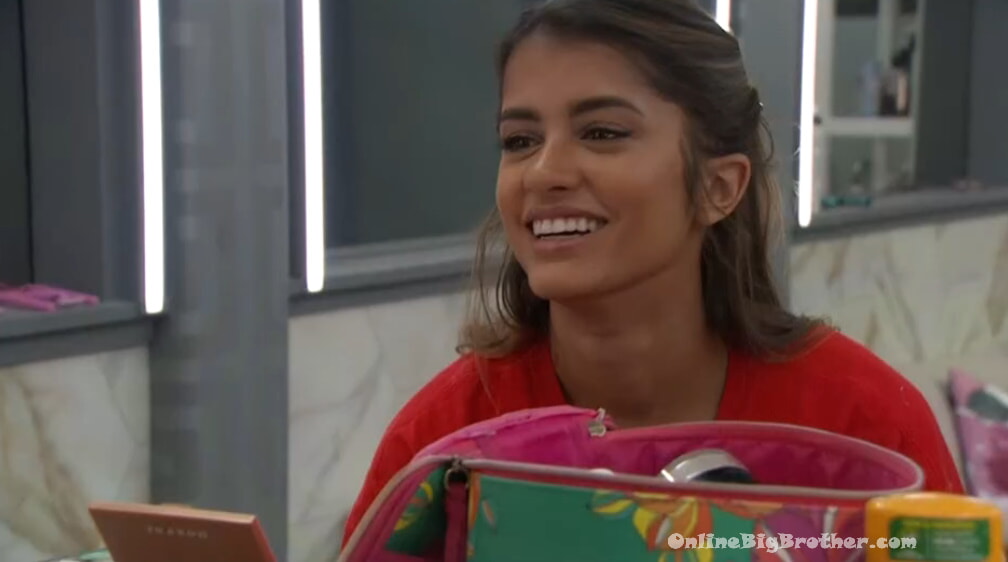 11:02 am Alyssa and X (joking around)
Alyssa is talking about her using the veto on herself and going over her speech.
Alyssa – do you have your speech for me?
Xavier – I'm on the block If you use it on me you're a dumb a$$
Xavier – I know you aren't going to use it on me
Alyssa – you don't know that.
They laugh
X – Girl I would absolutely.. you think those pillow slaps I've been giving you are bad I will take two pillows and CRANK them on your head.
X – Girl what the hell you doing
Alyssa – what if I said I decided not to do it
X – what the F*** one of us is going home now and the other one is f*** next week and it'll be a double.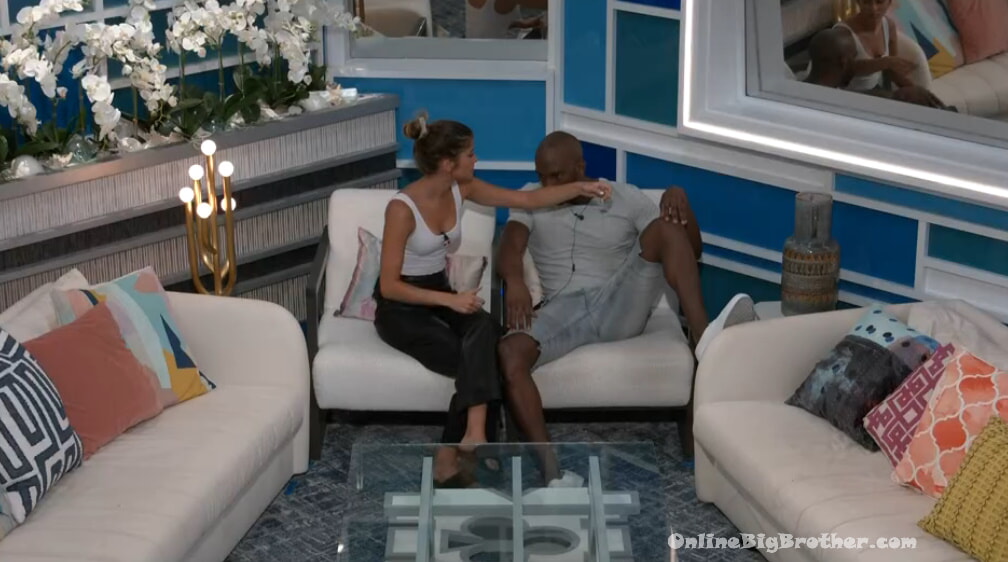 11:34 am waiting for Veto Meeting.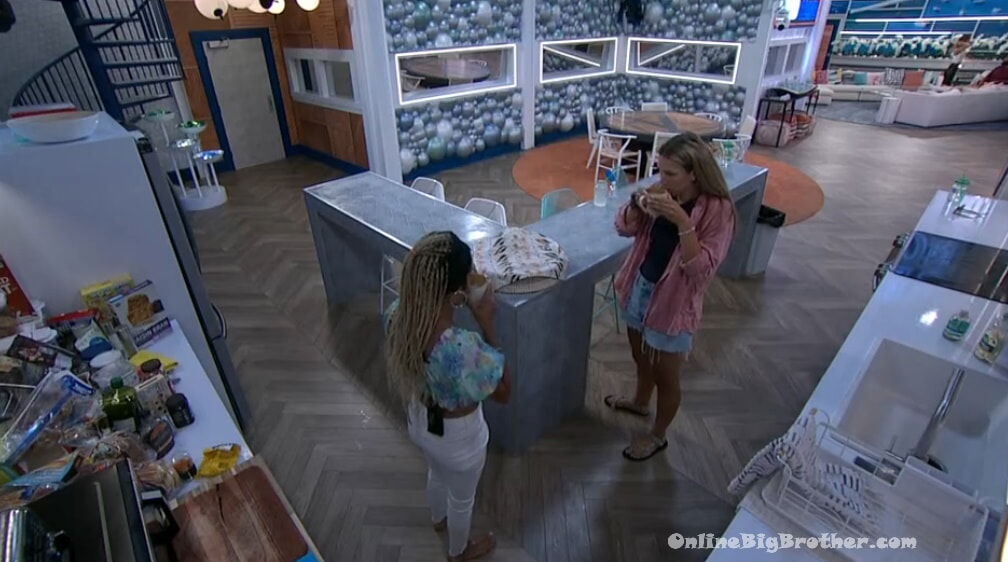 11:37 am Tiffany and Claire
Tiff – Keep your fingers crossed I have to pitch her.. I have to be strategic when they call her and everyone is outside.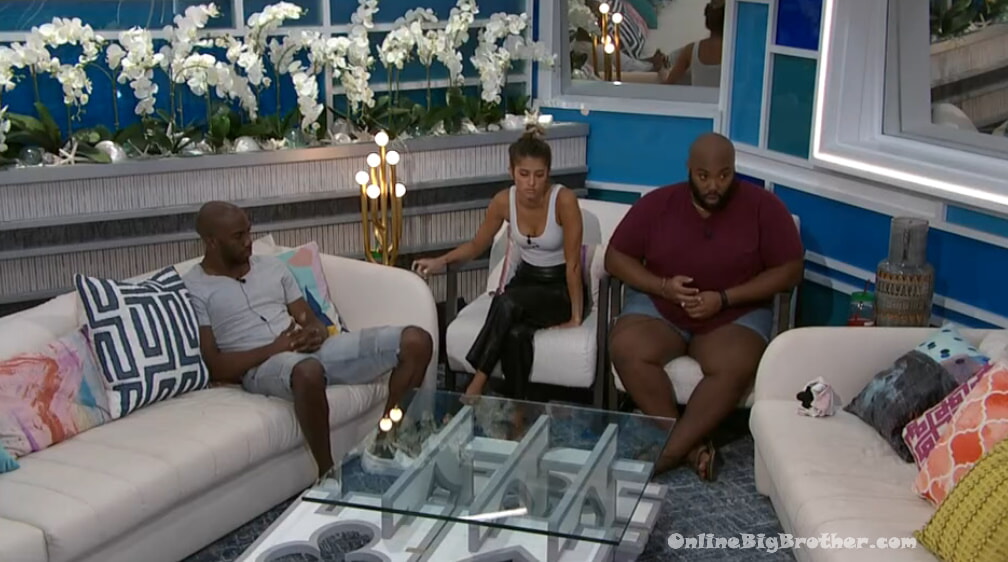 11:39 am BIGD thinking he's going up now..
12:00 pm Feeds cut to pound puppies. If the pitch was given to Alyssa we missed if on the feeds.
1:10 pm Feeds return
Power of Veto Ceremony: Alyssa used the power of veto on herself. Claire was nominated in her place.
Please consider a donation to keep the madness going.