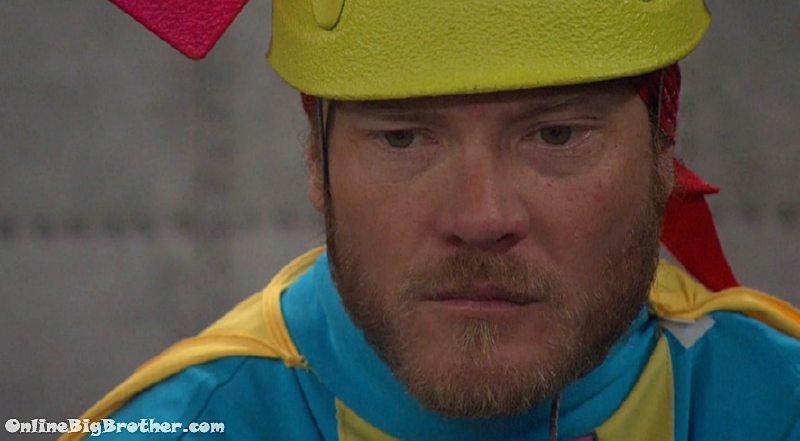 12:14pm Have nots Alex and Jason
Jason is brainstorming ideas for their team with Paul.
Jason – the troubadours.. That's cool but it really doesn't match the meaning..
Alex says when Jason wins HOH next week he can make up a sweet $$ name for them.
Jason – what about Christmas what's she doing.. She's trying to…
Alex – she's outside working out..
Alex gives him shit for thinking she can read his mind. She tells him to elaborate.
Jason – you me and Paul are solid right
Alex – yes..
Jason – alright I'm just not going to worry about it
Alex – Wait, If there's something you are worried about tell me..
Jason – there's nothing to worry about.. I just feel like..
Jason – I just feel like.. Christmas is like.. People say things in the beginning like take me as far as you can… Top 5 I'll bow out..
Jason – people say that see your reaction
Alex – NO she said to me and she said to Paul..
Jason – she said I'm (Xmas) expandable to Alex and who else did she say it to?
Alex – Paul, me and Josh
Alex – she said she doesn't want to be handed anything, she won't be able to compete and stuff..
Alex – she's like I want to help and be the part of that and not be a burden
Jason – now she thinks she's going to get that boot (Cast removed Boot on, she'll be more mobile)
JAson – I just don't want her to try to do something with Josh and Paul (Actually that would be funny seeing Alex and Jason go to war with those 3)
Alex – don't ever go against Paul.. if you and Paul are friends he will never f* you
Alex – he's not really friends with Raven or Matt.. he's cool with Christmas but beside Kevin I've been his only actual friend in the house (I get the feeling that Paul's friendship was Alex's Grand prize this season)
Alex – just don't f* him and he won't f* you
Jason – I have no plans..
Alex – he thinks it's going to be me you and him in the final 3 .
Jason – I hope it is.. I really hope it is..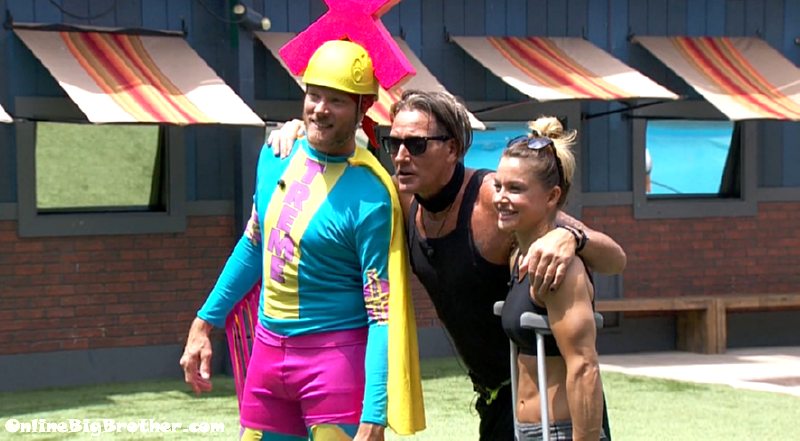 Noon Snap chat time..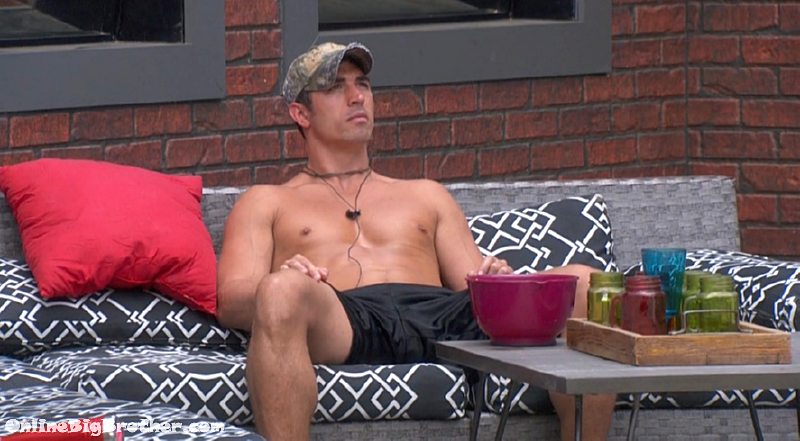 12:34pm Cody and Kevin
Kevin just found out that his kids could see the snapchat video's and he's going to do a snap chat bit for them. He never knew, all he ever saw was "people going crazy" in front of them.
Kevin – I asked Christmas, is it a requirement to jump and act wild to make yo more popular
Cody – no .. not at all
Kevin – I won't do it, I don't care what they say I won't do it. YOu don't want to see a 56 year old guy act out of his age
Cody – no not at all
Kevin – you get the girls to do your nails and they're younger.. you know what I mean .. What am I going to do I'm 30 years older than everybody.
Kevin – what am I going to do sit by myself..
COdy – every time there's a camera shot these people think is going to make live they turn into f*ing animals
Kevin – I said it and they got mad at me.. you were with me
Kevin I said What the f* you can tell when the live camera's on
Cody – I don't know what the f* it is I don't know if they think it'll make them more famous
Kevin – I won't do it..
Cody – it's not going to make any of them famous..
Kevin says he's never changed his personality in the house.
Cody likes that and he's sure the viewers do to.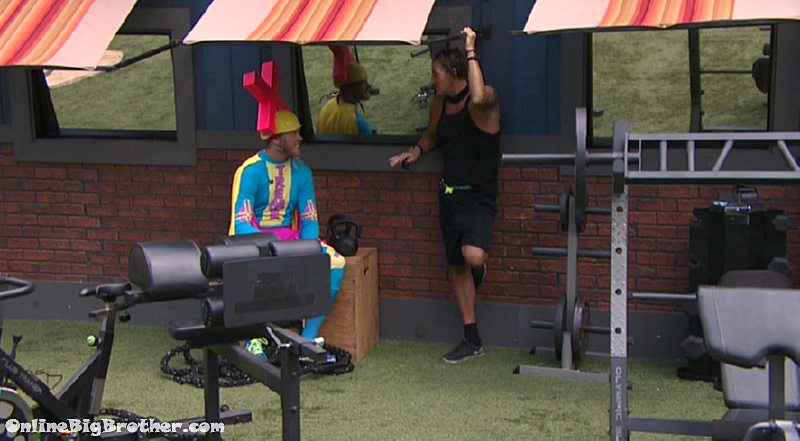 12:39pm Kevin and Jason
Kevin asks if everything is fine
Jason – it's fine
Kevin says Cody was talking to him this morning said he's never felt this lonely before.
Jason says it's too bad things didn't work out with Cody it would have been bada$$ teaming up..
Kevin says he feels like his back is against the wall, mentions being a target now because people don't want to be beat by someone 30 years older.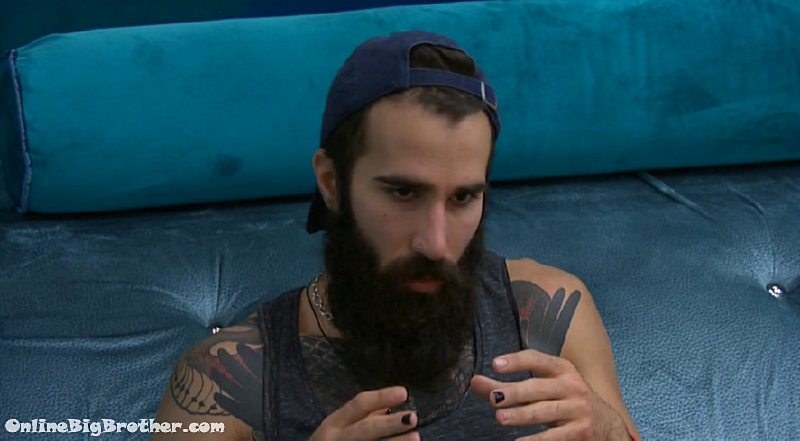 12:52pm Paul talking to his disciples about happiness and regret..
(great time to get the feeds and try out flashback)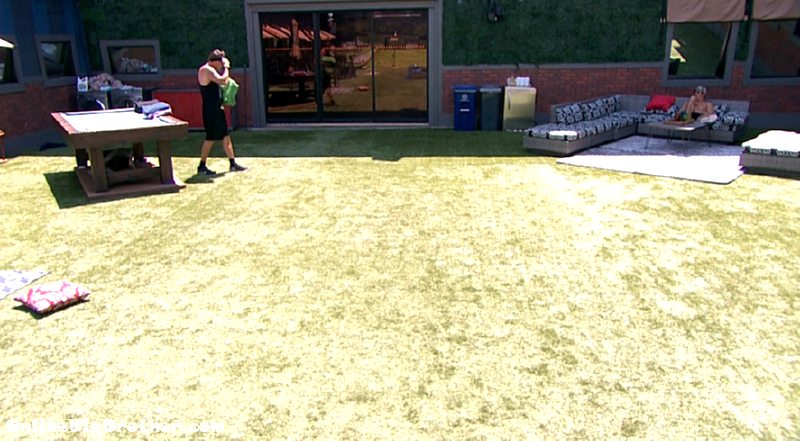 1:00pm Kevin and Cody
Kevin – the hardest thing in this life is pretending to be Happy too..
Kevin says he told Jessica to get a hold of his daughter when she gets out, "her nickname is sweetheart .. you'll be shocked when you see my kids.. you'll be like are those his kids" (I take it the daughter lives in LA)
Kevin says his wife is very intelligent and quiet.
Kevin – but do you know what happens in life.. when you're married 31 years? sometimes you stop paying attention and they find other outlets and your so surprised in the end.. what do you mean..
Kevin – I'm going out with my friends to have some wine.. I'm like what what are you talking about.. literally they've never gone out without you EVER in 31 years.. to work that's it..
Kevin – then you feel like what the f* is going on man.. but she has spent 20 years pregnant and working every single night.. taking care of kids.. we were never not there NEVER
Kevin – you don't know what happens to someone they think you missed something even though you're a pretty cool guy.. looks I guess was irrelevant to me.. that's how people think sometimes..
Cody – Whats your best advice for me and Jessica
Kevin – If you're happy do it and don't let anyone get involved.. when you lay down to bed at night there's no one between ya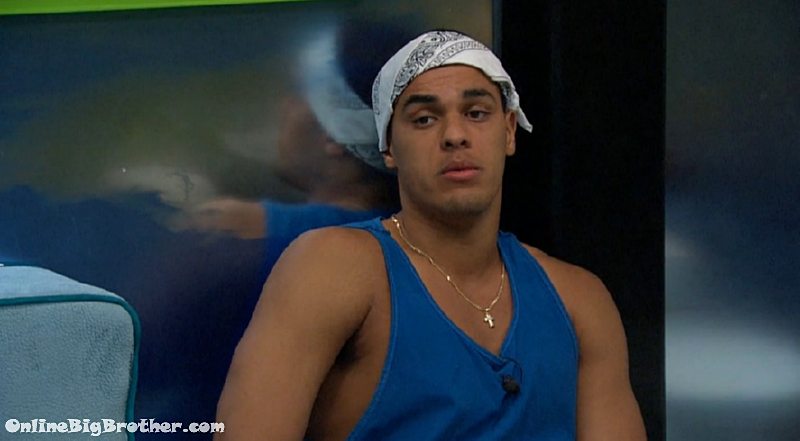 1:10pm Paul, Mark, JOsh, Xmas
Josh says he's grown so much.. mentions how he almost quit.
If you plan on buying anything from Amazon. Use this link Amazon home
Doesn't cost you anything and we get a small cut.
Links to the ranking system
Rank your house guests here
For those of you that like Statistics here are some expanded reports.