Head of Household Winner – Holly
Have note are: Cliff, Nicole, and Jess get punishments
America's Prankster – Nick
Nominations are: Christie & Nick
Power of Veto Players are – Christie, Holly, Nick, Jackson, Jessica, Cliff
Power of Veto holder – Jackson
Power of Veto Ceremony – Jackson did not use the power of veto
Grab your live feeds —-> BB21 Live Feeds Subscription Link
Rank your houseguests —-> Big Brother 21 Ranking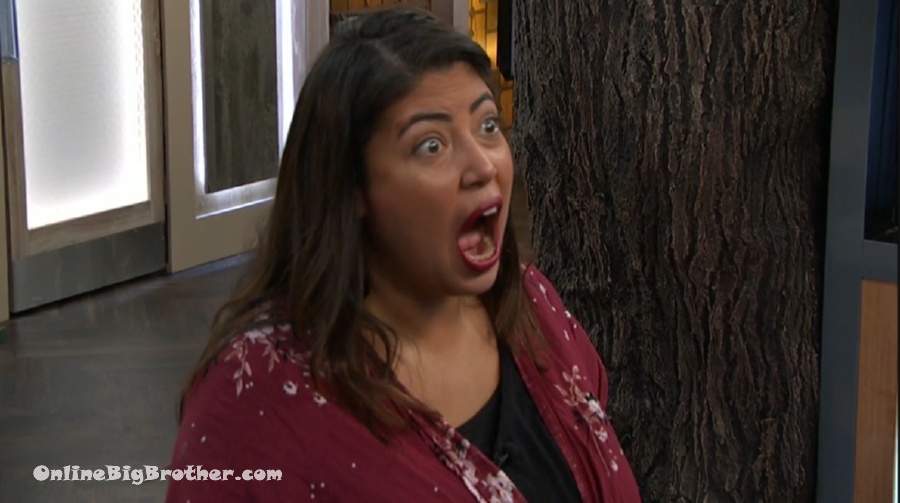 12:54 pm Jackson did not use the veto. Nominations stay at Christie and Nick. Nick is expected to be evicted.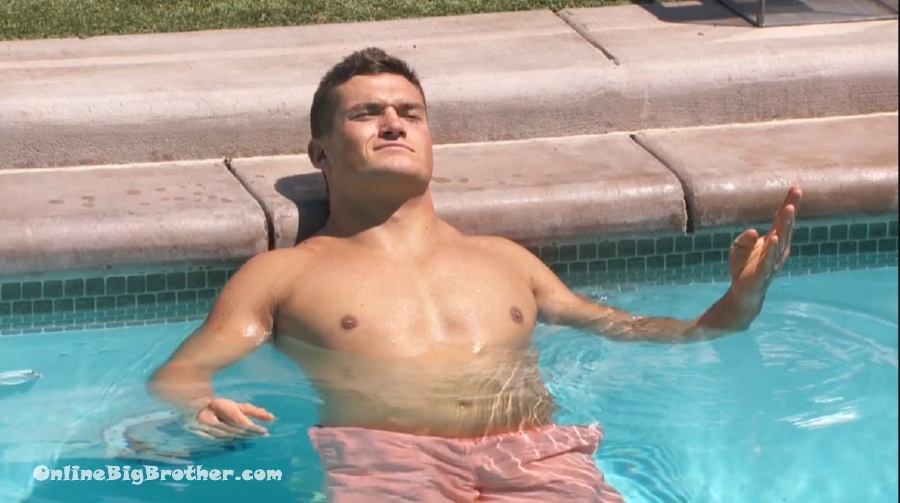 1:05 pm Tommy and Jackson (planes overhead so parts are missed)
J – how are you feeling going into next week
T – taking it day by day. every day I'm scared.
T – my light is being dimmed with every person that goes out. I got to dig deep and find some new strength. HOw about you
J – Scared
T – it's terrifying this game. You try not to be afraid of it. I have the same conversations with myself. This is a game the point of a game is to have fun. we play games in lif to have fun.
T – I find myself being scared and I'm trying to cut that out.
J – I'm having a blast. Alliances are f*ing shot
T – As far as I know there are no alliances.. which is crazy
J – Everyone has a plus one
T – I'm grateful being part of the group that ended up staying .. now we have more of an opportunity. with every person that goes out our odds increase.
Tommy brings up checking out the rule book to see how much money 3rd and 4th and 5th makes, "it's 10, 75. 5 which is cool" (10 grand 7.5 grand and 5 grand)
J – on top of
T – Stipend
J – it is?
T – mmmhhmmm
feeds flip
When we're back Jackson going on about not knowing what will happen if he doesn't win HOH, "It's scary"
J – In my books you're good man
T – thanks same
Jackson goes on about never going after Tommy and how much he likes Tommy.
They go on to talk about Nick making a mistake with his prankster power saying he should have used it as leverage before going up. They chat about Nick campaign to get Jackson to use the veto on Christie and Nick would put anyone they choose-up.
Jackson says he wasn't going to risk it Tommy could have gone up. "I would significantly rather you stay"
Nick – he never said names who he would want he said it can't be you and Nicole
J – between you and him it's a no brainer. I love the dude but.
T – he's good Nick he really is.
Tommy says for all he knows Nick is in the DR saying "THis idiot I'm just flirting with him on purpose it's all part of the act"
T – I wouldn't be surprised if that happened.
Jackson doesn't think that is happening.
T – we're all here for yourself. we're here to f*ing win we're here to get as far as we can not only win to get as far as we can. 7 place sounds alot better than 9th place.
They start talking about the Double eviction. Tommy thinks the double has to be coming up.
J – Finale night there's three people after this week we have 4 weeks left. That's 4 evictions, 8 minus 4 that's 3
T – ohh sh1t you're right there's no double eviction unless there's jury battle back.. that's nice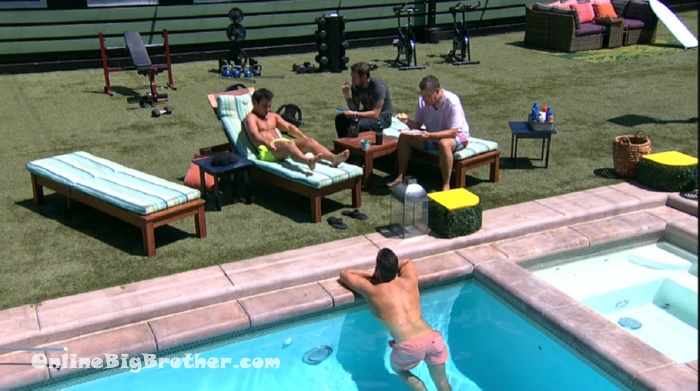 1:27 pm Nick, Tommy and Jackson
Nick was talking about being on Season 20 but doesn't want to go into details "I don't want to get into trouble"
Cliff joins them
Tommy – ohh look all the boys
Cliff – FInal 4 final 4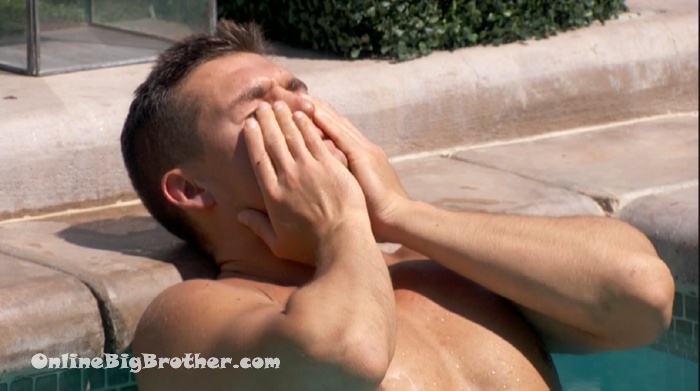 2:21 pm Christie, Jackson and Cliff
Christie offers them her ice-cold water.
Jackson – I have no bird I have no bush but I have water
Hard to hear the conversation with all the ambient noise.
Christie – I'm really lucky to be here guys
Jackson – same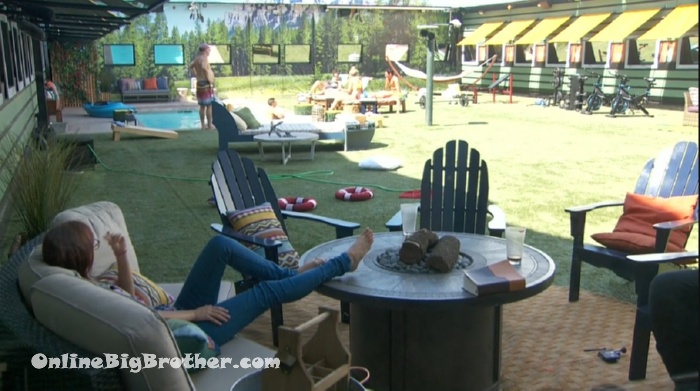 3:01 pm Backyard Chit chat
Cliff is talking about this show that's like the apprentice "a knock off. where these people were all competing to try and get an apprenticeship with this billionaire it was a lot like the apprentice except the guy was a complete a$$wipe just a jerk" (as opposed to the regular apprentices head guy)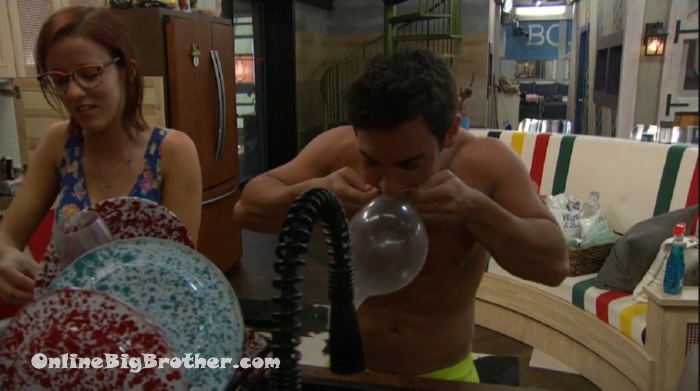 3:08 pm Condom ballons
Nicole comments that they might not pop with so little water.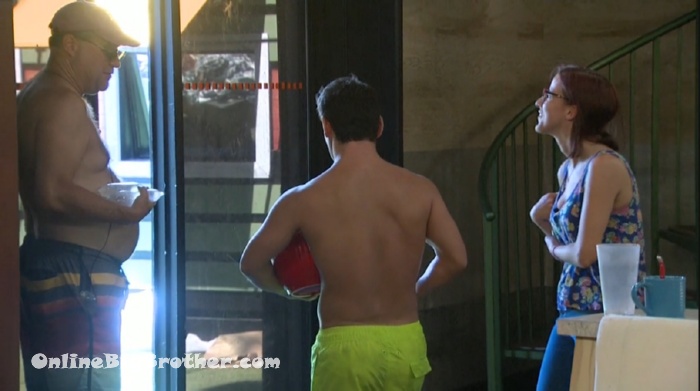 3:15 pm they draft Cliff "don't hit anyone with a mic on"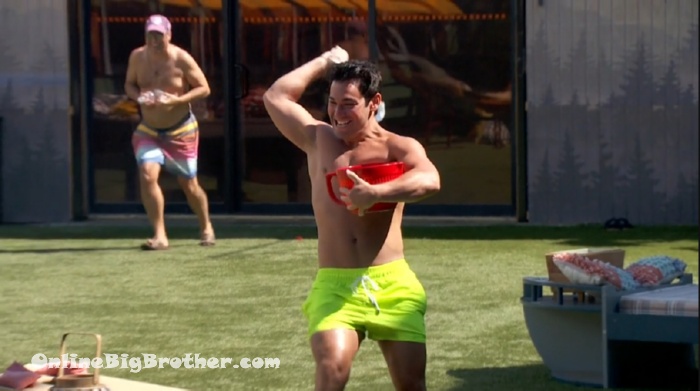 Tommy – Ambush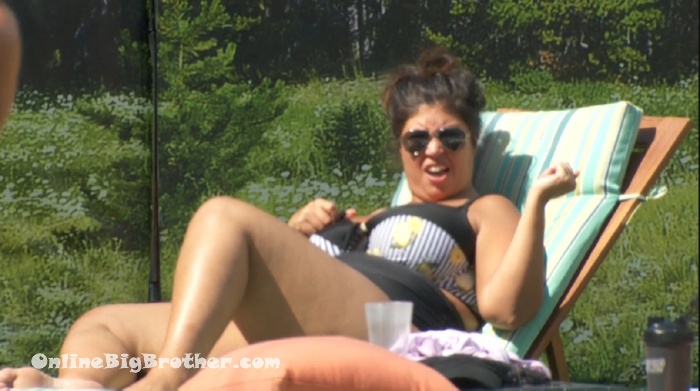 Jessica – oh my god are those condoms .. that's hilarious
Very few of the condoms break they end up tossing them around.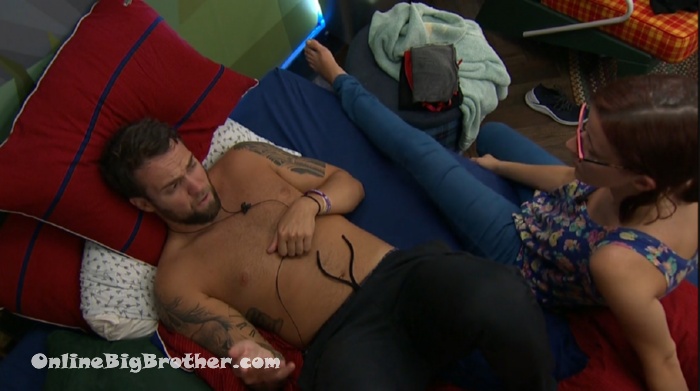 4:35 pm Nick and Nicole
Nick saying in the RV Tommy promised him he would vote for him to stay in the event he was up against Christie. "I'll throw that at him when I campgain.. he'll say he didn't say it like that"
Nick about Tommy "F* em"
Nick – I'll walk right by Tommy and I'll walk right by Cliff.
Nick – I'll hug, Holly, Michie, and Jess. I respect Nicole she's got my back. Christie, Tommy, and Cliff don't deserve it
Nicole – I feel like I'm not seeing the big picture here.
Nick – if they survive next week without one of them winning they're probably both going to get to final 3. so next week will be the holy
Nick – last week was the Holy one for me I needed Sis to stay. Needed it. Absolutely needed it.
Nick – I'm going to throw the f*ing prankster thing in Cliff's face when I campaign .. he literally told me to my face that his Christie was the target. What kind of man are you if you don't stick to your word
Nick – If I literally stay I literally have your back and them two
Nicole – pitch that to them as well
Nick – toxic a$$ Christie stays in this game. She's got no one's back bro. She's lying on everything. I don't get why people don't see right through it
Nick – I'm going to guilt-trip Tommy bad in my f*ing campaign
Nick – Tommy, Supposed to have jack's back voted him out, Sussposed to have Sis' back voted her out. Supposed to have my back voted me out. there are 3 jury votes their BIG DOG.. are you loyal to anyone
Nick – if she makes it to the end she'll beat the majority of people.. Escape the block 3 times. One of the best vote flips in the f*ing game that I've seen (Congrats production)
Nick – I'm not going to fault her for them being so f*ing stupid and not see what she was f*ing doing. If they're that f*ing dumb than She deserves to win.
Nick – right now Michie is the clear winner.. like I say one of them is going to get taken out or one of them will win
Nick – if Michie wins you're good with Michie there's no way (Wins HOH) He'll put up Christie and Cliff.. or Tommy and Cliff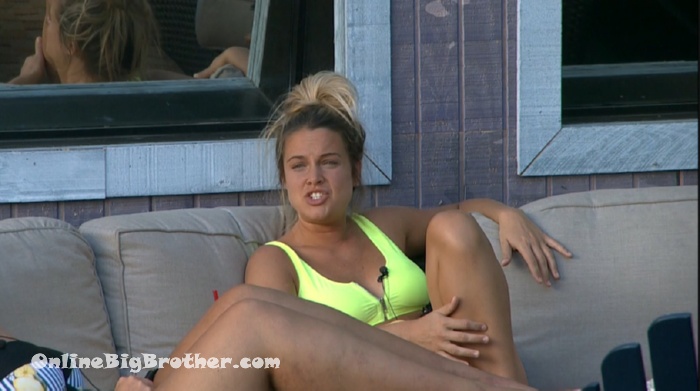 5:21 pm Christie and Jess
Christie – I hope this week goes smooth I really do It's his time. If something does happen to keep him I just feel like the integrity of the game is f*ed up (ZOMG)
Christie – that just means like something up there just wants to continue to see him play people and that just like takes away like.. the umm.. the.. it takes away the triumph of getting someone out that is playing well. It leats him coast to the end
Christie – I do hope if there's more prank things or twists it still allows this week to go the way it's supposed to like things have to eventually catch up to you in this game.
Jess can't understand why Nick got the prankster.
Christie – I can see it from a lot of different angles.
Christie about Nick getting prankster – I could see it being divine intervention to spice things up (AKA production)
Jess – I'm just so pissed right now I haven't been called into the Diary room. Nobody cares about what Jessica thinks (you're right)
Christie – I do but maybe I'm biased cause I love you..
Jess – I have not been in the DR since yesterday morning (AHAHAHAH)
Jess – Nicole has already been in there three times that's enough for Nicole to get on the block)
Jess – get the f* outta here
Christie – she's really close to Nick and he's a nom
Christie – I have a theory and it's literally just a theory that she is…
Feeds cut .. to HOH where Jackson, Holly, and Nicole are chatting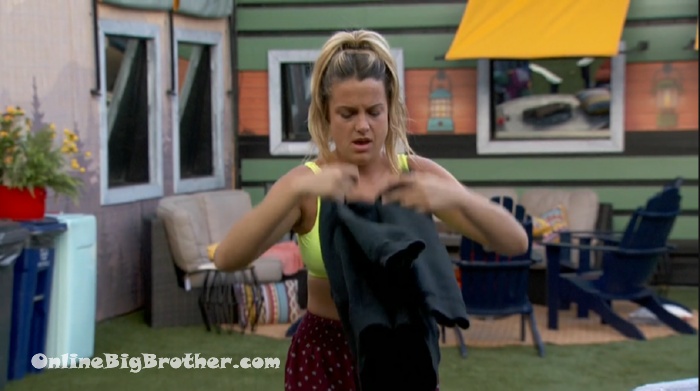 6:00 pm Christie and Tommy
T – I don't know what's going to happen this next week
C – it's going to be fine. It's just .. umm .. I mean Big moves gotta be made now its time.
T – who's going to be the one that does it
C – I have no problem doing it
T – really?
C – This is a game. I don't have any deals with anyone. I'm out my contract now it's been a week
T – that's really good
(AHHAH she's going after Jackson)
C – I feel goo with Cliff
T – I really hate that Nick is leaving
C – I know and it's my fault.
T – no it's not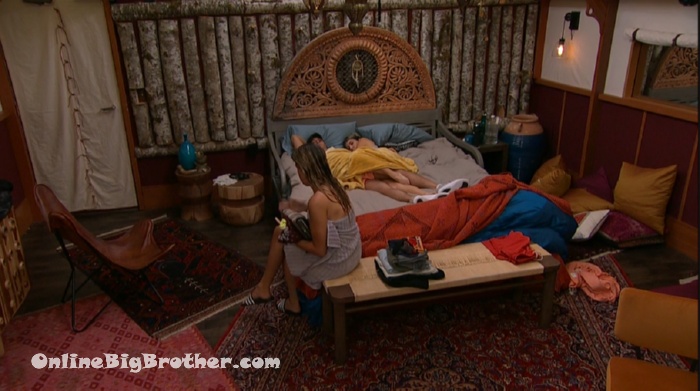 6:30 pm Christie, Holly and Jackson
C – I feel like he's the type of player that develops close close close bonds with people that also will in the same breath savagely vote against them. Look at Jack, Look at Sis.
C – I feel he will do what's best for his game.
J – After this week could very well see the block
C – well yeah I feel it would be me or Tommy
Jackson explains he meant if Tommy wins HOH he would see the block.
C – I disagree… I don't think so then again I literally don't talk game with Tommy it's so weird.. ever since Jack left we've stopped talking game. Honestly, it breaks my heart
C – yet I know he's smart game-wise. He's always feared Cliff that's one thing I know..
Jackson thinks Tommy thinks he's on his own and is like "F* it I'm going to get them back" because they took out Nick, Sis
C – I don't know I really didn't think of it because during the entire division he was all about Michie and Holly
C – I think because Nick is here he's gravitated to Nick but once Nick is gone he'll come back
Holly – I hope so
7:19 pm Clowns are appearing behind the mirrors.
7:50 pm Food prep
Nick humping Tommy #BB21 pic.twitter.com/3e9ASNlyfn

— OnlineBigBrother.com (@bigbspoilers) August 27, 2019