Head of Household Winner – Holly
Have note are: Cliff, Nicole, and Jess get punishments
America's Prankster – Nick
Nominations are: Christie & Nick
Power of Veto Players are – Christie, Holly, Nick, Jackson, Jessica, Cliff
Power of Veto holder – Jackson
Power of Veto Ceremony – Jackson did not use the power of veto
Grab your live feeds —-> BB21 Live Feeds Subscription Link
Rank your houseguests —-> Big Brother 21 Ranking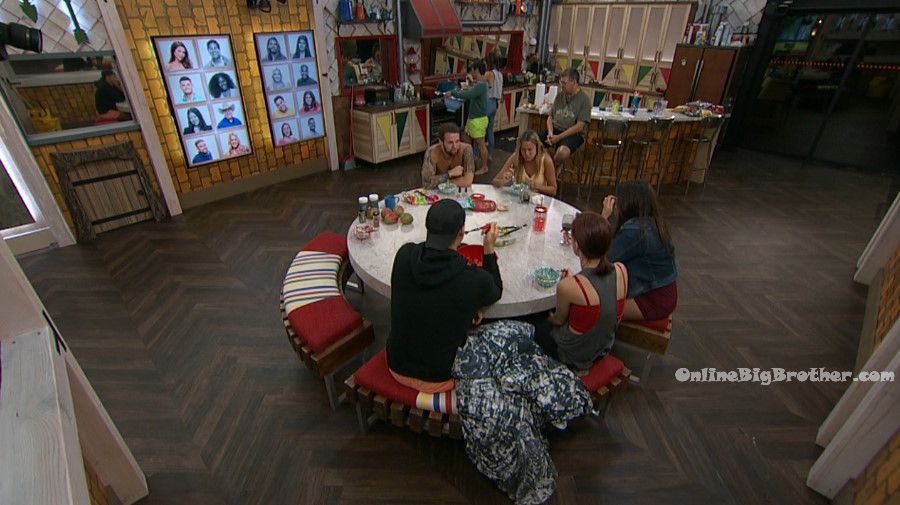 8pm Kitchen. The house guests are talking about the evil clowns they're seeing in the mirrors of the house. Christie – I thought one was coming but it was the smoke from the mac & cheese. Holly – I was so scared in the HOH room by myself. Nicole – that's what goes wrong in every horror movie. Lets split up and then they die. So we can't split up ..we stay as a group all night. Good idea? Good idea?! The others agree. Jess – I will be the one that dies last .. I'm a v!rgin. The vv!rgin always dies last. If they stay in the walls we're fine. If they come out we're dead.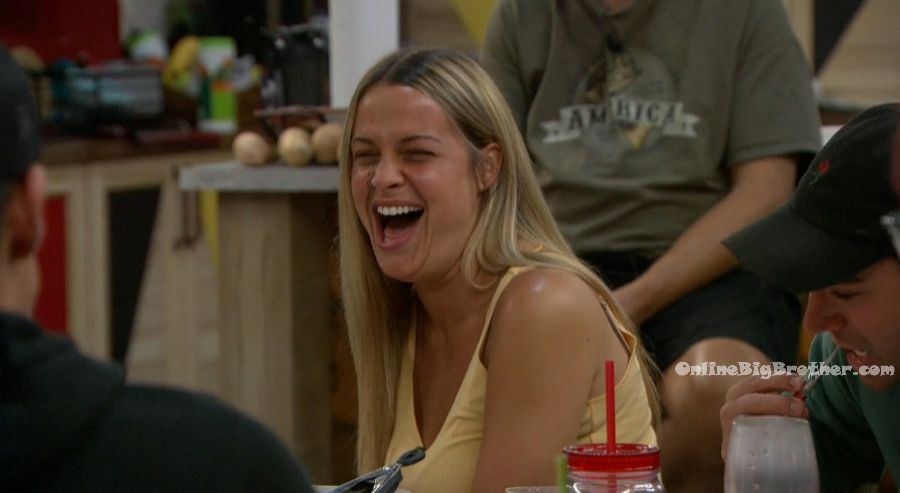 8:26pm Holly and Tommy are in the storage room. An evil clown pops up and puts its finger to its mouth Shhhhhh…. Tommy sees it first and says "HOLLY!" Holly – F**K YOU! EW EW EW! Tommy – whoa!! Holly – what?! Are you trying to tell us something?! What?!

#BB21 Creepy Clowns.. @bigbspoilers pic.twitter.com/KV9seZAs7m

— Dawg (@DawgsBigBrother) August 27, 2019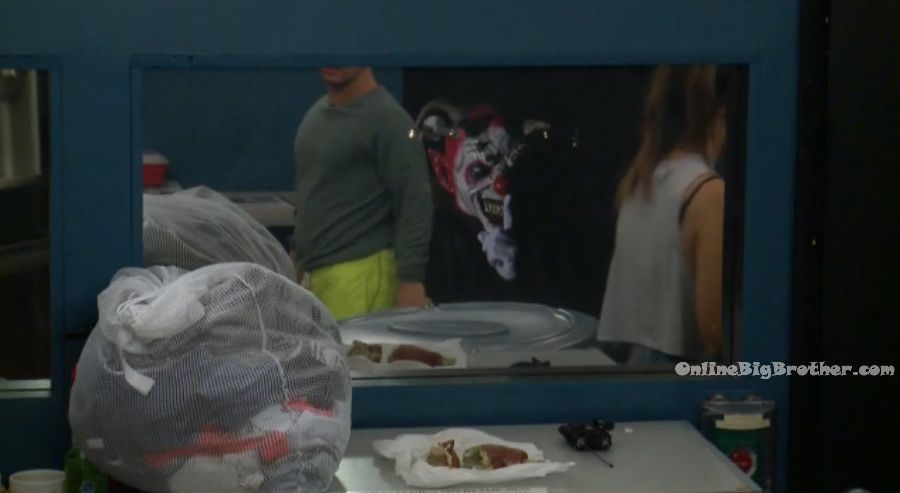 8:43pm The house guests eat dinner.
8:51pm The house guests see the creepy clowns again in the bathroom. They're all scared to move around the house. Cliff isn't worried about it. Nicole has Cliff walk around with her room to room as she's scared but wants to see them.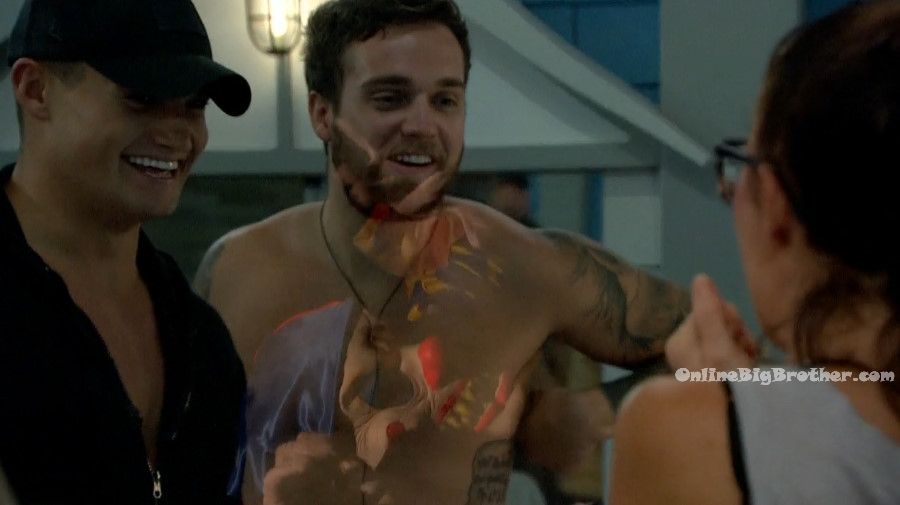 9:40pm The house guests are playing / watching others play backgammon. Jackson's eating a watermelon.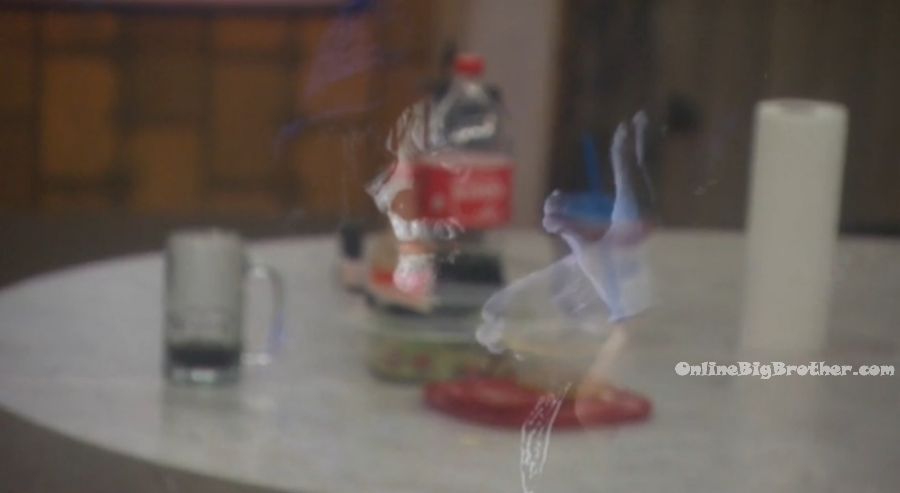 9:52pm Nicole comes out of the diary room. All the house guests have hidden in the HOH room / behind the couch in the bathroom. Nicole sees a clown in the mirror and gets scared. Nicole – I don't know whether to laugh or cry! This is horrible! Where are they!? This is messed up!! I will stand here all night!! More clowns pop up in the mirror. Nicole – I need to pray to my god and make peace because this is how I die! OH MY GOD! OH MY GOD!!!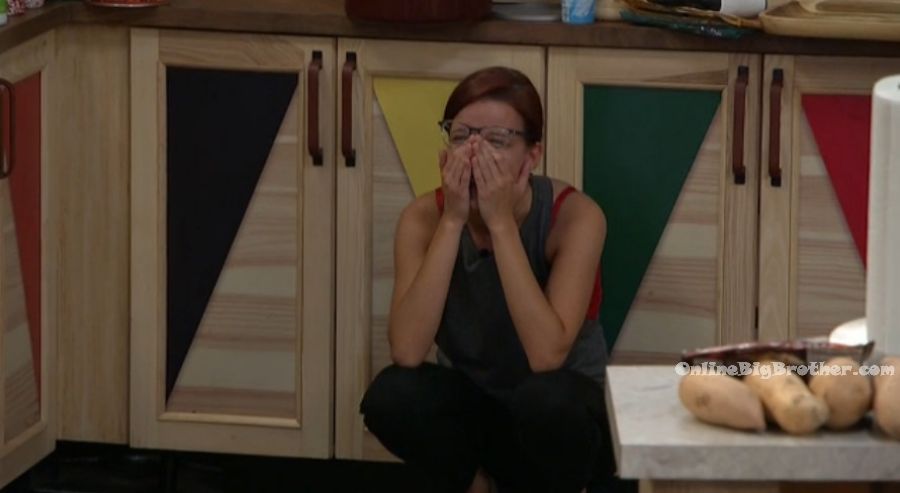 10pm Big Brother flickers the lights.. (LOL) Nicole – just let me outside.. I will gladly dig myself a grave and get in. She starts looking around the house. I don't want to bring a weapon because I don't want to hurt anyone. Nicole is freaked out. Nicole – hey guys I found a diamond power of veto come on out!!
10:04pm Nicole finds Michie behind the bathroom couch. He tells her that four clowns popped up in the kitchen and told them that they had 90 seconds to hide. Nicole goes up to the HOH room. She opens the door and the lights are off. She ends up finding them hiding under the HOH bed and in the bathroom.
Jackson tells Nicole he wasn't going to pie her.. #BB21 @bigbspoilers pic.twitter.com/Ff8WKwCrqS

— Dawg (@DawgsBigBrother) August 27, 2019
10:15pm More clowns.. Nick – I am not sleeping anywhere near Nicole because they're going to f**k with her all night. Nicole – thanks .. true friend!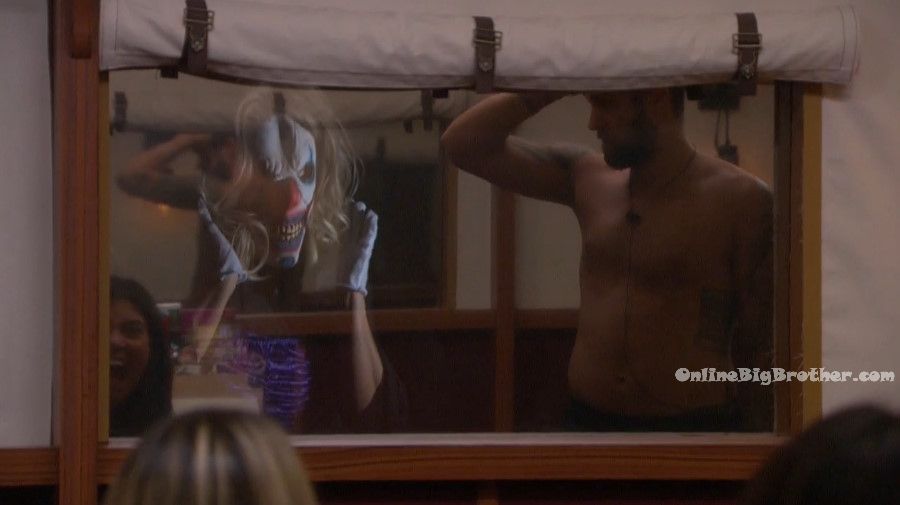 10:50pm – 12am The house guests hang out in the bedroom talking about the clowns, past seasons, past house guests and other random things.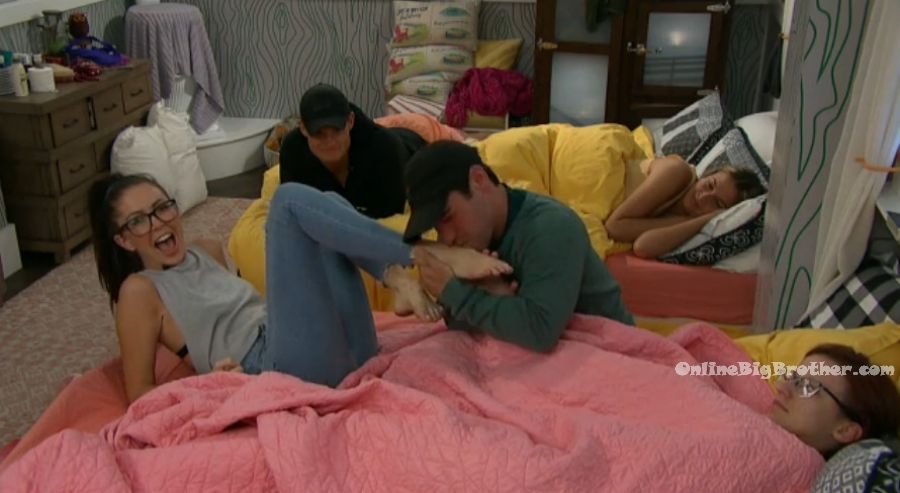 12:05am Backyard.
Holly, Jess and Christie. Holly is worried about Nick getting evicted and then coming back from a battle back. Jess – he would be up against Jack, Kat and Sis.




12:30am Bedroom.
Tommy – do you want me to show you how I cuddle with my boyfriends? Nick – yeah. Nicole – do you guys want me to leave? Nick – I'm straight as an arrow. Tommy – which one? Nicole – yeah a curved one.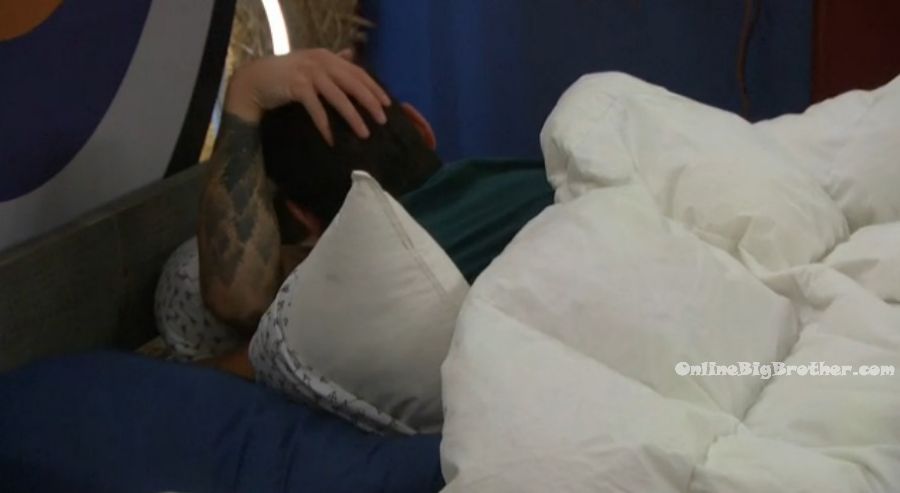 If you've enjoyed our live feed updates this season, please consider donating.
Simon and I work 24/7 all season long to keep you updated on everything that happens inside the house. Any amount is greatly appreciated! Your donations go directly to paying the fees required to run this site.