Head of Household Winner – Holly
Have note are: Cliff, Nicole, and Jess get punishments
America's Prankster – Nick
Nominations are: Christie & Nick
Power of Veto Players are – Christie, Holly, Nick, Jackson, Jessica, Cliff
Power of Veto holder – Jackson
Power of Veto Ceremony – *** Jackson did not use the veto ***
Grab your live feeds —-> BB21 Live Feeds Subscription Link
Rank your houseguests —-> Big Brother 21 Ranking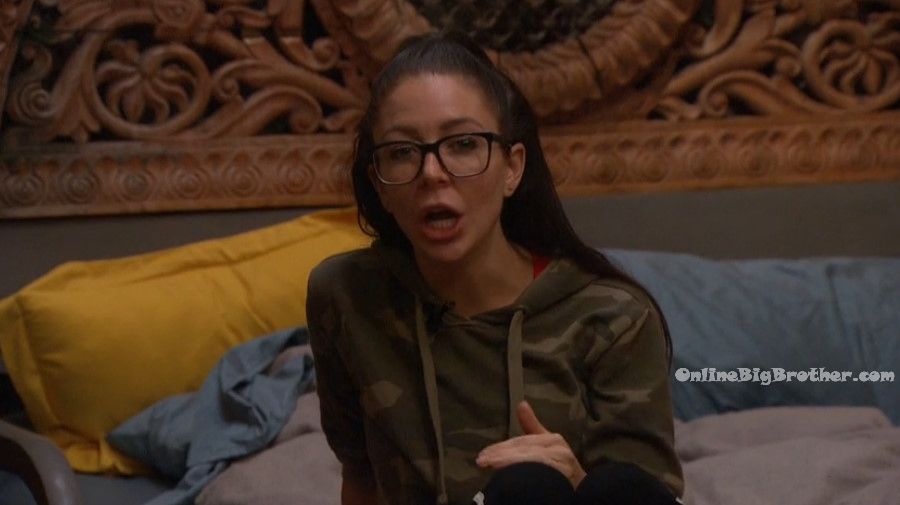 12:05pm HOH room. Jackson and Holly.
Jackson tells Holly about how Nick told Christie his entire plan / pitch. Jackson – she said that he wanted to know if he had her vote. Holly – wow! WOW! Jackson – I think we should get Cliff and Nicole up here and tell them and use it to instill some more trust. Holly agrees. Jackson – and keep them in the loop 100%.. so it could potentially drive a wedge between Nicole and Nick. Holly – maybe. Jackson – that's not really the main thing but I thought it could gain some trust. Holly – maybe it would but it also might get back to Nick. Jackson – and if Nicole did that, then Nicole is screwing us over and then Nick is on the way out the door. I don't think she would. Holly – I just don't know what good it would necessarily do .. because them knowing that he is America's prankster is whatever, it doesn't really matter. The only real benefit is them knowing he is saying the people that are coming after us and trying to throw other people under the bus. He still won't say names. Jackson – he won't but if its not Cliff and Nicole. Its Tommy and Jess. Holly – I was like okay Nick you keep bringing up that people are targeting us and I know that people have in the past .. but people are saying that they're not coming after us now so I would like to know who. If you know something .. to get the target to shift from yourself I kind of have to have a direction. He said I can't name names but there were 6 people that were ready to make a deal. He is still just going with the 6. The only name that he said was Jess but he was implying everyone else. Jackson – I trust Cliff and Nicole. Holly – I do too and I don't know if that's a good thing or not. Jackson – I think Cliff realizes that we are his best chances especially in competitions where him and Nicole are lacking. Christie and Tommy aren't doing that great. Holly – Nick said that he will throw the next 3 HOH's and do whatever we want. Say we do get to final 4 with him.. our odds go exponentially down with him in the mix. Would any of us win sitting up next to Nick? Jackson – the only things I would have are the game moves during HOH and 3 vetos and 5 wins as of right now. And I can sell that HOH a lot more than just getting Sis out. Holly – you'll have Kat's vote, he will have Sis's vote. Jackson – I would have Cliff. Holly – maybe. Honestly Nick might have Cliff's vote. Cliff is such a big brother fan and I think he respects Nick's mind games.. which sucks. Jackson – I agree. Holly – I don't want to go up against Nick. Yeah Cliff is a very strong competitor too but I feel better going against Cliff. And I feel better handing 500K over to Cliff. Jackson – exactly. Holly – I would also love to work with Cliff and Nicole. And I hate to say this but any three of us if we stand next to Nicole… I do think that the jury would vote for whoever is not Nicole if she makes it to final 2. Just because of game moves. And I would be thrilled if you, me or Cliff won. I think if Nick makes it farther he could sweep this. Jackson – we need to get Nicole and Cliff up here to include them in on this. Holly – I worry about Nicole and Nick's relationship. Jackson – then it exposes where her loyalties lie and I don't think she would do that knowing Nick is going out the door. We need Jess gone. She is a wild card and if she wins HOH we don't know who is going up. Holly – it would be you and either me or Tommy going up. Yup we definitely need her gone sooner than later. The conversation turns to talking about how Tommy doesn't wash his hands after going to the bathroom. Holly – I don't like him touching my food.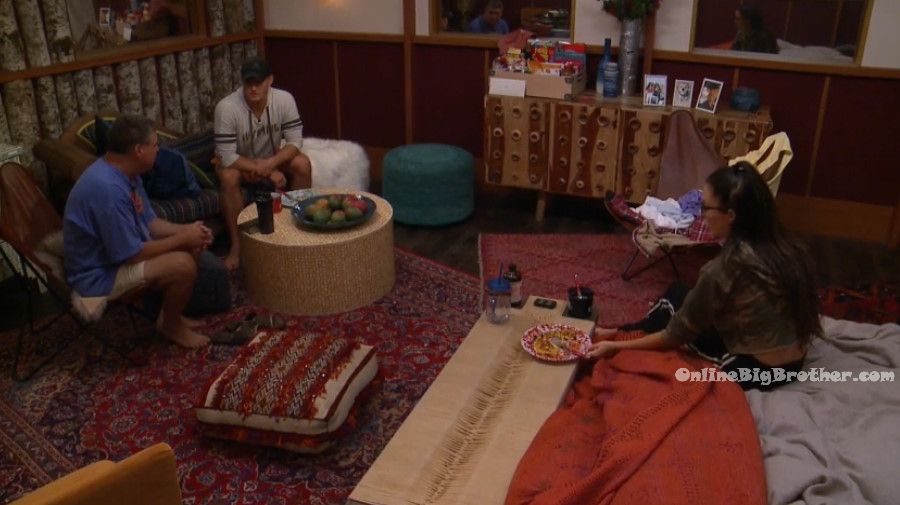 12:30pm HOH room. Jackson, Cliff and Holly.
Jackson tells Cliff about how Nick told him he is the prankster. Cliff – okay. Jackson – then he pitched to me last night and then ended up pitching to Holly this morning …he wants me to use the veto on Christie. Cliff – to pull her off?Jackson – to pull her off so he can be up against someone other than Christie. He said if I am up there against Christie, I am not going to have the votes. I might be able to get two .. referencing you and Nicole. He said he is not going to be able to get me because I'll go with Holly, he won't be able to get Tommy, and won't get Jess. He said he feels like he is f**ked and doesn't have a chance. I am like dude .. America just handed you a huge power .. you could pick who you were sitting against and you got to play in the veto. How is that not fair!? Cliff – if he has some grand plan why wouldn't he have told you that before the veto? Jackson – exactly. Holly – it seems a little fishy. Cliff – he waited till his back was against the wall. Jackson – I was like why didn't you tell me .. but at the end of the day I was not going to let Nick win (Veto). Cliff – who does he want you to put up .. or who is he going to put up? Holly – he was like there are people in the house targeting y'all. But doesn't want to say names. Cliff – there aren't a lot of people in here. Holly – he said there were 6 people that made a deal to target y'all. I assume he was eluding to you or Nicole going up. Cliff – I have already told y'all I am ready to cut him loose. Holly – nothing has changed. I just wanted to keep you updated.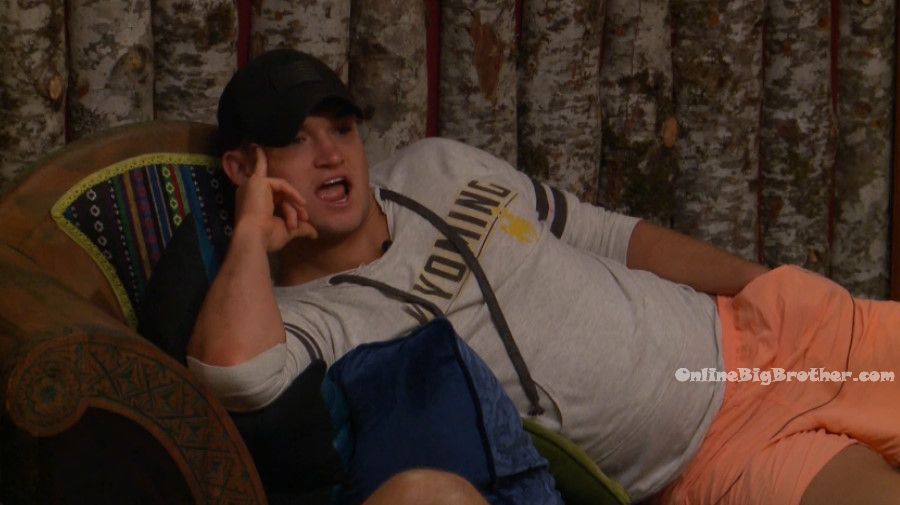 1:06pm HOH room. Jackson, Holly and Tommy.
Tommy – I am trying my best to navigate this week but I wound up telling him that I gave my word that I would vote for Christie to stay. I didn't mention you guys. I know he knows and I know he is trying to do something and I am sorry. I am just doing my best. Holly – Tommy you're between a rock and a hard place. Tommy – he was just saying if I get this person, this person and if I get you. I was like I'm not saying anything. He was like but I'm going to campaign to you and its going to make so much sense. F**K F**K F**K! Jackson – he came up and told me too. Tommy – he's America's Prankster. Jackson – he told you too?! He told Christie too. Tommy – he did? Holly – you're the fourth person. He told Christie! Like what the f**k Bro! Tommy – I think he told Nicole too. So everyone knows.. Jackson – except for Jess. Jess doesn't know anything. Jackson – he is literally saying he will put up anyone. You, Nicole, Cliff and Jess. Holly – people aren't going to vote Jess out over him. It could only be you or Cliff. Tommy – I would hope that he wouldn't put me up because of our relationship. Jackson – he said he will put up ANYONE! He is desperate. Tommy – I am worried. Jackson – I am not using it (Veto). Holly – I have a very clear target. Nick is a huge threat and I want to even out the playing field. You gave your word to someone. Tommy – and I have no intention of breaking that.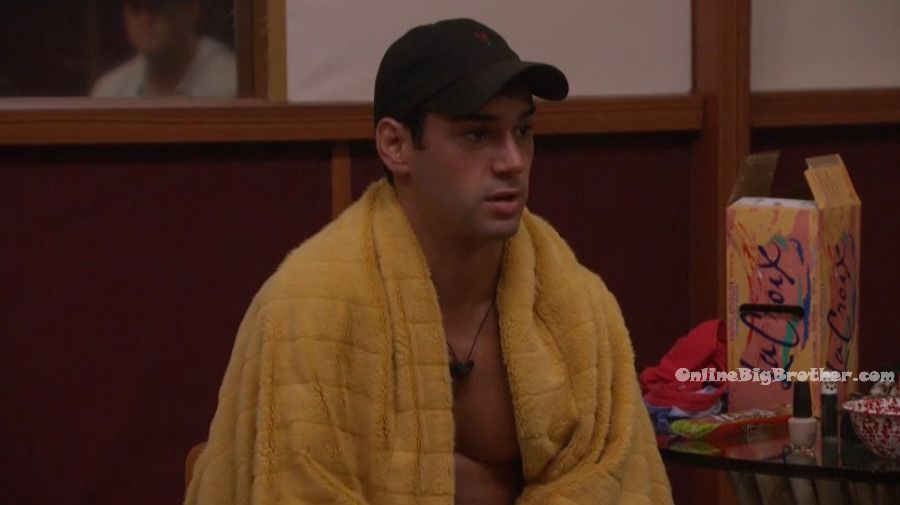 1:30pm HOH room. Nicole, Jackson and Holly.
Jackson and Holly tell Nicole everything they told Cliff about Nick being the prankster and his pitch / plan. Holly tells Nicole that he wants Jackson to use the veto to take Christie off and Nick would then nominate anyone they wanted. Jackson – there are only 3 or 4 people that could be put up.. Its you, Cliff, Tommy or Jess. Holly – and he mentioned the 6 and so I assume he didn't mean Jess. So he wants someone he could get the votes against. This is all desperate life saving pitches. Jackson – we wanted to let you know. He said that if he is in the house he could win the HOH and not put us up or throw it to me. He said if he isn't in the house everyone is coming after us. He doesn't know about us. Jackson – I don't know if you want to go to final 4 .. (with Cliff, Holly and him). Nicole – I want to go as far as I can. Jackson – is that something you want to do? Nicole – absolutely. Jackson – Cliff was receptive to it. Nicole – Jess and I were talking. You guys are such strong people. I know I struggle on a weekly basis with all the nominees. It doesn't matter if its a friend, an ally, an enemy. Jess was like you can't be like that.. you have to get over it. Holly -easier said than done. Nicole – I don't know how to change myself. Jackson – you don't need to change for anyone. Nicole – I can't help sitting and talking to the target. Jackson – you're the sweetest girl I've ever met. Holly – one of your best friends is on the block. Nicole – I am digging myself more in a hole the more I talk to the target. Or the more I talk to people that are sketchy but I don't know how to not do that. Dammit. Nicole starts crying. Jackson – I trust you. Holly – don't fault yourself for having a big heart. There is no rule book. You're allowed to play with a heard. Nicole – It doesn't mean I won't cast my vote the smart way. Jackson – you do whatever you want on a social level and on a game level. I love you and trust you. Just because you talk to Nick doesn't mean I don't trust you. Holly – same. Nicole – I hate that I am always emotional. I know that at the end of the week when I walk into the DR I make a game decision. Jackson – I know that, Holly knows that and Cliff knows that. Nicole – I am going to win next week. This room is mine!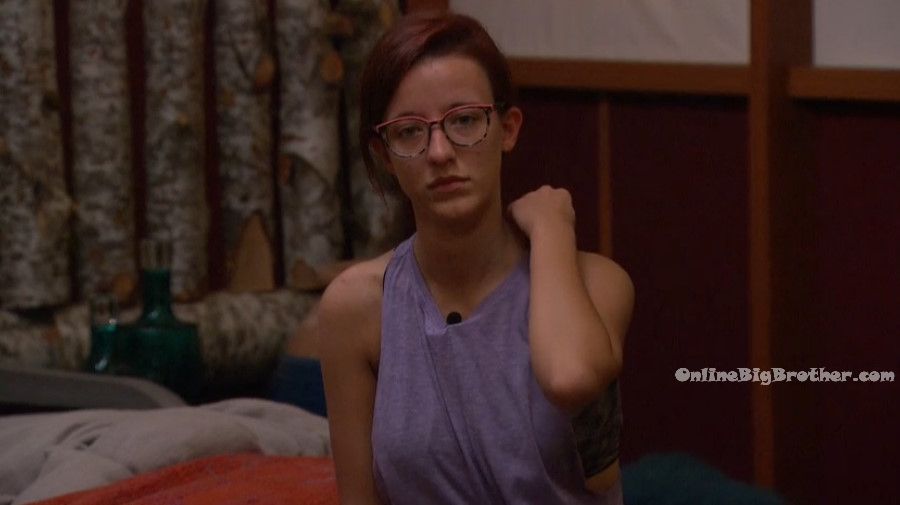 2:05pm – 2:38pm HOH room. Holly, Jackson and Christie.
They tell Christie that Nick has told Nicole and Tommy his pitch / plan as well. Holly – he's told like the whole f**king house. Christie – wait so Cliff knows too? Jackson – I'm guessing (yes because you told him). Holly – in a shocking turn of events Jess doesn't know. Christie – that's very Christie-esque of him when he gets a power to tell the whole house. She laughs. Jackson – four days before eviction. Christie tells them about how Nick told her his plan to get Jackson to use the veto on her so that he could put someone else up. Anything that comes out of Nicks mouth I think is a setup…like I just don't trust him. I told him don't speak for me or tell anyone that you have my vote. I would obviously love to come off the block. Who the f**k wouldn't want to be safe!? I am just worried how it would look from the rest of the houses perspective. Jackson – one .. it would look sketch for me to use it on your and two why would I take Christie off if Nick is the target and the best chance he is going home is if he is against Christie. And why would I go against Holly.. or is there something going on with me and Nick or you and Nick. Or all four of us. Christie – that is my main concern. Jackson – its an optimistic plan but far from a good plan. Christie – I think that Tommy wants to be with us but not as long as Nick is here. Jackson – it is not happening. Christie – and I was like you staying Nick doesn't make you a bigger target.. people will still be way more pissed off at Michie and Holly. Jackson – the juice ain't worth the squeeze on this one. He's got to go. Holly – he is going to rally hard against you but I am not even worried about it. You're gucci. And you already have 3 votes locked in.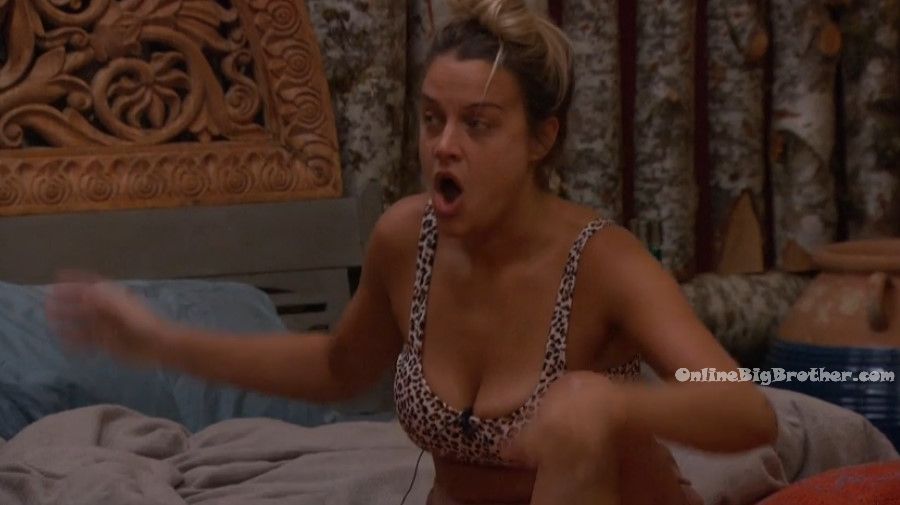 2:45pm Holly – does it worry you that Nicole didn't want to shake our hand when she was emotional? Jackson – no. Holly – Nicole is bambi. She is a little baby dear. One that is easily frightened. It will be really hard for her to send out Nick but I will feel much more confident on her being 100% on our side when he is gone. Jackson agrees.
3:50pm Kitchen. Christie and Cliff.
Christie – did you hear his news? He's (Nick) the prankster. Cliff – ahh.. well I would have guessed that. Christie – and he is trying to pull some sh*t to get the veto used on me but no one is falling for it. Cliff – then he would probably put me up or whoever? Christie – that's what I'm hearing. So I just wanted you to know that you're fine because no one is buying it. Cliff – well thank you. Christie – its a good idea but there are canons in it. He thinks by doing that he will throw comps but I'm sorry that doesn't make people mad at him .. it makes people mad at them (Jackson and Holly). Its not going to happen anyway. Cliff – at some point you have to get rid of the threats. He is physical, mental, and social. Christie – and he is telling everyone! I don't even have a campaign.. I am just saying that he is pitching this and throwing everyone under the bus. And he's pitching it to me like he is going to be my hero. Like is he delusional!? Its a good window to get him out.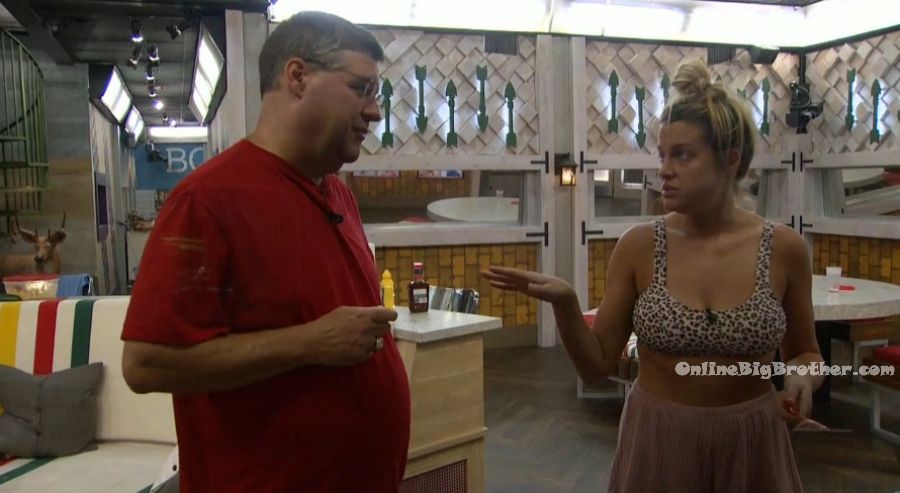 3:55pm Backyard.
Christie tells Nick that she had to bring food into the DR. (Because of her Zing about always eating / always smacking away on something) Nick – that's the funniest f**king thing I've ever heard! She had to eat in the DR!!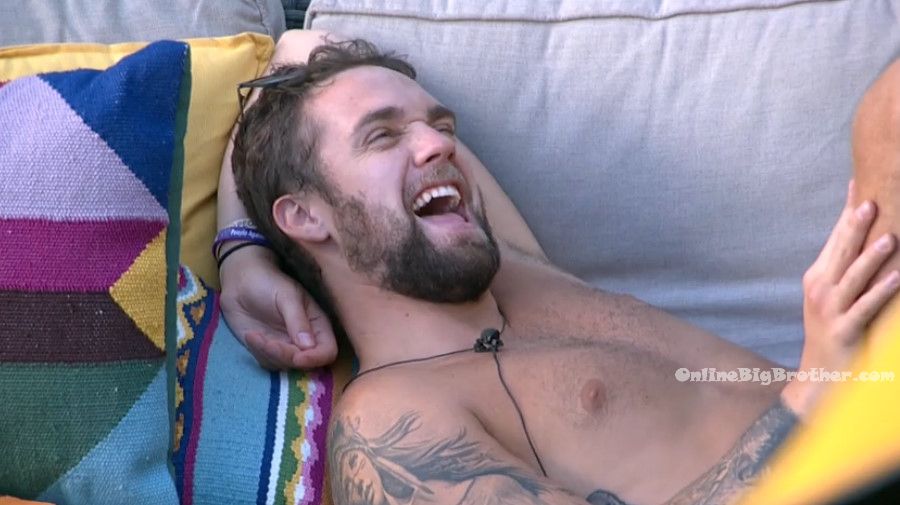 4:10pm Kitchen. Nicole and Nick.
Nick – I pretty much told them everything. It went over well with him (jackson). They know that I wouldn't put you guys up next week if I stayed and won (HOH). I wouldn't put you and Tommy up. I have the power to put up a replacement nom.. if Christie… I mean obviously I wouldn't put up you or Tommy. Nicole – I hope not. Nick – No, I wouldn't do it. They know if it was one of you two I would just rather go home at that point. I wouldn't put you up. Nicole – but you would rather stay though. Nick – yeah I know but I would rather try and win a thing .. I would loyal. I am not going to flip just because my back is up against the wall. That is not the game I play. That's why America has a respect for me. I knew Sis was going last week and I still voted to keep her. That shows loyalty. I don't know how much more I could show. I said I could have done sh*t anonymously and you wouldn't have f**king known. Even if I am a knight without any armor, its still protection for them next week. Nicole – that's very true. Nick – if they get me out this week…one of them is going to go in the next two weeks. Unless they keep winning HOH which is extremely hard to do.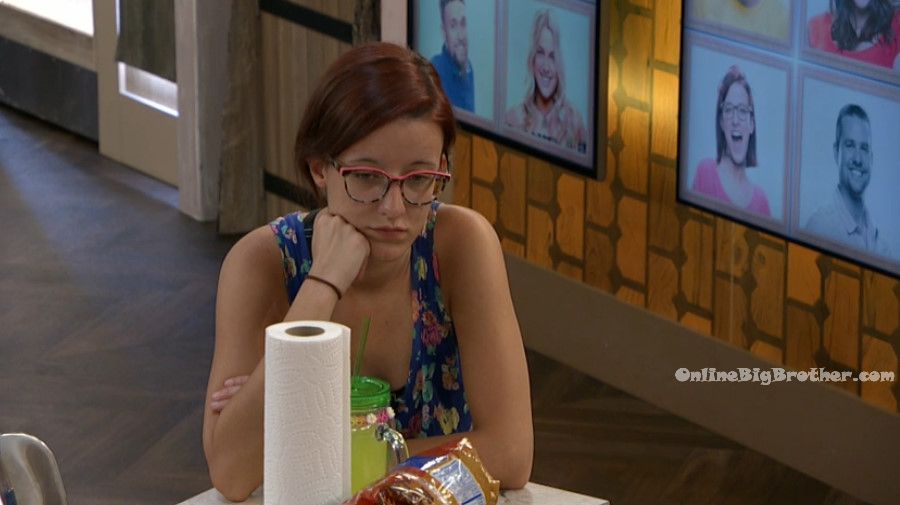 4:15pm All the house guests come inside due to a indoor lock down.
5:09pm – 5:40pm Backyard. Hammock.
Tommy – we don't know how bad it is. Christie tells Jackson that she (Holly) just went in to talk to them (DR). They want to talk to her. Its not you though. And it might not be as bad as it feels. I am pretty sure that all of us did not react to it .. most of it at least. Its hard. I literally cry every day in there about what people are seeing. Jackson brings up how Zingbot called him a pompous douchebag. Like I care about her so much and what kills me more is that I am having an affect on her life in a negative way. Whether its because of me or not. Its the fact that it involves me and if it wasn't for me those things might not have been said. That's what f**king kills me. Christie – and to be honest your feelings are totally valid because you care about her so much .. it sucks and you have every right to feel that way and she has ever right to feel that way. And we will all band together like an army when we get out of here. Jackson – all I wanted to do is make her happy and treat her the way she deserves to be treated. And what breaks my heart is that I could be bringing unhappiness into her life. Christie – what breaks my heart about that is yes you might be a little aggressive some times but America isn't seeing the way you care and respect her. Tommy – but that's not true. Maybe they are also seeing that. Jackson – as much as it would kill me I would rather remove myself from her so that I wouldn't bring unhappiness or any negative influence… than stay in it and make her unhappy. Christie – no.. but you're bringing so much happiness. Jess – you would be bringing her different types of tears. Christie – this is all fixable. You running would hurt way more. Jackson – oh I'm not going to quit on her.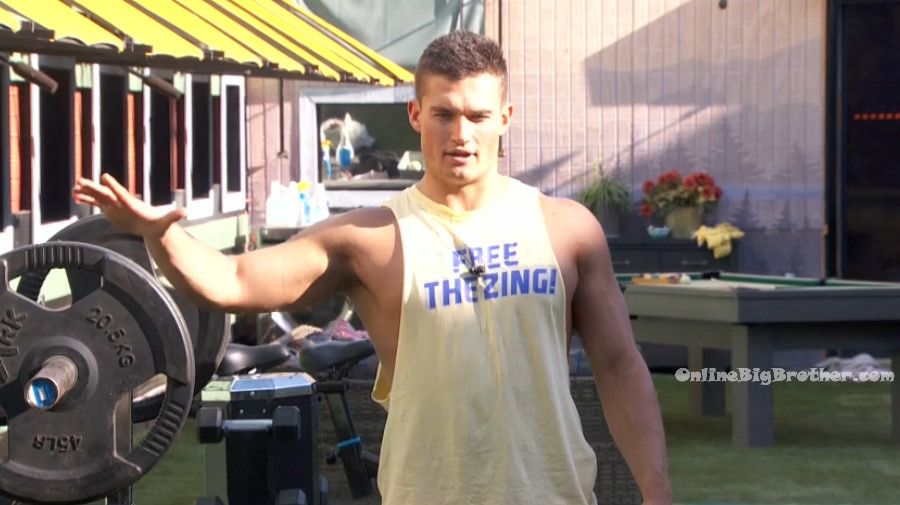 6:05pm Boat room. Cliff is talking to the cameras about sausages and things he wants to do with Sharon. Meanwhile in the backyard – Nick, Jess, Holly, Jackson, Christie and Tommy are chatting about drinking and getting in trouble when they were younger.
Nick talks about drinking and driving. Nick – the only time I got in a car. I was leaving that same bar and I was f**ked up, f**Ked up, f**Ked up .. it was a bad experience. I was f**ked and my boys follow me and then there was this cop. He kept going straight so that the cop would follow him because he was fine. (So you drove drunk when your friend was fine to drive?! WTF?!) I was so f**ked up and so I pulled over and called my mom so that she would come pick me up.
6:30pm – 7:05pm They continue to share random stories. Nick gets into the kayak to clean the pool.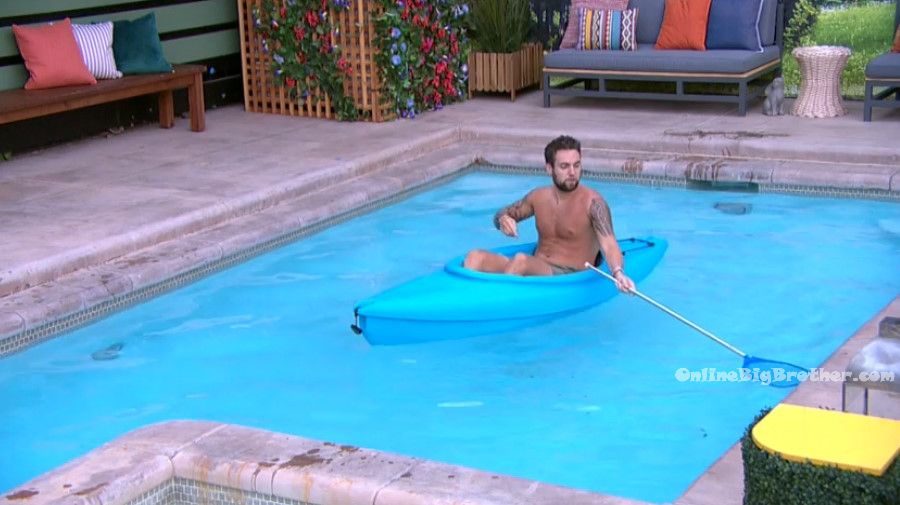 7:05pm – 7:56pm Jackson, Holly, Nick, Nicole, Christie, Tommy and Jess are making dinner.
8:07pm Cliff makes a watermelon pie to hit Jackson with when they get told to pie the others.
8:45pm – 9:10pm The house guests eat dinner. They do their grateful circle again. Nicole – I have an addendum.. screw you Zingbot.. to my 15 friends! All the house guests cheer. They all talk about group chatting together using their iphone or groupmeet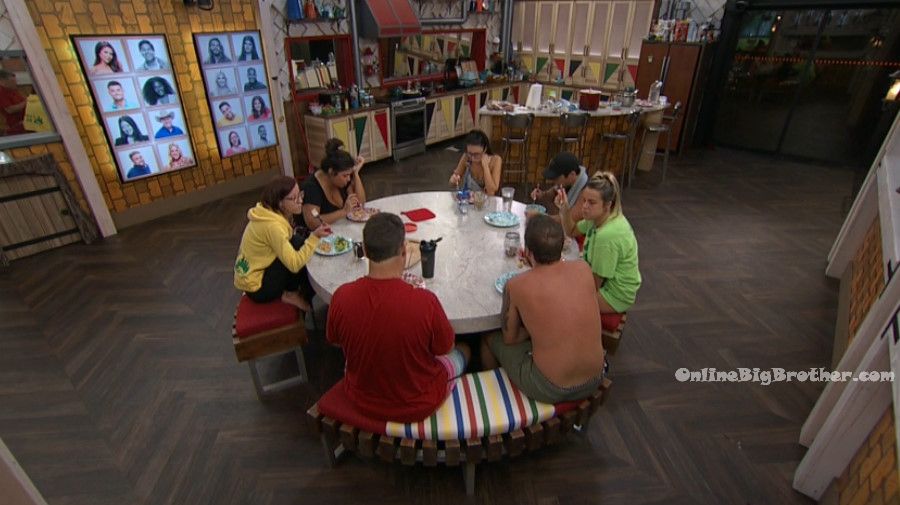 9:33pm – 10pm Backyard. Jackson and Jess.
Jess – its (prankster) not you, its not me, its not Christie, its not Nick… NOOOOooo.. Really!? Jackson – will you shake my hand that you're not going to say anything? Jess – you know me. They shake on it. Jackson – Nick is the prankster. Jess – really?! That's surprising as f**k. Why didn't he put me up? Jackson – because it would have been too obvious. He even said that. Jess – yeah it would have. Jackson – but I am not fixing to use the veto and risk you going on the block. Jess – thanks! Jackson – because I care about you too much and I love you too much. I don't want you to go anywhere. Straight up! Jess – I do respect both of y'alls games. I do like understand that both of you have something and I don't.. I am in the same place. Jackson – you are .. read my mind. Read my mind. Christie joins them and the conversation ends. Jess changes the subject to their Zings.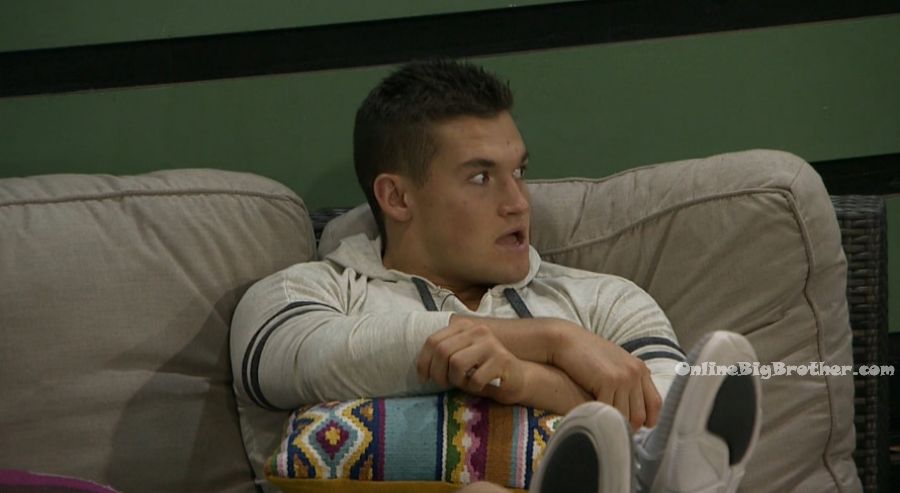 10:21pm Big Brother tells the house guests to check the storage room. POP tv gave them everything to make nachos. Jess – I feel like POP doesn't even know us (Jess and the others wanted alcohol.)

10:24pm PIE TIME!
Jackson gets Cliff to get him a pie shell to make his own to get Nicole. Nick, Holly and Tommy hide in the HOH room and lock the door. Nicole – line em up!! Cliff – Come on attention wh*re come get one! Christie – I'm not a coward, I'll do one.
Nick gets Tommy with a Mayo Pie .. Jackson gets Nick #BB21 @bigbspoilers pic.twitter.com/BoDJv9xKRr

— Dawg (@DawgsBigBrother) August 26, 2019
10:43pm The house is disgusting… mayo and whip cream pie everywhere..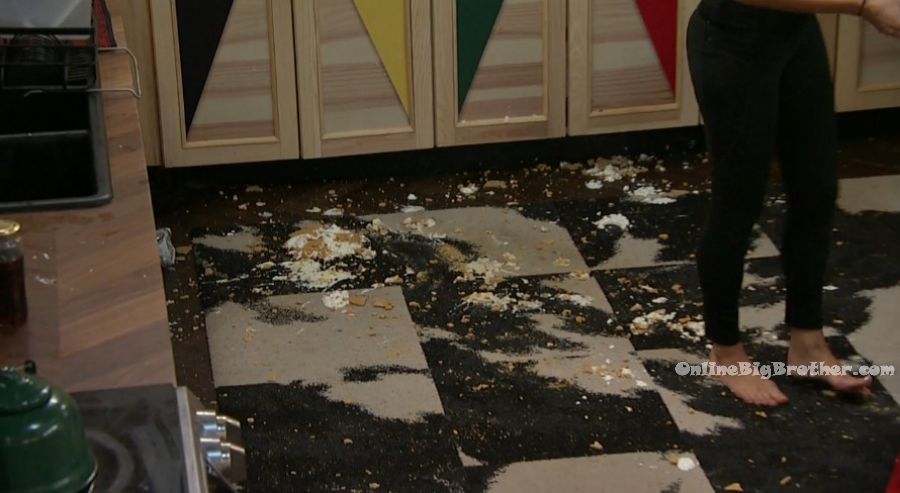 11:20pm Nick, Holly and Tommy call everyone to the living room to do their dance performance. Cliff and Nicole make an announcement to do future pieings over a garbage can. Everyone is tired of cleaning up after.
11:25pm Nick, Holly and Tommy do their dance… at the end Christie is especially blown away.
11:55pm – 12:25am Backyard Hammock. Tommy, Jackson, Christie, Cliff and Jess. They're reminiscing about past events of the season and talking about other random things.
12:47am Cliff, Jess and Nicole are told to make one pie and decide who will pie the HOH. The make the pie and Nicole pies Holly.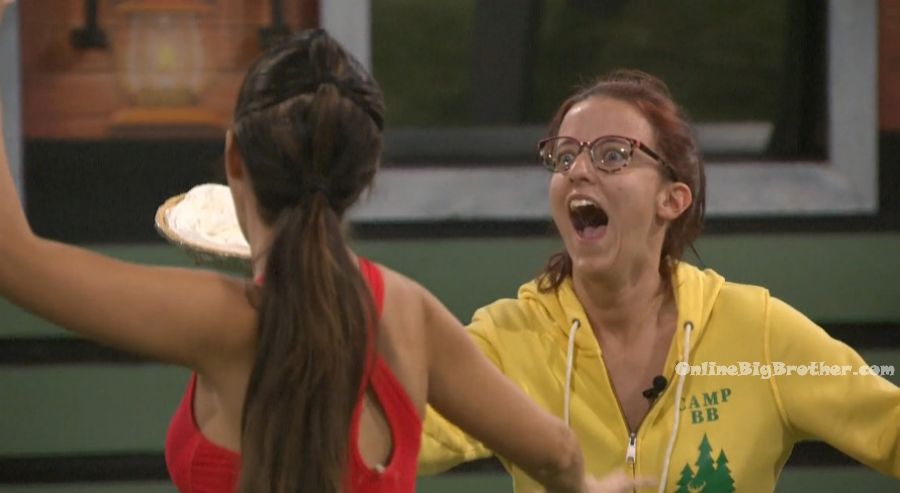 1:35am – 1:40am Hammock. Tommy and Nicole.
Tommy – If you're not meant to win any comps, then you won't and you'll come to terms with that. You're in a good spot. And also maybe you're not meant to win now to keep the target off your back and you'll win when its right. It really could be that. You're in a good spot and you deserve to be. You're in a good spot because you haven't won.. that's a big part of it. Just because you haven't won doesn't devalue you. Nicole – I hope not. Tommy – you're the type of player that I like to play with. Level headed, smart and just level headed and smart. Holly is very similar too. That's why we connected. Nothing against Christie but I don't communicate with people like that well.. like the emotional. Nicole – I don't know who you're working with or who you're aligned with. Tommy – just me. I felt so protected in the beginning and now I feel exposed. This is part of my journey.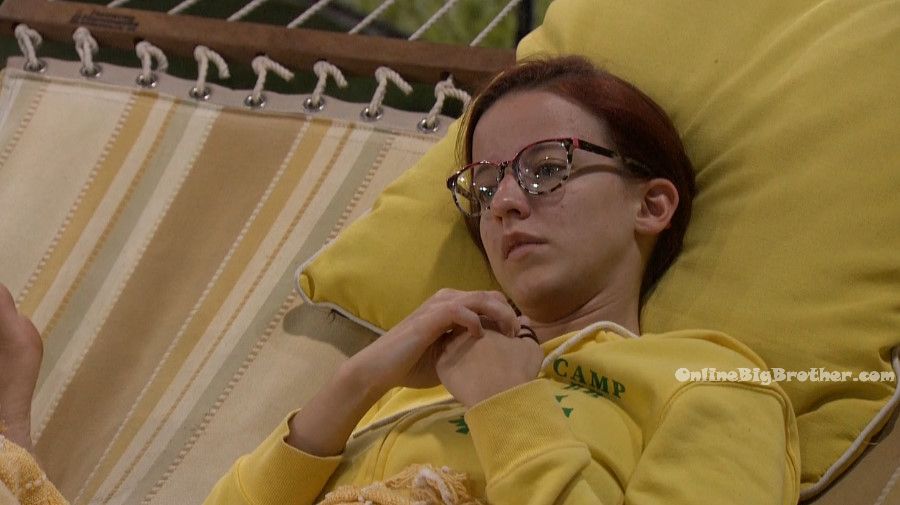 3am All the house guests are sleeping..
If you've enjoyed our live feed updates this season, please consider donating.
Simon and I work 24/7 all season long to keep you updated on everything that happens inside the house. Any amount is greatly appreciated! Your donations go directly to paying the fees required to run this site.