strong>Head of Household Winner – Dani
Have nots – Da'Vonne, David, Ian
Nominations – David and Kevin
Power of Veto Players are –
POV Host: –
Power of Veto holder –
Power of Veto Ceremony –
Powers – Christmas, Dani, David
Live feeds —-> Grab your Live feeds here. Try it free.
Rank the houseguests —-> Big Brother 22 Ranking
Powers
David – Saves on nominee. HOH picks a replacement. Person he picks can't be renom. Used during Nom ceremony after the HOH picks.
Christmas – blocks someone from being a renom. During Veto ceremony after Veto is played
Dani – can pick a outgoing HOH to be able to play in the next HOH competition.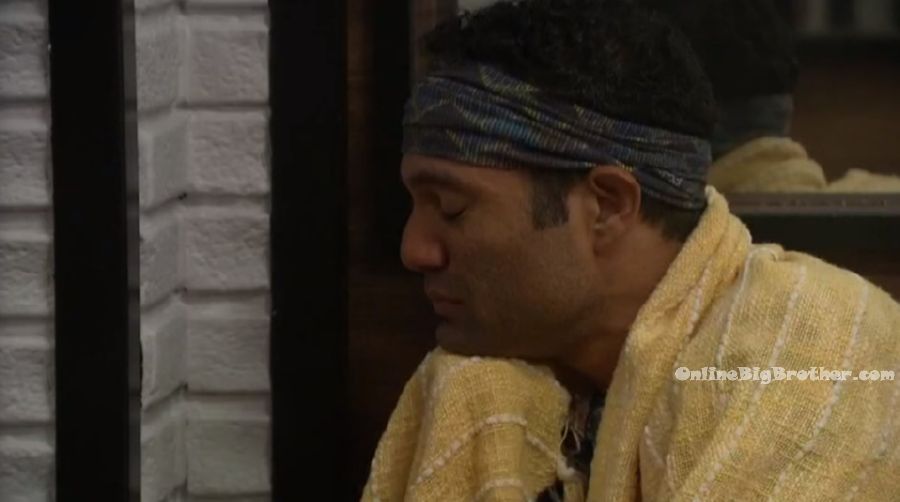 Lounge room. Kevin and David.
Kevin is crying in the lounge room by himself. David joins him. Kevin – I just can't assimilate in this cast. David – I know what you mean. I know what you mean. This sucks. Kevin – we should probably .. assimilate! Tyler opens the door to tell them that Big Brother opened up the backyard. Kevin heads out. Tyler hugs David. David – I know I'm the target. Big Brother blocks the feeds.

HOH room. Dani and Nicole.
Dani – I feel so bad. I feel like such a loser and always crying. Having feelings is embarrassing. Nicole – that was nice. Very raw and genuine. Its exactly how a lot of us feel. Dani – It sucks, I like them both so much. I know that I like, just broke Kevin's heart too. Nicole – its just going to keep getting harder and harder. Dani – there are people that I would rather put up but they're not threats or they're in our alliance. It hurts too because I just had a deep conversation with David. Like it feels personal to me.. like I am personally hurting him after that. Like have a conversation and then throw them up there. I feel like a piece of crap.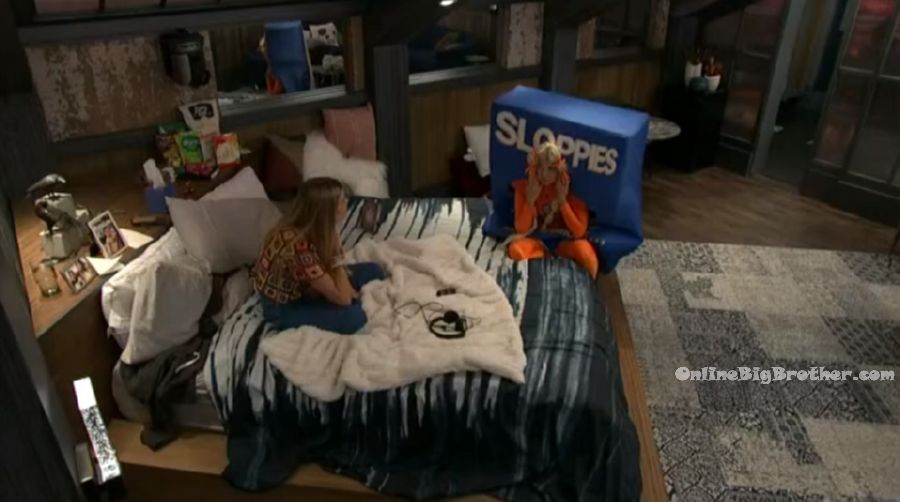 HOH room. Dani and Kevin.
The live feeds return. Kevin – I do want to talk game with you Dani, I just don't have any game to talk. And the game that I can talk is like.. Dani – but to be totally honest that (speech) was more for David considering he has never talked game with me. We will get through this and we will get out on a better end of this. I promise you. Kevin – and I want to keep working with you. Dani – I don't think you realize how much I genuinely like and care about you. Some times I feel like in this game you have to do little tricky things to get out on the other side. Like I feel like that is what we need to do right now. Kevin – if we can get through this.. Dani – we will. There are four votes to tie this week. With all the girls ..that's three. And Ian I feel will vote how Nicole wants.. Without anyone else that's four votes right there. Without anyone else and I'll break that tie too. Kevin – promise?! Dani – Promise. Kevin – On my season it was just so clear .. like these people are coming for us ..get them out of here. Dani – lets start poking at people so they fight and then we hate them. Give Christmas more alcohol. Kevin – I know right!? And there are some strong a$$ people in here. You know, I just want to make it to the end and have a fair shot. Kevin – a=was there a group consensus to put me up? Dani – no. Kevin – I would really like if you can influence people to keep me. Kevin – even if this veto is cancelled do you think I have a chance to stay? Dani – yes, just don't freak out.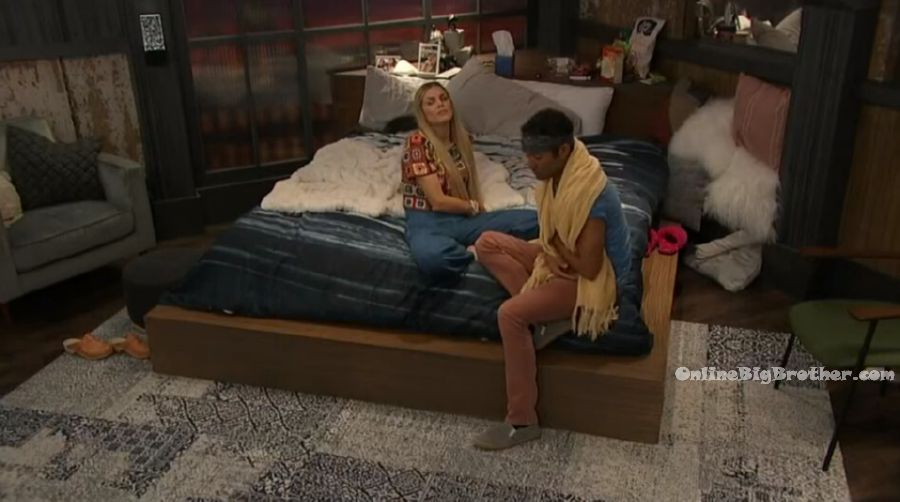 HOH room. Cody and Dani.
Dani – I knew what I was going to say to David but I had no idea what I was going to say to Kevin. I will just say the same reason. I talked to Tyler today .. I don't know how I feel .. I am back and forth all the time which is such a bad place to be. He kept saying if you're going to come after me I won't be mad. Its so annoying. Cody – why does he keep saying that. Dani – I said lets make a verbal agreement. Just in case I need to cover my but in the next week. I said I will not come after you and you will not come after me until we're down to the final six in The Comity. He said I will make it even better .. I won't come after you till final four. You can come after me final six. When people start offering deals that are too good to be true that's when I get really weary too. Like come on. Cody – I think he should have just left it at the final six and you would have felt more comfortable. Dani – There is a difference between I owe you one and I'll sacrifice my game for you. I am sorry but I don't believe that from anybody. Cody – yeah I am not sacrificing my game for you. Dani – and I won't do the same for you. Cody – I guess you have to take it for face value and follow your gut and see where it goes. I don't know. I don't know about him.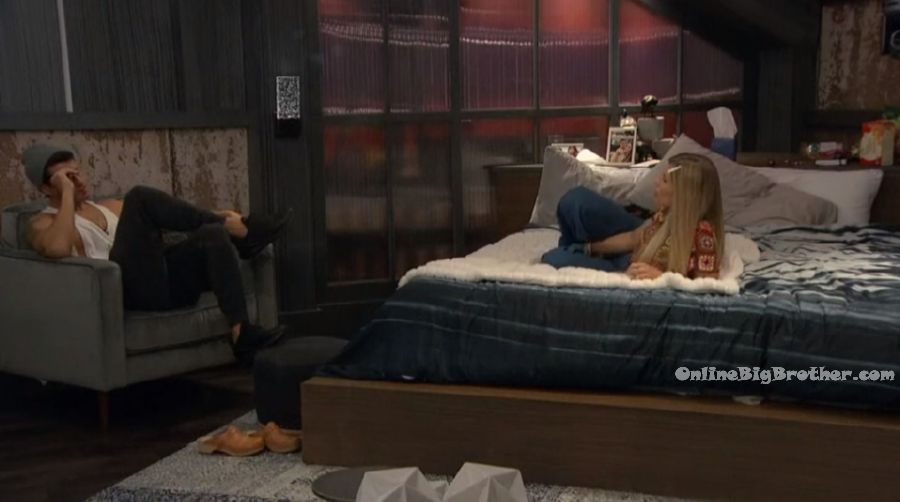 5:55pm HOH room. Christmas, Tyler and Dani.
Christmas – if I win (play and win veto) I will keep the noms same .. unless you want to backdoor someone. Dani – you can't win if its you. Christmas – I guess I'll have to win and keep the noms the same. Dan- J/k!
6:17pm HOH room. Day and Dani.
Day – did you make it very clear to him (Kevin) .. did you tell him he is a pawn? Dani – I told him I will campaign to have you stay in the house. Like I do not want you to go home. I like him. Kevin and I .. like each other. David, I like him but we don't talk very much. I don't want him to go home either but someone has to go.. you know what I mean? Day – yeah. I am trying to stress the importance of Kevin winning it because even if you do go through with your plan and the bigger target goes up …if that person has a power.. Dani – I know, you never freakin know. Day – they said that the basement is most scary place in the big brother house .. so you know its (veto) is going to be scary. Dani – I don't like scary.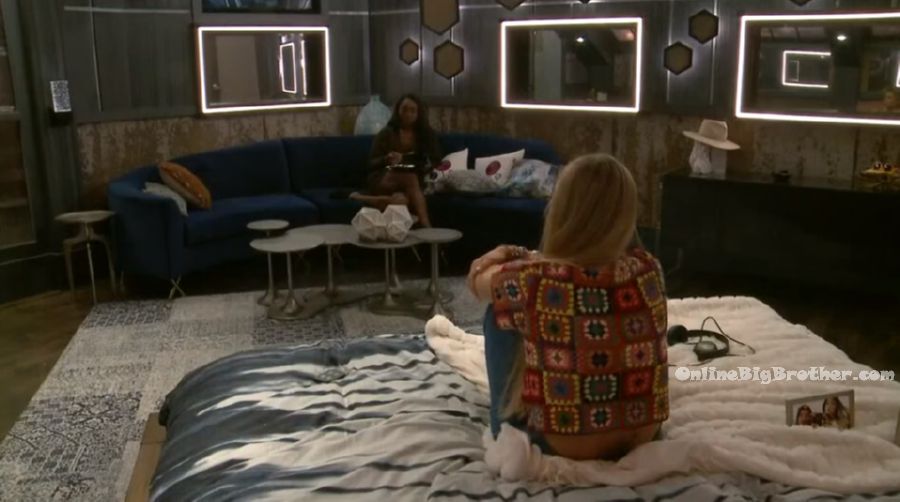 6:35pm Lounge room. Day and Kevin.
Day – you're a first place pawn. You know when she was telling you little picture ..big picture… You're a part of the little picture. You have to win the veto so that you can come down. The goal is for you to NOT be a part of the bigger picture. Sometimes in this game you have to nominate two people that have nothing to do with the plan in order to throw off whoever and then you can execute. Kevin – yup. Day – and I believe her. She was upstairs crying too because I made her feel bad. I said don't cry just reassure him that its not for him.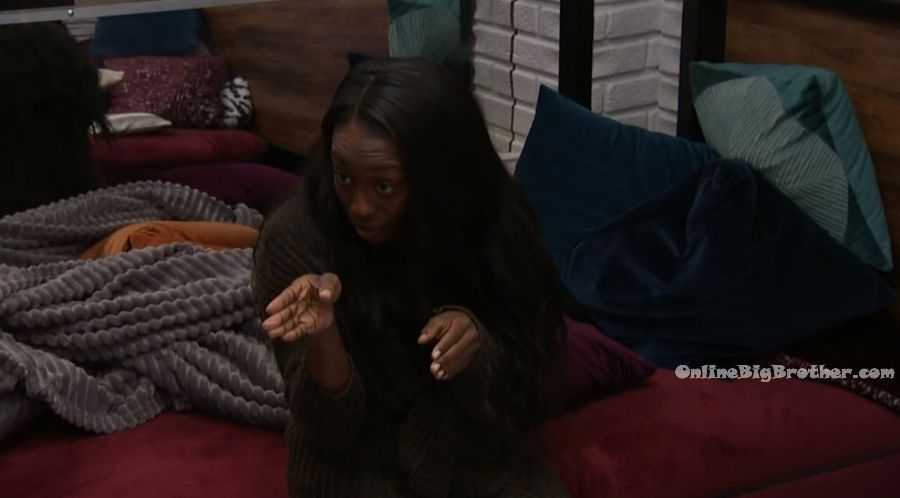 7:04pm Backyard Hammock. Ian and Nicole.
Nicole – the noms are good but I am not even sure what I would do at this point and if they change or what. Ian – yeah. Is anyone out here? Nicole – are we the only ones out here? Ian – I think so. I think it will be BB Weather or Hide The Veto. We'll know tonight though because they'll wake us up.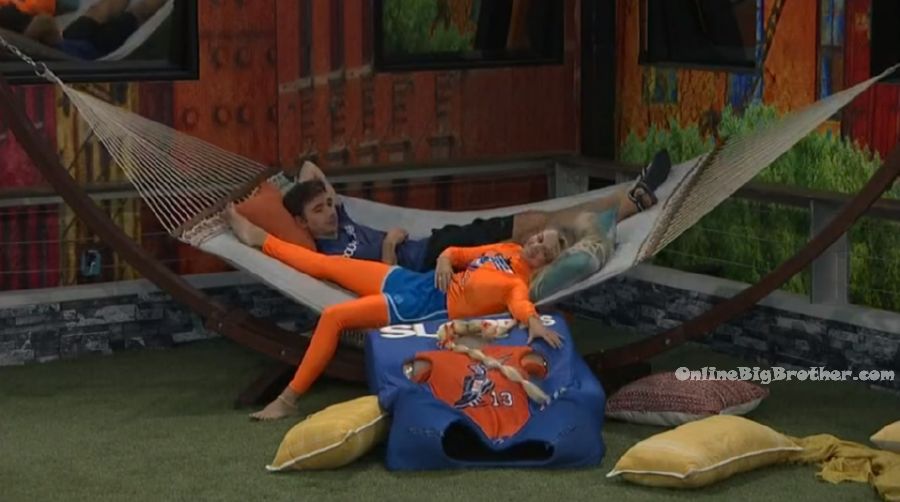 7:30pm – 7:45pm Backyard. Cody and Dani
Dani – David said something that really bothered me and she (Day) said that she shut it down right away. (Putting up the two minorities / Black Lives Matter) Cody – what did he say? Dani – Like one of my biggest fears in this house. This season is too much for me. Cody – no way! Dani – last week and then this week .. and she said that she shut it down right away. Cody – come one!? Dani – Mmmhhmmm. Cody – I am over this so fast if like that's where this goes. When did she say that he said that? Dani – right after. Cody – What did he say.. you already said it so its not like.. Dani – I don't know verbatim. I don't want to say because I don't want to make it a thing so I don't want to talk about it. Cody – you can't just make it up.. you can't just grasp at that. Dani – if its perceived a certain way. I don't really want to talk about it though. Cody – that shouldn't even be a word because he just has no idea what is going on in this game. He is lost. He is clueless to what is really going on.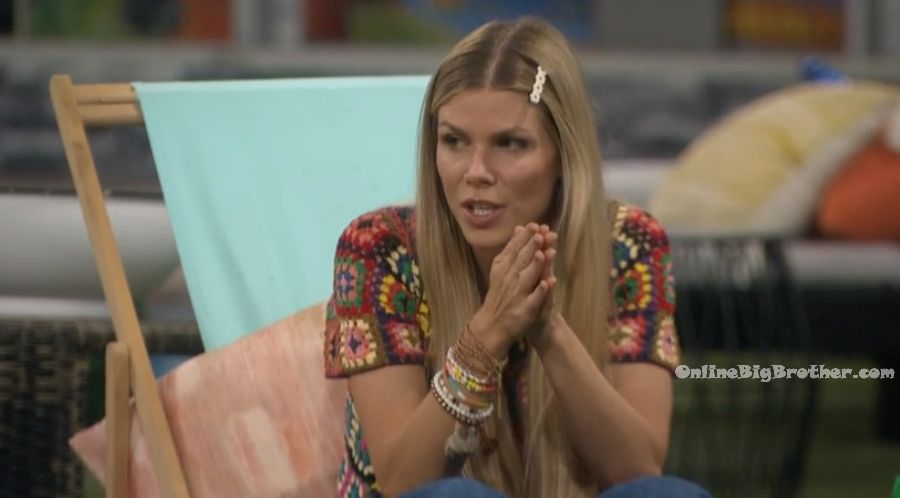 7:55pm Kitchen. Day is watching all the ants in the kitchen.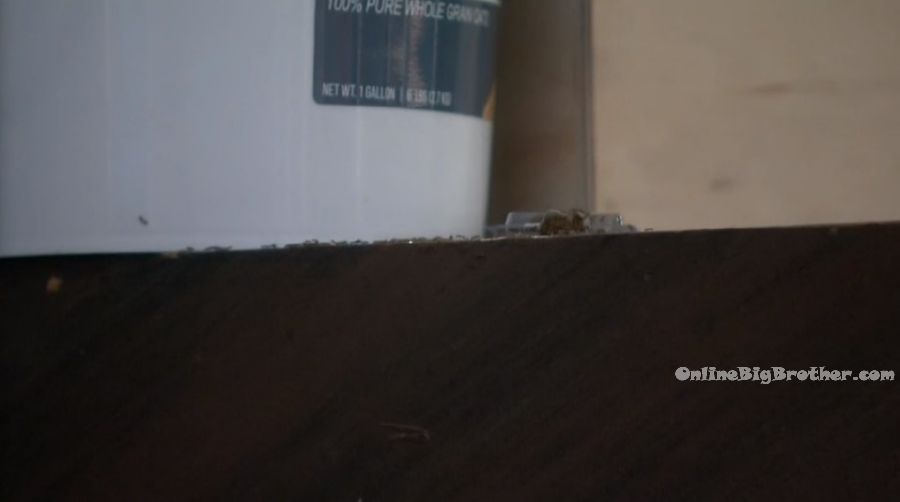 Bedroom. Enzo and Cody.
Enzo – the girls are definitely down for the core four. Cody – and Dani .. 100% Enzo – and like I will make the move for them.. I don't give a f**k. Cody – so we need to make a move for us .. not for the core four. Enzo – exactly! Enzo – but we have to show that we're willing to make those moves so that they make moves too. Cody – well Dani this week 100% put up two people that weren't coming after her. Enzo – If I win the veto is she willing to back door someone or no? Cody – you know who I think she would want? Enzo – Ian? Cody – no.. (Cody then points to Tyler's bed). Enzo – no, not yet. Cody – no. So we need to make sure.. Enzo – make sure noms stay the same. Cody – noms have to stay the same. If someone comes down .. she is going to want to put him up and if she puts him up she will want him to go home. Noms have to stay the same. Then he (Tyler), you or me have to win HOH and we'll f**king smack Ian out of the game. Then we'll do Memphis or Christmas. I would rather clip Christmas over Memphis.
8:10pm Havenot room. Dani and David.
Dani – I don't even know what to say which is why I haven't come to talk. It is what it is but I can't tell you how bad I feel. I really like you so much and genuinely care about you and like it (Dani starts crying) feels personal because like we've had so many personal talks. Like we're not that close but for me it feels personal and its not.. I swear to you. I just like honestly don't know where you stand in this game and like I've tried to talk game to you this whole time like .. I've come to you so many times and tried to talk game with you because like I've wanted to play with you and stuff. And you never would tell me anything. And like I literally don't know where you're at in this game and like what am I supposed to do you know?! David – think about if from my perspective .. I come in here and everyone already knows each other .. everyone know how each other plays and knows each other outside the house. I come in here and I am an easy target to anyone. Big Brother switches the feeds.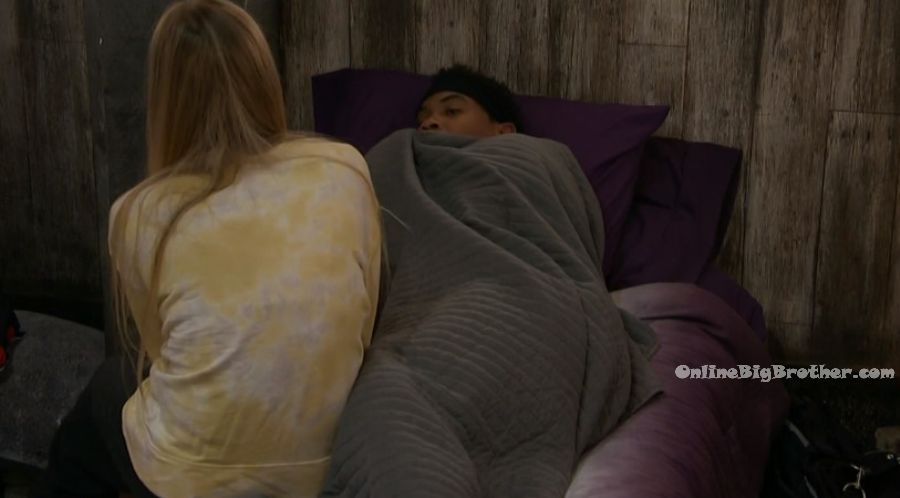 8:25pm The feeds switch to the kitty pound..
Show your support by making a donation.
If you're enjoying our live feed updates this season, please consider donating.
Any amount is greatly appreciated! Your donations go directly to paying the fees required to run this site.