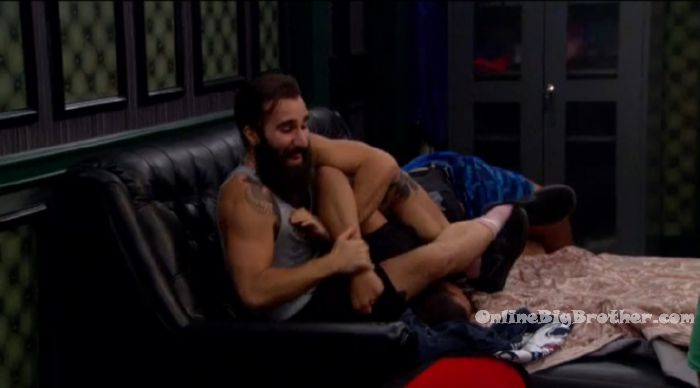 Check out our BB19 Ranking Grid. . rank your houseguests here
ALEX Nominated: Jason & Elena
Matt threw the Safety Temptation competition so he is the 3rd nominee.

See what they can't show you on TV Try the live feeds for 1 MONTH FREE!

7:12pm The live feeds return – In the bedroom – Jason and Josh wrestle and then Josh tries to take on Paul. Paul puts him in a "figure 8" move. Paul – you don't take on someone that has 7 years of mix martial arts training. Alex – where is everyone? Paul – beating off! Paul – I really hope this year we have a how bad do you want it Comp. Punishments and stuff. Elena explains how its a points comp where whoever has the most points wins the veto. There are punishments that increase your points and rewards that decrease your points.
7:20pm – 7:35pm HOH room. Mark and Alex.
Mark – I knew what Christmas was talking about with you. Alex – I didn't hear anything that she said though. Mark – she was doing her makeup in the s#x room and I was just talking to Cody. We were talking about the veto and I asked why did you throw it? We were just commm.. there was nothing being said because everyone knows what's happening this week. I heard Christmas say my name. She said I was talking game with Cody. Alex – oh good because I didn't hear what she said. Mark then explains the fight they had in the kitchen. Alex – people are still upset about last week and not leaving the noms the same. Mark says he had to use the veto last week to take himself off the block.. especially since people already didn't trust him. I understand people would trust me more if I didn't use it but its also like f**k it. Alex – to extend your longevity in the game you do want to build up that trust. Mark – I feel like next week the lines are going to be drawn again. Alex – Elena is not my target. I had to put Jason and her up to have strong players in the veto. Alex if you can mend some bridges. Mark – they only two I can't mend are with Christmas and Josh. Moving forward I hope I can show you I have your back.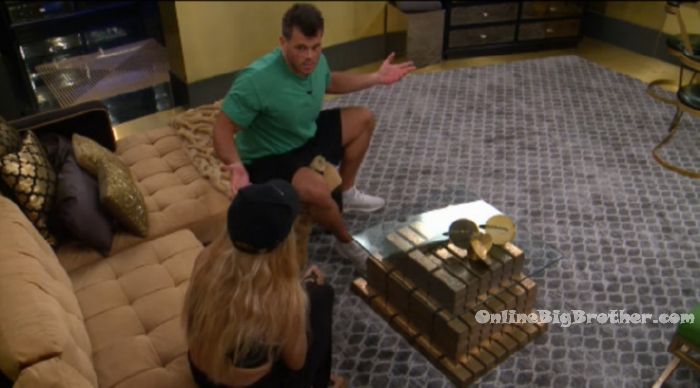 7:35pm Lounge room. Christmas and Mark.
Christmas – I only said something to Alex because I didn't want to say it front of everyone. The way that it happened made it awkward. Mark – I keep hearing my name getting dragged through the mud. Mark and Christmas talk things out. Mark explains why he voted to keep her. It was because he genuinely liked her as a person. Christmas – if we don't have these clarity talks, I am left to my own device. Mark – I have a hard time separating game from personal. On a game level you weren't my target before this and you're not now.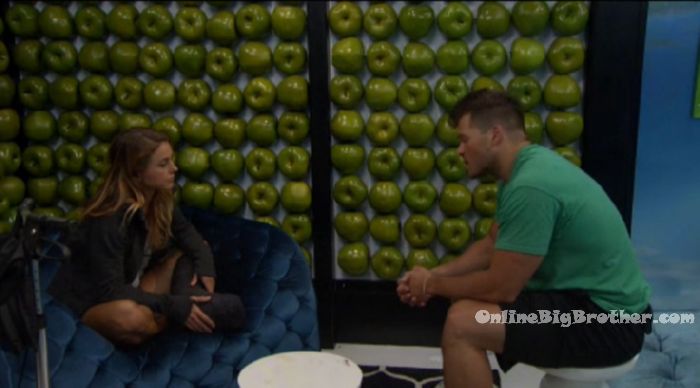 8:05pm HOH room. Paul and Alex.
Paul – I am going to do something with Kevin because he is f**king getting on my nerves. Alex – he is getting on everyone's nerves. Jason can't stand him and Jason deals with Josh all day. He would rather have Josh punch him in the face all day, than deal with Kevin right now because he is getting crazy. Paul – Kevin is getting weird. Like you can tell his temperament. Alex – he is really nice and then stern and then overly nice. Paul – why don't we get him to blow. Why haven't we thought of that? Alex – because we haven't seen that yet. He is mean. He is mean spirited. Like when he threw that agave bottle.. Paul – yeah that was f**ked! If that had hit Josh.. Alex – he gets MEAN! From the stories he tells you know he has a mean streak. I wanted to put him on the block. Paul – when Jason told Raven.. he got PISSED! Paul – I am going to go do some damage control.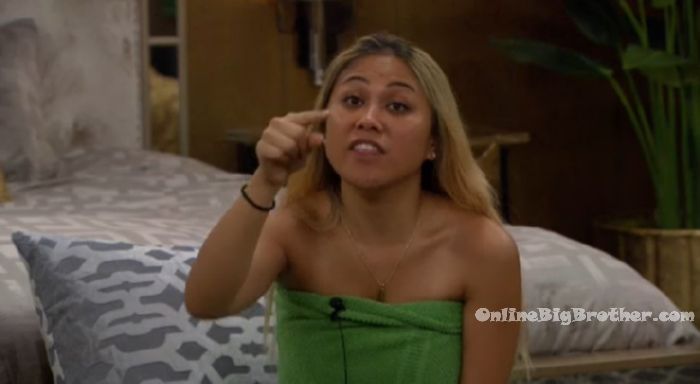 8:45pm Christmas to Kevin in the shower – I was just staring at my guy…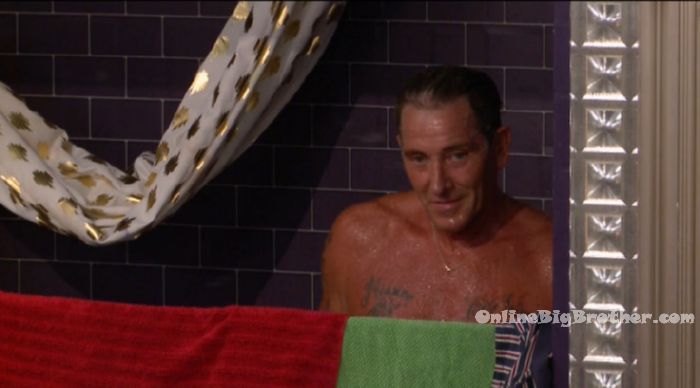 8:50pm HOH room. Paul, Jason and Alex.
Paul – I talked to Christmas and told her to stop causing unnecessary drama. Cody is going home this week, there's no need to stir stuff up. I calmed her down. What the f**K is going on with Kevin. Why is he acting so weird? Jason – I think the son of a b***h is worried about stuff on the outside. I think he did some shaddy things in the past and worried about it coming out. He's made the same comment 3 times. If I'm not married any more when I get out can I stay with you. I was like hell yeah. Paul – he's also asked me sh*t like is it wrong to fall in love. But what if you married another woman.. I was like yes! Homie what the f**k!? Jason – he seriously asked me this … would you hump Christmas in the jury house? I go f**K no! He was like well there's no cameras. I was like SO!!! Maybe he has something go on at home with his wife. Paul – every time you ask about his wife he gets weird. Alex – he always talks about his drinking. Paul – of how his daughters get mad when he comes home drunk. Also why does he get weird around us.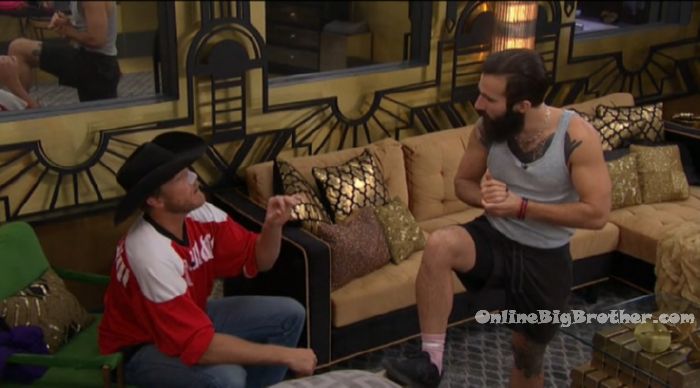 9:35pm Bedroom. Jason & Kevin.
Kevin – do you think if I went in there would they call my family? Jason – what's the matter pal? Come on? Kevin – nothing. I don't need to speak to them. Just tell them. Jason – I literally battle this every day and I always think about you when I am battling it. You can't think about what is going on on the outside. It doesn't matter what you think you've done in the past. Or what you thinks going on. No one, no one Kevin is holding you down. You're inspirational to a lot of people especially all of us in here. And we can tell when you're having trouble. We have kids. There;s nobody that is going to shake us. Me, Josh, Alex and Paul have your best interest. Kevin – but if I just go tell them to say HI. They don't need to get no message back to me. Jason – yeah do that. Jason – I've done this several times .. go in there and start talking to the camera. Talk to your family. I've already done it. Kevin – Alright I'll do it. Kevin and Jason get up and head towards the Diary room. Kevin says he needs a minute first.
9:50pm – 10:20pm HOH room. Paul talks to Josh and Mark about how life is different when they get outside of the house.
10:30pm – 11pm HOH room. Jason and Paul talk about Kevin. Paul says that he's going to try and talk to Kevin. Paul heads down to the bedroom and starts talking with Mark about how hard it is in the house. Paul then goes to talk to Cody in the havenot room. Paul – if the position you're in super tough, super bizarre. I'm sure you've dealt with other difficult situations in your life before. Having played this game before …last season being put up on the block as many times I had. Having had the house flat out ignore me for weeks at a time. As tough as a dde you are, as tough as I am, I know it gets tough. I know you genuinely have feeling for Jess. I would never negate that. Yes things were said.. mental warfare, emotionally f**ked with. I just wanted to say throughout this week or next I am very open to talk. (Paul is working on his jury vote) If you feel alone.. you're not alone or isolated. I can turn it off. Cody – cool, I appreciate it. Thanks man. Paul leaves.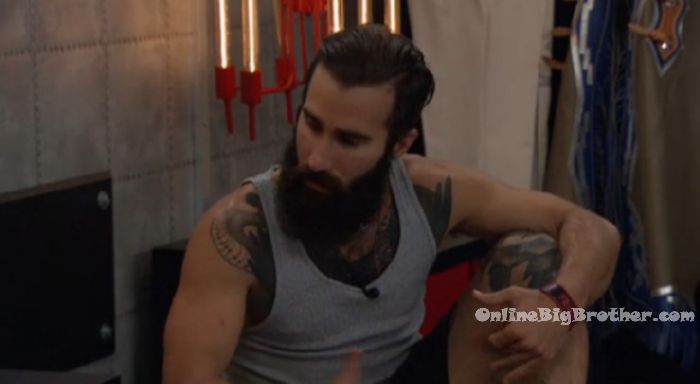 If you plan on buying anything from Amazon. Use this link Amazon home
Doesn't cost you anything and we get a small cut.
Links to the ranking system
Rank your house guests here
For those of you that like Statistics here are some expanded reports.