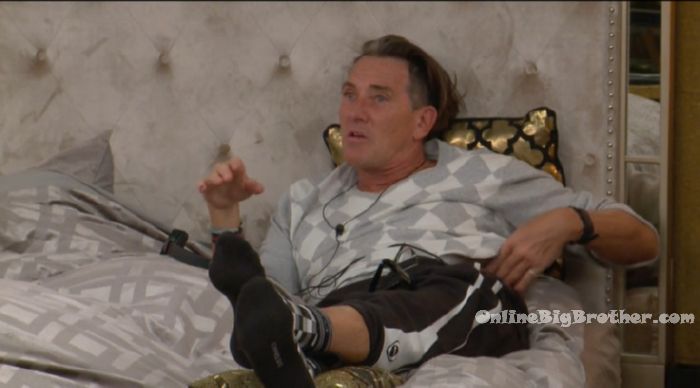 Check out our BB19 Ranking Grid. . rank your houseguests here
5pm HOH room. Paul, Jason, Kevin and Josh.
Kevin – this is a fact.. the other day when he (Josh) got Cody mad he (Cody) left the rose room and went into the havenot room for 1 minute because he was so aggravated. Josh actually was the one who made Cody loose today which allowed him not to get into the thing (POV). It was Josh's move. Josh basically took out Jessica and Cody himself. Josh – no I didn't do it. Josh wants to be the house guest pick in the POV. Josh – yeah, I'll play. Can we agree on that. Paul – no, I'm playing. Josh – let me host, come on. Paul – depends on if I get picked. Plus, you just got Jess out, you're getting Cody out .. you got to spread the wealth. Paul and Kevin are arguing over who would host the POV competition. Josh – if you guys get House Guest Choice can you pick me? Paul – no, I'm playing.

See what they can't show you on TV Try the live feeds for 1 MONTH FREE!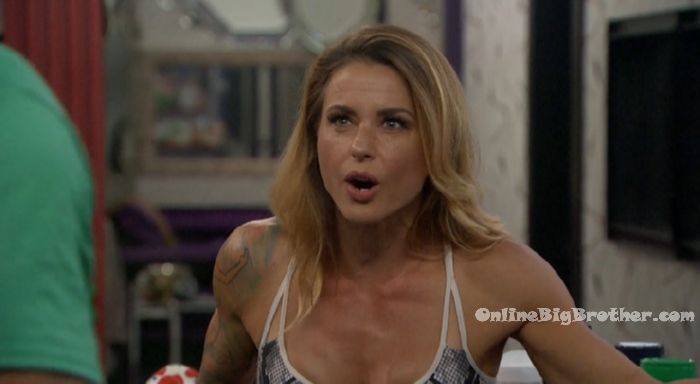 5pm Bathroom. Mark and Christmas.
Mark – is that what you told Alex at the top of the stairs. (That he was talking game with Cody asking if he threw the Temptation Safety Comp.) Christmas – it is what I told her. Does that bother you? Mark – a little bit. Mark walks away. In the kitchen. Christmas – that was my observation that you were talking game with Cody. Mark – why whisper? You might as well just tell everyone. Christmas – were you not in the APSR room talking game with Cody? It was about whether or not he threw it. Mark – that's game? Asking why you threw a competition. So why not just bring it up in front of everyone? Christmas – I didn't think it was appropriate at the time. Mark – but you wanted to whisper it to someone? Christmas – The HOH, yeah. Don't play me with your questions? Mark – you're going to whisper something to someone about me.. when you were just in the room with me. Christmas – you were in the APSR with Cody came and talked why he played his game to you. I told Alex and then I asked you about it. Mark – but I was just in the room with you and Alex. Christmas – don't deflect what the real situation is with your weird little questions. Mark – I was in the room, You were in the room, Alex was in the room… why not just bring it up in front of all of us. Christmas – I wasn't going to blow up a spot that I didn't feel needed to. Mark – why didn't you talk to me first? Christmas – we walked out together. Mark – He came in the room and I asked him why did you attempt to win? He knew a backdoor was coming and he is still a friend which I made very clear to everyone. I'm going to talk to the kid. Christmas – so you did talk game and you initiated it? Mark – I asked why did you try to win? Is that really talking game? Mark – YOU WHISPERED SOMETHING TO THE HOH.. Christmas – oh so you raise your voice?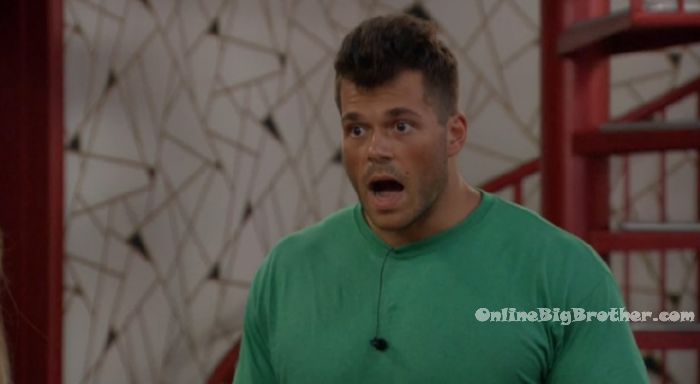 Christmas – I didn't think it was appropriate to blow your spot up. I didn't want you to look suspect. Mark – why wouldn't you ask me first? Christmas – because I didn't need to. You are a bully right now. I talked to the HOH because I wanted to get clarity. Mark – how would you get clarity from someone that wasn't there. Christmas – I can go to the HOH and she can get clarity or I can. Christmas brings up Mark voting to keep her the second time. Why did you vote to keep me? Mark – I voted for you after having a personal conversation with you. If I knew this is the kind of person you are to go behind someones back. I wouldn't have voted to keep you. I should have voted your a$$ out week one! Christmas – you wouldn't have had the votes. Mark – that's what you think! Christmas – I'm glad you have the safety this week honey! Christmas asks if he had an alliance with Cody? Mark says he didn't. Christmas starts yelling for Cody. Mark – why does my name keep getting thrown out there. Christmas – maybe because you're doing shaddy sh*t! Mark – like what? Christmas – I don't need to re-explain it. Mark – because Cody came in the room and I wanted to talk to him like a man. Christmas – like a man, is that what your behaviour is in this house? Mark – what? Like not acting like a man? Christmas – you're making this a bigger deal than it is. Mark brings up how he thinks she voted to keep Cody the week when he was evicted. Christmas – why would I vote to keep him. Mark – to stir the pot and get the attention off yourself.
FLASHBACK and watch everything you missed: Live Feed 1 MONTH FREE Trial!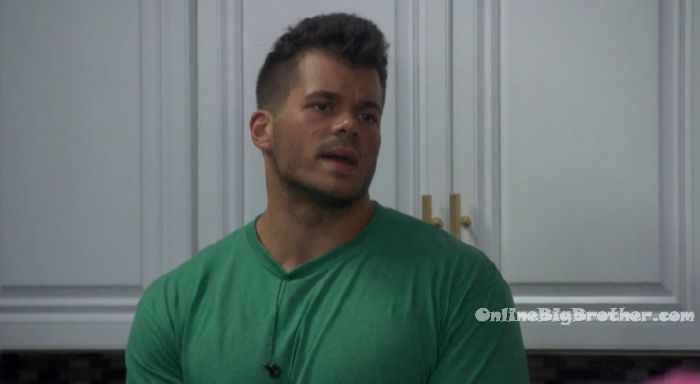 5:20pm Josh joins in on the fight. Josh – isn't it the same move you pulled on Cody when you saw that everyone was voting against Cody and Jess. Its the same move, you flipped on Cody and Jess when you voted to keep me. I am not trying to insert myself… give me a minute because I cannot take the bullsh*t already. You say that you don't flip and you flop. As soon as you saw that I was kept, you flipped and turned on Cody. You joined the numbers. Mark – that was personal. Josh – I can't take the bullsh*t anymore. Christmas – that's because this is what he does every single time. He deflects. Paul asks Mark if he knew if he (Paul) was talked about being backdoored? Mark says he didn't know anything about it. Josh – also you've thrown Jason's name out when he's competed saying look at Jason. We need to keep an eye on him. Have you not seen him as a threat in this game? Have you not said that you see Jason as a threat in this game? Mark – NO! Josh – you've literally thrown everyone's name out and flipped on your allies and now you say what we say is crazy?!? Christmas – as soon as you see you don't have the numbers on your side you flip. You flip like a pancake. Josh – if you flip on your friend and your boy since the beginning, who else are you going to flip on. When you thought I was going you didn't talk to me for a week. Josh goes to get Cody. Paul then asks Kevin to go get Cody and Josh. Kevin comes back and says he is not coming out.

Meanwhile – In the havenot room. Cody is listening to the fight.
Josh goes to the Havenot room to get Cody. Cody says that he isn't coming out. Cody – once Jess left the game ended for me. I'm not involved in anything. Josh – can you hear me out real quick. Josh – Okay, I can respect that. Just know that guy has been disloyal as sh*t to you. He flipped on you and Jess. The moment the vote flipped and he knew I wasn't going home he turned you and Jess. Cody – Josh I have no friends in here. Kevin asks – do you want to go out there and straighten this out? Cody – I haven't talked game with anyone since Jess left. Josh – my problem with Cody is that we don't like each other but can respect him because Cody and Jess came at me direct. Cody – there is nothing for me to say to anyone. This kid is trying to act like my friend and the moment the house flipped he flipped. Paul asks when you left the were you honest about what you told me? Paul – Mark knew that I was being backdoored? Cody – ehh.. I brought it up and wasn't about it so I pulled back. Cody – Mark has always had your back.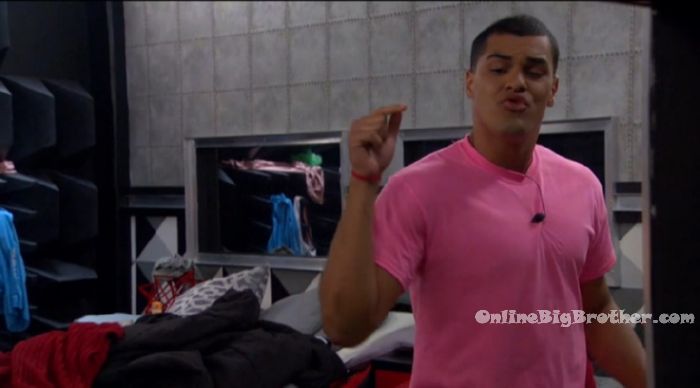 5:35pm Bedroom. Paul and Mark.
Paul – Cody said that he (Mark) knew but I retracted the idea. Don't humor. (Christmas / Josh) Mark – dude, I had no idea that first week. Bro. Paul – I think he (Cody) is lying. Just chill. Mark – that's why I'm sitting back here. Elena joins them. Elena – why is she (Christmas) so crazy?! Paul – why wouldn't he (Cody) at least stand up for you if his game was done? Alex comes close and Paul and Elena disperse. Mark lays on the bed and then sits up. Mark – f**k I need to win HOH!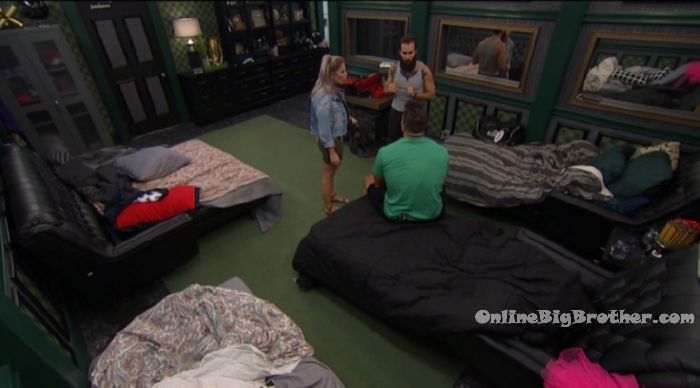 5:45pm The house guests are making dinner now. The house has calmed down again.
5:55pm Lounge room. Mark and Jason are chatting.
Mark – Christmas is just like f**king.. Jason – come on, come on. Christmas joins and says when you chill out I would like to have a calmer conversation. Jason makes a comment. Christmas – I don't dislike him. Mark – when my nerves settle. Christmas rolls out of the room. Meanwhile in the HOH room – Matt re-tells what happened to Raven because she was sleeping at the time. Matt – its fantastic literally every week someone loses it.
6:10pm Alex comes into the Lounge room.
Alex – if he (Cody) gets picked (to play in the POV) we can't panic. Alex – and I have to talk to you. Between me, you and Kevin .. one of you has to be a havenot. Everyone else is pulling there weight. Matt threw it (safety comp.) Jason's going up. I'm not going to make anyone of those three a havenot because that's not cool. And Josh is going to be a havenot. Oh and Paul too, talk to Paul. I need three of you. Elena – are you going to do Cody? Alex – yeah, he is already in that room.
6:12pm Big Brother blocks the feeds for the nomination ceremony.
6:55pm Still blocked.
If you plan on buying anything from Amazon. Use this link Amazon home
Doesn't cost you anything and we get a small cut.
Links to the ranking system
Rank your house guests here
For those of you that like Statistics here are some expanded reports.