POV Holder:
?
Next POV
July 25th
POV Used
?
POV Ceremony
July 27th
HOH Winner Team 1:
Jackie
HOH Winner Team 2:
Vanessa
Nominations 1 :
James & LIz
Nominations 2:
Clay & Becky
Battle of the Block Winner
?
Next HOH/ Next BOB
July 30th / July 24th
Original Nominations:
?
Current Nominations:
?
Have Nots
?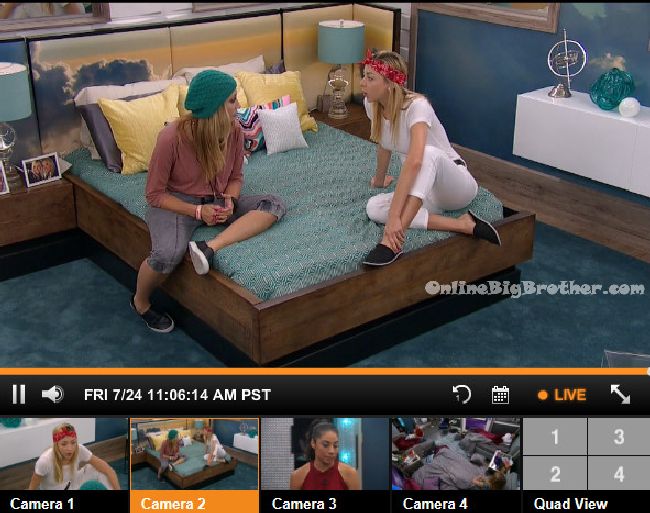 TRY the Big Brother 17 Live Feeds FREE for 1 WEEK:
Click here to ensure your live feed subscription supports OnlineBigBrother.com at no extra cost to you.
9:50am – 11:05am Big Brother blocks the live feeds for the nomination ceremony.
– THE PLAN –
Vanessa put up: Clay & Becky (With the intention of them winning and dethroning Vanessa)
Jackie put up: Liz (Julia) & James (With James throwing the Battle of the Block)
– Austin is the main target with Steve being the backup target.
11:05am – 11:40am In the HOH room –
Julia and Vanessa are talking. Vanessa says when you two trade next you can talk about all this. At the end of the day you're not the target. Vanessa says Me, Shelli and Clay have your back. You're not going to tell her about Austin being the vote against Johnny Mac. Julia says no. Julie tells Vanessa that Austin's alter ego is Judas in the diary room. He says that it was Judas not Austin. Vanessa asks don't let Austin know that anything is up. Vanessa ask do you know when you're switching again? Julia says soon. Vanessa says If he asks you what we were talking about… I was just telling you that you're not the target. Vanessa asks do you care if I tell Shelli and Clay about the vote? Julia says no I don't give a f**k. Vanessa tells Julia that she loves her and their her ride or die! Jackie joins then and confirms with Julia that she isn't the target. Julia says and its no more blood on your hands because I put you up. Julia leaves. Vanessa tells Jackie that Julia just wanted to know that she wasn't the target and I told her there's another target but I didn't tell her who. She said there's something else she wanted to tell me but didn't say who it was. Shelli joins them. Vanessa tells Shelli that this is the best opportunity for him (Clay) to be on the block. This is the best case scenario for him to be on the block right now. No one can ever say no that he hasn't been on the block. And he has the BOB and Veto to take himself off. He even shot me a dirty look. Vanessa laughs. Shelli says that Austin is now acting like "I don't know why she didn't put me up, I told her to put me up!" Jackie says but he is so okay with me putting Liz up. Vanessa says the easiest reason for you (Jackie) to put up Austin as the replacement is that he lied to you about the twins twist being real when you asked him. James joins them. Shelli says I will freak out if you (Vanessa) remain HOH. Vanessa says I am backdooring Austin no matter what. Jackie says from a womans perspective I would just be so mad .. he is saying he wants to get rid of one of them (twins) to get to the jury with the other. He even told me that I would be fun to be in jury with. Shelli asks did he say that recently. Jackie says he just said it last night when we were campaigning. Shelli asks can I tell Liz that? Jackie says I'll tell her.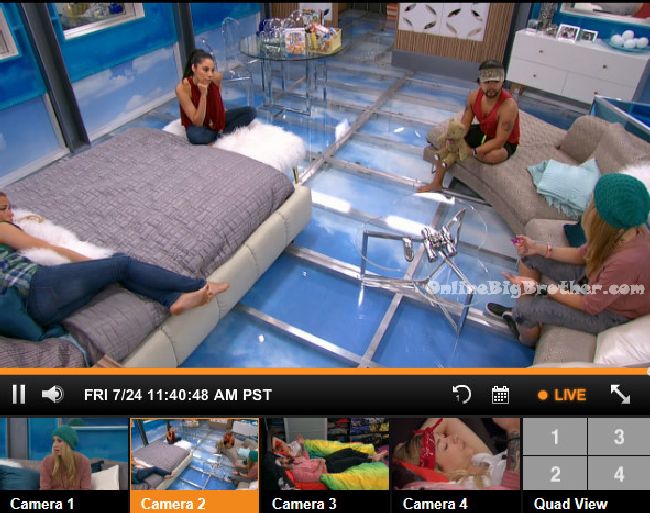 11:25am – 11:40am Comic bedroom – Austin talks to Julia and tells her to send Liz to me so I can fill her in. Just get her to me first. I'll explain everything to her. The best thing is you're not the target and you get two chances to save yourself. If you win today (BOB) then your safe, if not then I'll win the veto and take you off. Austin says we need to act nice with her (Jackie) and not ruffle any feathers because we still need her to put up Steve. Austin says I won't let you guys go, don't worry. Austin says the veto will be used by anyone but Steve. Me and her are on really good terms now. If Steve gets to play in the veto I will try and get him to throw it. Julia says we could have been going home this week but its good everyone is doubting Steve.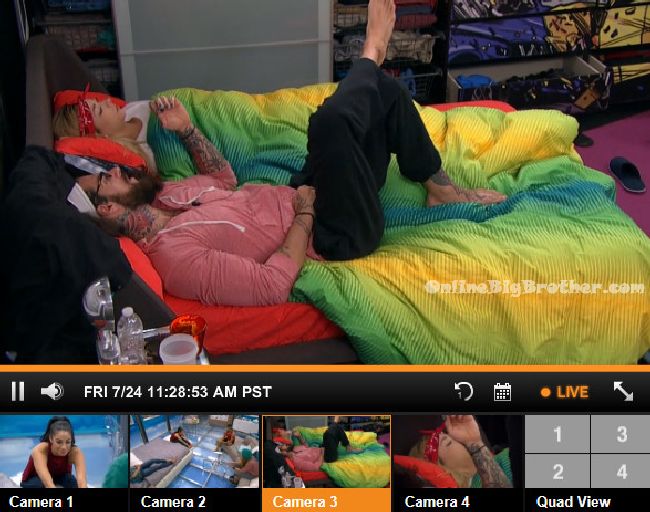 11:35am – 11:45am HOH talk continued with James, Shelli, Jackie and Vanessa. Shelli says if he (Austin) ends up against James he needs to feel safe. Jackie says he think I'm putting up Steve so Steve needs to be in the know before it happens. We can just tells Steve everything Austin's said about him. Vanessa says game-wise if we know the twins twist is real and he has a showmance with one of them then it would be dumb not to put him up. Vanessa says its best if Austin never know he was the target so that he doesn't campaign. Vanessa says if you get house guest choice then you can pick me and I give you my word I will gun hard for it and use it on you if I win it. Jackie tells James to not get caught throwing the battle of the block because that would be bad too. Steve joins them. Austin tells him that if Julia gets chosen to be a havenot I want to do it. Steve says I wanted to do it as my second time around. Austin says I think it would be cool if it was the two couples. Lets just see who they pick.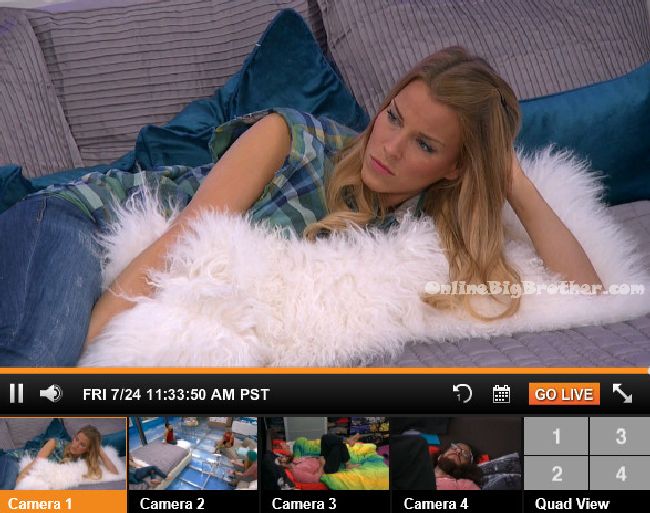 11:50am In the kitchen – Johnny Mac tells Vanessa and Jackie I just figured I would talk to you guys in the morning because so much changes and if I'm on the block then I'll just take it once it comes. Vanessa heads up to the HOH room. Jackie tells Johnny that after the BOB we can talk after we see who wins. Johnny asks if they're throwing it. Jackie says she didn't want to ask anyone to do that. I don't want them on the block. I don't want James going.
11:55am – 12:15pm In the bathroom – Austin tells James that the plan is in motion to get Steve out and it will be unanimous because he won't be voting. He annoys the f**k out of me. Forget all that sh*t I just don't want Liz to go. Austin tells James you need to win today because then you're pretty much assured going to jury with Meg. I'm not saying things are going to happen in jury but its possible. James says I want to win it. Austin says my job is to make you a trained assassin. You have pretty much the toughest match up you could have but they could have a bad day. James says I'm just hoping Liz and I come together and have a good day. If not then we'll deal with it. Austin says yeah its not the end of the world because you're not the target. Austin says the only thing he wouldn't do is shave his head. James says he wouldn't be a hill billy asian with out his hair. Austin says that he wouldn't let Liz shave her hair either even if she was in danger of going home. Austin says you're not the target, you have double chance to fight and there is a backdoor plan. You can't be mad at Jackie. James says oh I'm not. Austin says that might be the dumbest move in history .. him not taking the opportunity to feel those goods. That's a once in a life time opportunity that will never come across his board again.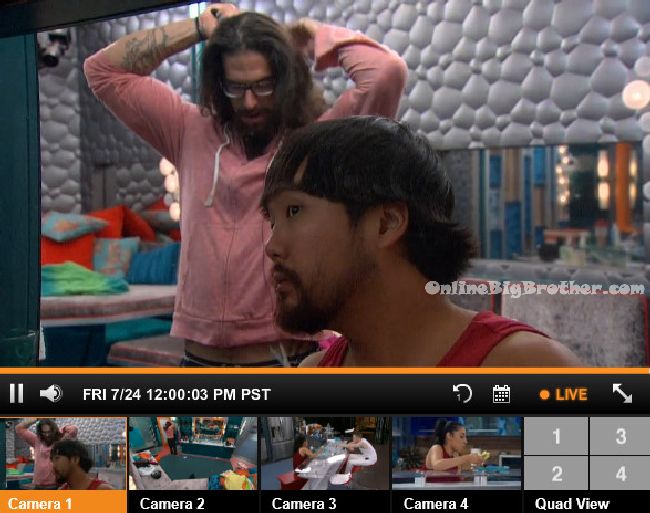 12:15pm Austin and Johnny Mac talk in the kitchen. Austin says if I do havenots this week I probably won't have to do it again. (True statement in more ways than you know.)
12:25pm HOH room – Jackie says that John did ask if I asked James to throw it. He was worried about Becky. Isn't that cute. Vanessa says that is cute. We need to fill him in on it. Jackie asks do you think he figured it out? Vanessa says he might of but I don't think so. I think the reason he didn't come talk to us was we told him we didn't want to put him up again. Jackie says that Clay gets to prove himself and get a win. He's got to do something for himself too. When one person is the voice for the other .. that's when you get left in the dust. This is his opportunity to win something and prove it to himself and the rest of the house. Jackie says the only weird situation is if Liz wins the veto… then Austin has to go next to James. Vanessa says that Austin is not stupid and will not believe that I was oblivious to what the plan was. He will know I knew and so I can't lie about it. At that time I will have to have a talk with him. You can tell him that a showmance is a big threat and it would be stupid of you not to make that move. If you make it to the end it will be a big move you can talk about. Jackie says I had to lose Jeff but I got over it. Vanessa says I've done so many things for that guy (Austin).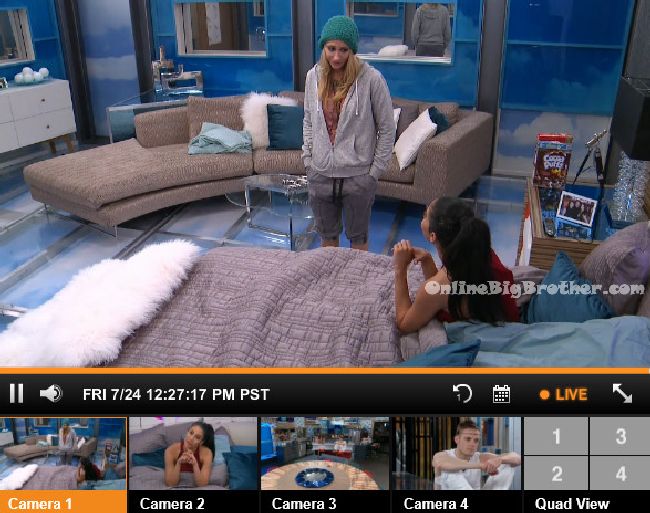 Austin casts Audrey's spirit out of the house @bigbspoilers #bb17 pic.twitter.com/0zQwSURrkR

— Dawg (@DawgsBigBrother) July 24, 2015
12:40pm – 1:25pm Second HOH room – Vanessa tells Shelli that Julia came to her and said I am really concerned about Austin. He told her that he was the vote for Audrey. And he did it to stir up sh*t and point the finger at Clay and Steve. Shelli says I am going to kill him. Vanessa says you know the JS tattoo on his back he told me after I told her. They are going to trade in a few hours and I have to tell Liz. That tattoo JS really stands for JUDAS. Judas is the biggest traitor in the bible. That's what alter ego he used in the diary room to cast the vote to keep Audrey. Shelli asks why would he tell her that? Vanessa says I don't think he is thinking with the right brain. He told me that Julia has to go because with her here Liz will never work with us. Does he think I'm dumb!? I wont tells Jackie yet, its too much information. You can tell Clay if you want. The twins will love you once all this comes out. We will have them in our back pockets. At the end of the day he is a man thinking with the wrong brain. Shelli says he knows that Liz is on the block and he says we need to get rid of Julie.. he doesn't care at all! This girl is a twin and I would be pissed if someone was messing with my twin. Shelli wonders if Austin voted for Jeff to stay and if he convinced Liz to do it also. Vanessa says we 100% know that Clay and Steve didn't make the America's Player vote. Vanessa says that Julia won't tell Liz anything because she might get spooked and run to Austin. When you see her you need to tell her to come talk to me. You have to make sure Clay beasts this sh*t. Shelli says he's resting up like a little baby. James is going to throw it beautifully. Vanessa says that Austin said his JS tattoo was something like "just slumber" an old wrestling name.. which didn't make sense as a wrestling name. Don't tell me you're working with me and then do all this shit behind my back. It makes me sick. Austin doesn't even need to know until the very end because he has a lot of information. SHelli says he (Austin) will think he has me, you, Liz, Clay, Steve. There that's all he needs is 5 votes. I think he will go to Jason because he told him about the twins. He'll think he has his vote too. We'll just have to tell everyone to tell him he has the votes so he doesn't freak out. Then he will keep throwing the twins under the bus giving us more reason to get him out.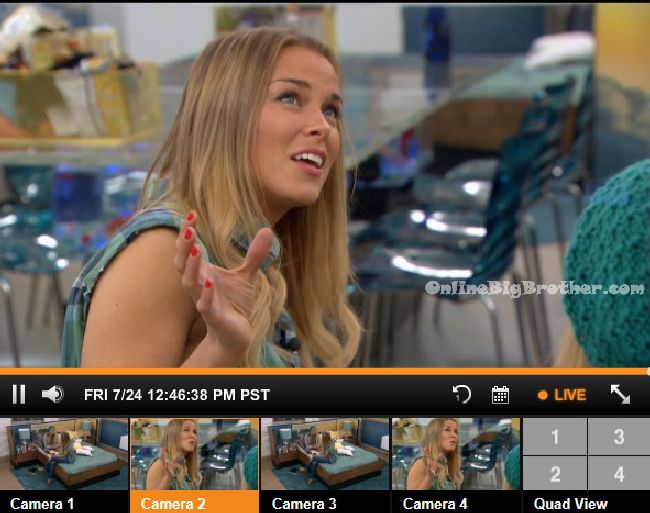 1:40pm Big Brother tells the house guests during a block out that they should be well hydrated for the battle of the block competition. They speculate on why and it if it woudl be an endurance Battle of the Block competition. Meanwhile in the storage room Johnny Mac asks Becky if she is going to throw the BOB. She tells him no, she's going out to win it.
2pm Comic bedroom – Julia is worried is going to have to play in the battle of the block. Julia says I'll play but I don't want it to be on me. Austin says I know especially since you played in the last BOB. They will probably have you switch right before. Austin tells her again to tell Liz to come find him as soon as she comes out. Austin leaves and Steve comes in. Julia tells him that she wants to switch. I don't want to compete!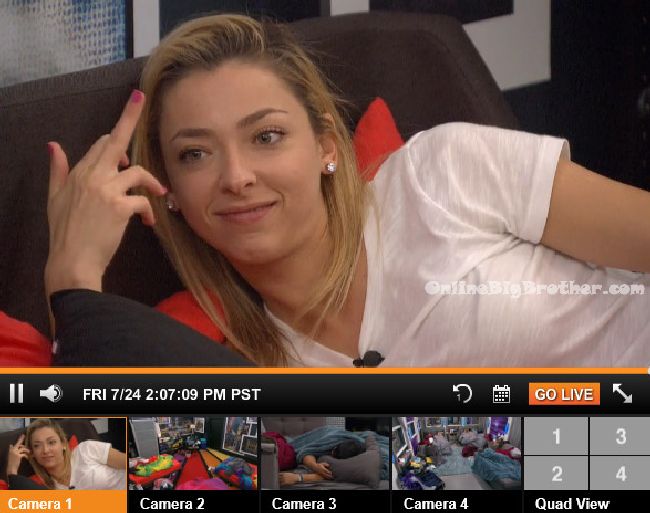 2:30pm – 2:45pm The big brother house is quiet as the house guests wait for the Battle of the Block competition to start.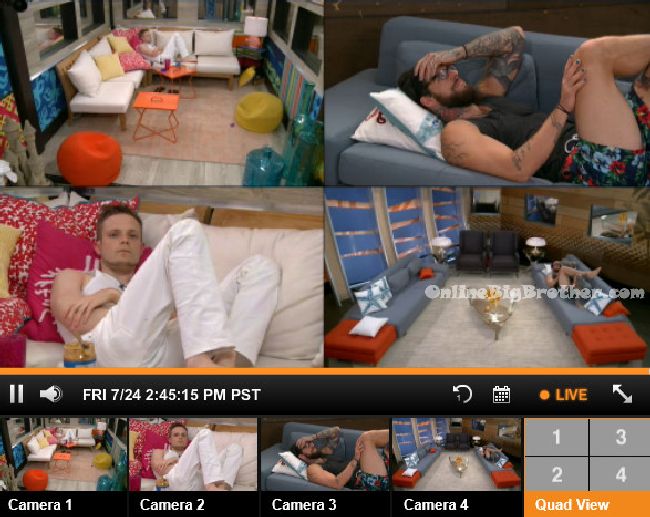 Live Feed subscription gives you CBS All Access thousands of archived shows. Live Shows like Big Brother, all the Big Brother Seasons, and 24/7 coverage of what is happening inside the Big Brother House. Plus there's flashback that lets you go back to any second of the feeds and rewatch what happened. Simon and Dawg will index the season just watch the parts worth watching. All this for $5.99 a month try it out 1 week free. Support our efforts and get your feeds via a link on this site. Live feed subscription Sign up
[polldaddy poll=8994045]
Share it YO!!
Tweet