Quick Big Brother Spoilers
Head of Household:  Turner
Nominees: Brittany and Taylor
POV Players:
POV Winner:
Veto Ceremony:
Havenots: 
Lock your ranks in before midnight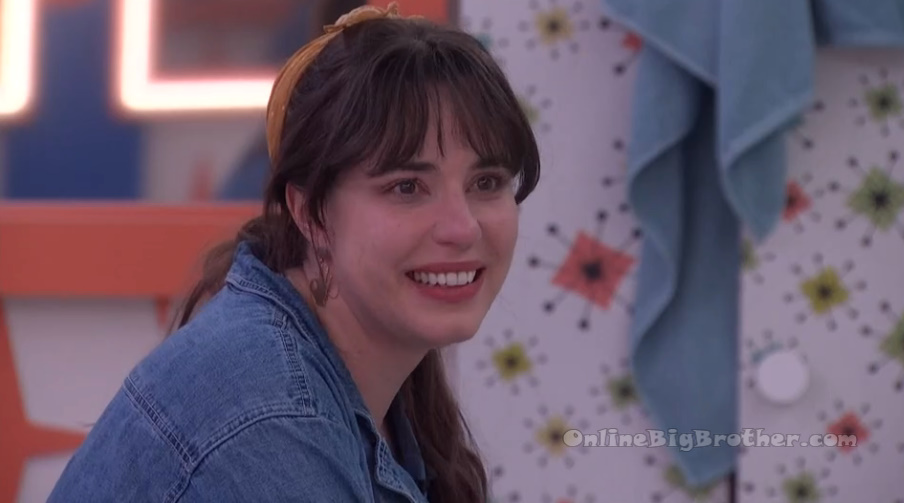 Bedroom – Brittany and Michael.
Michael – I think we play nice and not freak out. Brittany – it sucks, I just never thought if I find myself in this position it would be for something that so blatantly didn't happen. You know what I mean?! We've done it a million times before… we say reasons that aren't real. It just sucks to be caught up in one. Michael – yeah. Brittany – when you didn't have anything to do with it you know!? Michael – yeah when Taylor's face popped up your face was the last one that I expected to see to be next. Brittany – it makes sense though. I don't know why I didn't think of it from their prospective. Either way how do we get out of this?! Michael – we win the veto. That is the only way that we're both guaranteed to be safe. There are 3 of the 5 people getting to play. Like I know Turner is not going to pick me. Taylor will probably pick Monte if she gets… Brittany – I will pick you if I get House Guest choice. It makes more sense if Turner is working with Kyle. We just talked about it, who is the furthest from Kyle.. its Taylor. Michael – as much as we need to talk to Turner .. we also need to talk to Kyle. Brittany – yeah. Michael – but he has to be willing to talk to us. Brittany – I can't say anything to Alyssa unless I know its not going to … like Turner and Kyle aren't going to be mad. It might be the game we're forced to play. Michael – I think at this point Turner took the first shot. Like it is done! Like there is no way around that. There is no coming back from this. Brittany – yeah. Michael – I just knew when Kyle was in there for like a half hour and we had a five minute conversation. I just knew. Brittany – I know. Michael – and its the exact same way that he talked when he tried to get our votes for Pooch. He doesn't say a lot so when he starts spilling .. I just knew it wasn't straight forward. Brittany – I think Joseph probably blew things up. I need to talk to Kyle. I want to be honest with Alyssa and I want to work with Alyssa and we're going to have to be .. if Taylor goes this week that could be another week with Monte or maybe we could win power and take a shot. But I need… I NEED Alyssa to trust me. I basically told her there is something I really want to tell her. But I am afraid the people you're closest to will get mad if I said something. Man this sucks but its always better to be put on the block initially. I've been in this position before and won veto. It just doesn't make sense numbers wise to leave you and Monte as replacements. Brittany – when it happened I said it is not true and he just bolted out the door. He wouldn't even talk to me. I don't think I am going home. Michael – I don't want you to either. Brittany – I don't want you to either. Michael – I just hope I get to play tomorrow. Brittany – its just a free ticket for Alyssa and Terrance to the end. Michael – yeah. And if they f**k us over I will happily put Alyssa's key in the box over them. Brittany – me too! Terrance too. He (Turner) didn't have to do this.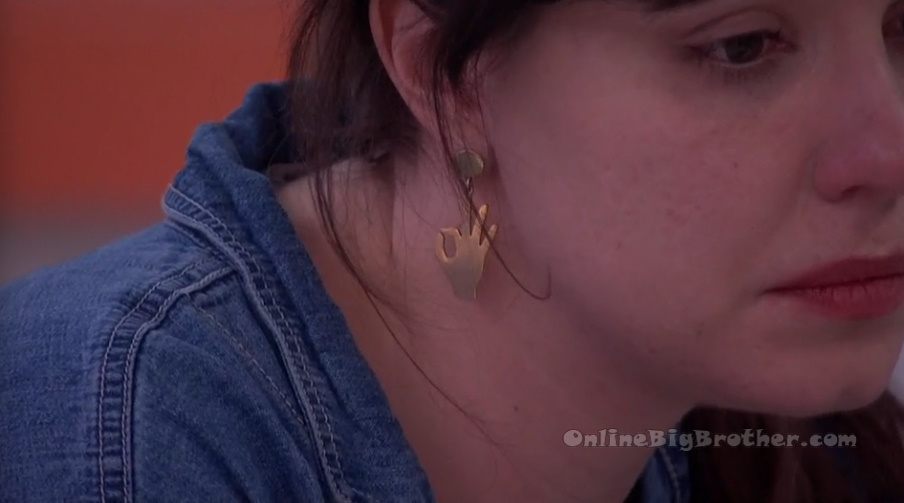 HOH room – Alyssa and Turner.
Alyssa – this is awkward!! Turner – BIG TIME! F**K em! Alyssa – f**k em! Turner – Taylor won an HOH because Brittany let her win it. Brittany has never .. there is no threat if we get Michael out this week. That would be fire and then we just run through the both of them. Alyssa – easily! Turner – if we can get Michael out this week that would be FIRE!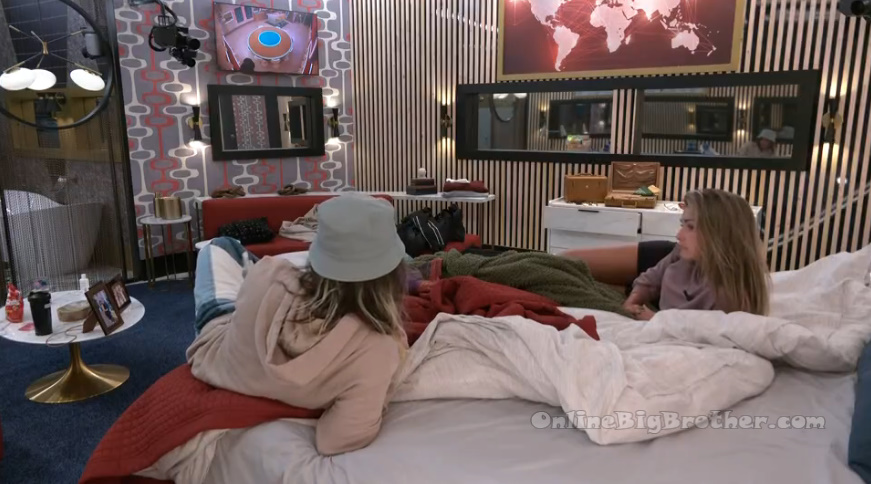 5:20pm HOH room Turner and Taylor.
Turner – Literally I swear on my life that Joseph kept bringing it up and you said no every time. I swear to god that is the case. Taylor – the first time he brought it up and the second time it was mutual like hey is it time now? The very first time he was like I feel good about you, Michael, Brittany. The conversation when we were chained in here together was the four not the 3 .. the 4. Turner – with Michael included? Taylor – with Michael included. It was never locked in. We didn't talk to Brittany.. we didn't talk to Michael. We didn't all get in a room together.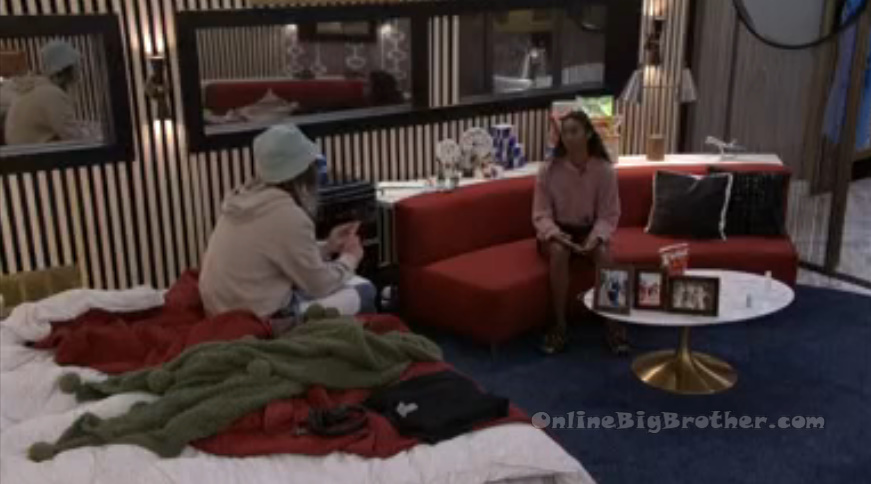 HOH room – Kyle and Turner.
Turner – so that went well!? Kyle – yeah. Turner – well as well as it could have with people crying. Alyssa was psyched. Kyle – Terrance too. They're loving it because now they're playing the freaking game. Turner – for sure because now were showing them that we're following through with what we're saying. Brittany if f**King livid at Taylor. From what Alyssa said. She came in the room and said I f**king hate Taylor. And Alyssa was like WHOA!!! Kyle – good. They're start turning on each other.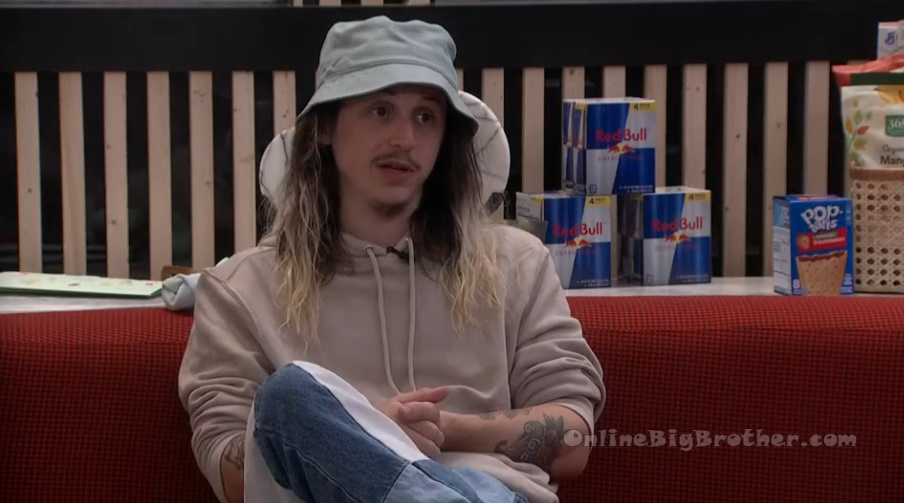 5:45pm -6:05pm HOH room – Monte, Alyssa, Kyle and Turner.
Kyle tells them about last week being locked in the backyard. Alyssa knows basically everything. Going into Dyre Fest I felt like I was on the outs last week. I felt like I was on an island. Terrance was running one on ones right before the nomination and he knew something was up being close to Daniel. Daniel knew something was going on and it transferred onto Terrance so he asked me and I owned up to it. I said I was part of those conversations. I was part of those votes. And I just didn't feel comfortable lying through my teeth again for the alliance that.. Monte – that is not even happening. Kyle – yeah. So he put Turner and Joseph up. So he was honest with Joseph and Joseph owned up to it. Everything got spilled. Joseph ropes everyone up and we had a four hour conversation of like everything thats gone on. It was basically a blood bath. Monte – to what extent a blood bath? Kyle – not really a blood bath but he was leveraging every negative thing I said about Alyssa, about Terrance.. just everything. Turner – everything. Michael joins them and they chat about random things..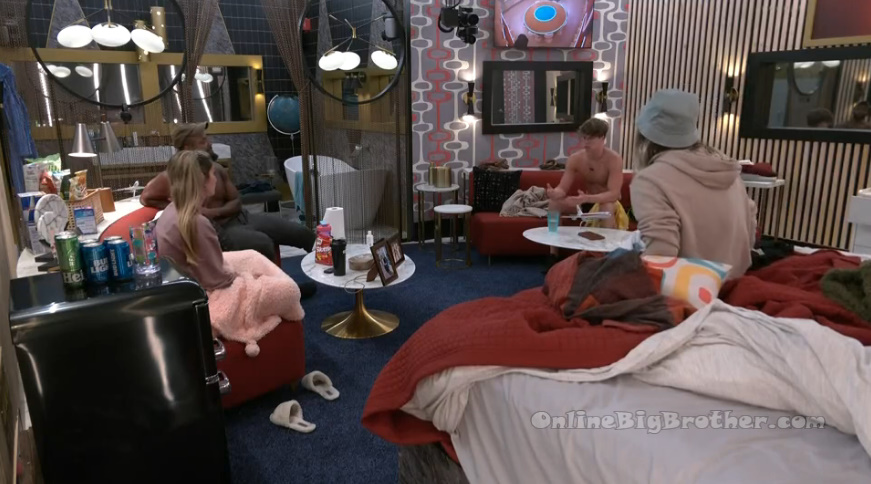 6:15pm – 6:25pm Bathroom – Brittany and Monte.
Monte – the other thing is .. after the ceremony when Taylor was crying she said I feel really hurt by Joseph. And to me I was like why would she be hurt by Joseph if its not true!? And I swear on everything that is what I heard from her and everybody heard it. And that is what is making me very suspicious… and maybe it was true that they had something together and that it was discussed… Brittany – she said that about Joseph coming back into the house .. he feels really good about us two. Taylor joins them. Taylor – there was no final 3. Monte – do you think Joseph lied or do you think they're lying? Or is it true? Taylor – its not true. If it was I would tell you. It doesn't make sense for me to lie about that. Taylor – he (Joseph) was interested in me, Michael and Brittany as a final four. And I kept saying we will have that conversation when we get there. Its not we have a final 3 or final 4. Brittany – Joseph and I never had any long term conversations at all. Brittany – one of us four are going this week. Monte – 100%! Brittany – I just want you to believe me. Monte – I want to .. you just have to understand from my position. Brittany – I get it from your perspective. I just don't want anything that ruins me to be the fake thing.. you know what I mean? Monte – I know. We will chat.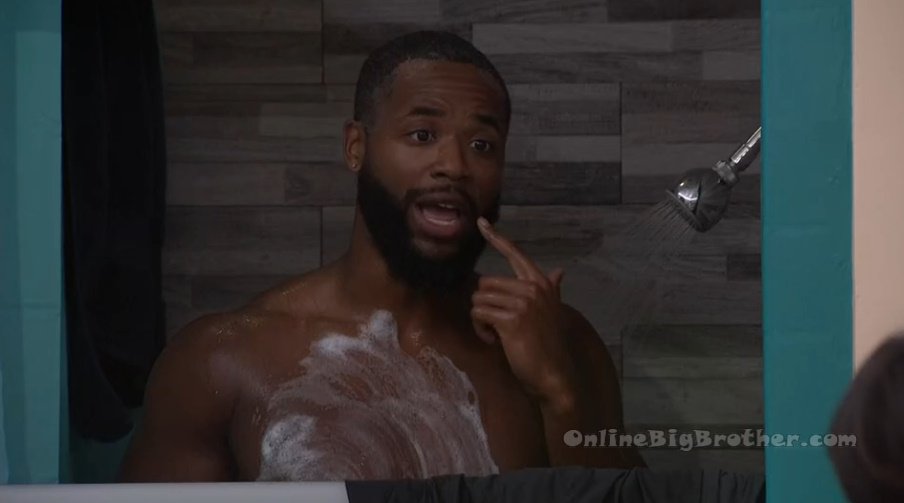 6:30pm Bedroom – Brittany and Terrance.
Brittany – give me advice.. like how do I play it as cool as you do. Like seriously.. I know there is still veto and I have to just win. I have to win it. I don't want to do what you're describing like that is what sends people home. They go crazy! They over explain. They this and that. I have nothing to defend myself other than just it wasn't true! And they can believe it or not.. I know that its my word against theirs because he (Joseph) is not here. Terrance – I think that because me, Kyle, Alyssa along with Turner knows that he was having all these pocket conversations. And maybe Turner just wants to make sure for his own sanity coming back into the house ..like hey … like it was true he did hug all of us and say stuff when he walked out. Brittany – it confuses me about Taylor .. he (Joseph) was close to Taylor so why would he try to blow up her game? For me the only thing I can think is that he was trying to protect someone else's game. All I know is it isn't true. Either Joseph said it or Turner made it up. Did you hear specifically Joseph say that Taylor, me and him had a final 3? Terrance – no I did not hear that. That didn't come to me. The only thing that he said to me about Taylor was that I was her target last week. Brittany – I just feel the more I try to defend it, the more people think I am lying. Terrance – no. Brittany – he is saying I am not the target but he also said I was safe this week. Terrance – Turner is Turner. He told me the same thing and I am still here. I need you to breath and trust him because I trust him. There are two people that I truly trust in here.. and its him and its you.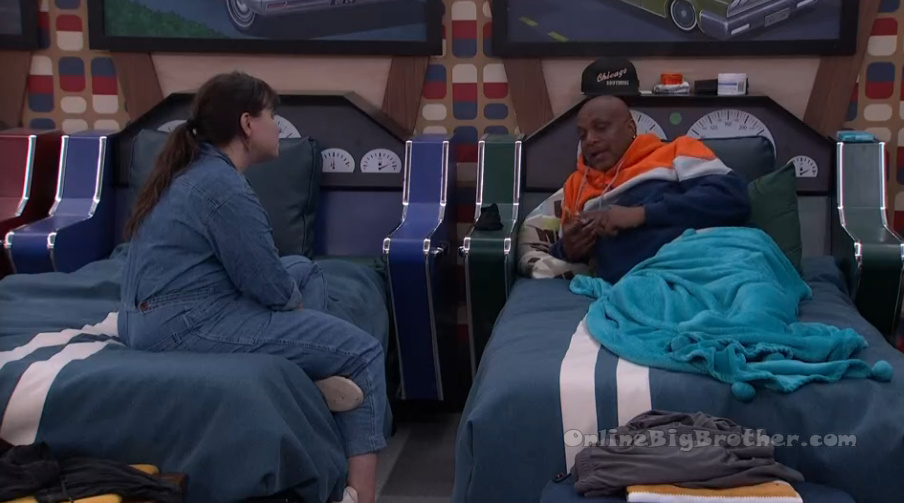 Living room – Alyssa and Taylor.
Taylor – I feel like really stupid girl with a crush. Alyssa – he did also tell me that your showmance was fake!? Taylor – yeah. Alyssa – so did you have an actual crush, is this real? Taylor – I did have an actual crush on him. I did but there was earlier in the game like 3 or 4 weeks ago where we would have conversations as friends and then he would get pulled into rooms by people about why are you talking to her, why are you giving her the time of day? Like she is an enemy, don't talk to her. And I made a joke and said at this point we should just fake a showmance so that people leave us alone. Alyssa – people said she is an enemy don't talk to her!? Taylor nods. There have been some VERY ugly things said about me in this house. VERY VERY VERY ugly things. Alyssa – and I hope you know none of them were said by me. Has anyone told you that anything was said by me? Taylor – the worst was that like you took the trip and didn't feel bad about it. Alyssa – no.. I genuinely did. I am so so sorry that you had to go through all that. Taylor – thank you.
7:07pm Kitchen – Monte and Taylor.
Taylor – Joseph, Joseph, Joseph! Monte – yeah.. I mean its hard to say they're making this up because a lot of it is… Taylor – the real stuff. Monte – yeah. Yeah, I guess when people get on the block they do crazy things. I didn't see him going to that extent. Even he and Alyssa had a big falling out. I didn't think he would go to that extent but when you're fighting for your game.. I don't know.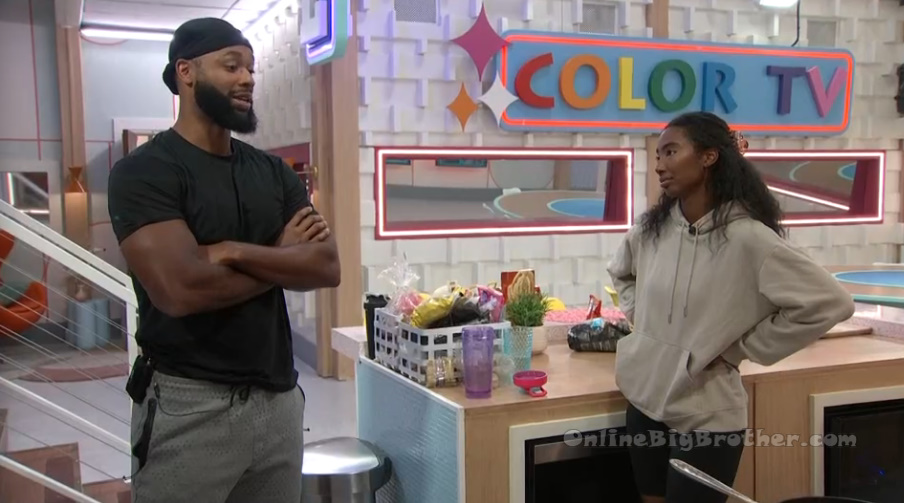 7:20pm – 7:38pm Bedroom – Monte and Taylor.
Monte – I still feel like I haven't processed my thoughts but what you guys have said makes sense. I think what I am struggling with is .. it just seems to easy for all of them to point the finger at someone who is not here. Taylor – honestly I was really scared that you were going to feel like I was not on your team anymore. Monte – I haven't felt that way. I felt really good about our conversations last week.. even the ones before that on your HOH. I think our worst fears came true where they're making up whatever story is more convenient. I wouldn't be surprised if someone else in the alliance told Alyssa or Terrance and then.. Taylor – I bet it was Joseph and he had no other choice to but to tell as much as possible. Monte – yeah. I think that's what happened. I think either him or Turner manipulated the other side by telling them all the things.. he shared all the information because he felt he was going to be the first to go.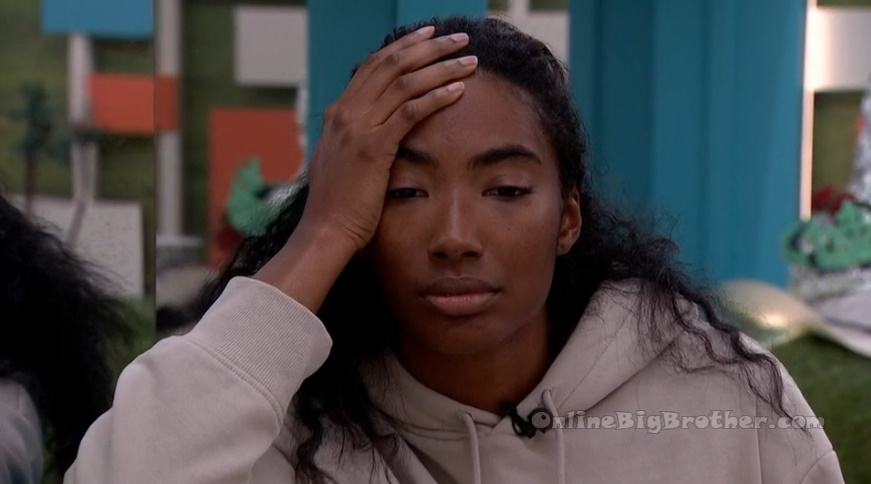 Without reader support this site and these spoilers wouldn't be possible.
Please consider a donation to keep the madness going.
Any amount is greatly appreciated!