Head of Household Winner – Christmas
Have nots – No havenots this week
Nominations – Bay & DaVonne
Power of Veto Players are –
POV Host: –
Power of Veto holder –
Power of Veto Ceremony –
Powers – Christmas, Dani have two of the powers. Christmas' lets her block renoms. Dani's let's her pick an HOH and enables them to play in the next HOH.
Live feeds —-> Grab your Live feeds here. Try it free.
Rank the houseguests —-> Big Brother 22 Ranking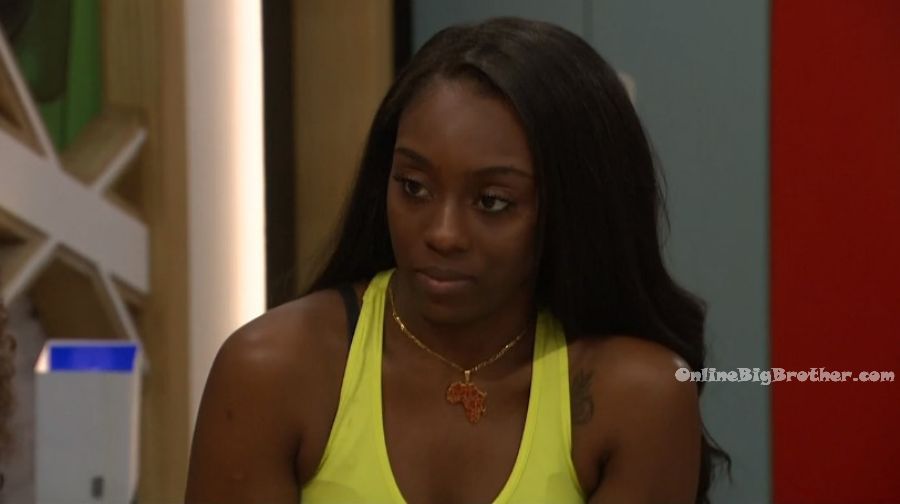 5:24pm – 6:28pm Big Brother blocked the feeds for the nomination ceremony.
Bay and Day in the bedroom.
Bay this is the part that bothers me that she still thinks that she (Christmas) can be anywhere on these people's list. Flip on us who have your back just to jump in line over there to be at the bottom. That is serious! These people are sick. Day – I need you to keep that fire. I need you to keep that fuel. I need you to fight! Bay – You know what is crazy I don't mind fighting.. I don't mind getting my hands dirty. I just don't like these people. So in my head I am like why do I keep putting myself around people that are not for me. Ian asks if he can give them a hug. Bay – You can hug me .. I am feel like this was planned so I am feeling attacked. Ian hugs her and leaves. Day tells Bay that no one has ever had her back like Bay. Bay hugs her. David sneaks in and hugs them both at the same time. Bay – you've been watching this show for years.. you can win these competitions.. you can go far in this game. Day – but the plan wasn't to do it by myself. Bay – never. I am going to fight and I know its not over yet. There is definitely a possibility that we could both stay. Its fine. Its going to be okay. There are just quite a few people working against us. Don't laugh and smile to my face .. go out of your way to be nice and then .. lay a trap for me. She was holding my hand today at the competition .. people are weird. Day – she told me that she wished I won this HOH. I want to see you win HOH this season.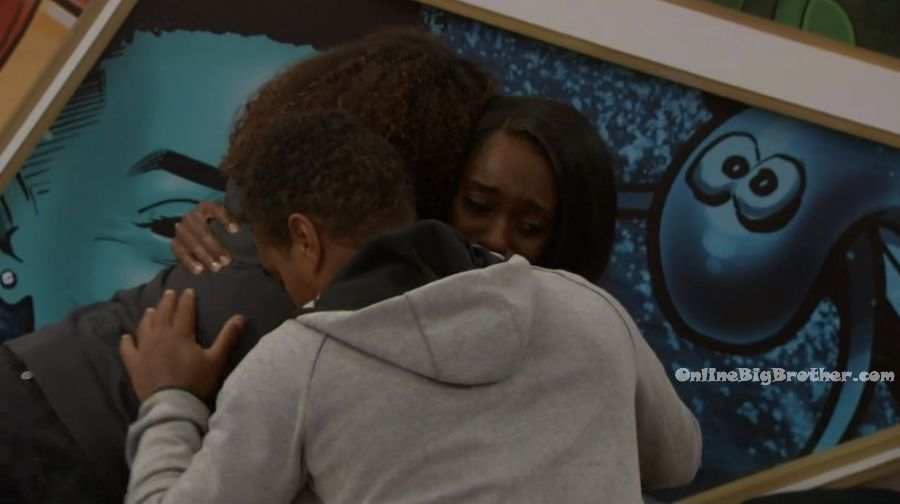 6:30pm HOH room. Christmas and Cody.
Christmas is crying. Christmas – I don't want DaVonne to go home and I love Bay. And I understand that this game has a lot of personal stuff into it. It just sucks. They're both such amazing females! And I just feel like I put a freakin.. Cody – its part of the game. Christmas – I know. I did what I needed to do. This is what I had to do. For my game and the alliance .. they were going to come after us. Bay is an emotional player and I know I am emotional right now. I did what I had to f**king do and if I am in jury and whoever is in final two I am going to be able to look at their game and not have an emotional vote. I am sorry I didn't even realize I was going to get this upset. Cody – its alright .. its totally fine.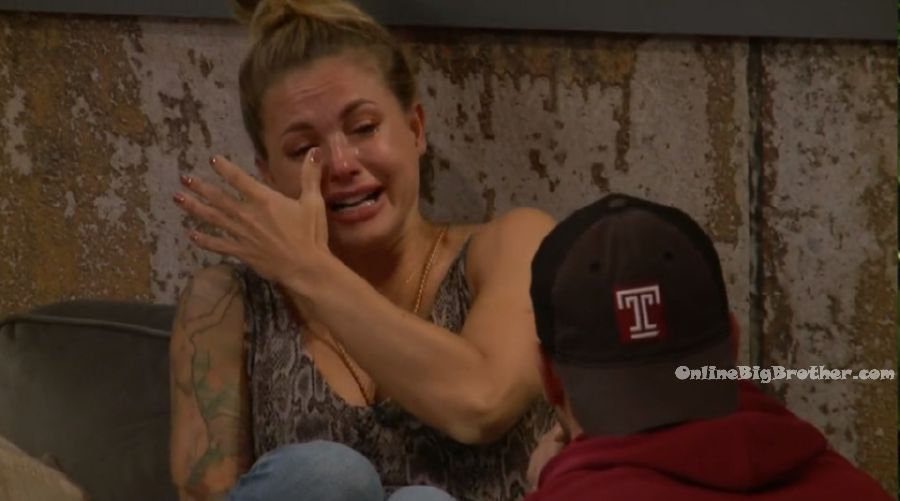 HOH room. Bay and Christmas.
Bay comes up to talk to Christmas. They hug. Bay – I wanted to work with you because you're a bada$$ b***h! Its okay. Don't be upset. They hug again. Christmas is still crying. Bay – I just might be to honest for this game. Christmas – I just hate this game. Last time I had to do this it didn't matter because it was later in the game. People had like significant reasons and.. and I hate that.. Christmas gives Bay one of her alcoholic drinks. Like cheers to getting outside this motherf**ker! Bay – and I don't want you to get upset with yourself. It was a good game move.. kind of. I just hope you're set up well enough when one of us leave.. and I know you're a fighter. Christmas – and you can both put me at the top of you list. Bay – I told you before .. you're not a threat to my game Christmas. I already told you I wanted to work with you then. Well I guess you're a threat to my game now. Either I leave now so I can go see my man .. or I go all the way to the end. I just don't know what I did for you to not want to work with me. Christmas – You talked to me way more than Day ever did. I always felt outside of whatever was going on .. and then you looped me in whenever you felt it was necessary. Bay – I wish you would have told me. I asked you multiple times that I wanted to work together but you never responded so I just assumed you didn't want to. Christmas – we just never got together. Bay – but why did it have to be me and Day.. why couldn't it have just been you and I? Christmas – I was fine with that too. Bay – why do I always have to be the one to initiate it. Christmas – But also with Day being your untouchable .. I know that she would always be higher than me on the totem pole. Bay – that is true.. we always knew that we would get targeted but never thought it would be by someone we were working with. Christmas – we haven't been working together besides sharing information. Bay – what sucks is I have been pulled in a lot of different directions. I feel like this was just a trap to set me up. Christmas – I am not sure what that is in reference to. Christmas – you get to play in a veto. Bay – I've never won one. Christmas – me neither. Bay – it will be a whole lot of firsts and it is a game. Bay – did anyone else know what you were going to do? Christmas – no one else knew.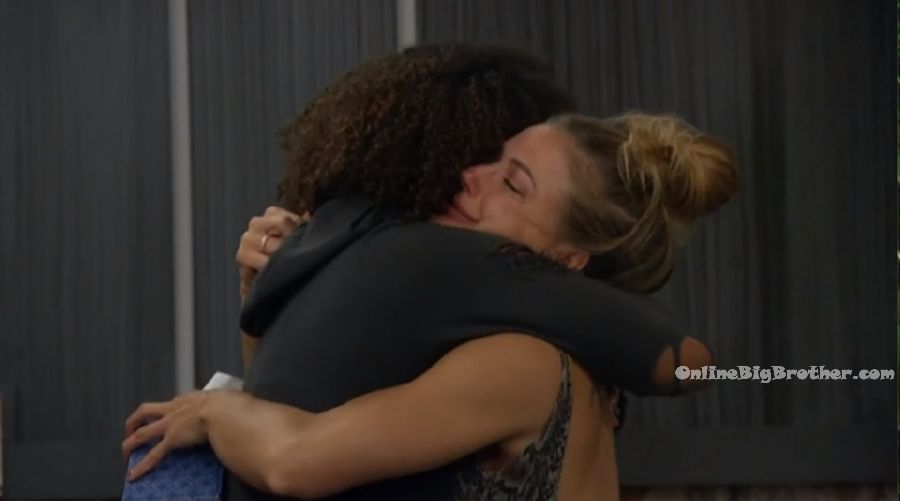 6:45pm HOH room. Day and Christmas.
Christmas give her one of her alcoholic drinks as well. Christmas – everything I said right there I f**king mean. She just asked if she had listed Ian as her untouchable ..would I have put him up instead. YES! The power duos that are dynamic and social .. just because you haven't won anything doesn't mean that you're not a f**king beast. I see it coming. And I f**king wish you had won that HOH because then .. this one really f**king sucks. I told her it doesn't matter who she listed .. untouchable is a final two .. your ride or die. Bay and I talked some game but after getting pulled into a room multiple times and not liking how Janelle or Kaysar plays the game .. and it never being clarified .. I just felt like I was being kept in the loop occasionally. Day – I know that you're a very intelligent woman.. I don't gravitate towards the weak. I know you know there are other duos .. what made her and I at the top. Christmas – it was confirmed .. I haven't confirmed any other duos. Day – that sucks because when we would talk to people .. you were our untouchable. Yeah so it kind of sucks! I just wish things would have worked out different. I am just glad you didn't backdoor me. Christmas – that is not my style .. go play your heart out. I meant what I said on that couch. Day – I believe you.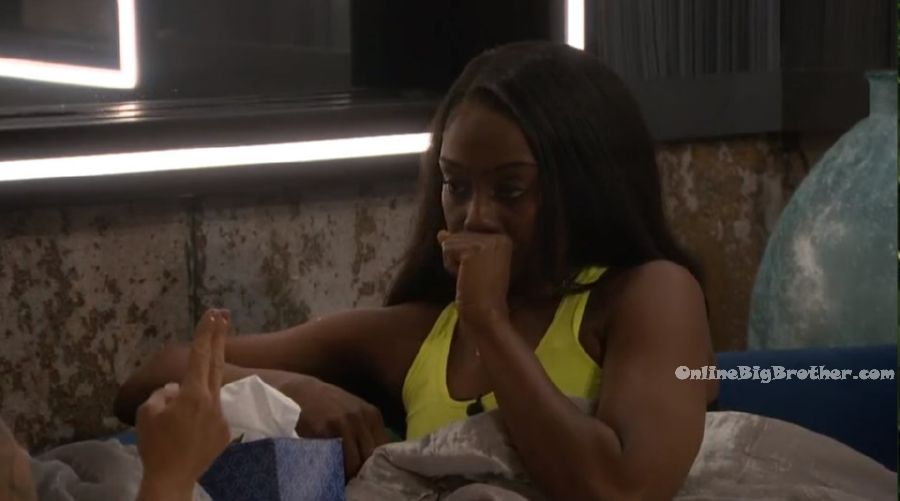 7:22pm – 7:35pm HOH room. Christmas and Nicole.
Christmas – I don't know how the house can be so surprised .. who else was I supposed to pick. They were really sweet ..they were kind. Nicole – this is a game and you didn't have many options. Christmas – I know they were going to come after the alliance. Game wise it makes sense.. and I will always do what has to be done. That doesn't mean that I don't carry the burden personally and emotionally. Nicole – I get it. Its so hard to nominate people. Christmas – now I feel ridiculous because I am more upset than they are. The Comity better keep their sh*t together… because that wasn't easy and no one else was willing to do it. I'm not talking about you. Dani joins them and gives Christmas a hug. Dani – this game sucks.. I just wish we hated people. It makes it easier to nominate and evict people. Christmas – the bottom line was they were coming after our alliance and had 4 of the 6 in mind. Nicole – The Comity has to keep our crap together because she just did that for us. We should all get together and they can appreciate all the hard work you put in.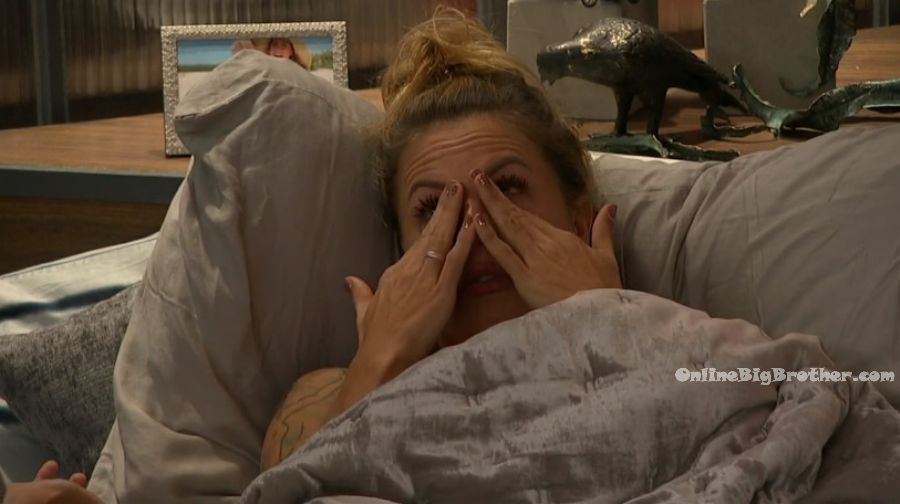 7:35pm – 8:05pm Bedroom. Day and Bay.
Bay – I feel really embarrassed. Day – don't! There is nothing to be embarrassed about. Your heart is open and you trust. Don't be embarrassed! You don't look like a fool. You don't look gullible.. you don't look like none of that. You look like everything (points to the bible) you read. Bay – I feel really weak. Day – don't and what does it say his strength works best in my weakness. Bay – But I don't feel bad for being a good person because that is just me. I don't get why she wants to embarrass me so bad. Day – I don't know. Its unnecessary. Day – we have to learn to save our tears for the ones we love. Bay -Kevin is for you. David is for you. Memphis. Day – Memphis would be for you. Bay – you would have Tyler, Dani, Nicole, Ian .. Kevin.. Five. I feel like you have the votes to stay. Day – I don't want to think about that.. one of us just has to win the veto .. one of us comes off and someone more threatening goes up. David joins them. They talk about how if they get house guest choice they would pick David. Day – when you were talking to her did she say who was the target. Bay – no. I don't think they care which one goes.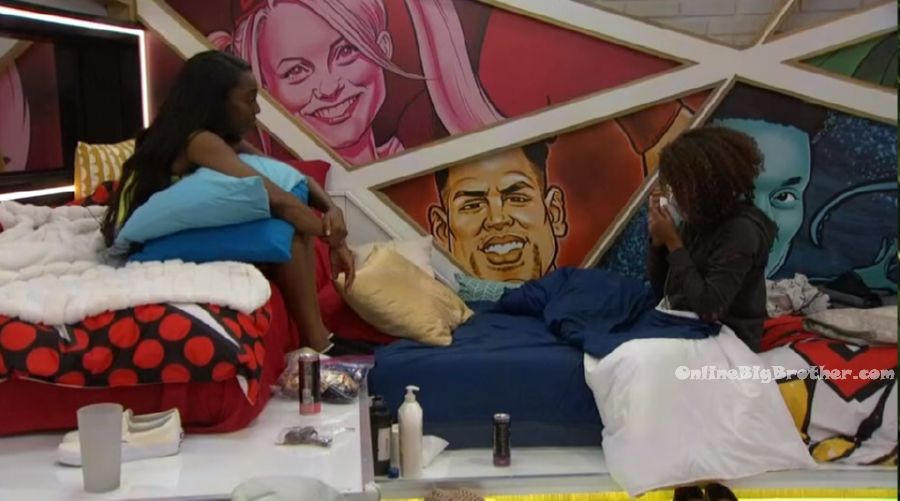 7:47pm – 8:10pm HOH room. Christmas and Dani.
Christmas – I swear to god if Tyler double crosses me or any of them.. before .. like after 6 ..do what you F**KING want! If I get f**king double crosses before six.. Dani – well you know you have Nicole and I. Christmas – I know. And I feel confident with the guys. I don't know if we need to be reminded ..and I know its an individual game but Big Brother but you have to have a team. I really want us to meet whether we have to stay up late …like I just took a f**King canon ball to the face! So pull your sh*t together and lets start making some moves. Win HOH .. don't be a little b***h. We just can't have b***H moves. Dani – no, there is no room for that. Christmas – and I understand that Memphis wants David out .. fantastic but then secure his departure. Ian joins Christmas to play backgammon. Dani leaves. They play a game and then Ian leaves.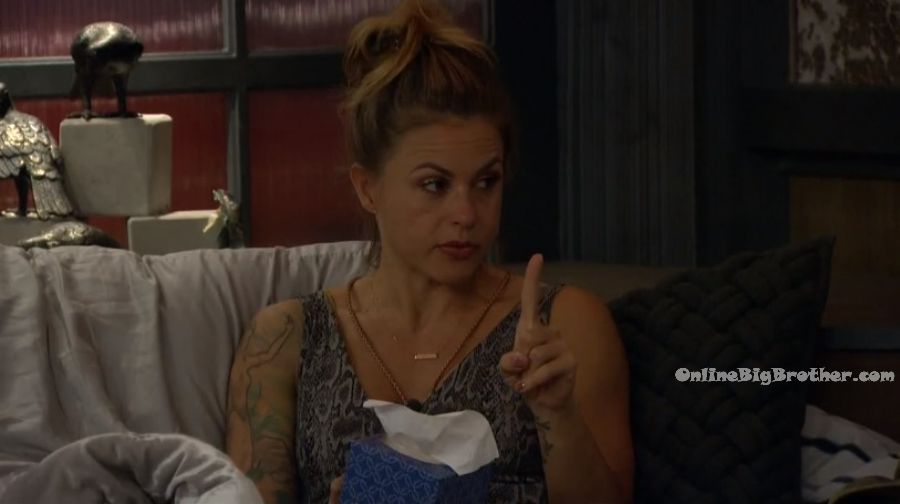 8:12pm Bedroom. Bay and David.
Bay – if I win the veto and Day stayed on the block there is a possibility that she would stay. If Day wins the veto and I stay on the block, I don't think I would be able to stay. It depends on who I am next to actually. The problem is I don't want it to be next to one of you guys.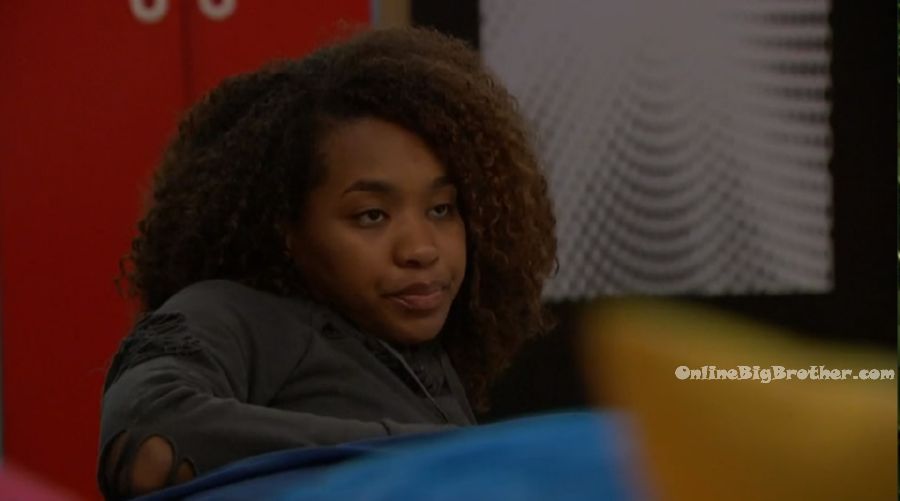 8:30pm Lounge room. Dani and Bay.
Bay – I went out of my way to protect the person that was feeding me this stuff and now I feel completely played especially with my experience the last go around. I feel like an idiot. I look like an idiot. And it really just sucks! It feels personal. I know its just game but its not. Dani – its not. That's what is so hard separating the two. Bay – I wanted you to know that first of all even when I heard it the first time .. I heard it a week ago. Dani – that is everyones biggest fear in this game .. is to look stupid. I did it last time .. I looked like a freakin moron. Bay – I am two out of two. Dani – I told Day that we would look stupid if we didn't talk. Bay – but even the first time I said I feel like this is a trap so the fact that it was .. frustrates me. Dani – I literally asked him (Tyler) do you feel like she is trying to get you back for last time? And he said yes. Bay – that is his guilt. That sucks. I feel really stupid. I didn't hold a grudge. When I went through my miscarriage during that time .. when it came out people said Tyler is responsible.. and I publicly said no, it has nothing to do with Tyler when I had that outburst. Big Brother cuts the feeds. Dani – its been a horrible horrible day. Bay – If I leave this week I just want you to know that Cody has been extremely loyal to you. He was very defensive of you. He's been good. Enzo's been pissed because the alliance has been breaking up. It has nothing to do with you personally. The first time Tyler told me this .. its reverse psychology .. he has just been trying to mind f**k me. Like you can go and talk to her right now and blow up my game.. I don't give a F**K. Do what you want to do. And I was like no no I would never. Dani – that's what I don't understand ..is his I don't want to be here, I'll leave right now .. I want to go home .. is that.. Big Brother cuts the feeds. Bay – During sequester.. Swaggy told me that Angela just randomly started texting him. And Angela doesn't text. Big Brother cuts the feeds.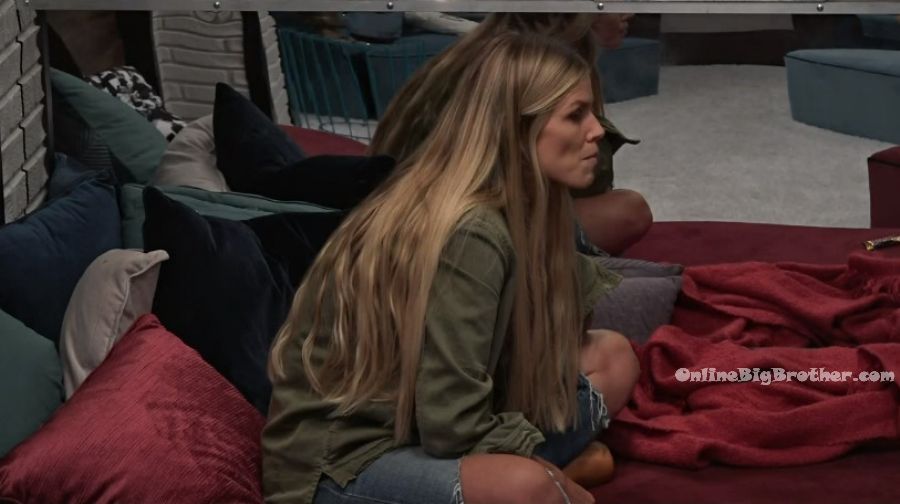 8:55pm Bedroom. Nicole and Dani.
Nicole – what is going on. I can tell you feel super upset. Dani – I feel horrible. She (Bay) is putting it all on Tyler when I know that some of it was my fault. And she is talking about how like how she had a miscarriage and defended him and is so hurt. Like this is not game. I can't freakin do this! Nicole – she shouldn't put that into the game. Dani – yeah but she doesn't mean it like that. She is super apologetic. I feel like a piece of trash. I hate this. Like this is not me. I don't want to do this anymore. Oh my god I am freaking the hell out. I don't want to do this anymore. This is too much. God this game is too much. And I genuinely like her. What the hell am I supposed to do!? Nicole – you only have two options. Dani – I asked her and she said the other two people were Kaysar and Ian. Nicole – about me or about you? Dani – about me. Nicole – Ian said you? Dani – Hmmmhmm. Nicole – wow. Dani – she said that he then squashed it later but come on. She said that Cody like defended me a lot. And she said that she asked him about his friends. And he said his only friends in the house .. Enzo is my closest friend.. I think after he didn't say us so that makes me feel good. What is happening? Nicole – I don't know. What is crazy to me is its the same people. You're not the only one going through this.. Dani – but I definitely did say we should get her out. I know what Tyler said and I know he said personal things about her but it is not to the extent that she is thinking. I literally feel like a piece of garbage. Nicole – if she is going home .. you could tell her.. Dani – tell her what though? Nicole – Whatever would make you feel better .. but I guess you couldn't because that would blow up your game. The thing is .. if she stays and Tyler is still here .. it is just going to get worse. Dani – I am just going to act fine with him. Nicole – I think it is going to blow up is what I'm saying. Dani – I think so too.. which is fine. Nicole – remember you are beautiful inside and out ..people on the outside don't understand what we see and feel.. Cody comes in and tells Nicole she is tagged in to do dishes.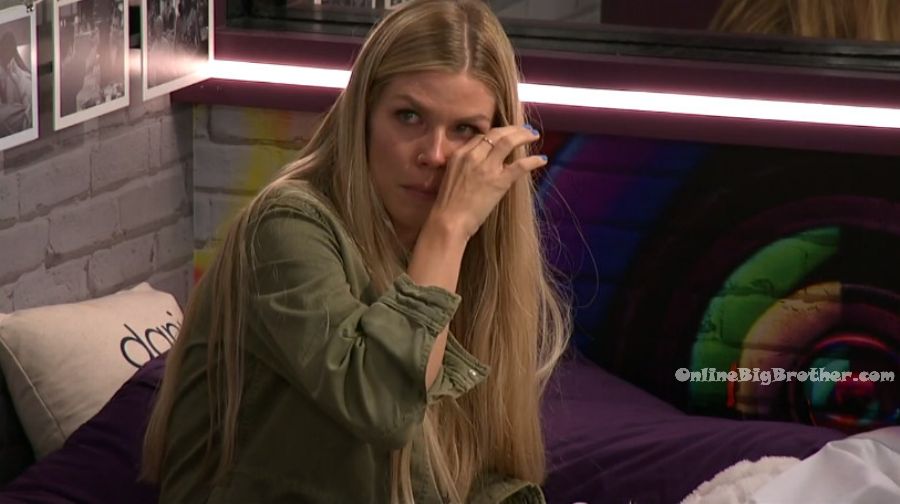 9:42pm Bedroom. Day and Bay.
Day – yesterday after the HOH when we were all sitting around the table Memphis says didn't Kaysar say Day and Bay too. I was like no he didn't say our names. He said I could have sworn he said Day and Bay too. I said no he didn't mention us at all. DROP THE SEED. Day walks out.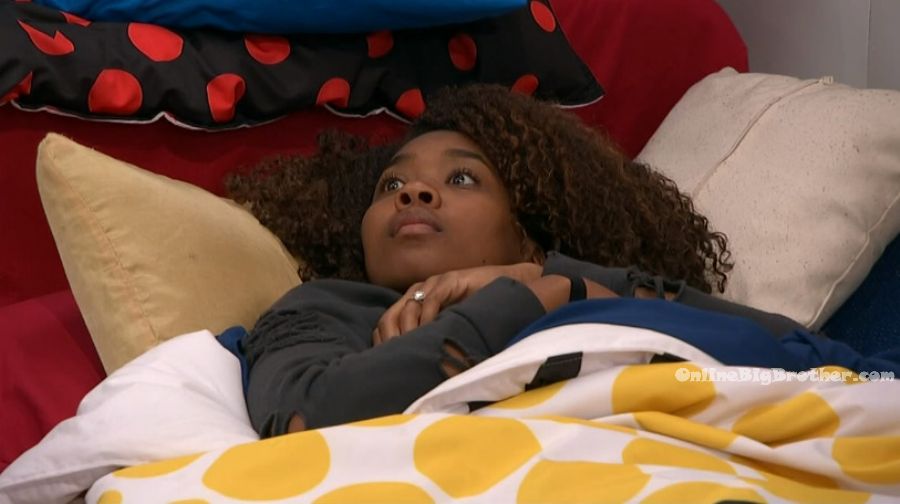 Show your support by making a donation.
If you're enjoying our live feed updates this season, please consider donating.
Any amount is greatly appreciated! Your donations go directly to paying the fees required to run this site.