Head of Household Winner – Christmas
Have nots – No havenots this week
Nominations – Bay & DaVonne
Power of Veto Players are –
POV Host: –
Power of Veto holder –
Power of Veto Ceremony –
Powers – Christmas, Dani have two of the powers. Christmas' lets her block renoms. Dani's let's her pick an HOH and enables them to play in the next HOH.
Live feeds —-> Grab your Live feeds here. Try it free.
Rank the houseguests —-> Big Brother 22 Ranking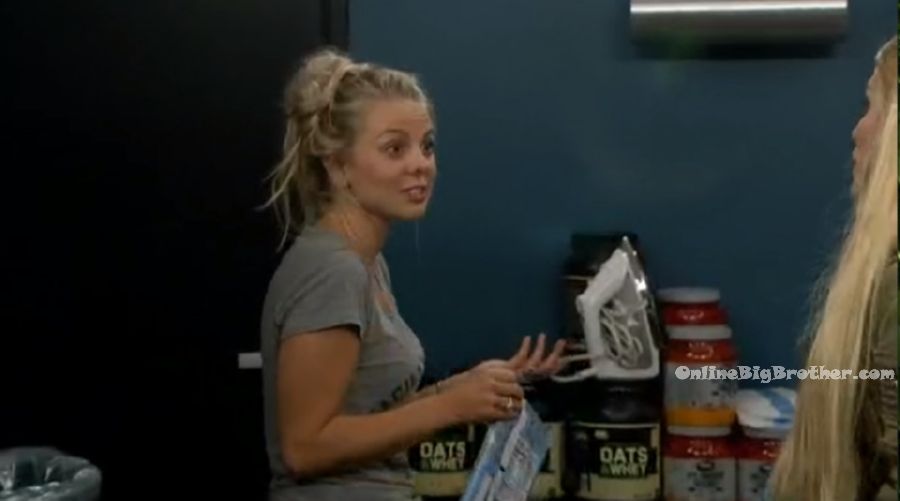 Storage room. Nicole and Dani.
Dani – he said everyone thinks they're big powers.. they're trash ones. So like maybe all of them are bad. He said one is like .. you can play in any veto competition. He said one is you can play two weeks in a row in the HOH. Nicole – how does he know that?! Dani – I don't know but he knows they're little crappy things. They're not even big powers which makes me feel better if they're crappy. Nicole – That's what I thought about with yours .. say its a double if you just won HOH .. then you can play again. Dani – but if the double is next week.. I have to tell them by 10am. Nicole – like 10am on Thursday? Dani – yeah, 10am on Thursday. Nicole – that sucks. You wouldn't know if it was a double. Dani – its so stupid. The whole thing is so stupid! Nicole – he lied to me and said he didn't have it. Dani – he has it 100%! Nicole – Did he lie to you? Dani – yeah. Nicole – he said that he was just walking around on the sides pretending I was doing something. Dani – Interesting!? Nicole – interesting. Dani – yeah he has it for sure! Good better him than someone else! Nicole – yeah. And Kevin has the last one. Dani – yeah.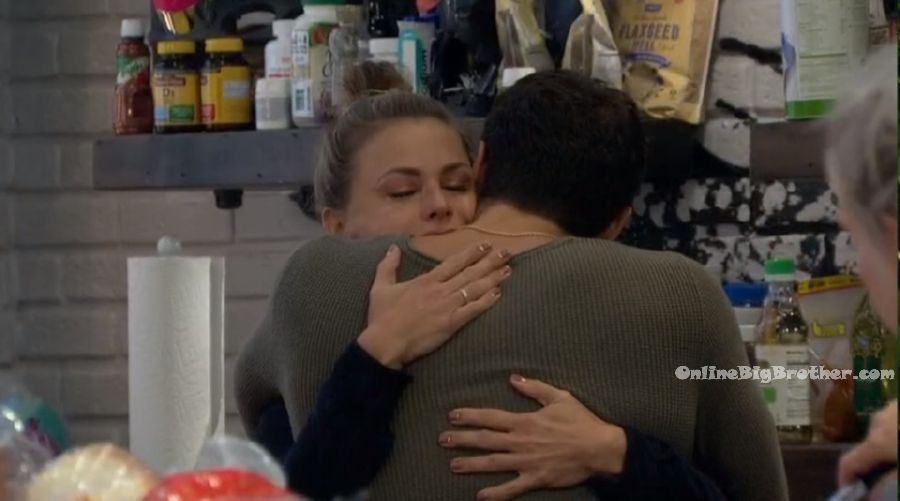 9:53pm Bathroom. Bay and Day.
Day – why is she crying!? What the f**k!? Bay – MMMhhmmm..and you know who is hugging her? (See photo above – Christmas and Cody) Day – I saw! Girl I saw! Good job! Thank you for being my pet. Bay – I took one for the team. Day – right!? That you're not even really a part of. Bay – she (Christmas) literally said you're the person that talks game with me the most. Day laughs. Day – remember when Kevin got nominated week one and he said don't shun me.. why haven't I seen him?! Bay smiles and says – that's your friend. This is about him.. he isn't worried about us.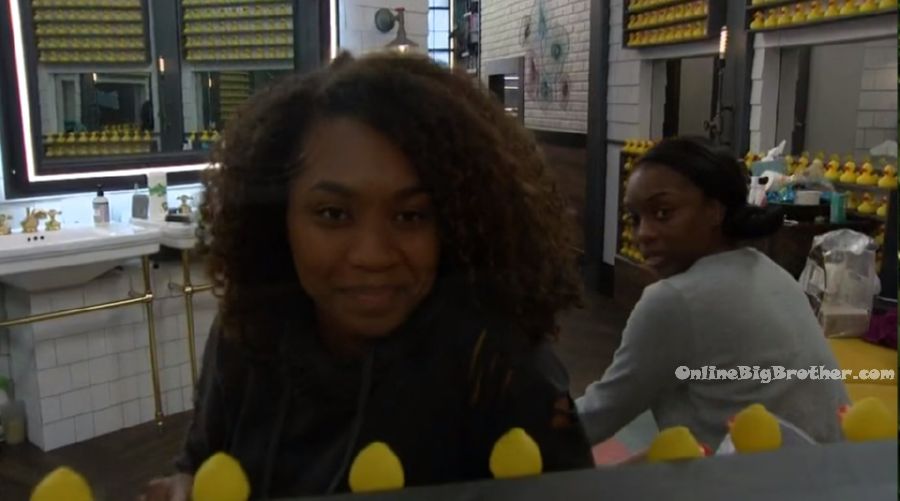 10:30pm Havenot room. Kevin and Day.
Kevin – I am not going to be like kaysar and Janelle where they complained the whole time. I hated that sh*t. I was like point noted ..they have the power .. we're going to get picked off. Noted thank you! Now moving forward what the f**k are we going to do? That is the part that I didn't like.. like not trust each other. The other side is like on point! They're running circles around us. Guess who was up there consoling Christmas.. Day – I saw. Kevin – Cody! Day – he consoled her when she got out of the dairy room too. Kevin – like that fool is on it. Like what game are we playing… we're either bickering at each other or like complaining how we don't have the numbers or like getting side tracked by .. I keep saying this sounds like a distraction.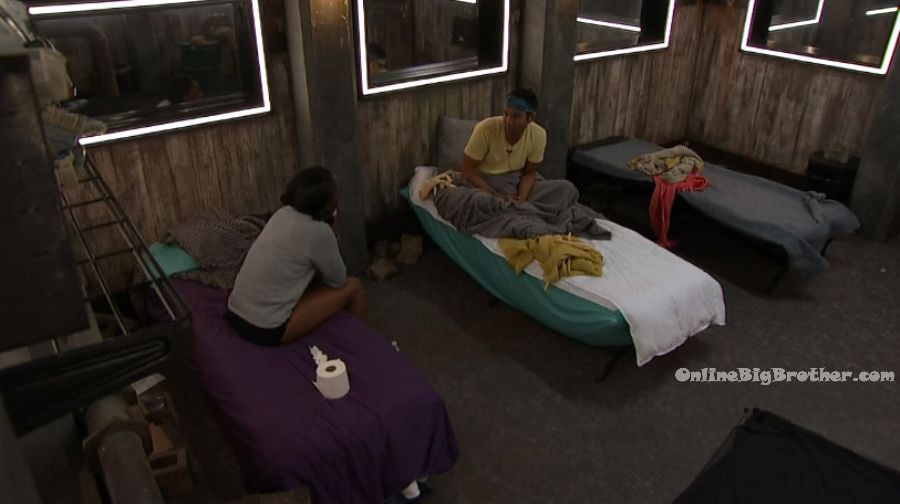 11pm HOH room. Christmas and Bay.
Bay – I want to know what you want from me moving forward .. because one thing that I don't enjoy and you have seen this last week is that when there are issues or things are going on with me .. I feel really uncomfortable with people in my space. I don't want that to be something that happens for us. What would you like to do about that? Christmas – I think that I am going to have to take direction from you. I want to respect your space and your time. I don't have the answer. It would be good to collaborate and tweak it as it goes. Bay – I don't know .. I am just upset because I feel like I would come to you a lot and you would always calm me down. So I don't know how I am supposed to act. Christmas – and that is 100% okay too. I don't want you to believe or feel that our vulnerability with each other was un-authentic. My appreciation for you and what you've done ..and what you've done over the last couple years.. I relate to that. Bay – you're the only person that I've let touch me this whole time. And Ian said that he was afraid to talk to me. Christmas – Ian is afraid of everyone. Bay – but he said it specifically about Day and me. I was told today that I was personally and game targeted by some other people. Its just a lot. Dani and I had issues this week. Dani told Tyler that she needed him to take me and Day out. And so I talked to Dani and she said the opposite that Tyler told her that me and Day were coming after her. I feel like I fell into a trap ..I expected it to be coming from them and didn't even expect it to be coming from you. I feel stupid. Christmas – you're not stupid. Bay – I am just hurt. I wanted to play this season differently. Christmas – you are. You're honoring yourself and your marriage.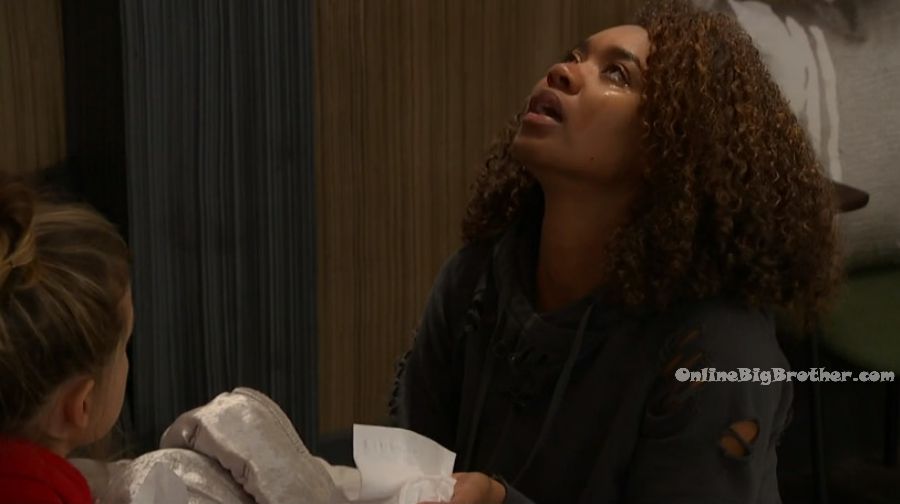 11:45pm HOH room. Nicole, Christmas and Ian
Nicole and Iam play a game of backgammon.
Show your support by making a donation.
If you're enjoying our live feed updates this season, please consider donating.
Any amount is greatly appreciated! Your donations go directly to paying the fees required to run this site.