POV Holder:
?
Next POV
July 18th
POV Used
?
POV Ceremony
July 20th
HOH Winner Team 1:
Liz
HOH Winner Team 2:
Shelli
Nominations 1 :
Jackie & James
Nominations 2:
Jason & Johnny Mac
Battle of the Block Winner
?
Next HOH/ Next BOB
July 23rd / July17th
Original Nominations:
?
Current Nominations:
?
Have Nots
?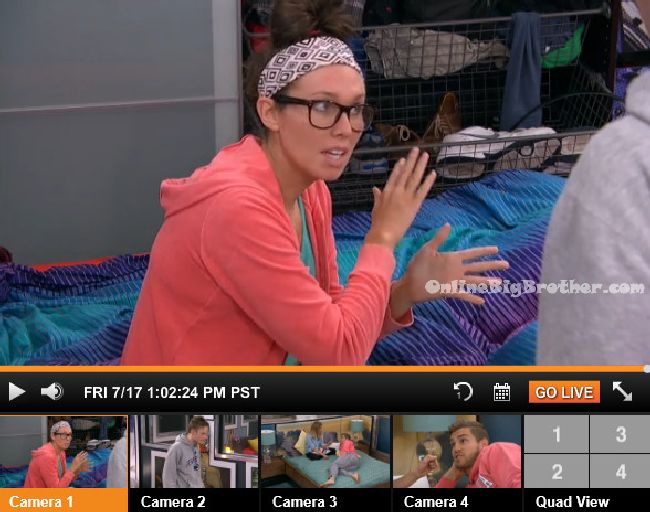 TRY the Big Brother 17 Live Feeds FREE for 1 WEEK:
Click here to ensure your live feed subscription supports OnlineBigBrother.com at no extra cost to you.
1pm Comic bedroom – Johnny tells Audrey it kind of irritates me a little bit you know what I mean. Audrey says I completely understand. I just got into an argument with her (Shelli) because she threw me under the bus with Jason to deflect her nominations. I told her before when she was thinking about nominations not to put you up if you don't want him to come back for you. I just really believed they were going to put up Becky and Steve. That's what everyone was saying. If for some reason you lose I don't think the will target you. Johnny says yeah, its tough when you lose battle of the block to feel safe. So in my gut I want to fight for it. Audrey says I think you guys are better as an intellectual match. I'm more confused why they aren't telling me. She said that all the nominations were very last second. Johnny says I believe it because I was told last night I was good. James joins them and says that Liz told him he was safe last night too. Then the next thing you know.. BAM you're on the block!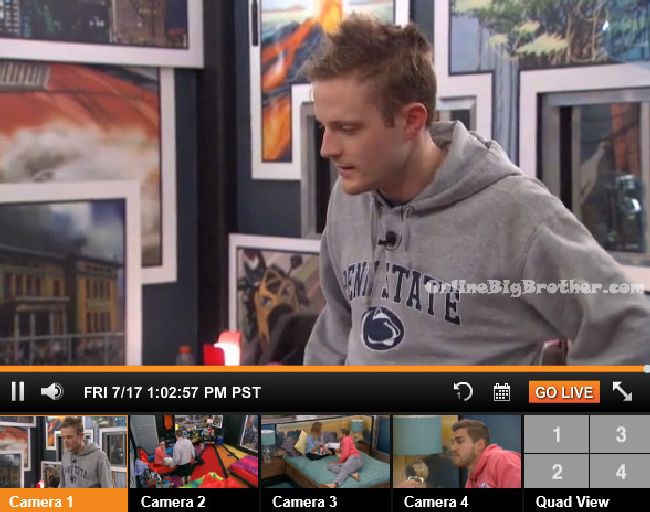 1:05pm Cabana room – Vanessa tells Steve that Shelli and Clay are on to you working with us. Don't ever let this get back to me. They assumed that the deal was unclear. They had a deal with Johnny Mac but still put him up. I had to act like I didn't care about them wanting you to go up but all the while trying to prove why it wasn't good to put you up. I spun it good ..I was trying hard to hide it. I said that you're not a target because you're isolated. Vanessa says just so you know I will never vote against you. I have your back. If we have information about the other, we tell the other.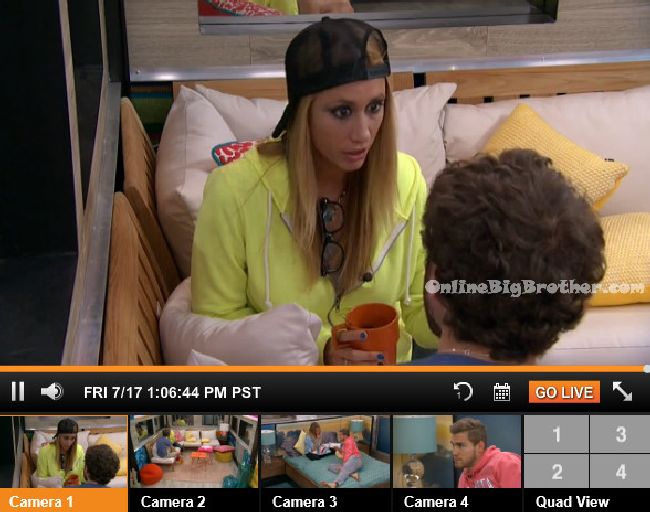 1:10pm – 1:40pm HOH room – Shelli relays the conversation she had with Audrey earlier. Shelli says that Audrey is very much against Steve. She is working with John. She's fluffing things up with James again. She had been fluffing things up with Jason. She actually tried to make me believe that the reason I heard from her mouth that Jason is coming after me is because you all said it! Audrey is trying to make .. ARE YOU KIDDING ME?!! Clay tells Shelli that she (Audrey) is setting it up with John that she wants him to throw it so she can use that. So you tell John to throw it and it looks like you don't care about him. When I'm having this conversation with John she doesn't know that John has told us… Jason joins them. Shelli tells I want you to go out and win it. I told Johnny the same thing. When you go out there you'll see that he is trying to win it. Jason says he thinks James threw it last time. Clay tells Jason you can't trust Audrey. Jason says I know I can't trust her. Jason says Audrey swore on her life that she voted to keep Day so obviously she is lying to someone. Shelli says none of us know what is true with her. She gets you confused and gets you thinking things. She heard all this through Jeff and she is trying to say she heard it through Clay. Jason says she is trying to deflect on to everyone else. Jason says if Johnny starts throwing it I am going to drag his dead corpse around it win it.

Shelli says he thought that's what I was going to say. I told him to win it. I just told Audrey to her face that Jason knows that it was you. Shelli says I am an honest player and will tell it to you straight. I don't know why she is throwing my name under the bus. Clay says the longer she is here the more she can get on peoples good sides. Shelli says if it ever comes down to it, she is doing it to herself. She over analyses. Clay asks how would you put her up .. would you put her straight up or backdoor her. Jason says I would put her up and give her then chance. Who knows if she is good at comps. If its a double eviction she is dead in the water. She'll only have 5 minutes to campaign. Shelli says she is paranoid and needs to stop it. Shelli says I was legit having a panic attack this morning. Clay tells Jason that before nominations I went up to Johnny and asked him if he was okay going up. Shelli says that why he thought we wanted him to throw it which is why I went to him after and said that's not what we're asking! Jason says if he looks like he is throwing it I am going to ream him a new a$$hole. I'm almost positive he won't though. Jason says if anyone ever say anything to you about me just come and talk to me. Shelli says okay. Jason leaves. Shelli says I love him. Clay agrees. Shelli asks Clay did you asks Johnny to throw it. Clay says I told him its his option to throw it. Shelli says its okay because he's going to go out and try and win it. Shelli says I think this is actually a good chance to connect with Jason.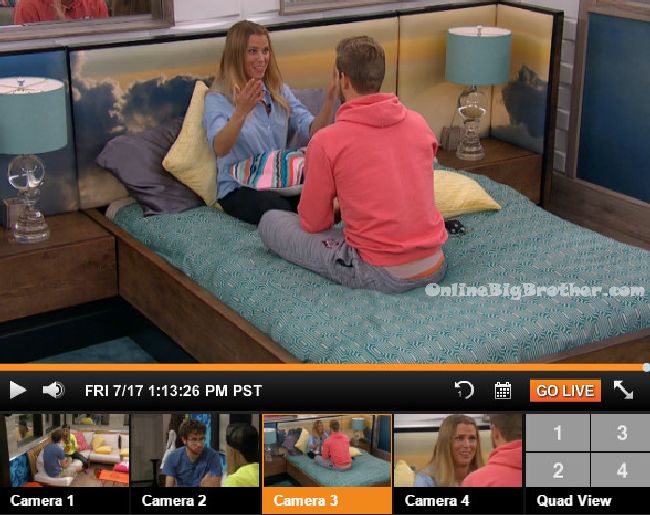 In the kitchen – Austin, Steve and Johnny talk about how they haven't had a BB takeover yet. Steve says he thinks the BOB will be a 90's takeover.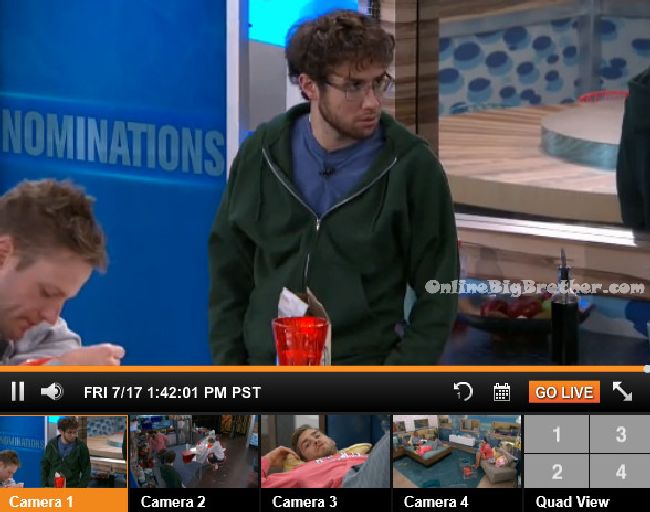 Test out the Live Feeds FREE for 7 DAYS! Click here for your: Big Brother 17 FREE Trial
1:40pm – 2pm Audrey joins Shelli and Clay in the HOH. Audrey says that Johnny Mac is not going to throw it. He is pissed. Shelli asks did you tell him I wanted him to throw it? Audrey says no. He says he is going to go win it. Honestly I hope he doesn't win HOH because I honestly don't think he is okay. He is fired up. I asked him how he is feeling and he said he is fired up. He said sorry James I have to win it. Shelli says I'm not surprised anyone would be fired up when they're put up on the block. Audrey says he does believe it was last minute decision. Shelli says it was. WHy do you not want him to win HOH? Audrey says He's been put up 4 times and it just pushes him more over to the other side. Shelli asks what did you want me to do? Did you want me to put you up? Audrey says no, why didnt you put up Steve. Shelli says I didn't want more blood on my hands. He could win HOH and then he would be coming after me. Clay asks why do you want Steve up so much. Audrey says I believe he was one of the four votes. I think he is being totally underestimated. Clay says we're not underestimating him. He hasn't done anything to us. Audrey says he hasn't done anything to me either. Clay asks is there anything else about him? Audrey says his behavioural patterns .. I think the necklace (she thinks he brought the necklace in as bargaining power later in the game), beard, hat is all bullsh*t. He is putting on a façade. Audrey asks did Vanessa not know that John was going to go up? Shelli says she didn't know. She went downstairs when we were still speculating. Audrey says this would have been much easier if I had just been HOH. I have more reasons than all of you to put them up. Audrey asks if Johnny and Jason lost .. and some how I got picked for veto and won. Would it be okay if I used it on Johnny. Audrey says he trusted me last night and I came up to put in a good word from him. Now he is going to be skeptical of me and not trust me. Shelli says you can tell him you had nothing to do with my nominations. Because you didn't, you tried to come up here and I didn't let you in. SHelli says I am going to be honest you weren't in any way trying push for me not to put him up. Audrey says I justified reason for you not to put him up. I dont think he will trust me to tell me any other information.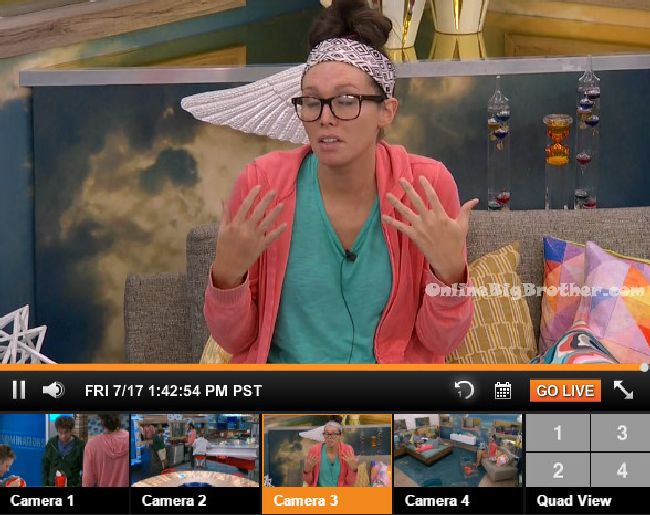 2:10pm – 2:20pm Liz has switched out and Julia is now in the house. She is in the HOH crying reading the HOH letter from her mom. Audrey comes through. Julia says she is just missing her family. Audrey hugs her. Audrey leaves. Austin comes up and starts filling Julia in on everything she's missed since Monday.

2:25pm – 2:40pm Shelli comes in and Julia and her get caught up. Julia says I feel bad being here though … she won it. Austin asks do you know how long you're going to be here? Julia says till Monday. Austin says it should be a good week because we're just letting whatever happens happen. Julia says so Liz said that no one is throwing this BOB? Austin says yeah. Julia says I am very pissed she (Liz) drank all the wine. Austin talks about how Jackie is going to have a melt down any day now especially if she stays on the block. SHe and Becky have been inseparable. Julia asks who is our target? Austin says Jackie or Becky and their (Shelli's) target is Jason or Becky. But maybe even if they're too pissed off Audrey. She talks too much and she's paranoid. She's too much. She's annoying. Either way we're good. Meg was the other option but why we can maybe start getting her to trust us. Julia asks there is something you're supposed to tell me alone. Austin says that Becky came up to you and asked if I was trying to start a showmance with Jackie. And Jackie had said she was okay with it. Jeff then started calling Jackie sl*tty. Then I went on a date with Liz and Becky asked why I wasn't going on a date with Jackie. I said because Steve asked her on the date. I think that is when Jackie started to get jealous. Austin talks about how Jackie and Jeff were crying in each others arms on Thursday before he left. Austin says I haven't been honest with my name in here .. its one i've been using in the diary room. (Judas) Big Brother blocks the feeds.
Live Feed subscription gives you CBS All Access thousands of archived shows. Live Shows like Big Brother, all the Big Brother Seasons, and 24/7 coverage of what is happening inside the Big Brother House. Plus there's flashback that lets you go back to any second of the feeds and rewatch what happened. Simon and Dawg will index the season just watch the parts worth watching. All this for $5.99 a month try it out 1 week free. Support our efforts and get your feeds via a link on this site. Live feed subscription Sign up
[polldaddy poll=8983592]
Share it YO!!
Tweet