POV Holder:
?
Next POV
April 20th
POV Used
?
POV Ceremony
April 22nd
HOH Winner:
Emmett
Next HOH:
April 25th
Original Nominations:
Gary and Andrew
Current Nominations:
?
Last Evicted Houseguest
Peter
Have Nots
No Have Nots this Week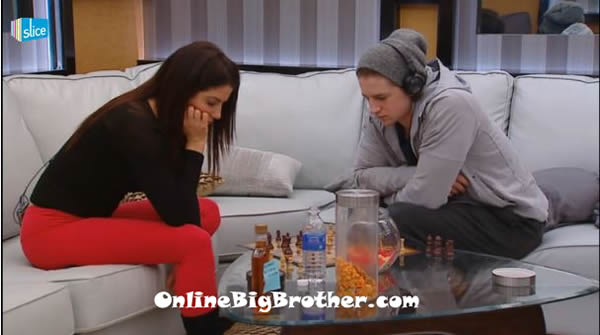 12:10am The Big Brother live feeds come back and we learn that Emmett has nominated Gary and Andrew for eviction.
Emmett and Jillian are up in the HOH room playing chess. Talla is up in the HOH bed sleeping. Meanwhile down in the main bed room Andrew is sleeping. Big Brother wakes them up with the alarm. Andrew heads into the kitchen.
Big Brother then zooms in on a letter that they slipped under the door the house guests to find. (Dan Gheesling tweeted: Any guesses as to what's in this letter the House Guests are about to receive?)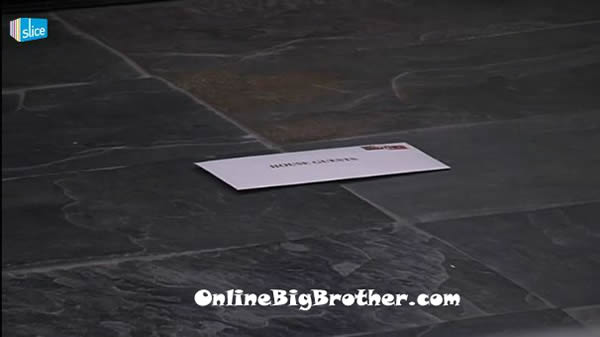 12:40pm – 1pm Big Brother rings the door bell. Talla and Jillian run up to the front door and find the letter. Talla reads the letter and its reads:
"Big Brother is sending a special Guest into the house for a sleep over that knows exactly what you are going through, use them as you see fit."
Andrew says oh my god, I just want to have the veto already. Jillian comments that she bets the person coming in is going to be the host of the POV competition. Talla is going crazy running around saying oh my god! Up in the HOH room Andrew says imagine it is Dan. Jillian says I don't even know who it is. Jillian says she hopes its someone they have been shooting off about. Andrew says I hope its someone they hate. Andrew says it's probably someone they used to promote the show. Who was it that was at any of the things. Hayden? Emmett says yeah Hayden, Mike Boogie, Will… Andrew says again that he just wants to play in the veto!!! Andrew tells Jillian and Emmett that he just wants to go off on those two! Emmett and Jillian tell him to. Andrew says yeah so then no one will vote for me. Andrew, Emmett and Jillian all agree that the person coming in won't help their game. Jillian says they only person that it will help is Talla how has no game. Andrew is then called to the diary room.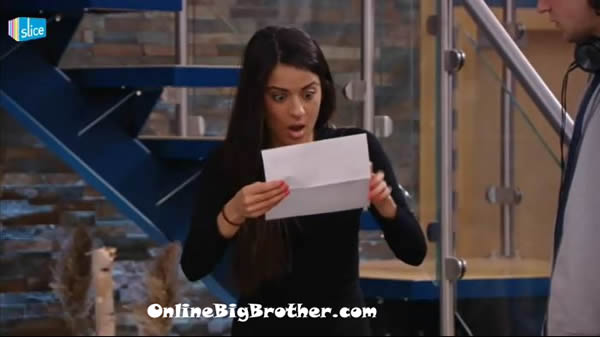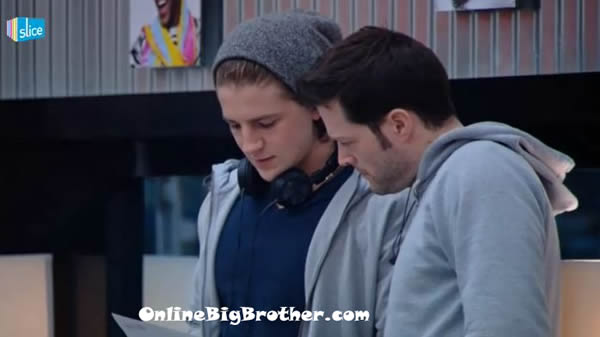 Video of The house guests receiving the letter:

1pm – 1:15pm Talla comes up to the HOH room and tells Emmett and Jillian about how excited she is for someone to come into the house. She says that she is going to poke them and ask them if they are real. Talla heads back down stairs. Andrew comes up. Emmett gets called to the diary room. Andrew starts ranting about how he just wants to veto competition to start. He says that there is nothing anyone can say that will help me with my game. Unless its what the next veto competition will be like. Talla comes up to join them in the HOH. Emmett comes up and tells Jillian to go to the diary room. Talla, Emmett and Andrew sit around talking about who they think it could be that will enter the house. Emmett thinks when they open up the back door for the veto competition ..the mystery guest will be out there. They hear Jillian screaming. When she comes up to the HOH room. Andrew asks her if it was her screaming and what about. She says that she was screaming about getting more pills. Andrew says well lets hope the person that comes into the house is better than those pills. What kind of pills are they anyway? Jillian says digestive pills. Andrew says pooping pills. Andrew and Talla head down stairs.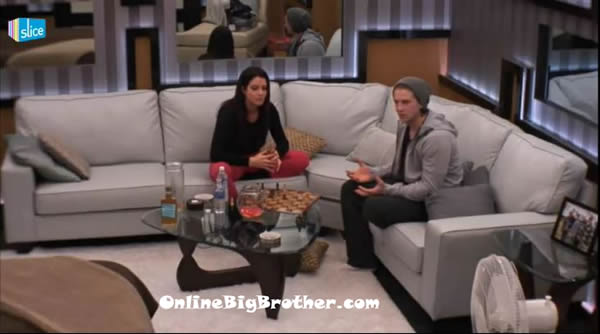 1:30pm Emmett tells Jillian that this isn't good for us.. what if they come in and start telling Talla to start thinking for herself. They keep messing with our game. Jillian says think of it this way .. we have the two power people on the block and we can get the person to tell us who to get rid of. Emmett says I don't need someone to tell me who to get rid of. Emmett says that he told them they could let someone come into help Lalla grow a brain. Jillian laughs. Big Brother cuts the live feeds. They come back for a minute with Andrew is laying in bed in the main bedroom. Gary is still putting on his make up. Big Brother cuts the feeds again..
1:45pm – 2:10pmStill Hush Hush.. When the live feeds come back Talla is in the bathroom. She is talking to herself and says they are being so rude. Her and Jillian are cleaning the entire house. Talla goes up to the HOH room and on her way back down she figures out that the person entering will enter before the competition. Meanwhile up in the HOH room.. Emmett is pissed and says what is the point of having all these conversations with people if they are just going to do this. Emmett and Jillian are worried that the others will learn information about them and whats been going on. Jillian thinks that maybe her and Emmett should pretend to turn on each other.. she says that everyone is going to be turning on each other so we should too. Just pretend you learned of some new information about me. Emmett and Jillian continue their chess game.
2:10pm Andrew and Gary are napping in the main bedroom.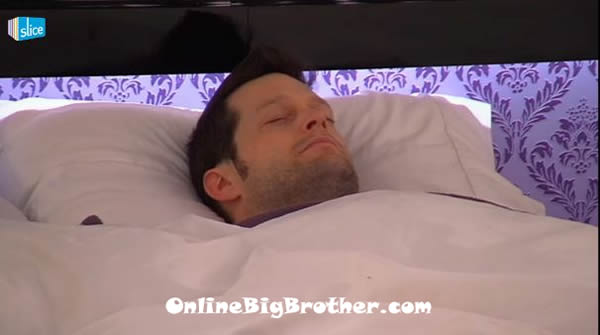 OnlineBigBrother.com
Stay connected and interact with other Big Brother Fans on our Facebook page.
And Follow: @BigBspoilers and @Dawgsbigbrother on Twitter for the most up to date spoilers.
Please consider donating. Simon and I work 24/7 all season long to bring you all the live feed updates and spoilers. ANY amount is greatly appreciated, your donations go directly to paying the server and bandwidth fees needed to run this site.