POV Holder:
?
Next POV
April 20th
POV Used
?
POV Ceremony
April 22nd
HOH Winner:
Emmett
Next HOH:
April 25th
Original Nominations:
Gary and Andrew
Current Nominations:
?
Last Evicted Houseguest
Peter
Have Nots
No Have Nots this Week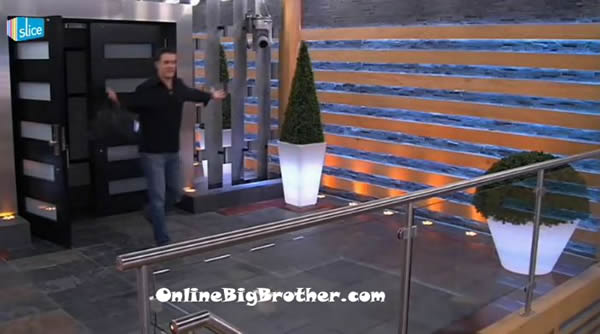 2:15pm The door bell rings and Dan Gheesling comes in … He says who is ready to get coached up! Talla runs up and jumps on Dan. Jillian and Andrew tell Dan how they just got out his biggest fans. They all sit down in the living room. Dan wants them all to introduce themselves. Dan congratulates them all on making it to the final 5. Dan asks Talla if she is okay? Dan says I feel like I got attacked. I feel like I need a restraining order against you. They laugh. They all then introduce themselves. Dan says that he only watched the first episode. Dan comments on how he is staying the night. Jillian says that he doesn't know who he is so Dan introduces himself. Talla touches him and says you are real.
Dan says that he has a special announcement for them… He stands up and says he is just going to wait for big brother.. Big Brother then says go ahead…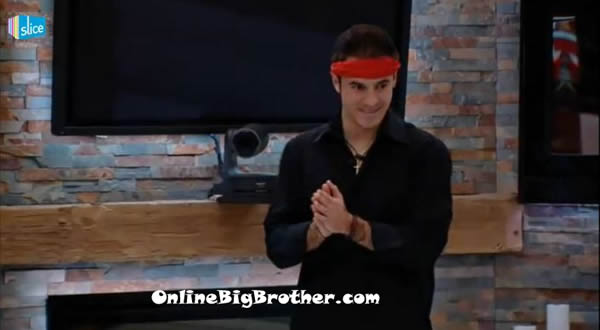 2:40pm Dan says that he is dressed in black for a reason .. Big Brother has giving me the power to evict one of them tonight. He says that he is giving them the opportunity to explain why they are here. He will then make his decision. Each of them tell Dan why they want to stay in the house and what they did so far in the game. After they finish telling him why they should each stay Dan tells them that they have all been MISTED! None of them are being evicted tonight. They all jump up and huge him. They were all freaked out that one of them would be evicted. They then give him a tour of the house.
Video is uploading: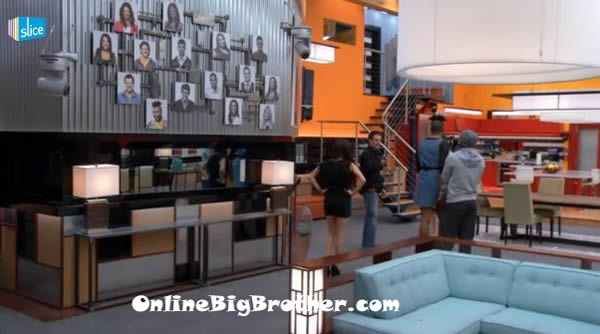 3pm – 3:20pm The house guests head back downstairs. Dan continues to ask them questions about the season. They stand in front of the memory wall and discuss the other house guests. Dan asks so have any of you lied? Jillian says no, I haven't lied at all. She then says no I've lied. All the house guests are talking a mile a minute and talking over each other. Dan asks did anyone get evicted and have a melt down. They tell him yes, Danielle. They tell him that when she left ..she said F all of you! Dan talks about how the winner gets $100,000, the Chevrolet Trax and the Brick gift card. Dan says and that is tax free.. with the US version the government takes $200,000 off of the $500,000. Dan asks so have any of you not been nominated? Andrew says Jillian. He then says that will change next week though. They talk about Emmett being disqualified in competitions. Andrew tells Dan about how he put a plastic bag over his head wanting to kill himself and self evict. Dan says you need a psychiatrist. Andrew says its all for sh!ts and giggles.
Andrew is talking about this day:
ANDREW wants to kill himself because #BBCAN won't let him outside OPEN THE DOOR goo.gl/jRLgk @bigbspoilers twitter.com/DawgsBigBrothe…

— Dawg (@DawgsBigBrother) April 7, 2013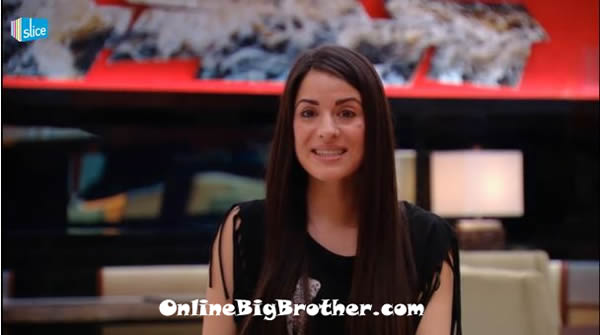 3:25pm – 3:45pm Dan asks them if they are ready to mix things up and roll with other people Andrew immediately jokes yeah I'll work with you! Jillian and Andrew say that they don't really want to answer that question. Dan starts talking about Big Brother 14 and what things happened and how he got to the end. The house guests talk about making dinner. Talla challenges Dan to a game of puck ball. Talla teaches Dan the rules. Dan says that he wants to put something in the bedroom. Talla and Dan head to the bedroom. Dan comments like it sounds like everything is set in stone. Talla starts talking about her position in the game and how she has an alliance with Andrew. Dan asks Talla what she would do if she won the veto. Talla says that she would keep the noms the same .. but then says that she could use it and Jillian would go up and break up a showmance because she is a huge threat. Talla says but I kind of also have a girl alliance with Jillian. Dan asks If whats supposed to happen, happens who will be left in the game? Talla says me, Jillian, Emmett and Andrew. Talla keeps saying that she hasn't won any HOH's. Dan says that isn't such a bad thing, there have been lots of people that haven't won anything till the final five and then gone on a terror. Talla says that she thinks Gary would take her further .. but that means turning my back on Andrew. (If she won the veto and used it on Gary.) Talla says that she is scare of the veto and the possibility of going up. Dan asks if you could pick the final four who would it be? Talla says Andrew, Jillian and Emmett. Dan asks does that give you the best shot to win? Talla starts to back track thinking maybe Gary but then says right now yes that is my best shot. Dan tells her she just needs to figure out what's best for her. Jillian comes in with Dan's big suit case and asks do you have something to tell us? I feel like you are moving in. Dan says no that's just my suit case. Jillian leaves. Talla calls herself a stooge. Dan asks why do you call yourself a stooge?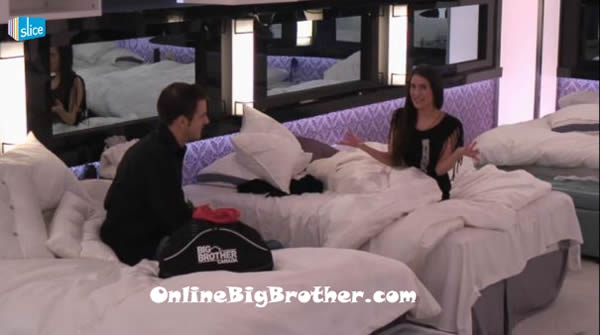 Video of Dan talking game with Talla is being uploaded:

3:50pm – 4:10pm Dan and Gary then head to main bedroom to talk GAME. Gary tells Dan that he made a final two deal with Emmett. Dan asks before you were evicted or now? Gary says now. Gary says that he wants to win the veto so that Andrew or Talla get evicted. Dan asks who do you want gone. Gary says I don't care. Dan asks from the jury house who has the best chance to win. Gary says Emmett. Dan asks who has the worst chance? Gary says Talla. Gary says that he wants to, and is trying to get Emmett to break up with his showmance and drop her. Gary says then that will be another move under my belt. Gary says that he would rather take his chances with Emmett in the final two. Dan asks do you think you can get Emmett to drop his showmance? Gary says that he is hopeful and thinks he can. Dan asks do you think anyone will use the veto on you? Gary says no. Gary says Talla won't use it on me. Dan asks why do you think that did you ask her? Gary says no, but why would she. Gary says that he will talk to Talla if he doesn't win the veto. They finish up their conversation and head back to the kitchen. Talla is there talking to Andrew. Talla comments on how she was just told she needs to be careful about what she says..
Video of Dan talking GAME with Gary:

4:15pm – 4:30pm Everyone is in the kitchen chatting with Dan. Dan asks them if they have gone around the house searching to see if there are any hidden items. Emmett says that Peter and Alec did. They tell him that Peter & Alec read Dan's book. Dan says oh good so it helped them. Andrew says well no it didn't they are gone! The conversation turns back to talking about past events of the house. Dan learns that they wake up to an alarm. He tells them that in the US version Big Brother plays music to wake them up. They're jealous. Dan talks about how he would never come back. He already came back and was a marked target. They ask Dan about what happens after the show and whether or not the other house guests are still your friends. Emmett starts talking to Dan about real estate and house renos. Talla starts making dinner.

4:35pm – 5pm Emmett is talking to Dan about how he was nominated shortly after walking through the front door. Emmett tells Dan that he can't really tell him too much because I don't know if I can trust you. I don't want to give up too much information because I want to protect myself. Dan says that he has something fun planned for them later but that its nothing big. Emmett talks to Dan about the past events of the house. Emmett tells Dan that he feels like he has positioned himself pretty well. Dan tells Emmett that what is impressive about Emmetts game is that he was a target week one but has made it this far. Dan says you are someone I would pair up with good in challenges and super trust worthy. Emmett says that this twist of Gary coming back .. I am probably the only one not mad about it. Dan tells Emmett that the older the people are in the jury ..the more they are able to take a step back and think about things. Dan asks so you are good with them in the jury? Emmett says yes. Dan says that is good for you. Emmett says they are idiots for not getting me out before this.
5:05pm – 5:15pm Andrew and Jillian are up in the HOH room playing a game of chess. Andrew complains about Talla and being on the block. Emmett comes up and Andrew asks him … so are you in an alliance with him now? Emmett wonders if Dan could be biased with some people in the house. Jillian comments how Talla was getting nervous about how long you were talking to him. Andrew says what is he going to convince someone to take Gary over one of us? Andrew says Gary would win against any of us. Emmett agrees and says that everyone in the jury but Aj would vote for him. Emmett heads back downstairs. Andrew says look at all these ponds in our game of chest. Meanwhile down in the kitchen: Gary continues to cook dinner while they talk to Dan. Dan comments on how crazy it was that Alec told them he was a social psychologist. Gary says yeah that was his game plan he wanted to tell us how good he was and how he was going to beat us. Emmett asks Dan how he liked slop. Dan says that he mainly ate the other items they got with it but says that he wants to try their slop. (Dan was at the pre-season slop truck tasting days in Toronto, so I'm sure he already tried it. He is just lying to keep up the lie that he doesn't know much about them.)

5:20pm Big Brother cuts the live feeds to the hush hush screen… Right before the feeds cut out the cameras flashed to the backyard to show a "Price Of Veto" buzz in question competition.
5:27pm – 6pm The live feeds come back to the house guests talking in the kitchen with Dan. Dan leaves the room to head to the bedroom. Talla questions Emmett about why he was talking to Dan for so long. Emmett says that he was explaining what and how past events in the house happened. Meanwhile in the bedroom Dan is talking to Gary. Gary says that he knows how the jury will vote and says that Talla won't win. The only person that will vote for her is maybe Aj. Gary tells Dan that this week Emmett wants to get Andrew out. Dan asks do you believe him? Gary says yes, I have no other option than to believe him. Dan asks what's the best case scenario? Gary says I win the veto, Talla goes up and Andrew goes home. Gary says worst case is Andrew wins POV and takes himself off. Dan says it will be interesting tonight after the veto .. it will be crazy. Dan and Gary continue to talk scenarios. Dan tells Gary again that its a huge advantage about how the jury will vote .. they don't they are just guessing. Gary continues to talk scenarios and past events with Dan.
Video of Gary and Dan's conversation will be uploaded here:


6pm Big Brother cuts the live feeds to the hush hush screen again..
7:10pm Price is right POV
7:50pm Price is right POV
8:40pm Price is right POV
Please consider donating. Simon and I work 24/7 all season long to bring you all the live feed updates and spoilers. ANY amount is greatly appreciated, your donations go directly to paying the server and bandwidth fees needed to run this site.
OnlineBigBrother.com
Stay connected and interact with other Big Brother Fans on our Facebook page.
And Follow: @BigBspoilers and @Dawgsbigbrother on Twitter for the most up to date spoilers.