Head of Household Winner – Jackson
Have note are:
Nominations are: Christie & Sis
Power of Veto Players are
Power of Veto holder –
Power of Veto Ceremony –
Grab your live feeds —-> BB21 Live Feeds Subscription Link
Rank your houseguests —-> Big Brother 21 Ranking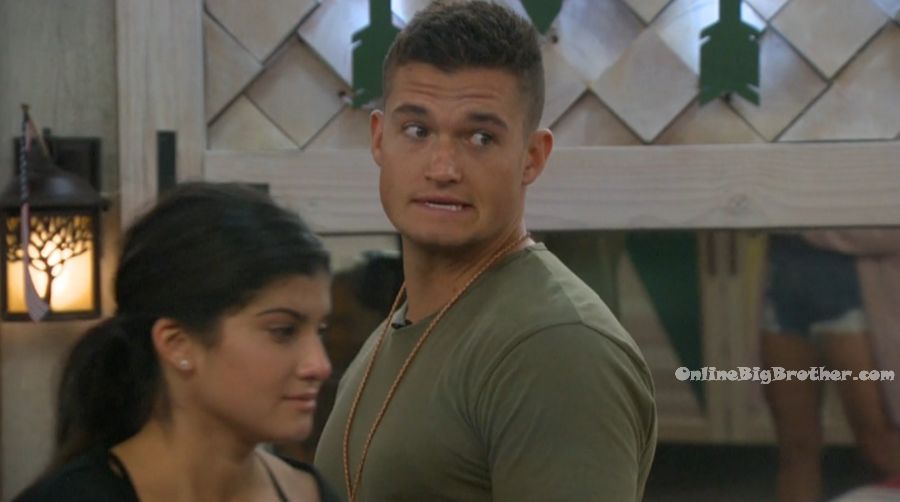 4:55pm The live feeds return to all the house guests in the kitchen hugging. Jackson to Tommy – If you want to talk, we can talk. There are are a lot of angles to this. Tommy – I know, this is your week. That's okay. Its your game. Jackson to Christie and Sis – I said to them but I am happy to discuss and explain the reasonings. I've been completely upfront about everything this week. And this is not personal. This is the exact opposite of personal. I came here to win and quite honestly you two are my biggest threats. Christie – its fine.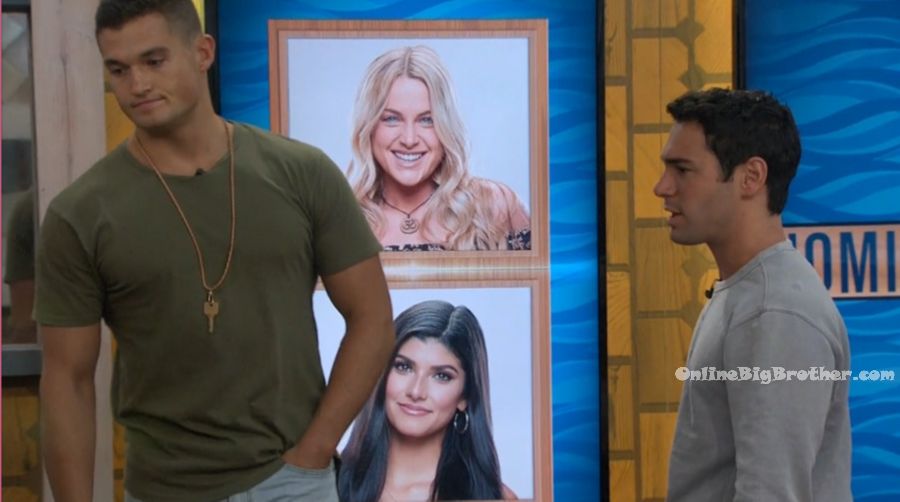 Christie and Sis head to the bathroom. Sis – if you want to f**king compete then leave us till the end so you can f**king compete. Its just annoying. Like I knew that was going to happen. Christie – we will figure it out. Don't worry. And if not, its okay. I would rather be on the block during his HOH, than Tommy's. They head to the bedroom to lie down.

Storage room. Cliff to Nicole – Somehow we just keep (getting by). I considered it a one week deal … they can call me a snake if they want but officially we agreed to an alliance, we only agreed to a one week deal because that's what Tommy insistent. Lets stay apart. We'll talk. Love you. We're going to make this. They leave the room.





Bedroom. Christie & Sis.
Sis – I think its hilarious! Biggest threat?! Okay. Christie – he only said that because you're a pawn clearly. He wants me gone. That's just obvious! He's so f**king unreal. The speech I got two days ago .. its laughable actually. Sis – you better win it (Veto) because if I don't win it you better. Christie – it sucks either way. Its bitter sweet. If I win, you're staying on the block. If you win, I'm staying on the block. Like it sucks. Maybe there will be a double and we will both go. Sis – I am at the point where I don't care. You can send me home with Jack…
Sis – at least we'll be relevant this week. Christie – you just got out of your chicken suite and now you're on the block. Tommy & Holly join them. Tommy – its the beginning of the week, anything can happen. Sis – we know what will happen.. one of us could come off and the other will stay on the block. Christie – its fine. Tommy – so many things can happen.. you never know. Sis – I feel flattered. I didn't think I was a threat. Sis – at the end of the day one of gets to see Jack. Tommy – that's f**ked up. Christie – you get to be with Jack… I get to be with Kat. Christie – I really hope its zingbot… I would be fine to go home once I get zing'd. I just really want to get zing'd.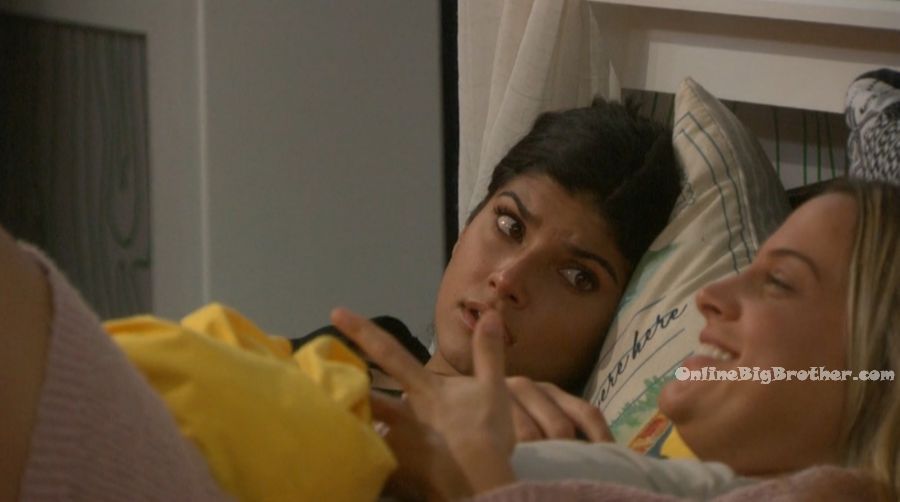 Bathroom. Cliff, Holly, Tommy, Jackson.
Cliff – Congratulations on the HOH! Holly – its exciting for the first bit then that wears off pretty quick! Jackson – its okay, its the price you pay for safety. Cliff – Thanks for the nothing personal comment. Jackson – I am so f**king sick of the last 60 days bringing personal out in it. I am sick of it. We're grown a$$ adults. I want to fight against each other but on a game level. I am f**king sick of it. It makes not sense why we can't sit here and keep it game.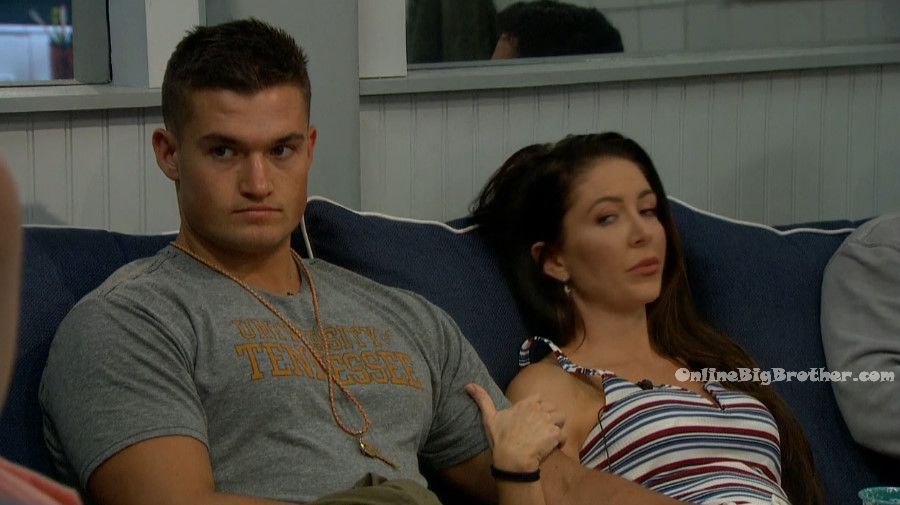 5:24pm HOH room. Jackson and Tommy.
Jackson – how are they? I am just letting them be. Tommy – they're .. its to be expected. What are you going to do?! Jackson – the biggest thing for me was when I heard then in the havenot room. Tommy – yeah. Jackson – the so adamant about they don't have anybody, the don't have Christie, Tommy, Sis… they don't have this and they don't have that. Tommy – its so annoying that they included my name because they have no reason to put my name in that. And I hope that my actions have proved that to you. Jackson – well I told you in the middle of the comp I'm not putting you up but the fact that they were both in that room and adamant about it. Its not personal, to me its game. There is a group that is united to pretty much take their shot. So I need to pretty much go to the source and who is most threatening to my game. That's all it is. The havenot room.. there isn't a chance that they would want to work with me. They're against me. The hard decisions have to be made and I don't know when I am going to win HOH again. I would be on the block this week if I didn't win. I told you that I trust you and this is nothing against you as a person. The veto is going to be trick especially if you get picked. I hate it for anyone that wins veto because the one that doesn't come off is probably going to be salty. Tommy – I have so much respect for it. I see where you're coming from and I have been frustrated just as you have. Jackson – I am not going to pu$$yfoot around. Lets be adult about it. Tommy – they're okay about it, they're not down there crying. Jackson – I want to compete against the best at the end and there is a difference between wanting to be there at the end with people that haven't burnt me. Nick and you haven't burnt me. Tommy – its going to be a tricky week for me but I will make it work. Jackson – do what's best for your game. Love you dog.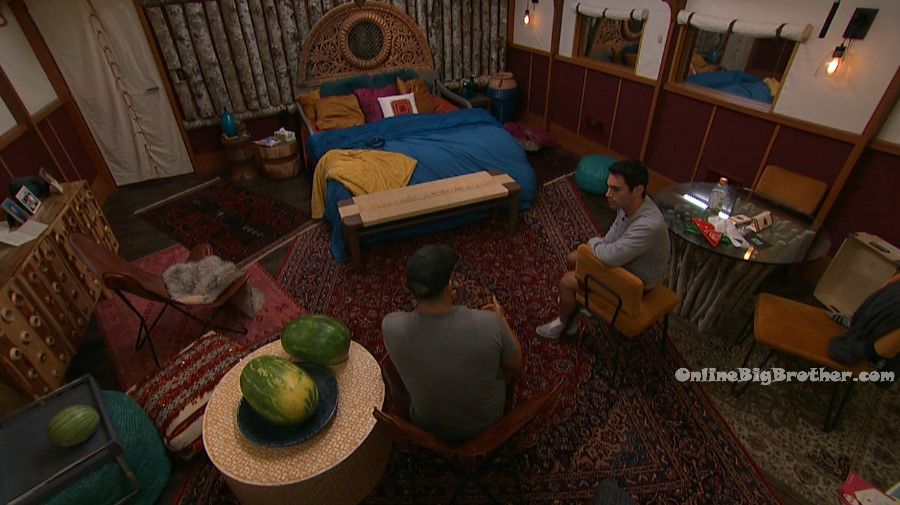 5:44pm – 6pm Bedroom. Sis and Christie.
Sis – I am going to just pray about it. Christie – me too. I am just going to stay positive. Sis – me too. I know there is a way out of this. Christie – there is. I am not even going to be negative like I was last week. Sis – if I stay and I win, they're (Jackson & Holly) going up. I am going into this so confident. Last week I was panicking. Like I need it, I need it, I need it. This week I am confident. I don't need it.. its mine! And I am winning it. And that's going to be the vindication of it all .. then we're going to win HOH and put them up. Sis – It really can happen. It can. Christie – the universe is going to have my back. Sis – we have been nothing but good to people in this game and we will be rewarded. They head to the kitchen.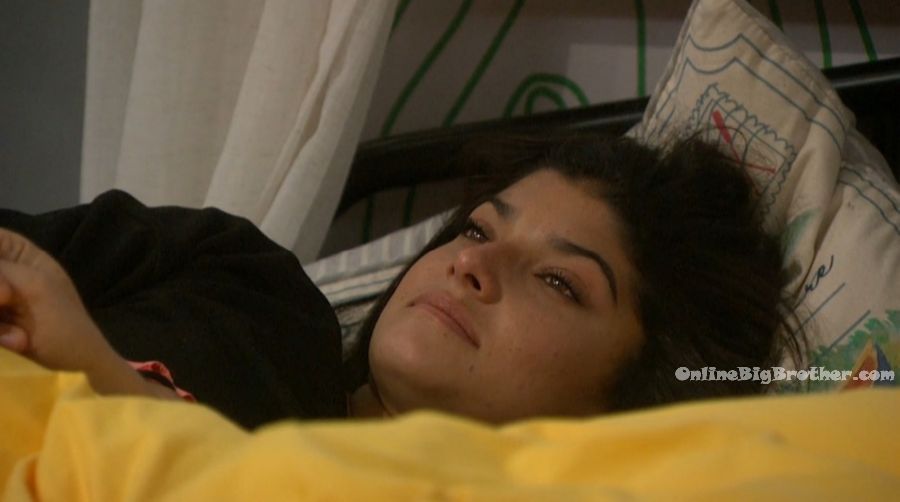 Tommy and Sis in the bedroom.
Tommy – I will be gunning for it. I told Jackson that these are my people and I will be gunning for it… and he was cool with that. Sis – thank you. Whether we both stay, or she goes and I stay or I go and she stays .. they better watch out because we will be gunning for HOH. Now I do have targets. Tommy – don't say that to anyone. Sis – I don't care if they do know. I will say it to their face. Tommy – don't pull a Holly. Sis – Tommy she f**king knew .. she sat here and said that she didn't know. …there is no f**king way her boyfriend or whatever the f**k he is didn't tell her that he was putting up her …or what used to be two of her close friends. Tommy – its stupid because it makes two targets for her .. both of you won't be leaving. But it was him hearing you saying they don't have this person or that person. Sis – I am trying not to go off. Its just annoying. And I would have respected it so much more if he had told me I was going up. Even if I was just a pawn. Tommy – also indirectly taking a shot at me. Christie joins them. Tommy – if Nick takes you (Christie) down.. Christie – I don't think he would use it. Not to save me… maybe to save her. Sis – no he would use it on you. Christie – he told Kat before she left that the only people he cared about saving was you (Sis) and Tommy. Tommy – that's not true. Sis – well if I get house guest choice I am going to pick him and tell him if he wins he has to use it on you. Christie – I think the best way for us to act is its cool no problem. I am not acting sassy. Don't worry we are both staying this week.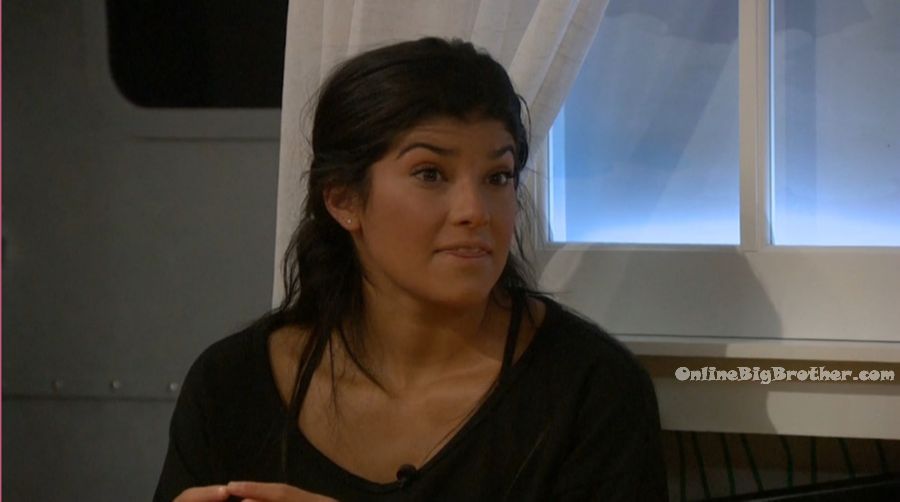 6:47pm Living room. Nicole, Jackson and Holly are sitting around chatting. Meanwhile in the bathroom. Tommy and Jess are talking about what the veto comp tomorrow might be.. BB Comics, Zingbot, etc,
6:50pm HOH room. Nick and Nicole. Nick – what the f**k how did we avoid the block? Nicole – I don't know. Isn't it crazy. I can't believe it. Nick – but if one of them comes off.. I told him that if I get picked and win I am taking Sis off. I don't think he would want me to take Christie off. I don't know who will be the replacement. I need to ask him what his idea if one of them to comes off. I don't want Sis to go.. I don't want Christie to go but I really don't want Sis to go.
7:33pm kitchen. Tommy, Nick and Christie are cooking.
Nick – AHHHHHhhh.. F**K I miss Isabella.. holy sh*t! (Little does Nick know, she broke up with him on twitter after seeing him cuddling with Sis a few nights back.) Its been 22 days. I hope she's at my house or at least met my mom. Christie – Imagine if she is living there. Nick – I told her she could.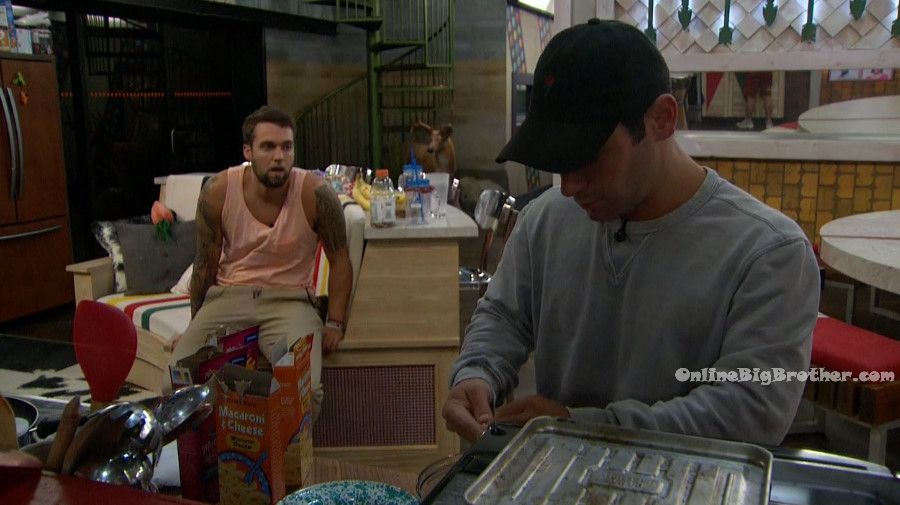 7:37pm – 8pm Bedroom. Sis and Nick.
Sis – I am thinking of something for both of us to stay. Nick – yeah if one of you guys wins. Like what if I win and take you down. Sis – if you win and take me down .. then Christie is going home. Nick – it would be me, you, Tommy, Nicole .. so Christie would stay. Sis – I would rather stay up (on the block.) Nick – No, no, stop, no you're dumb. Stop. If I win I am taking you off. Sis – no. Nick – then don't pick me. Sis – she can pick you. Sis – Nicole is not going to vote to keep Christie if Cliff is up there. I don't want her to go home. If I am up against Cliff. Nick – how do you know he isn't going to put me up? Sis – then you have to win it. Then you're safe too. Nick – he told me no backdoors this week. I am loyal to you .. I can't have you go ..please don't (stay up over Christie). Sis – Holly is more likely to keep me than Christie. Nick – I get your logic but.. Sis – And yeah I am really stupid to do that but.. Nick – you think your odds would be better and would rather take the shot… Sis – yeah. And if I go out because of this, then I go out but at least I tried.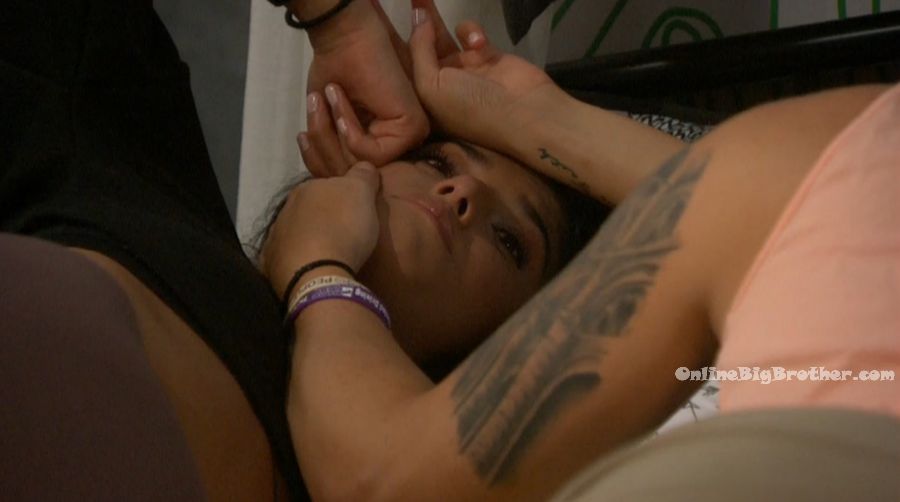 8pm – 8:40pm Dinner time.. Holly whips up a mean burnt grilled cheese..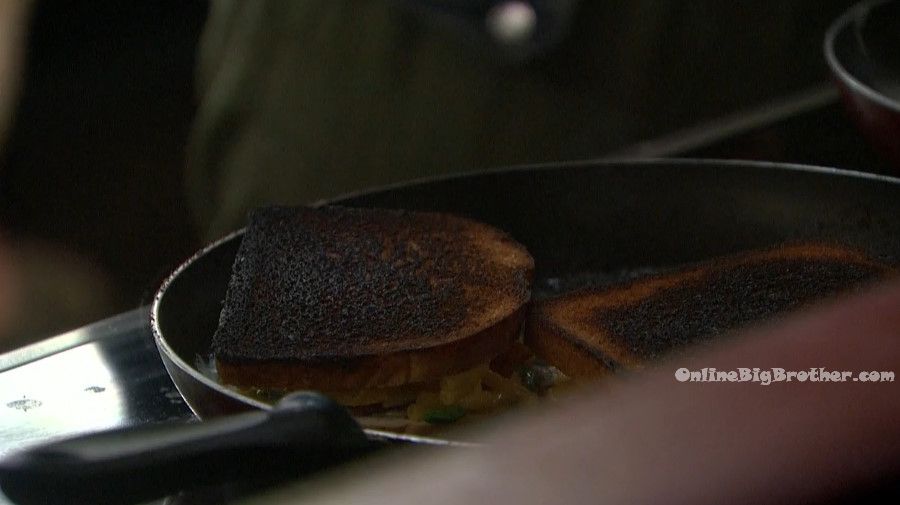 8:41pm – 9pm Tommy, Sis and Christie.
Tommy – I wonder if its possible to still cut a deal with them? Christie – oh no they're best friends with Jess now. Tommy – sure with Jess but not with Nicole. I wonder if we can get the team back together. Sis – well if you can talk to him and see if he would be willing to do that they we can do something. Tommy – not tonight but tomorrow. Christie – I am not going to beg for my safety. If its my time, its my time. Tommy – I had hope that we could come out of this week and get back together. Sis – If I stay this week .. I can't work with them. Tommy – if we can't come together one of them will win HOH. Sis – I am not working with them. Part of it is that I just don't f**king care. Tommy if you don't care, you'll go home. Tommy leaves. Sis – I feel like we wouldn't be in this position if we had made an alliance during Tommy's HOH. Christie – it hurts me on a personal level but i get it an a came level. Can you imagine Jackson and Holly in the final two?
Sis – I would be like what the f**k is this show!? Christie – I would unsubscribe from CBS All Access. Sis – I wouldn't even come to finale night. Christie – I would love to ask Cliff if I got HG choice and picked him .. he owes me because I kept him safe.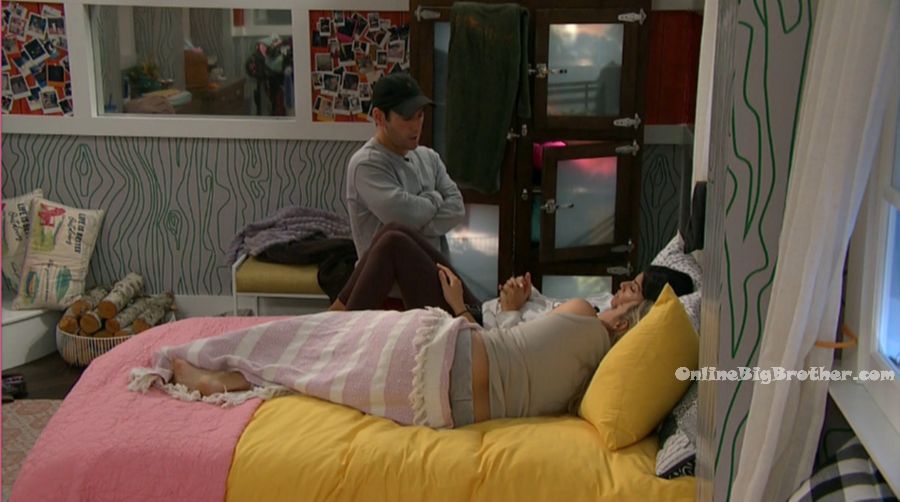 9:10pm – 9:20pm Cliff, Jackson, Holly and Nicole.
Cliff – Veto tomorrow .. I am going to go 100% and if I win it .. however you wan it.. kept the same or whatever. Jackson – I want it kept the same. There are still 9 people in this game and numbers help. And this week I was going after two people that were between me and half a million. Nicole – I am proud of you. Jackson – I would .. and if we can agree to have each others backs.. especially through this week and the next. And just kind of keep it open ended. Cliff -If I win it I think your preference and my preference are the same. Mad respect for what you did today. And you know I've got your back.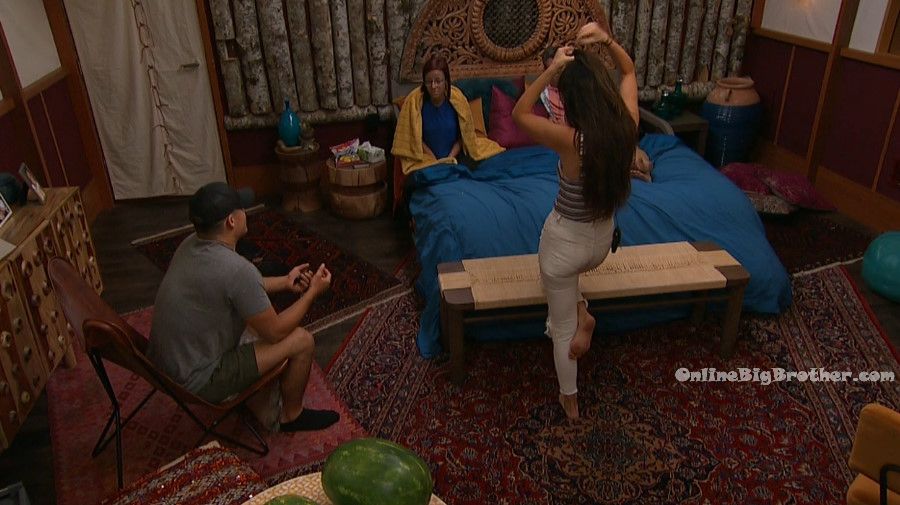 9:40pm HOH room. Nick, Jackson and Holly.
Nick – I just want to know where your head is at. I could possibly get picked by Sis tomorrow. Jackson – Ideally I would like noms to stay that same. Nick – it makes sense .. from what you said your target was. I know if Sis came off it would be harder to make that happen. Jackson – it also puts people in predicaments with voting .. and voting either one of them.. you have to think about jury votes. Nick – I don't want to f**k you over. Jackson – not only that but if you use the veto on one of them .. the other will be salty. Nick – I'm not as worried about that.. I just don't want to put you in a bad predicament. Well hopefully I just don't get picked then. Jackson – I want you to do what is best for your game. This was what was best for my game ..so it is not going to piss me off if you do what is best for your game.