Big Brother Spoilers Jack wins the Head of Household. A new twist called CAMP COMEBACK allows the first four evicted houseguests stay in the house. They do not play in competitions or take part in ceremonies but one of them will be given the chance to come back in the house.
They got to see a commercial for the Power of Veto it will include a trip to Fiji. Jack has nominated Jessica & Kemi up. Jessica is the pawn and Kemi is the target. If one of them wins the veto, Kat will be the replacement nominee.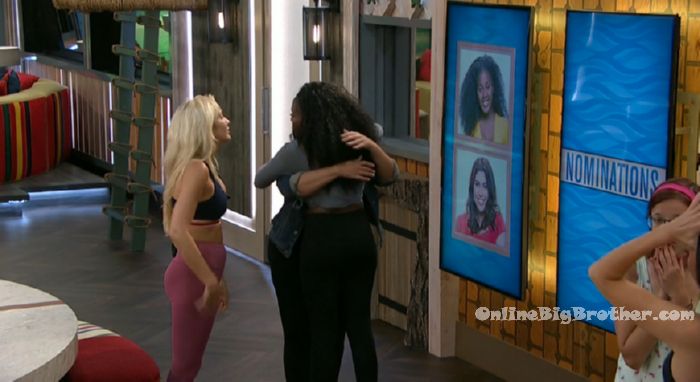 6:10pm – 7:20pm Big Brother blocked the feeds for the nomination ceremony. When the live feeds return – all the house guests are hugging Jess and Kemi. Holly, Kemi and Jess discuss how the eviction is on Wednesday. They say it ain't over till its over.
JACK NOMINATED: Jessica & Kemi
Ovi and Davids room. David – Jack has resources. Whoever Jess or Kemi told in confidence got back to him. Ovi – yeah. David – so my thoughts are Kathryn the wild card that's been spilling information to me. She told me that she got kicked out of her alliance. Ovi – what was her alliance. David – Jack, Sis, Holly, Jackson (Michie). Ovi – is Christie in it or no? David – I didn't hear her name but I would think that Christine is in it.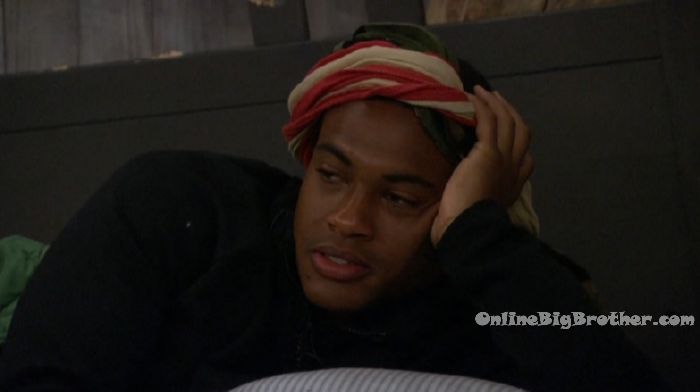 Bathroom. Kemi and Cliff. Kemi – if someone was to come down, who would go up? Cliff – it kind of points to Nicole. You've still got the Veto. You've got a chance. Kemi goes to talk to Jack in the boat room because she doesn't want things to be awkward. Kemi – thank you for being transparent with me like before hand. I just don't want it to be awkward for anyone else. I just wanted to debrief so that its not awkward. Jack – I wanted to be transparent with you and what's best for my game. I think you knew that the second I won. We all talked together. I think if you had won we would have been having the conversation the other way.. so I totally respect that you've come at the other end of it. I can't stand that I had to make this decision in the first place. It may happen that you might have to go based on chance. Its a risk for you and it sucks. I appreciate you trying to move forward. I respect it to the 9th degree. I do respect you. Don't think for a moment that I don't. Partly why I made this move is because I do respect you as an opponent. You have scared me. I have been terrified. I've been terrified for my own safety in the house. We'll continue to move through this and have you come back. You'll win this veto and do your thing. Kemi – I'll see you on my trip to Fiji. I do want us to have a friendship moving forward. Like at the end of the day I do want to have fun this summer. They hug and leave the room.
Nicole and Bella in the bedroom. Bella – I had to tell them about black widow to save our game because one of them is going home this week and then the next week the other one is going home. Jessica started an alliance already. After he talked to Jessica he asked is there an all girl alliance and I was trying to deny it because obviously Sis isn't in it. right!? When Kat was sitting here I asked her if she told Jack about an all girls alliance. It was me, Nicole, Jess, Kemi… I made it look like they've been together because honestly at this point one of them is going to go home. If there is a battle I don't want either of us to go on the block next week for not telling him. If hadn't told him and he finds out and its us four and Jess and Kemi are already on the block.. Nicole – then you and I are f**ked ..especially me because you told him and I didn't. Bella – no, you're not. He doesn't want you on the block. I know its hard .. but I want you to trust me. Nicole – I do trust you but I'm the one that's going to get f**ked! Kemi joins them. Jess joins them. Jess – are you conspiring against me? Kemi – there's nothing to conspire about, we're already both on the block.
7:35pm Storage room. Christie and Jack. Christie – I'm nervous about Sam .. week 6 or 7, 8. Sam's got to go up against Nick unfortunately. I think you did great. The least amount of waves. Kemi was expecting it and who knows you could mend things with Kemi maybe. Literally when I put Kat on the block, I felt terrible and it made us closer. Jack – Kemi came right up and pulled me into the room and apologized and stuff. Not apologized but respected my play. Christie – she respects it and is being real about it. Jack – I would have been on that block. Christie – yeah you would have. Jack – I just get external sometimes and think about the feeds and I just don't want people thinking I picked these people .. like whatever. Christie – no. Jack – and I do feel like this was the safest plays I could make. Two chicks! Christie – you don't need to justify that and if you do thats what the DR is for. I trust every decision you make and if I didn't I would tell you. Jack – I trust you and keep trusting me. Christie – ditto.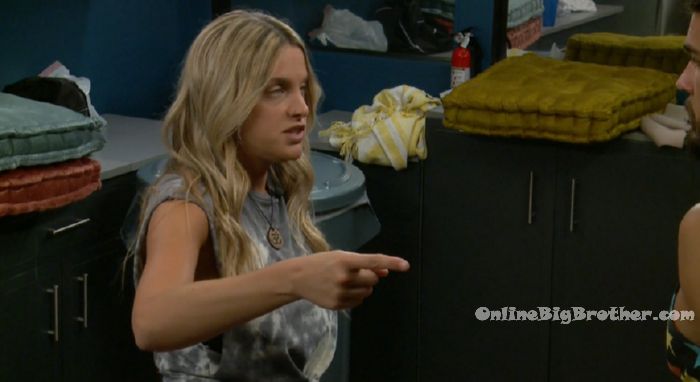 7:45pm Bedroom. Kat and Jessica. Kat – I love kemi but she is going home. Jess – if she wins veto she's not. Kat – I don't think she will. I don't think she's that physical of a threat. Jess – if she isn't a physical threat, then I am less of a physical threat. Kat – you almost won HOH. You're good. Jess – its not about whether I'm good or not .. its about whos throwing my name out there. I think Bella is trying to f**k me. Kat – I get that. I don't know what to think about her. Jess – well you shouldn't because she'll f**k you over too. Kat – I know exactly. Jess – she's such a f**king wild card. I didn't want to play like this. The last thing I want to do is throw her name under the bus. She is playing a dirty a$$ game. Nicole joins them. Jess – it sucks that its two girls. I sucks that its with Kemi. It looks horrible to America. Nicole – why? Jess – because everybody.. Big Brother blocks the feeds. Kat – I've got your back. I will tell him that we're not part of an all girls alliance. I'm here to do damage control for you. That wouldn't be lying.. Do the girls have each others back…yeah. Is there an all girls alliance.. no. And if there were then we need to come up for a bada$$ name.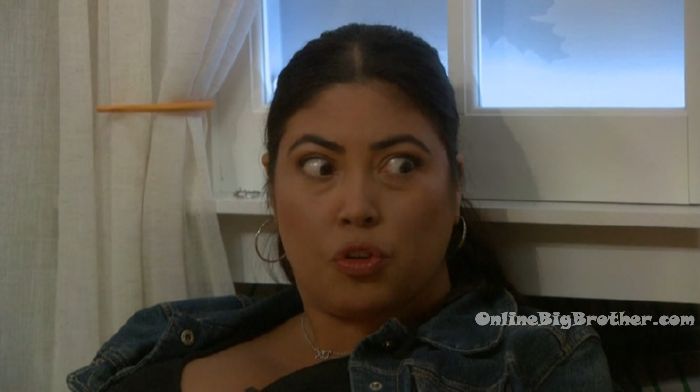 8pm Storage room. Jack and Kat. Kat tells Jack that she would rather Kemi goes. Jack – Jess is going to bury herself based on how she's acted in the last 20 minutes. I told her she was the pawn. I didn't tell Kemi that. Making herself look like the martyr is not helping her game.