POV Holder:
?
Next POV
July 11th
POV Used
?
POV Ceremony
July 13th
HOH Winner Team 1:
Vanessa
HOH Winner Team 2:
Austin
Nominations 1 :
?
Nominations 2:
?
Battle of the Block Winner
?
Next HOH/ Next BOB
July 16th / ?
Original Nominations:
?
Current Nominations:
?
Have Nots
?
TRY the Big Brother 17 Live Feeds FREE for 1 WEEK:
Click here to ensure your live feed subscription supports OnlineBigBrother.com at no extra cost to you.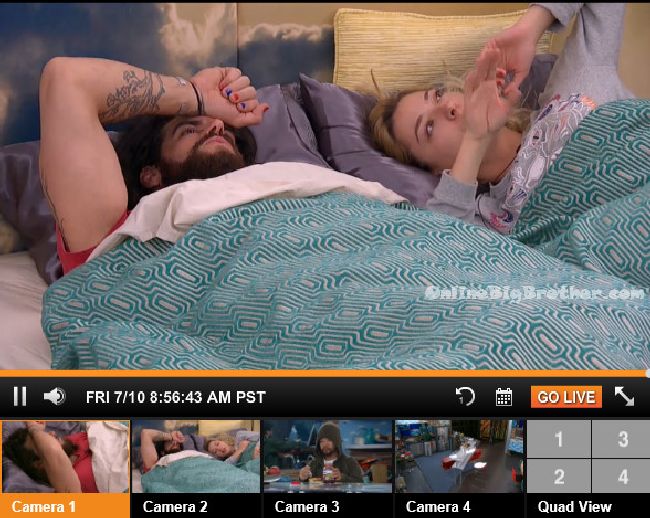 8:40am
Big Brother wakes up the house guests. Austin says I think what we should do after the POV is stay up here till after the veto ceremony. Till she flips on us and we go down there all angry. I dont want to leave you down there alone. I just have to make sure I lose and my people win. I think I'll tell people the plan is to backdoor Audrey … Vanessa is on board. I'll tell people the plan is to make sure she loses so she can win to backdoor Audrey. And I want to lose so that I can take out Steve next week. Liz says as much as I'm scared to trust them, we have to. They get up. Austin says we are going to tell people that my people are going to win. Vanessa says they will try and f**k with it. James will not be happy. Austin says well maybe we keep it a secret until then. We definitely tell them we're on board with Audrey. Vanessa comments that the nominations are in one hour. Austin says that means the BOB is happening pretty quick.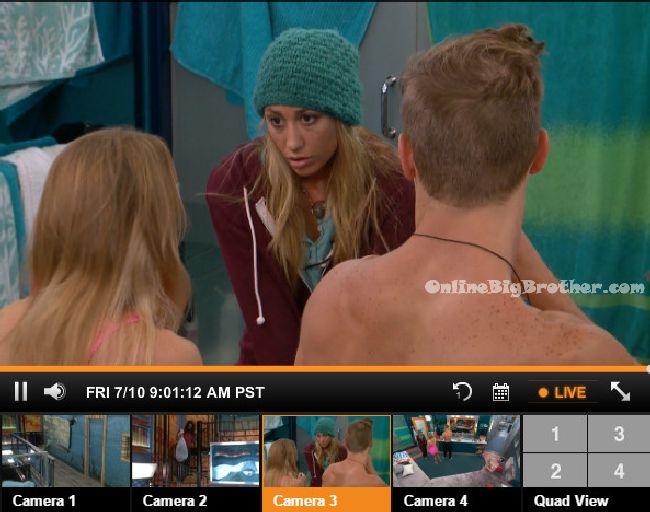 In the bathroom – Vanessa says tells Shelli and Clay that Johnny Mac volunteered to go up. I'm going to put him up with Meg. And he (Austin) is putting up Meg and Jason.
Up in the HOH – Austin tells Clay we are going to try and backdoor Jeff or Audrey. Audrey isn't a number to them. I am trying to get my people to win so that I stay up here with Vanessa until the veto ceremony. And I take all my sh*t down there. But the question is who do I put up. I put up Meg and Jason and maybe she puts up James and Johnny Mac who's already said he will throw it. Vanessa joins them. Clay says that he is on board with whatever they want to do. My lips are sealed. So the plan is backdoor Audrey. Clay leaves. Vanessa tell Austin to get Johnny Mac up here.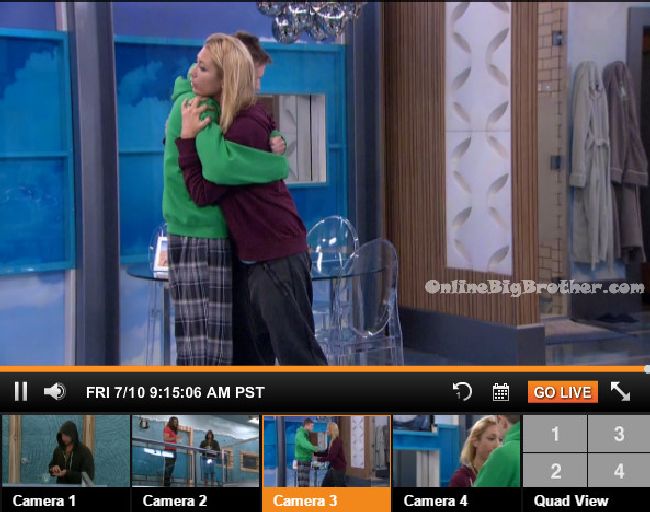 9:10am
Austin tells Johnny Mac to come up to the HOH room. Vanessa tells Johnny Mac I need you to throw it for me. Austin and I will both give you safety one week into jury. No more pawn, no backdoor, no more nothing. I am completely loyal. Is there anything else you want? Johnny says I don't think so. Vanessa says I could also tell you if your name ever comes up. The plan is to backdoor Audrey. Johnny asks am I going up next to her? Vanessa says win the POV take yourself off. If I win it I will take you off. She hugs him and then tells him to send in whoever is outside the HOH door.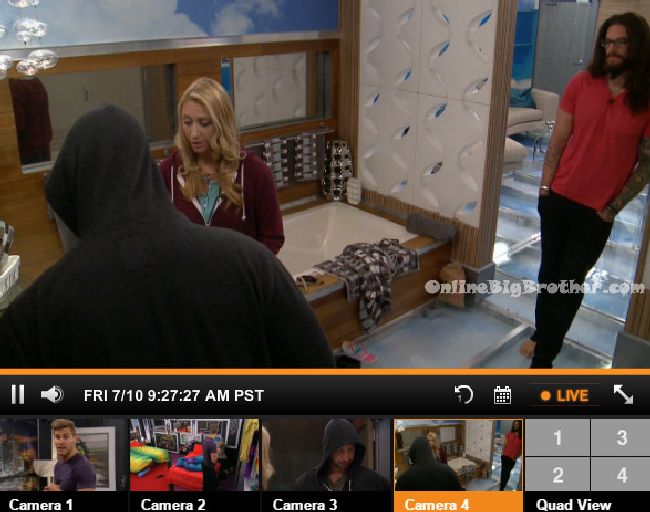 9:25am – 9:30am
Jeff and Austin come into the HOH room. Jeff says sorry I didn't get a chance to talk to you last night. Vanessa says we're all on the same page. Jeff says Audrey and Steve. So if there is a backup plan Steve would be a good one. Vanessa says I don't have a good relationship with him. I don't get any information from him. Jeff says here is the thing the whole house is behind you getting out Audrey. And if you don't want any blood on your hands that would be the best plan. Jeff says those names have been on an agenda for awhile. I think this is where there is going to be a line drawn in the sand. My name has been thrown out there a lot and I haven't really had to pick sides yet. Jeff says that he didn't really agree with Shelli's game play and thinks her getting out Day was more personal than on a game level. I like Shelli but I don't like them together. Vanessa says its a package deal. Jeff says I love Clay but I've been trying to warn him that people are going to start seeing them as a target. Vanessa my goal is 100% Audrey. I need to put up two people that are least likely to come after me after. Vanessa tells Jeff I'm not going to put you up. Jeff says I will do my best to protect you guys next week. As long as its people that I talk to. Vanessa says you would be an easy person to put up because you've never been on the block. I am not going to put you up so can I have your word that you will not put me up or backdoor me? Austin says me too. Jeff says deal.
9:30am Steve comes into the HOH room next. Austin says that everyone has come up here saying they want you out. If we can't get out Audrey they want you out. But guess what we're not going to do that. We want to be together as Freaks and Geeks. All 5 of us. Steve asks who the other member is? Austin and Vanessa says Liz's sister. They tells Steve that Liz has admitted to the twin twist. Austin says we need to make sure it happens so that she is a number for us. Steve asks what her name is? Vanessa says Julia but don't mention it. Steve says if I do, feel free to target me. Jason comes up. Vanessa tells Jason that he is good with her. Austin tells Steve that they all throw out conspiracy theories because they don't trust you. Steve asks what do I do to fix this? Austin says I don't think there is anything you need to do. They decide to talk later.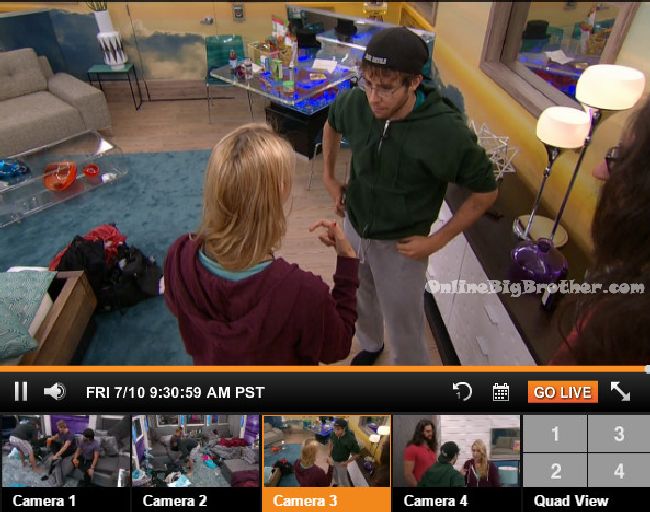 9:40am Austin calls James to come up to the HOH room. Vanessa tells James that she is going after Audrey and needs pawns that aren't going to take things personally. Vanessa tells James if I put you up just know that she (Audrey) is my target. I want you to win the Battle of the Block. Win the POV. Do not let her know that's the goal. If she does find out she will start spinning things. James says I appreciate you telling me and I respect your decision.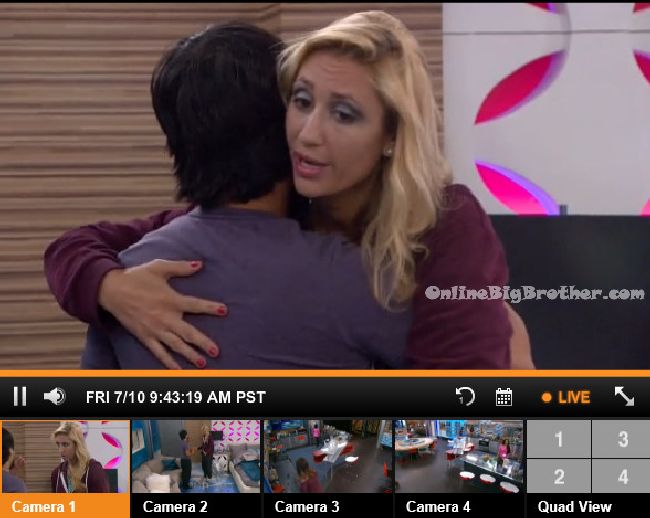 9:45am Vanessa tells Audrey the only way we are going to get through this is if everyone believes we are going to backdoor you. Don't worry we are not going to do that. They all think we are going to backdoor you. I am not going to backdoor you. And he (Austin) is not going to backdoor you. I can't tell you how much it is not happening. Audrey asks what excuse do you have if I don't win veto and you don't put me up? Vanessa says people are going to hate me but I don't care at this point. Vanessa tells Audrey look into my soul I am not going to put you up or backdoor you! This week we need to clean up your image so next week this doesn't happen where people want to put you up. Vanessa says there is a backdoor option but I would rather not confirm who it is. You have my word I will not put you up. I do want to talk to you later, I heard you were the other vote for Day. Audrey says it wasn't me (It was). Vanessa says so someone is lying but it doesn't really matter. Vanessa says If James goes up as my main person, pawn he thinks.. then I am going to need a good reason when I don't put you up. Vanessa says we will have a lot of number to look out for you. Audrey says I am just going to act defeated. Audrey leaves.
TRY the Big Brother 17 Live Feeds for FREE: 7 DAY TRIAL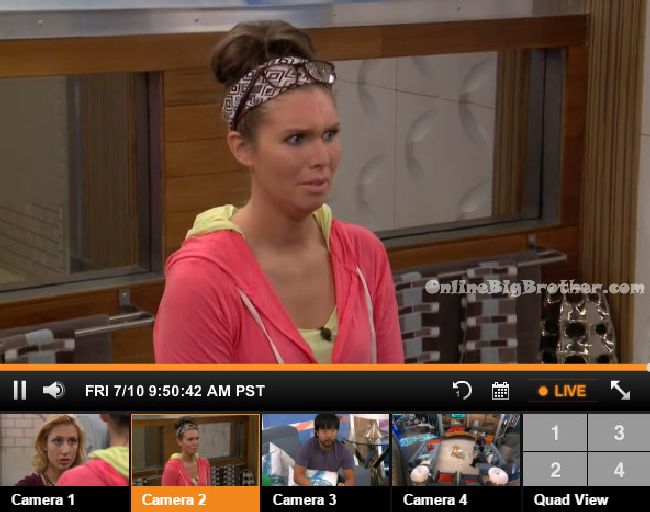 9:55am Clay and Shelli join them. Shelli asks did Johnny Mac volunteer to go up. Vanessa says yes. Shelli tells them that Clay is saying he will go up as a pawn instead of Johnny Mac. Vanessa says I wouldn't do that even if you paid me. Just do what you can to make Johnny Mac feel safe. Shelli asks if we win POV are we taking Johnny Mac down. Vanessa says yes and then I could put up someone like Becky. Clay and Shelli leave. Vanessa tells Austin the reason why Clay wants to go up is because he wants to throw it to get James off the block. Austin says Clay is trying to play both sides. Vanessa says I believe he is loyal to us but wants people to stay that he is close to. Austin says worst case happens and I'm stay HOH I will have to backdoor Jeff. I will do it, It will be bloody as F**K! I might have to put on the top and go surprise! They want that! Long hair, should care, Jeff go sit in the eviction chair! Vanessa says that is terrible. Austin says na I wouldn't do that.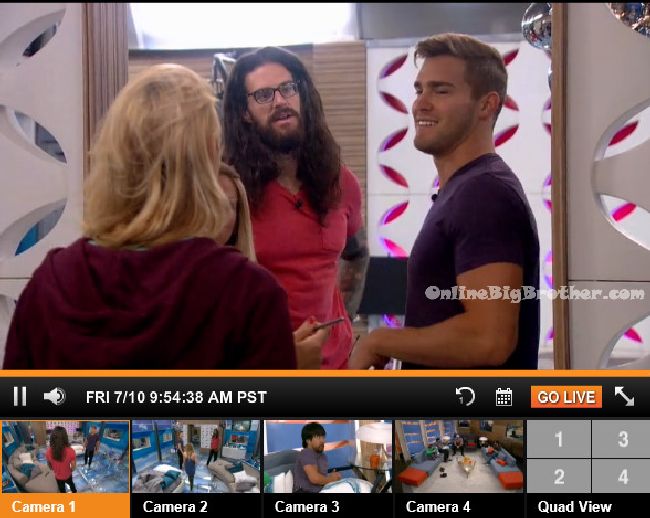 10:10am Big Brother blocks the feeds for the nomination ceremony. Vanessa is putting up James & Johnny Mac. Austin is putting up Meg & Jason.
11:25am Still blocked..
Live Feed subscription gives you CBS All Access thousands of archived shows. Live Shows like Big Brother, all the Big Brother Seasons, and 24/7 coverage of what is happening inside the Big Brother House. Plus there's flashback that lets you go back to any second of the feeds and rewatch what happened. Simon and Dawg will index the season just watch the parts worth watching. All this for $5.99 a month try it out 1 week free. Support our efforts and get your feeds via a link on this site. Live feed subscription Sign up
[polldaddy poll=8972565]
Share it YO!!
Tweet