POV Holder:
?
Next POV
Aug 9th
POV Used
?
POV Ceremony
Aug 11th
HOH Winner 1:
Nicole
HOH Winner 2:
Christine
Battle of the Block Winner
 ?
Next HOH
Aug 15th
Original Nominations:
Nicole's Noms (Caleb & Frankie) Christine's Noms (Zach & Donny)
Final Nominations:
?
Have Nots
?
POV Players
?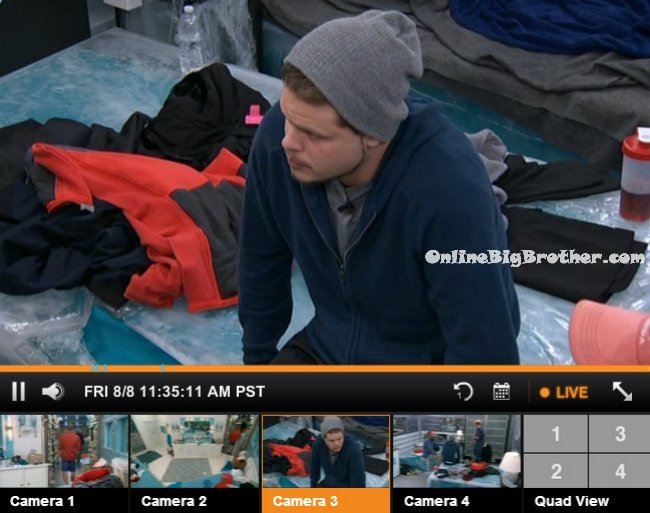 Take Advantage of the FREE 2 day Trial to watch all the drama!
10am – 11:35am Big Brother blocks the live feeds for the Nomination Ceremony to take place. When the live feeds return – Nicole has nominated Caleb and Frankie for eviction. As the other Head of household Christine has nominated Zach and Donny for eviction.
Nomination Ceremony Results:
Nicole nominated: Caleb & Frankie
Christine nominated: Zach & Donny
11:35am – 11:50am In the havenot room – Derrick, Donny and Frankie are having a team america talk. Donny says that we should wait until after the veto is played to see if we can get someone to volunteer to go up. (Derrick already got Caleb to volunteer to go up.
Team America mission: "Work together to convince someone to go on the block as a pawn and then get them evicted."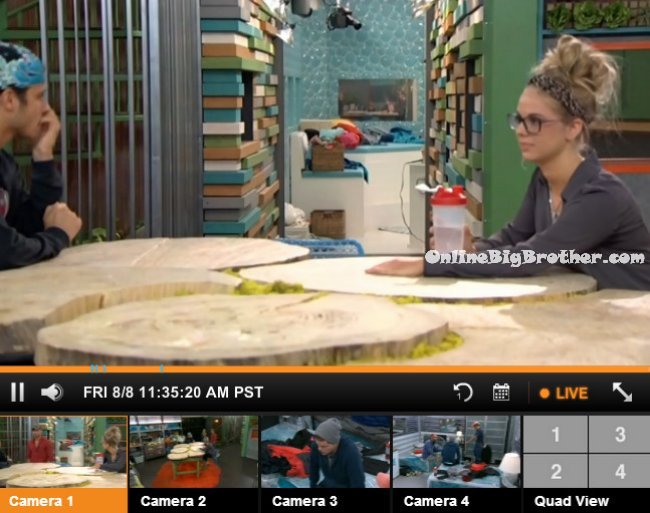 In the bee hive room – Christine said that she had to lock in her nominations in the diary room of putting up Zach and Donny. Big Brother blocks the feeds and when they return – Frankie is talking to Caleb in the fire room. Caleb says it was a perfect match up you and I. Frankie says we've got to win. Caleb says we're stronger than Donny/Zach. Frankie agrees you and I are beasts. We have to win it. Caleb says and it not then I will see you in the POV. Frankie leaves and goes to the kitchen. Frankie talks to Nicole about being put up. Nicole says just be grateful that you have two chances to take yourself off. Frankie says no yeah I am just glad I get to compete in something.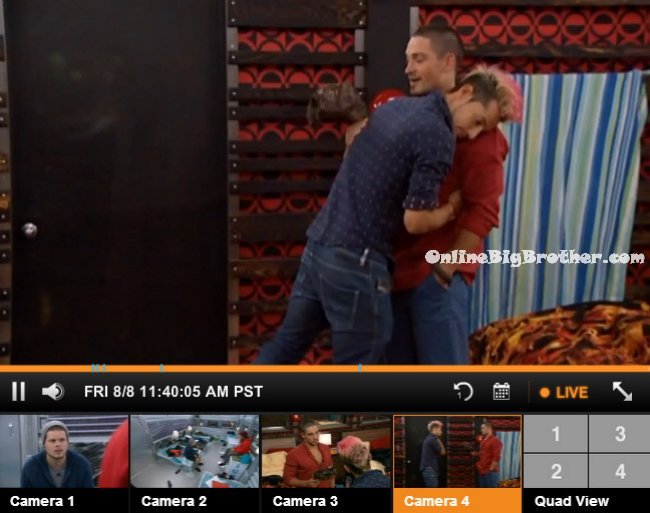 In the storage room – Zach tells Donny that the plan is for Caleb to throw the Battle of the Block so that they stay up and Frankie goes home. If Frankie wins the veto then hopefully Christine goes up and goes home. Zach says we are guaranteed the next two weeks. Donny says hopefully that's all true.
In the havenot room Caleb tells Cody that Frankie won't know what to do when I sit down (during the battle of the block competition). Caleb says he'll say to Frankie, once again I am the mastermind in all this. You forgot I'm the king of the castle!! You're done. Take your last breaths with my foot on your neck as you're walking out the door!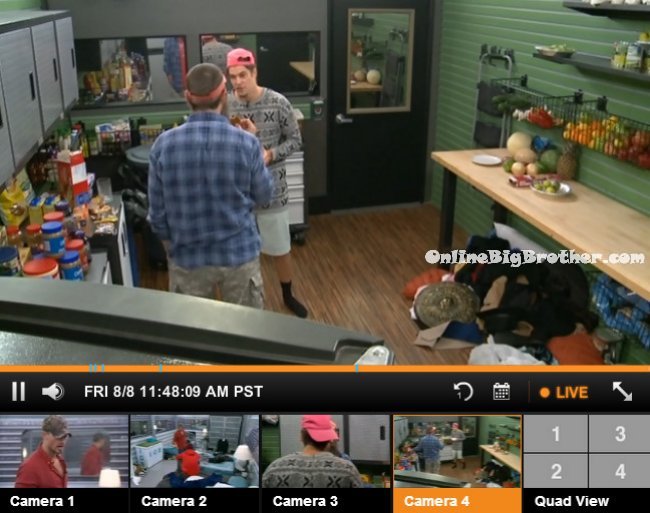 12pm In the bathroom – Frankie asks Zach why he is being weird. Zach says I don't have to explain nothing to you. Christine comes into the bathroom and Zach says I don't even want to be next to you two right now. I have nothing to say to you any more. Zach leaves the room and Frankie follows him. Zach goes back into the bathroom. Frankie tells Zach just so you know I am the reason why you are still here and the reason why I am up right now. Frankie leaves the room. Donny comes in and talks to Zach. Zach tells him how Frankie just said he was the only reason why I was still here. Zach says I am just pissed that they got me to get rid of Hayden. If he was still here we could have run this house. Caleb joins them and talks about how he's going to sabotage Frankie in the Battle of the Block.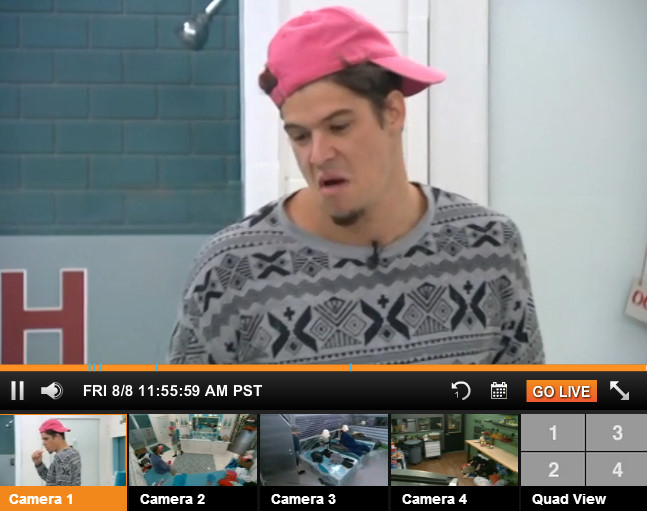 12:10pm – 12:30pm UP in the HOH room – Zach tells Nicole about what Frankie said in the bathroom about how he says he is the reason he is still here in the game and why Frankie is in this situation now. Zach says you have me in your palms! Nicole says but I don't.. how do I trust you? Frank is going to manipulate you. He's good! Zach says say so no. I am not talking to him ever again. Frankie is going home this week and if not then at least we can get Christine out. Nicole tells Zach was the one orchestrating trying to get you out last week. Zach says I'm not even going to talk to Frankie or Christine again. I literally told both of them f**k you, f**k you, I am not talking to either of you. I told them that right in front of everyone. I have nothing to say to either of them. I hate him! I hate him with a passion!! Nicole says he was the one that approached me to get you out. I didn't even talk to anyone or campaign to get you out. Zach says I believe you. He told me that he is the reason I am still here! CAN YOU BELIEVE THAT?!!! Nicole says I better just stay HOH this week. Zach says you will. Nicole says well I won't be able to be HOH next week so we better figure that out to make sure I'm safe. I didn't even believe it when he was trying to get you out. Zach asks why would he want me out? Nicole says because you're a loose cannon and he wanted to work with Hayden and you wanted him out. Zach says I am literally going to put him on blast today! One of them are going home! Nicole tells Zach that he has to try in the battle of block just in case its an individual challenge. Zach says oh I know, Donny and I are going to kill it. Zach says that Christine is a f**king joke! Zach tells Nicole I want to work with you. Nicole asks why would you want to work with me, you have Derrick and Cody. Zach says you're trustworthy. Zach says I hate Frankie! I can't f**king stand him! Nicole tells him we can't talk too long it will look suspicious. Nicole tells him to win today! Use that brain of yours. Zach says he will and leaves the HOH room.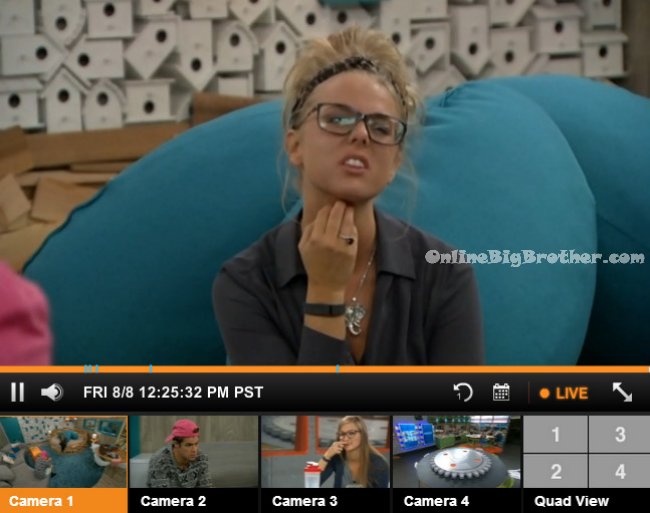 12:30pm In the hive room – Christine tells Derrick that she is sick of and frustrated with being associated with Frankie. I am trying to keep my distance from him. Christine says I just don't want ot be attacked by Zach. Derrick says there have been a few situations that I have not been okay with him attacking PowPow and Nicole. Outside this house that would not fly. I can promise you that if I am around when he does it to you I will not let it happen. And if I get put up next week because of it you better vote to keep me. Derrick tells her to enjoy her HOH while she has it. You might not get HOH again or you might get it 3 more times. Don't be down you're HOH. Christine says thank you, you're the best. Derrick and Christine leave the room. Derrick heads to bed in the fire room.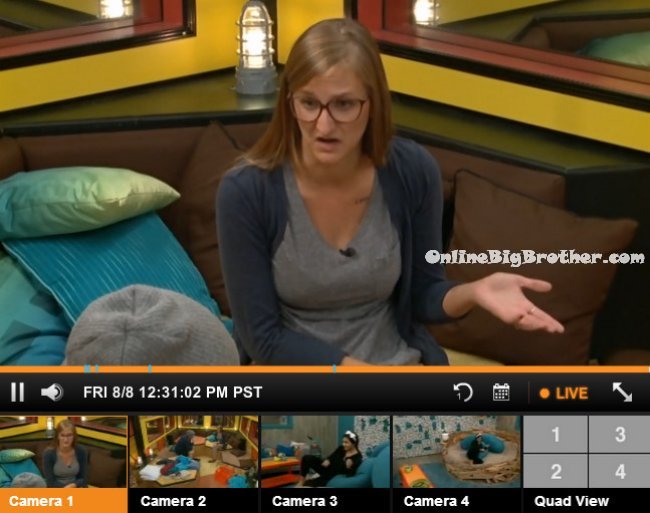 Up in the HOH room – Victoria talks to Nicole about how disgusted she is with Frankie and how she doesn't even know how to be fake with him. Christine heads up to the HOH room. They talk about how surprised Victoria was that she wasn't on the block.
In the fire room – Zach comes in and tells Derrick how heated he is that Frankie and Christine are just telling so many blatant lies!! YOu think people are your friends and they are actually your biggest enemy! I feel like such a fool now! Derrick says well you will have the last laugh. Zach says F**king Frankie! I think I am going to go off on Christine. Derrick says think about it, think about what you say before you say it! Zach say okay and leaves. Victoria smiles. Derrick says everyone comes to me. I am like everyone's big brother dad.

1pm
Frankie is called to the diary room.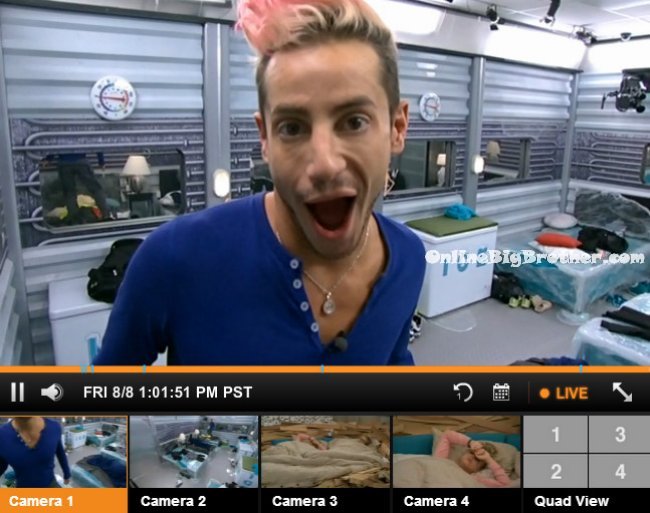 12:50pm – 1:40pm Nicole and Christine are talking. Nicole says that she is worried about Zach and Frankie coming up with something. Christine says they could. Nicole says my hands are so tied right now. Nicole says she still can't believe Hayden walked out the door. and is gone. Christine says that she feels so bad for Hayden and how he has to spend a week with Jocasta. Nicole asks he gave you a hug didn't he? Christine says yeah .. he is a great man. I don't think I could have done that. Christine says honestly I want to say to Frankie's face leave me alone. He comes an hugs me all the time and its so fake. I told him I don't like being touched and he still does it. Nicole says that Frankie will throw you under the bus. He knows that you were his partner in crime so I could see him blaming everything on you. Christine says well if I don't stay HOH and I go out this week then it was nice knowing you. They continue to talk about Hayden and how great of a person he is. Christine starts looking at her HOH photos. Christine asks when do you think this HOH twist would be over. Nicole says it could go until the final 6. I think it will keep going until they bring someone back in. Christine says I hate, hate, hate this twist. I will say it over and over again. They comment on how there still hasn't been an endurance and they're already more than half way through. Nicole listens to her music and Christine reads her HOH letter. Big Brother calls Nicole and Christine to the diary room together.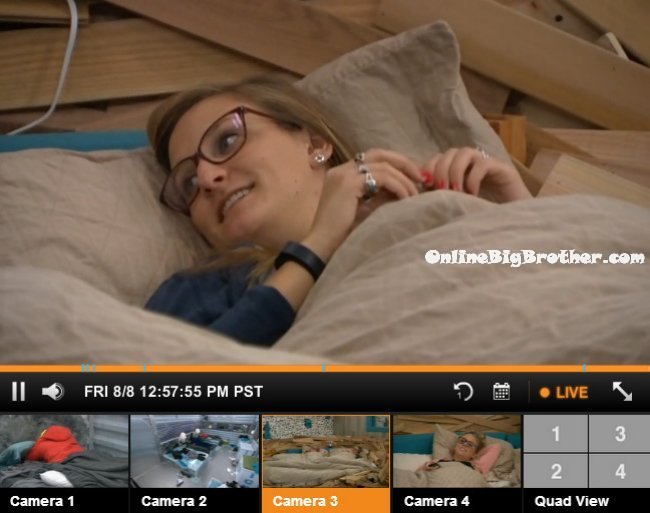 1:17pm – 1:40pm Big Brother calls Caleb to the diary room. Frankie meets him at the door. He hugs him and tells him I just wanted to tell you that I love you. Frankie heads to the kitchen. Frankie asks Donny for any advice for the battle of the block. Donny says just don't psych yourself out. Frankie says everything is falling a part. Donny says it is. Victoria joins them and Frankie asks how it feels to not be on slop. Victoria says she feel like crap and says slop is getting to her.