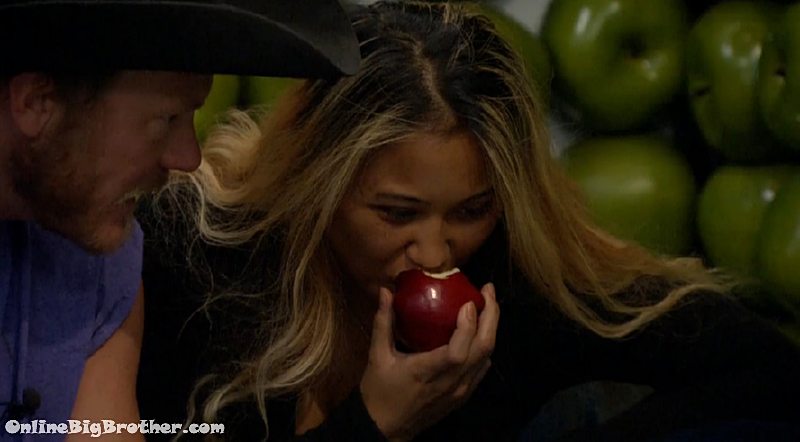 3:35pm Jason and Alex
Jason goes over his talk with Mark.
Jason – he's like, is there any way I can stay
Ja – I'm like no dude you're too f*ing dangerous I'm sorry
Ja – I said I wish it would have worked out better, And he said Jason, matt and raven are coming for you and Alex.
Ja – he said I never wanted to go against Alex, I never said anything bad about you, you're my boy
Jason – he said If I (Mark) win I'll put up Josh and Christmas
Alex doesn't believe it says Mark is lying..
Alex – he's faking you idiot
Jason – why
Alex – as soon as he wins he's putting me and Paul on the block, You're so stupid
Jason – what if we make him promise
Alex – Jason, his ride or die he turned on how many times ..
Alex – that was someone he actually likes
Jason – he got me I'm telling you, I was wound up
Jason – what really would be the difference
Jason – if we send Matt home we only have to beat mark .. (in the HOH)
Alex – jason..
Jason – he's not that scary.. if it's an endurance comp he's f*ed
Alex – he (mark) blew his chance he knows it
Jason says he told Mark he's got to talk to Alex and Paul and if he can get them all on the same page.
Alex – he never knew we were all together..
Jason – F*** (HAHAH)
Jason – oh god..
Alex – if you ruin our chances to get to top 3 I will kill you
Jas – what does that mean
Alex says Mark promised everything in the house to stay and he's already backstabbed him.
Alex – he knows I'm dangerous he knows Paul's dangerous the second he wins he's putting us up and backdoor you .. one of us is going home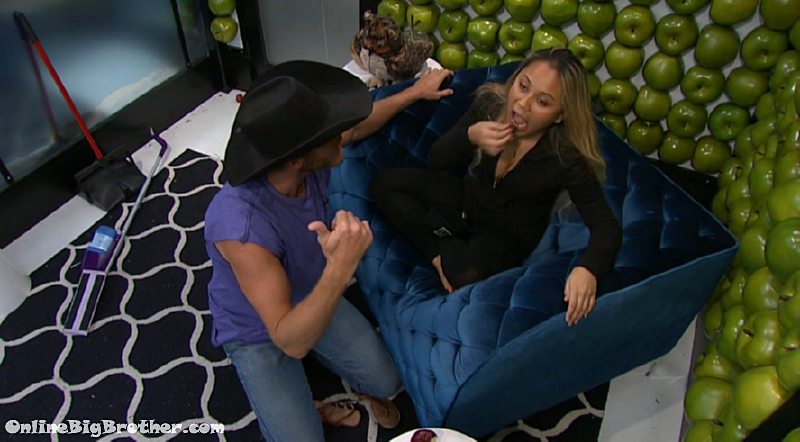 Jason says he's certain Kevin is working with Mark.
Jason brings up asking Kevin if he's ever thought about keeping Mark and Kevin's response was suspicious
Jason – you're Idea not my idea.. I didn't f*ing say that.. Don't tell them it's my idea.. .
Jason – he said whatever Alex wants to do
Alex – he's (Kevin) a liar
Alex – he's just as bad as Cody too (Mark)
Jason – Matt and raven don't want to be here they want to go to Jury
Alex – they want to overtake us in the end.. They think they are safe We have to surprises attack them next. we have to win HOH put both of them up Backdoor Kevin (she shows us quotes with her finger ) and send Matt out
Jason – what if one of those dip shits win HOH..
Alex says Jason was mark's last last resort, "Do you think he's going to keep his word"
Alex – he went to Christmas and Josh first the 2 people he hates .. where do you think you sit.. Follow the spectrum
Jason – you're so smart.
Alex about Mark – He doesn't deserve to win all he's done is lie and cheat and Cry. He's cried more than Josh
Jason – I'm dumb..
Alex – yes, let's go over dates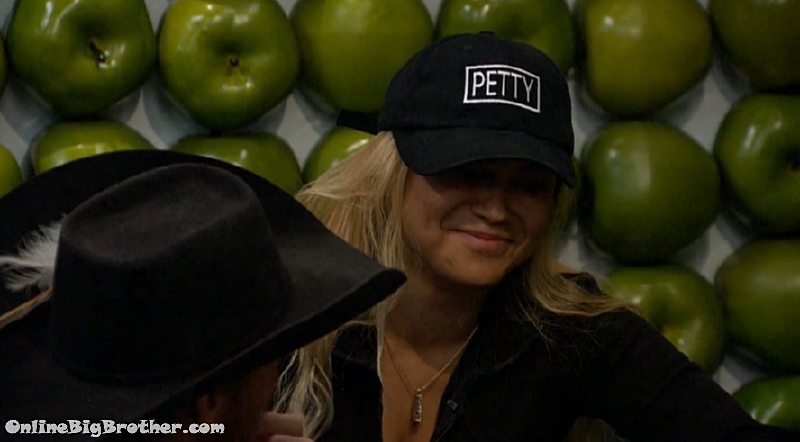 Alex – the last people he (Mark) asks are the people he will target first, he knows he can take Christmas and JOsh, obviously she's a gimp
Alex – do you see how dangerous mark is
Alex says the last people Mark talks to is Jason and Paul, "he's going to come to you again.. HE doesn't deserve to be here.. Matt and Raven haven't done anything they haven't been disloyal but we're taking them out "
Alex – If we get to 6 we can literally walk our way to the end.. We get Josh and Christmas to take shots at each other. (They think Josh is with them )
Jason thinks Christmas will take a shot at him
Alex – she has to beat you then beat you at the POV.. then vote you out
Alex – we turn around Sorry b1tch you can't do that you've served your purpose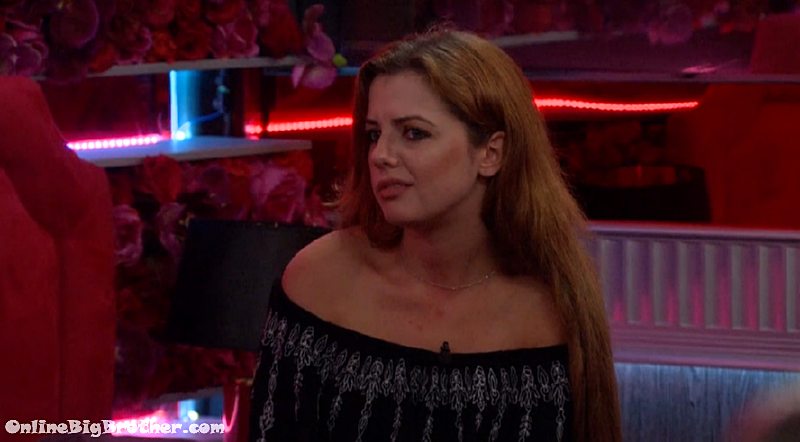 4:12pm Raven, Xmas and Matt
Xmas – I think Alex is who she says she is
Raven isn't sure
Raven – the restaurant she (alex) talks about going to costs $400 dollars .. she eats there..
Xmas – Alex
Raven – yeah
Raven – you don't have enough money to fix your car but you got a boob job
Raven – 8000 to 10000, those boobs are big, those are at least 8 to 10 G boobs
Raven – so not enough money to fix car but you have money for a boob job..
Matt – boyfriend could have paid for them
Xmas – which boyfriend
Raven – well have him pay for your car.. don't give me a sob story and contradict yourself in a way.. like..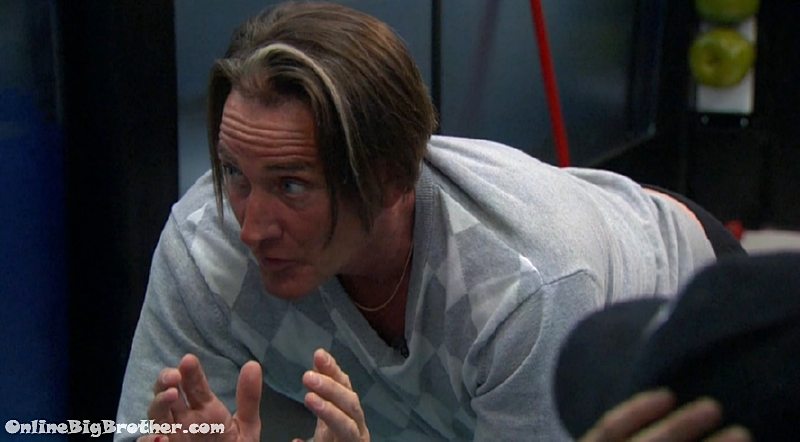 4:16pm Kevin, Alex, and Jason APSR
Jason – matt and raven are banging in the rose room
Alex – don't say it, it's not nice.. they say they aren't so…
Alex – that's why I don't go in that room
Kevin – no way am I going in that room at all.
Alex – it's dirty they got their crap everywhere
Alex complains that every drawer in the bathroom has Raven sh1t in it.
Jason – she puts her f*ing underwear everywhere
Jason – it's f*ing nasty
kevin – and lose the bracelet .. how can you find any f*ing thing (she's so messy)
Ale x- I have one thing in the bathroom that's mine..
Alex – they (R/M) have all their clothes on the floor
Kevin – it's disgusting
Alex – i wouldn't put my clothes on the floor
Kevin says she left her dirty underwear right in front of the door to the shower this morning.
Alex – it's weird because they want to keep the kitchen clean
Jason – yeah, everything else is shit
Alex – I know that 's why it's weird
Jason – somebody told them if you cook and clean the kitchen everyone will like you
Alex – that's not true we cook and clean ourselves
Jason – I would rather not eat the shit makes period (LOL)
Alex – we're almost out of food
Jason – i'm not eating another thing she cooks, I will guarantee you that if I take it I'll throw it in the trash
Alex – too spicey
Jason – I'm just tired of it, eating her sh1t, it sucks
Alex- the hamburgers were good it was really salty..
jason – I threw mine away
Alex – no we kept it
kevin – we try to be nice
JAson – they're f*ing a$$ holes
Kevin – I agree they're f*ing a$$holes I'm been saying it for months..
kevin – I've never seen a healthier mother f*er that injured in my life.. It only comes up when it's convenient, then otherwise you're doing flips..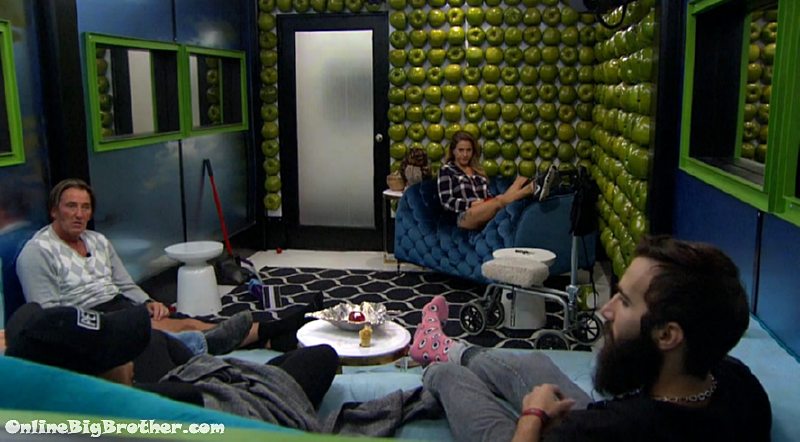 4:44pm Paul, Xmas, Kevin, JAson and Alex
Paul says Mark think he's got Kevin and Jason's vote and he's going to talk to Alex tonight.
Paul mentions Mark told him he wasn't the only one saying they should get Paul out. He says Jason was also playing that tune.
Paul – he said it should be Me, Alex, Jason, Kevin (ANd mark)
Paul – Wait, I should keep the two people that were talking about getting me out how does that work for me.. better take one of you out right now..
Alex says she's going to let Mark feel very bad for wanting her out earlier in the week.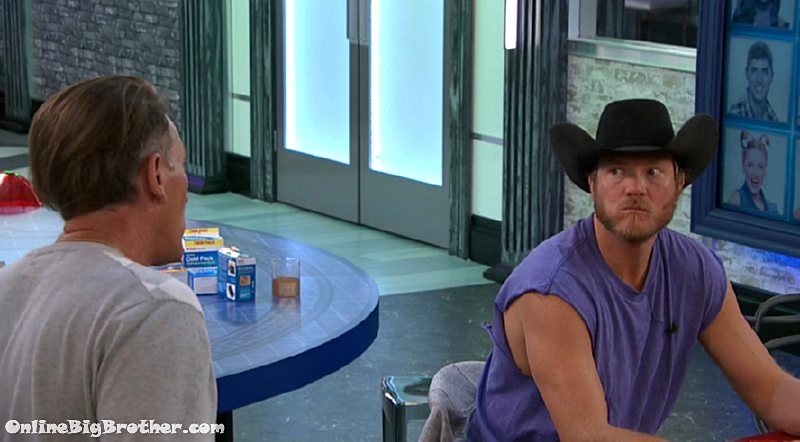 5:54pm Kevin and Jason
Jason says he told mark – "talk to Paul, Kevin and Alex.. you can convince them all I'll do it"
Jason – I said it don't look good for you
Kevin – did you tell Alex..
Jason – yeah, she said f* that pr1ck all he does is badmouth you (jason)
Kevin – you? why does he pick on you
Jason – I don't know..
Kevin – Promise we're going to get Matt next
jason – oh yeah, I'm telling you..
Kevin – maybe it's a double we'll send them both out here
Kevin – let's get rid of all the showmances
jason – that was my f*ing goal from the beginning
kevin says he would have prefered to Keep Mark and Elena over Matt and raven
Jason agrees.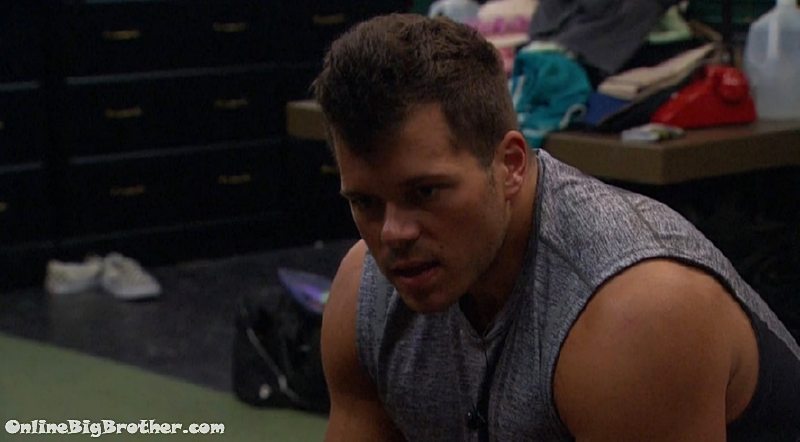 6:00pm Mark and Alex
Mark campaigns.. says Matt's done sh1t in the house he doesn't deserve to be in the game. Points out that he has nobody in the house. Matt has a ride or die.
Mark – if Raven and Matt win HOH I assume they are going after you, Kev and Jason
Mark – if you guys keep me safe I would be with you guys go after the other three..
Alex – then we go for a free for all… this is all too much..
Alex says Jason is the only person she cares about
Alex – I wish I could help you out.. I respect you.. but I mean.. oh.. man that sh1t that Cody started..
Alex- everyone's so mad at Cody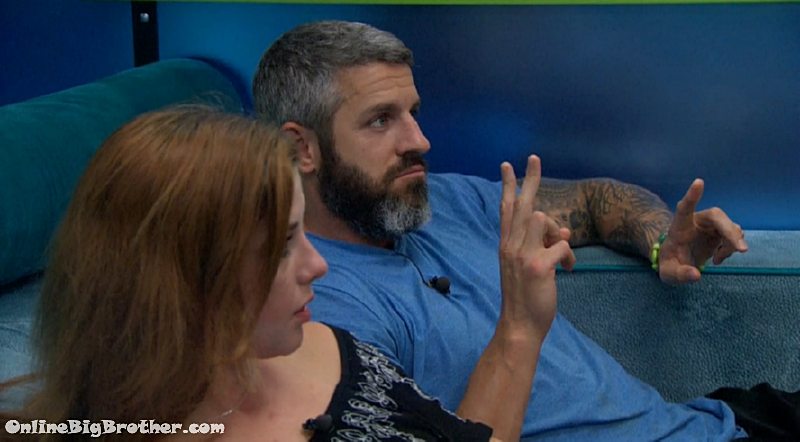 6:48pm Raven, Matt, Paul
Paul saying how funny it was when Mark was campaigning to him, Paul Impersonates him whimpering
Paul – I said sorry bud I ain't making a promise I can't keep
Matt – the three of us need to discuss a negotiation strategy if it's one of us or one of them.. up on the wall.. whatever it may be
Raven – I have an Idea
Paul – what's this idea gypsy
Josh comes in..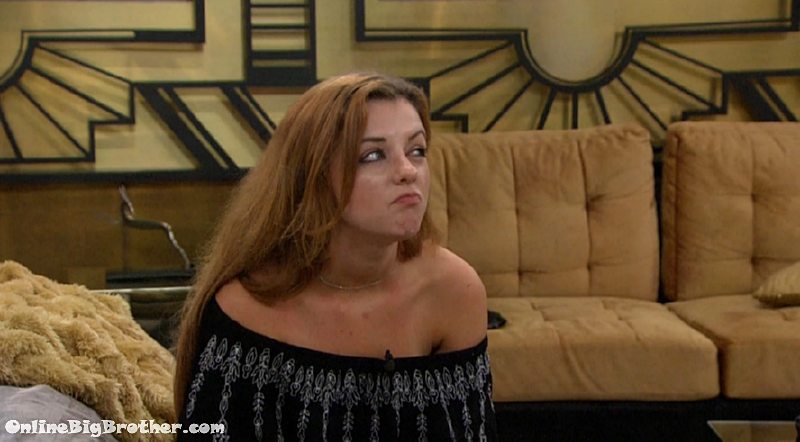 7:17pm Raven, Xmas and MAtt
raven think if it's endurance and Matt is left hanging with Alex he can convince her to drop.
She says Matt can say things like I want to give my HOH letter to Raven, "I've never had HOH before"
Xmas says Jason looks at her like he wants to rip her apart sometimes other times he looks at her like he wants to "Rip me apart" (Sexual?)
Matt – kevin doesn't realize the power of women in this game..
Xmas – he doesn't think we're CAPABLE.. I don't know why but Kevin doesn't really.. I just can't wrap my head around that guy,..
Raven saying that Ales, Jason and Kevin are not strategic.
Matt says their best case is JAson/Alex get the can't play in HOH apple and they evict the other one.
Raven accuses Jason of liking Alex more than a friend.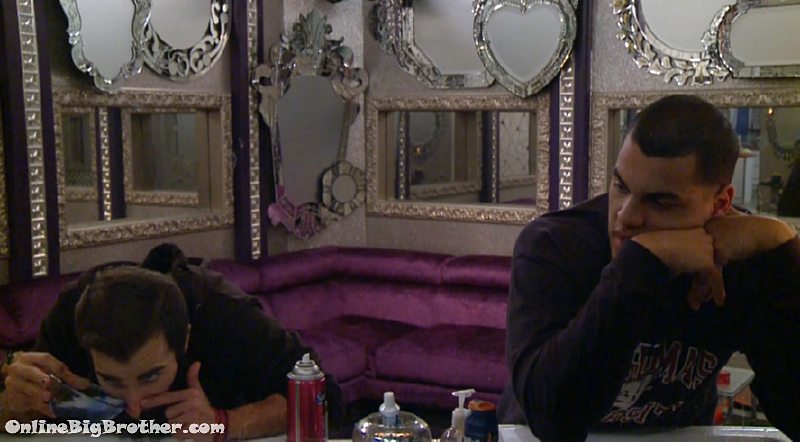 7:29pm Paul and Josh
Paul tells Josh they have to give it their all in the HOH, "We have to get that fool out"
Paul – if you can protect me until 5 I'll get us till the end.. I did it by myself last year..
Paul says if he gets clipped before final 5 he'll tell Josh and Christmas everything he knows.
Josh – you won't get clipped.. they don't have the balls to do it..
Paul – somebody's got a grow a pair at some point
Josh – they'll clip me before they clip you
Paul tells him if Alex and Jason win the HOH they will take a shot at Matt. They have to get rid of Alex the following week.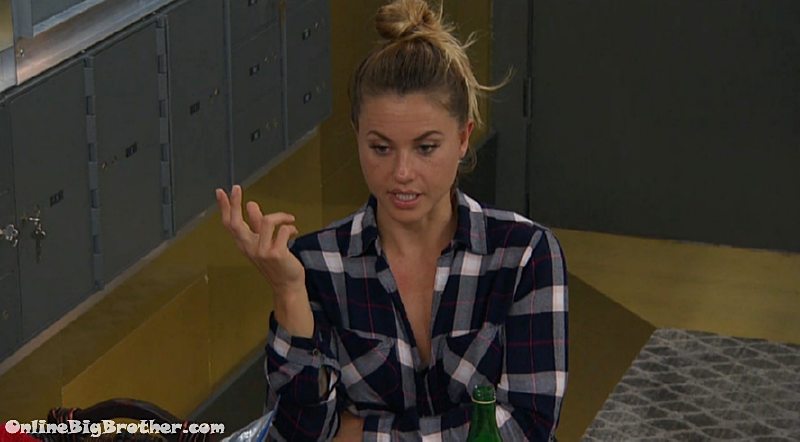 7:47pm Xmas and Paul HOH
Xmas – apparently Alex thinks she has Josh in her pocket 100%
Paul – she thinks..
Xmas – she thinks if there's a vote he'll vote the way she wants him to
Paul – that's perfect
Xmas says Kevin will be the one that goes for a apple.
Paul if he gets an apple he's going up
Paul says it's not a terrible idea for her to get a Apple.. in case she gets the can't play in HOH it might be physical.
Xmas says Matt and Raven don't feel comfortable about the apple.
Xmas says Raven is going to play the sympathy card to get HOH.
Paul – I wouldn't feel comfortable as a pawn..
Xmas – she thinks Kevin did that thing with her bracelet.. i think it was an accident..
Paul thinks Kevin is trying to "Stir some sh1t"
They start complaining about Kevin..
Paul – I think we're in such a good position we don't know what to do with ourselves..
Xmas agrees.. "this is my first round"
Paul – if we can push our agendas down both their throats.. if we can get Matt/Raven or Alex/JAson to take that shot we're fine.. if I, you or Josh get clipped next week we're f*ed
Paul – we tell Alex matt and raven knew.. (jason was the target)
Paul counts the votes if it's Jason vs Kevin. . Thinks they would have 4 votes to evict Jason.
JOsh comes in reports where everyone is in..
Paul – you need to turn it up on Comps..
Xmas says to throw the HOH to Raven
Josh doesn't want to doesn't feel comfortable.
Xmas – does it make sense for me to take that Apple..
paul says yes for sure.
Paul says even the bounty isn't that bad "5 thousand dollars is nice but it's not enticing"
Paul points out that Jason has Kevin but Alex has only Jason. They take out Jason that triple goes.
Xmas says Paul will got down as one of the greatest players ever if he makes it to top two.
Xmas scolds Josh for hugging her too much.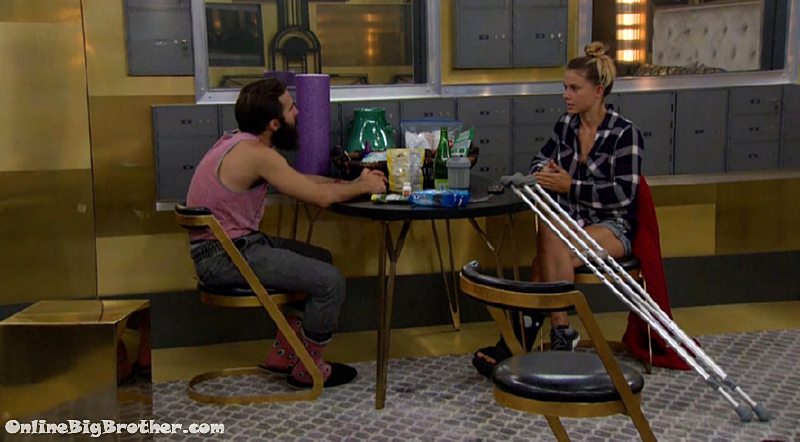 8:15pm Xmas and Paul HOH
Xmas and Paul agree that Raven lies a lot.
Paul- she's a compulsive liar.. she believes her own lies
Xmas – yes
They go through all the little lies Raven says.. like she played Softball but didn't have a position on the team, her favorite musician is what Xmas requested in her HOH basket yet she hasn't listened to it once.
Xmas – either she did or kevin did, took my HOH razor..
Xmas – she said she didn't do that.. I'm going to ask Kevin, I know it's petty..
Xmas – I know that b1tch uses my sh1t
paul – she uses my comb in my drawer..
Xmas – that's weird..
Paul – I walked in and Matt was using my cologne..
Xmas complains about Raven using her makeup. (Sounds like raven has really done a number on Xmas' makeup supplies)
Xmas- if you can lie that easily with small things what are you capable of lying about anything else (houseguests really onto Raven)
Paul – I actually wouldn't mind jason and Alex winning HOH and taking a shot at them (M/R) so it rattles them
Paul – matt asks to use my beard shampoo once.. half is gone..
Paul – guy you shower 8 times a f*ing day.. F* off
Xmas calls raven and Matt "Tweedle dee and Tweedle dumb.. Humpty dumpty"
Paul – they're rude.. .. they bang I walked in on it
Xmas – I know.. I love that zingbot called them out for it
Paul – when she said she liked my band
Xmas – that was a stretch
Paul – I have to talk sh1t I have too..
8:40pm Paul says Matt and Raven make him cringe.
Xmas about Raven – if you can lie that easily with small things what are you capable of #BB19 @DawgsBigBrother pic.twitter.com/3uzRIjeIoP

— OnlineBigBrother.com (@bigbspoilers) August 23, 2017
If you plan on buying anything from Amazon. Use this link Amazon home
Doesn't cost you anything and we get a small cut.
Links to the ranking system
Rank your house guests here
For those of you that like Statistics here are some expanded reports.