POV Holder:
Dallas
Next POV
March 19th
POV Used
No
POV Ceremony
March 21th
HOH Winner:
Loveita
Next HOH:
March 17th
Original Nominations:
Cassandra and Christine
Current Nominations:
Cassandra and Christine
Last Evicted Houseguest
Paige, Sharry
Have Nots
Joel & Cassandra
Want to watch the Big Brother Canada 4 live feeds but live outside of Canada?
Bypass the geoblocking with HideMyAss VPN and be Canadian Anywhere: VPN Help Guide
ALLIANCES IN THE HOUSE
There will likely be a lot of alliances during the season – keep track with our alliance help guide.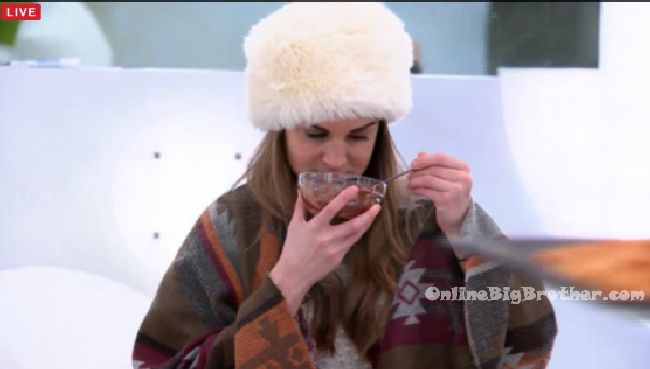 2:25pm In the storage room –
Tim and Nikki are talking about what pranks they can pull on other house guests. Nikki wants to put something brown on the toilet seat. Tim tells her they should put saran wrap on the toilet seat. Ramsey says they already tried that and it didn't really work. Tim suggests they put Vaseline on the toilet seat. Tim thinks they should put dish soap in the mouthwash. Ramsey brings Nikki a dish with Nutella. Nikki says it looks great. It looks like burning diarrhea. Ramsey says to put BBQ sauce on the pool cue or on door handles. They continue to brainstorm other pranks to pull on the house guests. They head out to do their pranks. Nikki pours dish soap in the mouthwash. They then grab the BBQ sauce and dump out shampoo and fill it up with the BBQ sauce. Tim puts Vaseline on the toilet. Maddy coming into the bathroom and asks did Nikki just bring BBQ sauce into the bathroom. Tim says no. They head outside. Someone asks Nikki why she was taking BBQ sauce into the bathroom. Nikki says I was trying to encourage a bowel movement.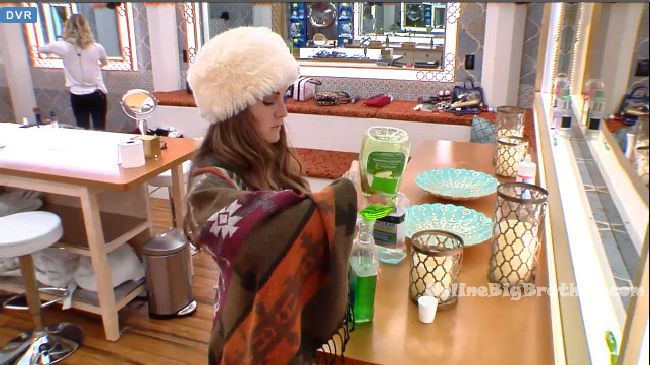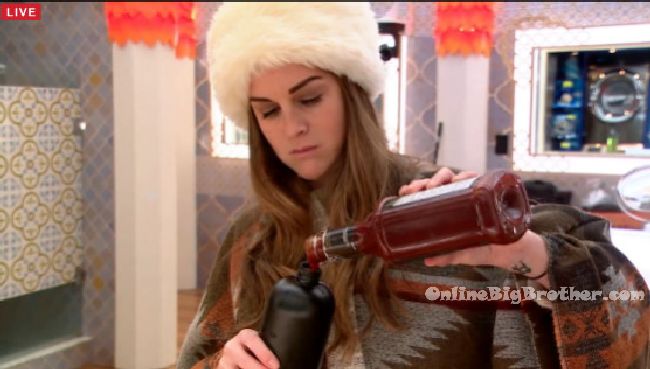 – Prank – Nikki pouring dish soap into the mouthwash @bigbspoilers #bbcan4 @NikkiGrahame pic.twitter.com/gQrWK60qco

— Dawg (@DawgsBigBrother) March 14, 2016

2:45pm Jared goes into the bathroom and finds the Vaseline on the toilet seat. Who?! AWW.. that's sick!
3pm – 3:15pm Loveita and Kelsey have a girl talk. Kelsey tells Loveita if it comes down to it I would pick Jared over Raul. The feeds switch to Cassandra complaining about how she sat on the toilet and got Vaseline all over her a$$. Tim what is all over my a$$?!! Who's j*zz do I have on my a$$!?! Christine then cleans the toilet.



3:20pm Kitchen – Cassandra says if I go, I am going to be competing to get back in this house. Christine says so would she and that it would be easy competing against Paige and Sharry.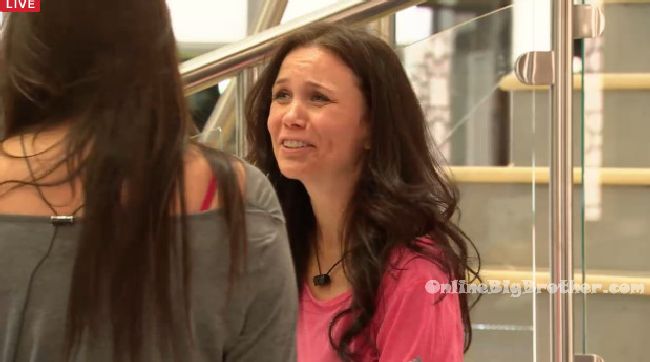 3:45pm Hot Tub room – Phil asks Cassandra what she's telling people in her campaign. Tim says yeah I wonder if Christine will try and campaign for me. Phil tells Cassandra that they've never really talked game. And then I've heard you were coming after me. Tim says I never heard her say that. Cassandra says she never said that. Tim says I think people tried to pin that backdoor plan on her. Kelsey, Raul, Dallas and Nikki join them. Tim comments on how if you're here for the fame then get rid of the people that will be famous so that you're the spotlight. Tim asks Cassandra what she'll give him for his vote. Cassandra says if she wins HOH he can have the bed. She'll make him sandwiches. Tim says but you're a crap cook. Cassandra says that's why I said sandwiches. I'll give you massages. Cassandar says it will either be a 6-5 vote or a 7-4 vote. Tim says I really don't like Raul. Sorry, I just really do think he's here to get famous. He needs to work on his act.

Phil says you just can't stop looking at your man can you? How bad do you want him? Kelsey says well its been a long time. Kelsey says just go to the shower. I would if I was a boy. There's a long way to go.
4:40pm Big Brother tells the house guests they're on an indoor lock down.
4:45pm – 4:55pm HOH room – Tim and Loveita. Tim asks how did you think today went? Loveita says good, I don't really care what happens. Tim says it all depends on what happens next week. Loveita says I think I'm okay. Tim asks what do you think about the votes? Loveita says I don't care which way it goes I'm just leaving it up to fate. Tim says I don't know what's better for my game. I have more fun with Cassandra. But if Jared's team decides to come after me then that would be bad for my game. (Cassandra) does have the votes if Jared's side sticks with her. Loveita heads into the bathroom and sees the nutella that Ramsey put on the toilet. Loveita says that's gross but says she won't even react. Tim says someone had a blowout! Nikki says that is animal behaviour. Ramsey cleans it up.
Phil asks Loveita if she could put in a good word for him with Nikki. I'm in the friend zone right now. Loveita says some times that's a good thing. Saying that's what she looks for in a relationship.
5pm HOH room – Loveita, Nick, Phil and Tim are talking about pranking the house guests. Loveita tells Tim that he should call everyone to the living room and tell them that he and Nikki have been watching them and based on how they've treated them they have the power to evict one house guest.
6pm
Tim, Joel and Phil get into the pool conducting "mermaid school". They're seeing who's the better mermaid by seeing who can stay under the water longer and who can do more laps without coming up for air.
Joel's version of a cannon ball@bigbspoilers #bbcan4 pic.twitter.com/z9EKDfBZW2

— Dawg (@DawgsBigBrother) March 14, 2016
6pm – 7pm HOH room – Mitch, Raul, Loveita and Maddy are hanging out. Loveita asks do you know who you're voting for? Raul says I'm going to vote for the majority. I love Cassandra but if its Cassandra then she has to go. Maddy and Raul leave. Loveita says I don't know who's staying and who's going. I think Cassandra's staying.
7:10pm
Nikki is working out.
6:50pm – 7:20pm Hot Tub – Tim, Ramsey and Joel are hanging out. Phil and Tim says we don't want Jared and Dallas to work together. That would be the worst thing. Phil says they're not buddy buddy but they could work together. Tim says their girlfriends are not friends. (Kelsey and Maddy) Phil says that people are very paranoid and immature in this house. Tim asks what do you mean? Phil says people get paranoid when you're having fun, they think you're working together. Phil tells Tim that there's another conspiracy theory that the fans are voting what you have to do. Canada's voted and you.. Tim says have to make a mermaid school? Jared and Dallas join them. They all hope they get alcohol tonight.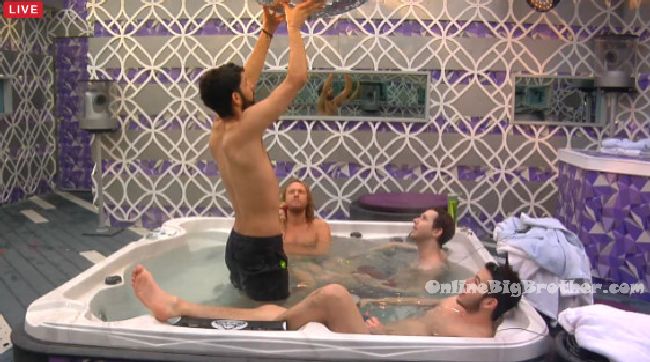 Help Support Online Big Brother
Show your support and appreciation to help keep the updates coming: Support OnlineBigBrother.com
[polldaddy poll=9341582]
Share it YO!!
Tweet