POV Holder:
Paulie
POV Competition
July 1st?
POV Used
Yes
POV Ceremony
July 3rd?
HOH
Paulie
Next HOH
July 7th
Roadkill Competition Winner:
Victor
Original Nominations:
Paul, Bronte and Tiffany
After POV Nominations:
Tiffany, Bronte, Victor
Have Nots
Da'Vonne, Paul and Zakiyah
Big Brother 18 Alliances Help Guide

12am HOH room Zakiyah, Michelle, Tiffany and Paulie are talking. Paulie says even Vic isn't as bad without Jozea around. I think he hasn't been around because he's sure. Michelle says its like Jozea over and over again… he thinks he has the votes. Paulie says at least Jozea was super paranoid about it up until the last minute.. he was constantly watching me. He always had eyes on me, always. I think that's what pissed me off more. Because part of me wanted to sit there and (finger him) and (say suck my d**k). They talk about how Bridgette was spying for Frank. Michelle says I wouldn't be apposed to keeping him (Paul) longer than Natalie and Bronte. He's easily manipulated. Paulie says Bridgette, Natalie and Bronte ..ain't nobody got time for people who want to coast. Paulie asks do you really think he wants a final 3 with them? Tiffany says of course do you think anyone would vote for them? Paulie says they wouldn't be able to protect him any time he wasn't able to be HOH. He would need to win veto. Tiffany says that she (Natalie) has been saying she needs to use her skills and be flirty with everyone. Michelle says who knows she could be ratchet. Paulie says I know what her friends are like. I know her ex-boyfriend too. He's a soccer player. Michelle says when Bridgette goes ..I'll be like Bridgette you thought you could bake your way! BYE! She's been lying, spying .. sucking Franks butth*le. Michelle says I wonder if I should throw it (HOH) so that Bridgette can go home. Paulie says I've wanted Bridgette out before Frank. Paulie says Frank's been saying he wants to get me out at 8. Michelle says he's been saying a lot of things. I don't trust him I want Bridgette out next. Paulie says if everyone wanted him out .. I would be trying to deflect things else where. If you want him out over those 3 girls then they will just migrate to someone else and maybe try and get me out.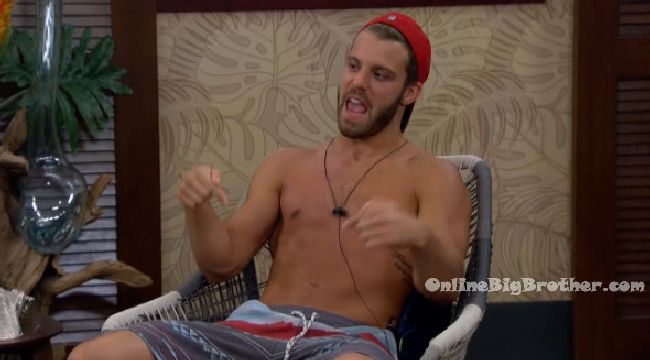 12:05am Bathroom – Nat Nat tells Bronte that she had to let people know that Vic hurt her. I've talked to Frank, I've talked to Day .. I've let them know how much he's hurt me. So everyone knows he's hurt me. I've been doing that for the last couple days.. making sure everyone knows. I'm not good at this game but .. I wanted everyone to know he hurt me and that I had to hide that he hurt me.. I had to be mature because he's on his team. Bronte says see ya! Adios amigos!!! They talk about how the others are fighting. Natalie says we just have to be super nice .. because the big fish are fighting.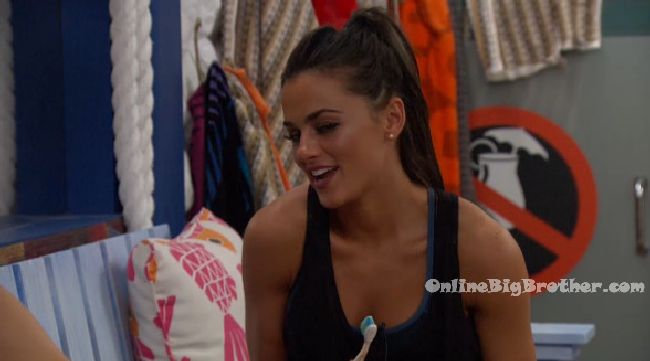 12:15am James says we have more of a leash on Natalie than Tiffany. Frank says I might just try and take it (HOH) myself and figure it out ourselves. James says worst comes to worst we can put up Tiffany and Paul. Frank says I am going to get Bronte or Tiffany out this week.

12:20am – 12:35am Safari room – Nicole tells DaVonne that she would never take any of them over her. Nicole says I feel like Corey would take Paulie and Zakiyah would take you. DaVonne says she doesn't think so. I want to sit next to a vet 100% and that's you. I don't want a newbie to say they've done this before. I think you and I have fought since day 1. Everyone says Dan is the best big brother player in history and he still lost. DaVonne says Frank was very pissed at Corey in the bathroom. He was pissed Corey didn't want to throw the HOH. Paulie wants Frank to go home. I think everyone is on board for him to go. DaVonne says I don't think he should throw it. I don't think you should throw it. I'm tired of people throwing things. Zakiyah told Paulie that Frank was trying to get Corey and Paulie on the block. Nicole says that Paulie doesn't want to cut the body off any more he wants to cut the head off. DaVonne says I'm worried about someone running back and telling him (Frank). Nicole says no one would tell him .. the only people that might would be TIffany.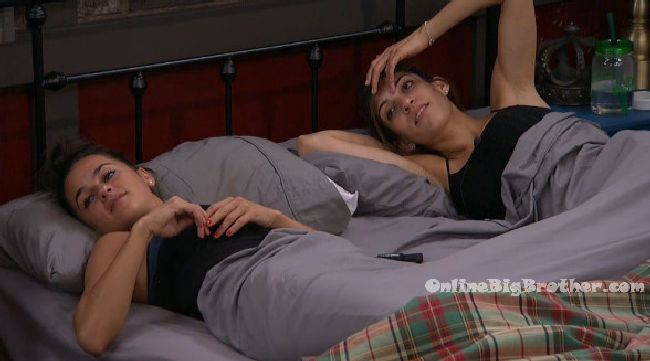 1:15pm Bridgette tells Natalie to be careful. You two (James & Natalie) are together a lot. And it might paint a target on your back. But we've got you! So have fun but.. Natalie says he's (James) teaching me that guys are really nice. He is literally a the full package. Bridgette says he's my brother.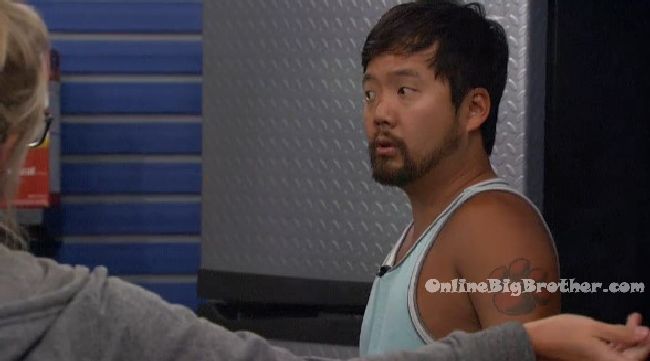 1:40am – 2:20am Storage room – Corey, James and Nicole. James says if we're throwing a comp then we're definitely playing his game. Nicole says I don't feel comfortable with Me, Corey or you throwing a comp. It would be Franks team that would win. James says yeah if we both throw it. Nicole asks do you feel comforable with that? James says he wants Tiffany out or Bronte. I just don't want to be the only one throwing sh*t. Last time, that almost got me put on the block. Corey says his team is going to be the only one with 4 people. Corey says I don't know why he would care if I got HOH .. when I could still put up Bridgette and Bronte. James says lets not throw it.. what's he going to do get mad. Nicole says I just don't want to be doing everyone's dirty work for a long time. Nicole says I'm not asking you to throw another comp. I'm just asking you're HOH because I don't trust your team. James says I need to confirm some information is true first before I start popping off. If its true you're (Corey) not going to like it. James says if its true I don't trust the eight pack any more. Nicole says I don't like my name being throw around by someone I trusted. Nicole tells James I would never say anything or do anything to jeopardize your game. James leaves. Nicole tells Corey you're being HOH. You gotta suck it up! Corey asks who are we getting out next week then, Frank? Nicole says Frank. Corey asks why can't I go confront Frank. Nicole says because he's going to blow up! He's going to come after us. Corey says he's one person, what he's going to get all of us. Corey says listen dude you're about to be the next vic, so you can suck it up and play our game or go out the next week. What would you say if I said that to you? Nicole says I'd say game on buddy! Corey says there's three other people on your team that will throw it and you'll go up. Corey says if there's a chance we could use him it would be good. Nicole says I think that's a crazy idea. I want you to do what you want to do. I just know I wouldn't do that. People will be mad at you if you do it. Corey says okay I just wanted an answer that makes sense. Nicole says me, James, Day, Zakiyah, Michelle, you, Tiffany, Paulie all are good with getting him out. One of us will be HOH, that's 6 people voting .. that's all we need.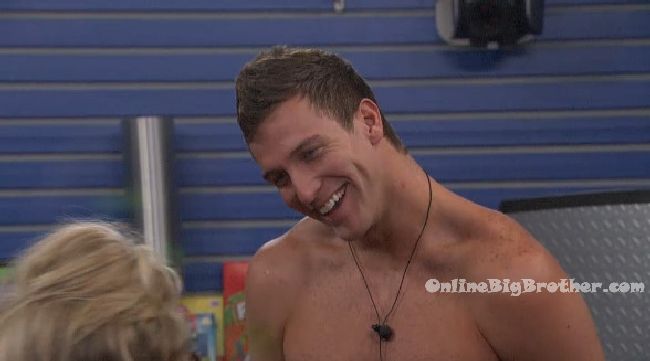 3am Safari room – DaVonne, Nicole and Michelle. DaVonne says I feel like I'm playing for other people and I'm tired of it. Nicole says I'm not fine with throwing the HOH along with another group… that's 6 people There's no if and's or buts .. its his way or the highway. DaVonne says that James wants to hear it out of Corey's mouth that he's not going to throw the comp. The whole thing about him calling Zakiyah's teeth jacked up and smacking her butt. I feel like hes doing it with us because he's comfortable .. I can't wait for him to be comfortable with those girls. Nicole says he doesn't say nice things to my face.. Davonne says yeah what is he saying behind your back.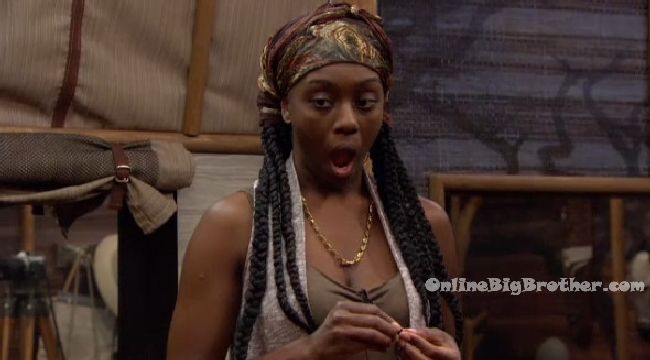 3:40am – 4am Bathroom – James asks there's no 5 person alliance with you, Paulie, Nicole, Zakiyah and Day. Corey says no absolutely not! Frank wanted that to happen and for him to be the fifth wheel. James says Frank is stirring up so much sh*t right now. We're all catching on. I don't even know if I want to tell Paulie that. Corey says I'm not going to tell him. It isn't worth it. James asks what do we tell Frank at this point? Corey says he's Vic at this point. We don't even tell everyone at this point. You or Me can be HOH and backdoor him. Nicole says Frank was commenting about the way I eat. That's why I was crying in the DR. I feel like I'm not even myself any more. Corey says then lets get him out. James says I know Day and then will throw it if they know what we're doing. Day wants it, I'm the one that didn't think it was the right time but its the right time. I feel in my gut its the right time. James asks who's going to throw it from his side? Corey says Michelle. Nicole asks I don't know if you or Tiffany should take it. Corey says she is so emotional. James says Frank just cant get picked to play in the veto. He's a beast at vetos. Corey says that's why its best I'm HOH so that I am in the veto.. and hopefully you (james) and Paulie. They go to get ready for bed.
In the kitchen – James and Nicole tell Michelle she needs to throw the HOH tomorrow .. even if Frank is screaming at you. Michelle says I'll do it. James says trip him, fall, be slow.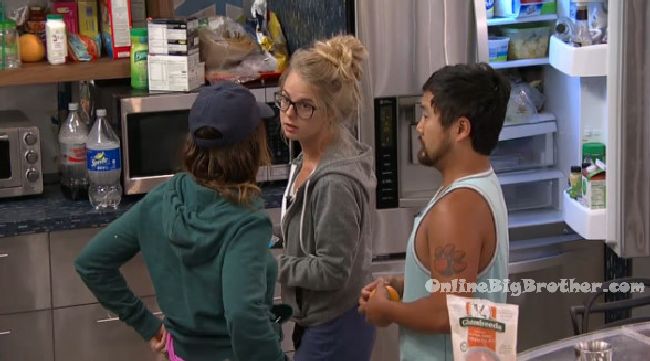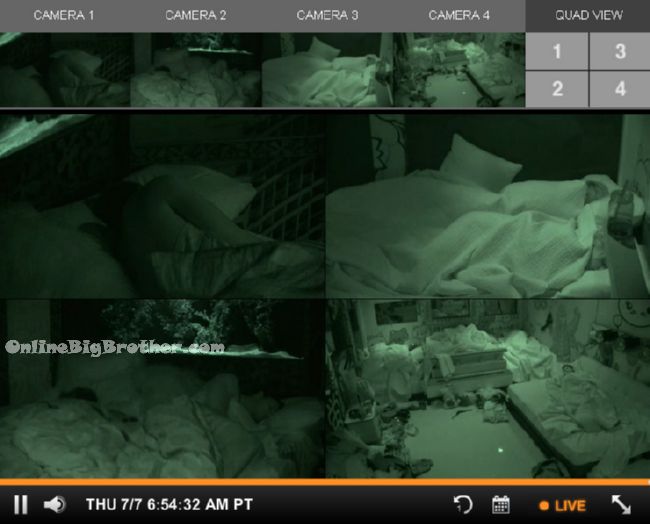 6:59am Sleeping
FLASHBACK and watch everything you missed: CBS All Access FREE Trial!
[polldaddy poll=9464369]