POV Holder:
Paulie
POV Competition
July 1st?
POV Used
Yes
POV Ceremony
July 3rd?
HOH
Paulie
Next HOH
July 7th
Roadkill Competition Winner:
Victor
Original Nominations:
Paul, Bronte and Tiffany
After POV Nominations:
Tiffany, Bronte, Victor
Have Nots
Da'Vonne, Paul and Zakiyah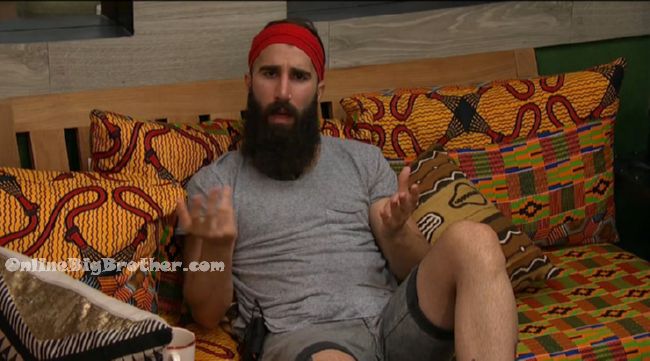 9:02am Paul chatting to the live feeders..
Paul says this is his second week as a have nots. He now has hip pain because he can't lay out flat in the bumper cars.
He goes on about the berry sh1ts, the Big Brother dreams, the psychological impact being in the Big Brother House.
Highlights how hard the competitions are even though they all look so easy in the show.
People's living habits get old, jokes get old and people in general get tiring to be around day in and day out
Paul – winning this game is a gamble there's no strategy.. There's nothing you can do to win this game.. It's A gamble, odds, luck a little bit of strategy maybe at the end up until that point it's luck, odds and chance.
Paul – if you come in here and think you can overcome chance.. You are in a box with people outside the box controlling it..
Paul talks about starting his own business called dead skull apparel https://www.deadskullapparel.com/
Paul says the only reason he gets modelling jobs is because of his tattoos and beard. Talks about how he hated the quality of the clothes he was asked to wear as a model. He felt bad that his image was attached to clothes he was selling. That was why he started making his own clothes.
Talks about his band called "Strange Faces"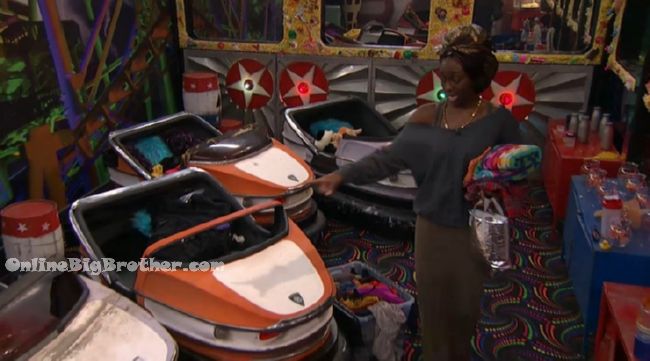 10:13am Zakiyah and Da'Vonne Have nots
Da'Vonne – I want to win HOH because I want to put him up.. I've been doing a lot of thinking.. I'm feelign like no.. You really betrayed me and you need to know you did.. I'm not a fan of that… I'm not.. so..
Da'Vonne – I'm going to tell him don't campaign to me because this is what you did..
Da'Vonne- I'm pissed i'm pissed… that was betrayal and I'm not OK with that
Zakiyah – i'm tired of this shit.. And he thinks he's slick.. Either or as long as it's you or me.. Not (points at Paul's bumper car bed) that at all..
Big Brother tells them to clean the bathroom including the mirror above the sink
Feeds flip to the another room..
10:35am we're back in the have nots. Zakiyah is worried the boys are going to think there's a girl thing going on and vote to keep Frank.
Da'Vonne says the boys on their side are part of the plan they're with it.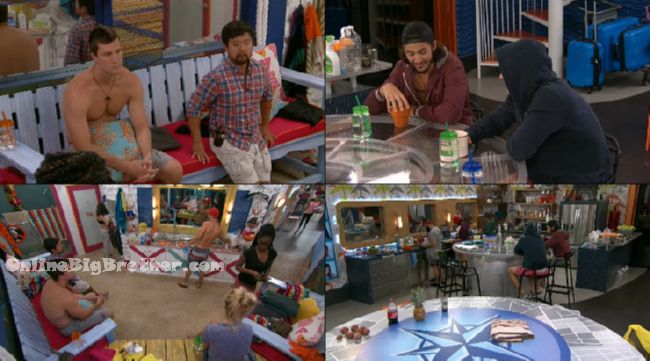 10:31am houseguests milling around getting ready for the day..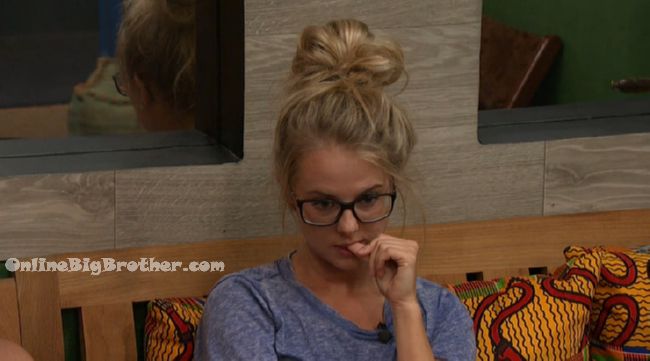 10:39am Nicole and Corey
Corey – so much has changed in the last 24 hours
Nicole says that's what's weird about this game.
Nicole – I honestly don't think getting Vic out is best for my game.. I'm doing it obviously its good for Frank and Paulie's game
Corey says Vic is a friggin liar.
James/Paulie joins them. Says Frank is trying to fluff up his ego told him if he won HO and put Corey/Paulie up he would be a super star to the fan.
Nicole says America would hate him if he took out "
Nicole says Frank was her favorite player coming into the house but now he's not.
Paulie says COdy and Derricks favorite player was Frank.
Paulie wants to strike before Frank tries to strike him
James mentions Frank is going to get someone else to do it
Nicole – with one of those girls
Paulie – or with the roadkill
They can't understand how Frank didn't think they would compare notes.
Paulie – especially this early.
James – he [frank] wants Tiffany out 100%
Nicole – I'm going to feel really bad for Vic.. you guys don't feel bad? a 10 zero vote
Nicole – he thinks he's staying
Jame s- he thinks he's staying
Nicole – he does…
James – maybe someone should tell him the last minute
Frank comes in, they talk about how shocked Vic will be.
The guys leaves Corey and Nicole. Nicole talks about how bad she feels Victor is getting blindsided.
Corey – you're being weird…
Nicole doesn't want to be blindsided herself.
Nicole clears up that Vic never asked her out on a date it was to hang out after the show.
Corey – you said date
Nicole says it wasn't a date.

11:33pm HOH Lockdown
1:16pm Feeds still on Jeff highlights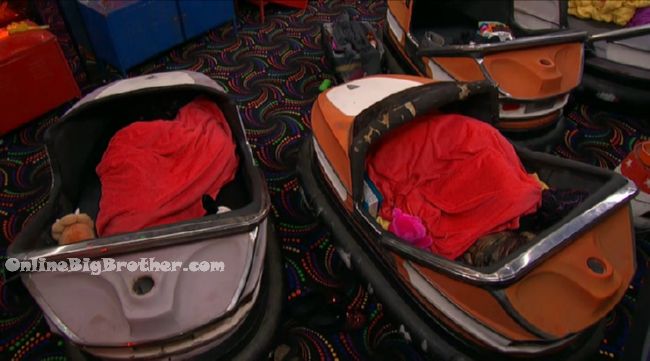 1:55pm Feeds back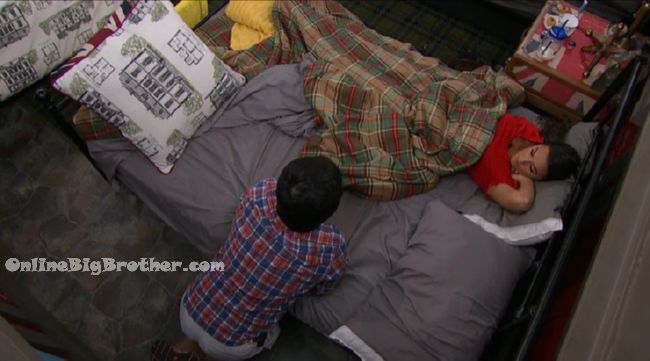 2:12pm James says he wants to take the HOH if they win it. If they don't win it Bronte and Natalie have nothing to worry about.
Natalie wants to win it
James – it's going to be pretty high pressure cooker this week.. I don't want this person to yell at you..
James – just wanted to give you a heads up in case we do lose..
Natalie – I'm on board with you and what everyone wants to do
James says he was up late last night. "I feel like a lot of people kinda want Bronte to go up.. I got some new stuff that came to light, I was able to move some heat off her.. "
James says they are safe next week but, "we should try and win it 150%"
James couldn't understand why people were wanting to get Bronte out, 'Is BRonte really a threat… I know she can be mean at time"
They laugh and agree Bronte is a a "Good Egg"
Natalie tells him about Tiffany being Vanessa's sister. James knew that already.
Natalie says people are talking about them being in a showmance like they spend a awful lot of time with each other. She's worried it'll make them a target.
James says there's a lot of things going on in the house you got Corey and Nicole, Paulie and Zakiyah.
Natalie says she was a cheerleader for a NFL team in New York. She didn't want to be judged.
James got excited says "America I slept in the same bed with a NFL Cheerleader"
Natalie says she was a top cheerleader in 2015 –> link
She never told even Bronte.
Bronte joins them.
James – you better pack… pack all your stuff.
She doesn't know what to wear they haven't been told how to dress. Bronte mentions they have to focus for the competitions. James mentions how they won't have Victor now so the HOH comps will be harder.
James says there's a few people in the house that fluctuate between Tiffany and Bronte.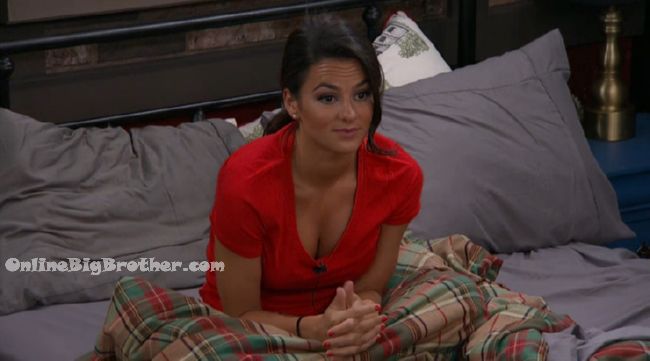 2:46pm Bronte and Natalie
Talking about James being a good guy protecting them.
They agree they had a really bad start to this game. They blame was Jozea, Victor and Paul.
Bronte doesn't see them ever getting in a spot where people talk game to them.
Natalie says Drama is exploding everywhere they have to sit back relax and be nice.. "Let the bigger fish eat the bigger fish right now"
Natalie says they have to keep quiet with Bridgette when it comes to information from JAmes.
Natalie – I thin James is the best guy ever literally..
Bronte – we would probably be going home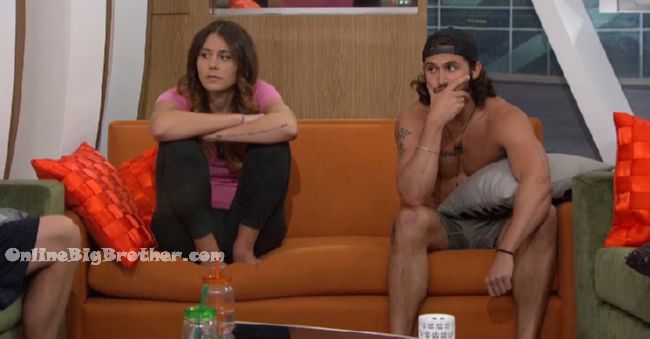 3:15pm rehearsals for tonight.

3:24pm JAmes and Bronte
Sounds like they got instructions for how to play the HOH coming up or at least there's a special order they go in.
Bronte says Natalie has a crush on James. She goes for the sweet guys. James can feel it but doesn't want to come off creepy.
Bronte says Jozea and Vicotr really didn't like James and they would talk shit about him all the time.
Feeds flip to JEff.. they may not come back until after the show airs on the east coast.
FLASHBACK and watch everything you missed: CBS All Access FREE Trial!
[polldaddy poll=9464369]
[polldaddy poll=9464831]