POV Holder:
Paulie
POV Competition
July 1st?
POV Used
Yes
POV Ceremony
July 3rd?
HOH
Paulie
Next HOH
July 7th
Roadkill Competition Winner:
Victor
Original Nominations:
Paul, Bronte and Tiffany
After POV Nominations:
Tiffany, Bronte, Victor
Have Nots
Da'Vonne, Paul and Zakiyah
Big Brother 18 Alliances Help Guide
8:00pm Nicole and Bronte
Squashing their beef..
Bronte says her and Natalie really want a girl to win they don't care if it's not them they just want a girl. Bronte adds she really wants to make it to jury. Nicole tells her not to sell herself short and shoot for the win.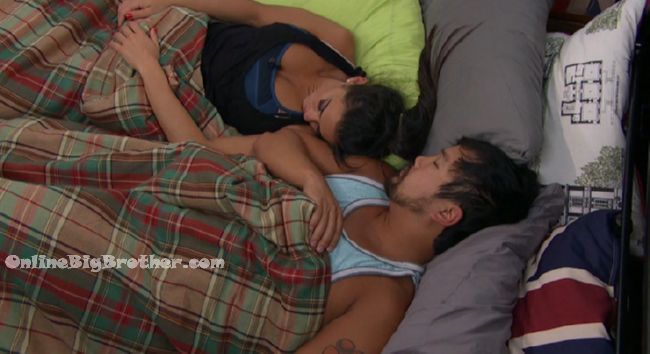 James and Natalie… awwwhhwww


HEY!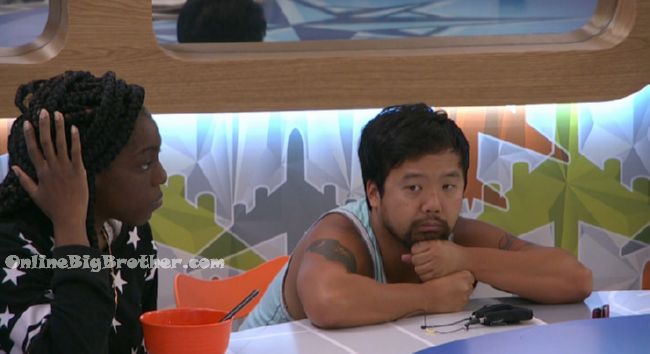 8:19pm James and Da'Vonne
Da – did you talk to Nicole
James – ya, I was waiting for her to come up with it.. She said she didn't know who she can trust in the house
What about Frank
James – trying to get real wit him talking to him he's still on the same page wants Tiffany out first.. Then he says Corey and Paulie need to go up..
Da'Vonne says they need to get Corey out. James is onboard.
Da'Vonne is worried Nicole will get made.
James – Who Cares
James says they never told her to be in a showmance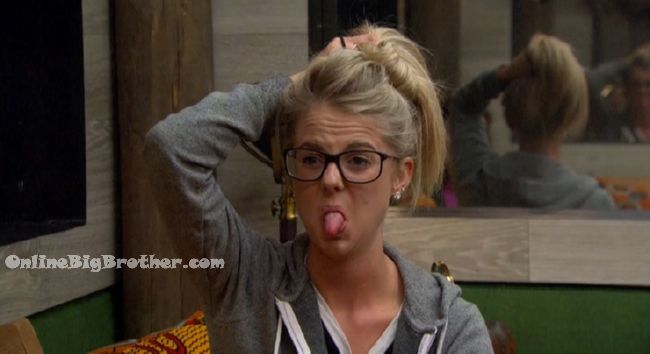 8:37pm Michelle and Nicole
Michelle doesn't understand why Frank is calling her mean he's the meanest guy in the house
Nicole says he's just trying to get to her.
Zakiyah comes by asks them if they've gotten any "Convs" in
Michelle says she talked to Frank he said he's getting a bad feeling.. He said people are starting to create small groups.
Zakiyah – I'm about ready to unload on him..
Nicole – me too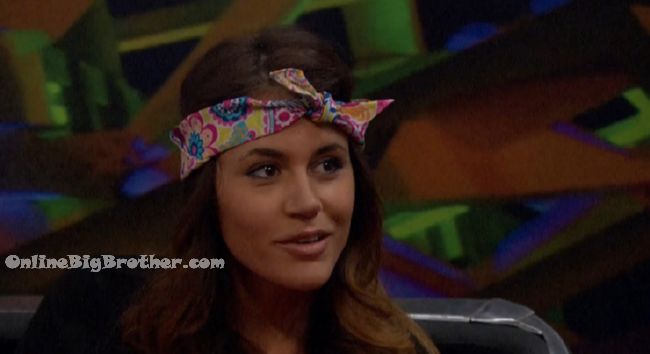 8:40pm Have nots Tiffany and Da'Vonne
Tiffany says Paulie and Corey were talking about getting Frank out. They see Frank has a thing with everybody in the house.
Tiffany says Paulie wants to get one of the girls that are attached to Frank out.
Tiffany – He's rubbing a lot of people the wrong way
Da'Vonne – Yup Yup Yup … at the end of the day it's neither one of our names.
Da'Vonne is saying Frank was one of her favorite players
Tiffany – I know right.. I wanted to work with him
Tiffany – he told mIchelle he wanted a three wit Nicole Michelle and Him
Da'Vonne laughs "I believe it"
Tiffany says the reason why Corey and Paulie think Frank is gunning after them is it came from Zakiyah.
Da'Vonne says Frank told James, if the double eviction is a wall comp James should put up Paulie and Corey. (Da'Vonne told Zakiyah)
Da'Vonne – I can't believe she ran back and told paulie that
Tiffany – she told Paulie he slapped her a$$
Da'Vonne – she runs back and tells that boy every damn thing
Tiffany – they said you had something with frank…
Da'Vonne – who
Tiffany – both of them.
They go on talking about about all the deals Frank has made.
Da'Vonne – I want to know what he's promising Bridgette..
Tiffany says her sister would tell her don't start playing until week 4 or 5..
Da'Vonne says Paulie told Zakiyah he wants Corey, Da'Vonne, Nicole, Zaliah and himself final 5.
Da'Vonne doesn't think she was included in this plan
Da'Vonne – that shows me right they're the fatal 5 is not real.. It was supposed to be us 5 solid
Tiffany – Nicole is sitting pretty
Da'Vonne – gorgeous.. All these deals her names mentioned
Da'Vonne she was scared you can't be scared in this game you have to dive the fuck in
Da'Vonne says all this time she's been fighting for the fatal 5
Da'Vonne adds that she asks Zakiyah which 5 means more to her Fatal five or Paulie's 5 and she told her Paulie's 5.
Da'Vonne – that's selfish
Da'Vonne says James is a outcast all those alliances that are getting thrown around none of them contain james.
Tiffany – If either one of us wins we put the showmances up.. Shakes everything up .. I give no fu**s
Da'Vonne wants to put Corey up and use the roadkill to put Nicole up.
Tiffany – shits going to get fu**ed this week I don't give a fuck
Tiffany – sometimes I wish my sister was here playing so we could f*** some sh1t up
Da'Vonne – ya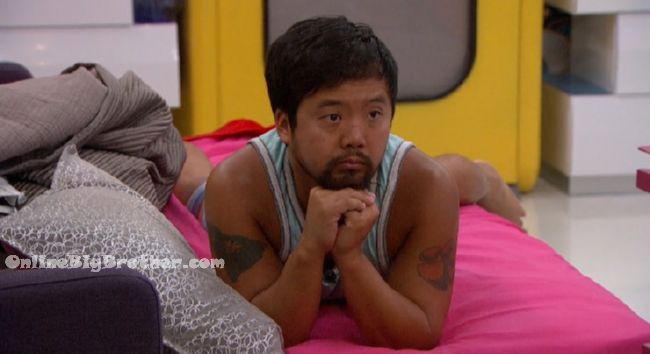 8:52pm Frank, James and Corey
Talking about Tomorrow's HOH, 'that shits not easy… throwing comps.."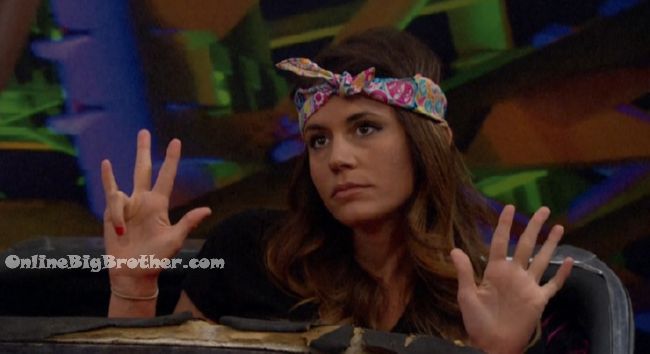 9:18pm Tiffany and Da'Vonne studying the dates, Comps, BB trivia stuff..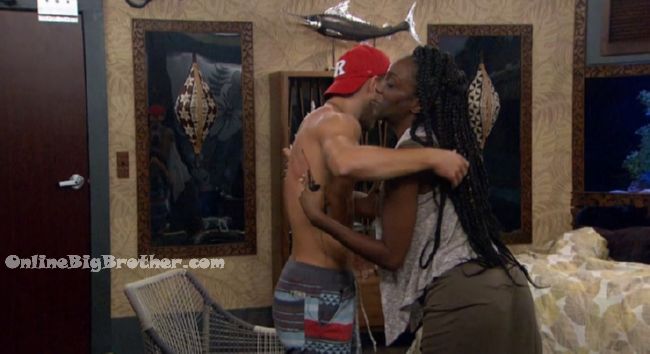 9:42pm – 10:07pm HOH Da'Vonne and Paulie
Paulie is offering up the 5 person alliance idea.
Da'Vonne says she's close to Zakiyah and she's close to Nicole.
Paulie – you trust Corey
Da'Vonne – he hasn't given me a reason not to
Da'Vonne – how do you feel about Frank
Paulie – he's on of the people I've been observing hard,… I feel like he's all over the place.. He's talking to a lot of people.. All the wrong people
Da'Vonne- I don't trust him Paulie … I don't
Paulie brings up Frank slapping Zakiyah's butt
Paulie says he's never slapped a girl's butt he's pissed by that.
Da'Vonne says Frank has called her and Z sluts.
Paulie – do we strike before he strikes at us
da'Vonne we have the votes to get him out we have 5 I want him gone
Paulie – hard
Da'Vonne – I want him out
They agree Frank has to go up Roadkill or Backdoor.
Paulie was thinking maybe they should cut Franks ties with Bridgette, Bronte and Natalie first.
Da'Vonne – what do you think about Paul
Paulie – love the guy, talks too much
Paulie doesn't think Paul can be trusted.
Paulie again talking about their 5 person alliance says he's got all their backs for 'Reasons"
Da'Vonne- it's a solid group
They agree Frank was one of their favorite players from watching his season.
Da'Vonne – after playing the game with him I can see how everyone wanted him out of the house
Paulie – and then trying to get him out he's a beast
Da'Vonne – he's playing hard
Paulie – he's playing hard because he didn't play hard last time people wanted him out because he's a beast
Da'Vonne says Corey winning HOH putting up the girls then we win the Roadkill put Frank up.
Paulie – I know Frank is good at the roadkill stuff…
Da'Vonne – I'll try really hard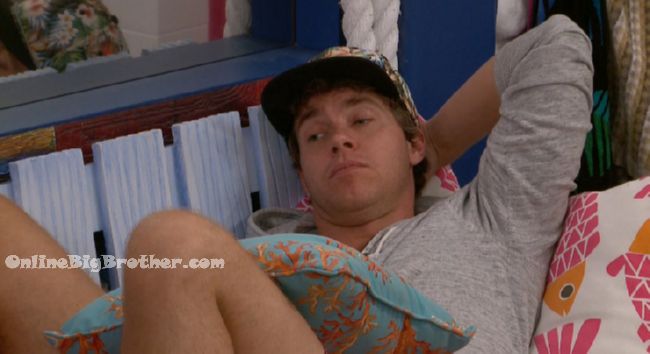 10:32pm Frank, James and Da'Vonne
Frank mentioning how excited Tiffany got when the girls played that joke on them telling them there's alcohol.
Da'Vonne says she's noticed that before.
Frank says Corey is worried about throwing the competition he told him he thought people were whispering today.
Frank tried to explain to Corey that everyone is getting paranoid right now because they are locked down.
Frank – we send out Bronte Tiffany.. we're in Jury.. we Send out the other 4
Frank – if we have the opportunity to backdoor Paulie or Corey we do it.. it's game time..
James – paranoia in here is brewing
Frank – that's why we got to get Tiffany out..
Zakiyah joins them. Frank saying they go after Bronte, Tiffany. After that they take out Bridgette, Paul and natalie. they take the first chance they can get to take out the 'Big Dogs" Corey and Paulie.
10:49pm Bathroom Nicole, James and Frank
Frank saying Corey doesn't want to throw the HOH, he's stressing out about getting put up tomorrow. Frank blames this on Tiffany's paranoia spreading.
Nicole plays dumb can't believe Corey isn't throwing the HOH. She'll talk to him.
Frank says Corey is already in bed.
10:58pm Kitchen Michelle and Nicole
Michelle is pissed about what James had said.
Nicole – he's not smart with his words…
Michelle grumps that James thinks he's so good.
Michelle – out of the three boys I trust Corey the most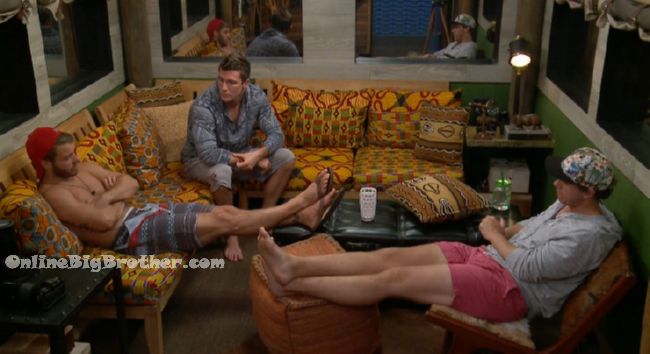 11:04pm Frank and his boys Corey and PAulie
Frank saying their group of friends in the house theres no reason for them to not keep them around until they are left with the Bridgette's and the Natalies, "Those that we know we can beat.. just coop out the door"
Frank says his hunch is the HOH competition will be a puzzle.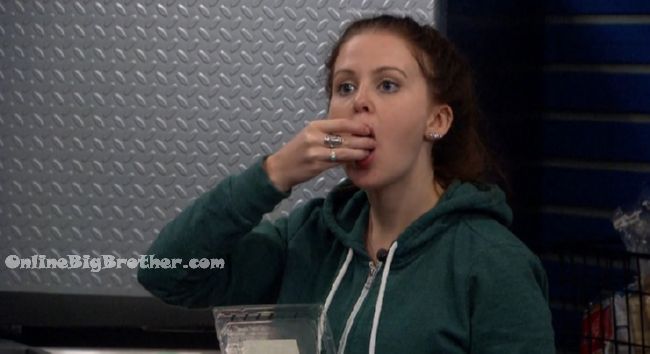 11:28pm Storage room Michelle, Nicole and Corey
Michelle wants Bridgette out.
Corey wants Bronte gone. He tells her "the plan" is to get out Bronte, Paul and Bridgette.
They start comparing notes on Frank and find out Frank is telling them all a different story. They tell Michelle she should throw the HOH and give it to the person that will backdoor frank.
Corey says if Frank goes it's going to be 8 girls and 4 guys he want them to promise him they won't come after him. Michelle says she trusts Corey the most of all the boys.
Corey volunteers to be the one that takes Frank out.
THey go back to comparing notes and have a laugh at Frank's overplaying.
Corey doesn't want Da'Vonne to win the HOH 'She's said some shady things"
Nicole thinks Tiffany would be perfect to take out Frank but she may do her own thing in and change from the plan.
Corey says he will put up Bronte and Paul tell them "Round 2"

11:40pm HOH Paulie and Corey
Corey says he's 100% truts Nicole and Michelle and they just told him next week Frank wants to take them out.
Paulie at first is thinking that maybe the girls are creating this. Corey believes it 100%.
Corey skips into the bathroom. Tiffany comes up. Starts questioning Paulie.
Corey leaves..
Paulie gives here a rundown of his conversation with Frank.. she wants details on what Frank said about her.
Tiffany – do you trust me
Paulie – yes
Tiffany starts to cry.. "People you think you can trust you can't… I've had your back.. I dunno I just feel like a little hurt I guess"
Tiffany to Paulie "People you think you can trust you can't… I've had your back" #BB18 @DawgsBigBrother pic.twitter.com/ljAjc5bQZj

— OnlineBigBrother.com (@bigbspoilers) July 7, 2016
FLASHBACK and watch everything you missed: CBS All Access FREE Trial!