Quick Big Brother Spoilers
Head of Household: Jasmine
Nominees:
POV Players:
POV Winner:
Veto Ceremony:
Evicted:
Havenots: Terrance, Nicole, Pooch, Daniel
Lock your ranks in before midnight
10:08 am
Jasmine trying to go down the stairs this morning. Chooses to Scooch down
Jasmine – This is so nasty
Terrance is holding her crutches. When you get out of the diary room I'll have some aleve ready for you.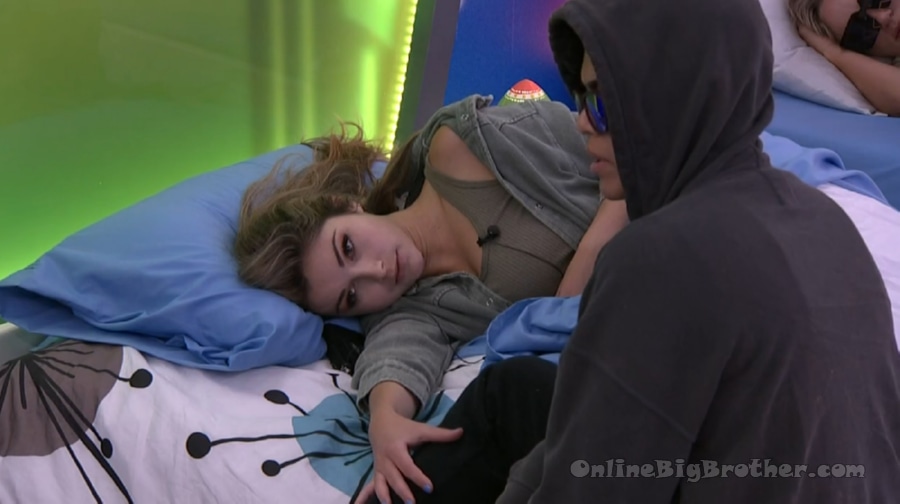 10:12 am Nicole and Alyssa
Nicole is having a rough time sleeping in the HOH. It's very cold she says she could spoon with POOCH.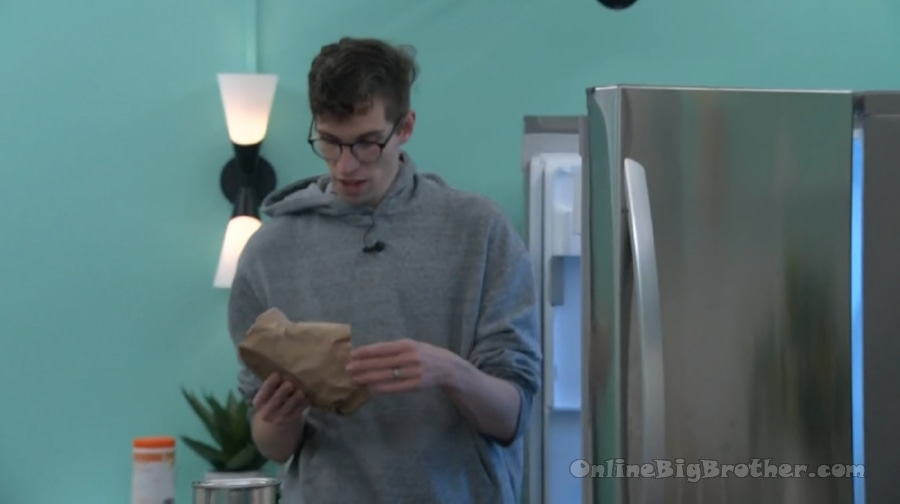 10:17 am Michael alone cleaning out the Storage room fridge. (Terrance also helped with cleaning out the storage room fridge to make room for new groceries)
"Jake I hope you're proud I threw a HOH. I didn't need it. I am good with everyone in the house. Trying not to be messy"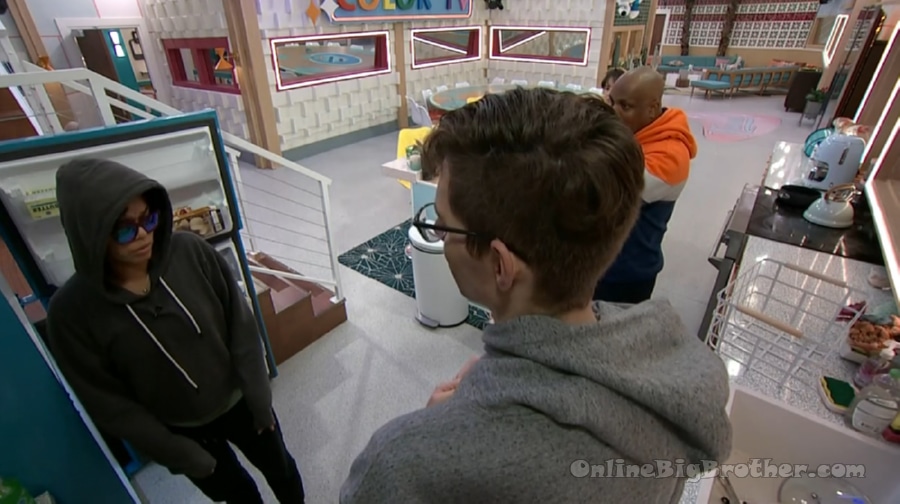 10:28 am Nicole, Terrance and Michael
Nicole – I'm not going to lie, because I'm not cooking this week. I'm just letting you guys know I'm not coming anywhere near this fridge.
Michael – I hardly look in it at all last week.
Nicole – like, People are going to have to start stepping up and doing .. doing stuff
Michael – yup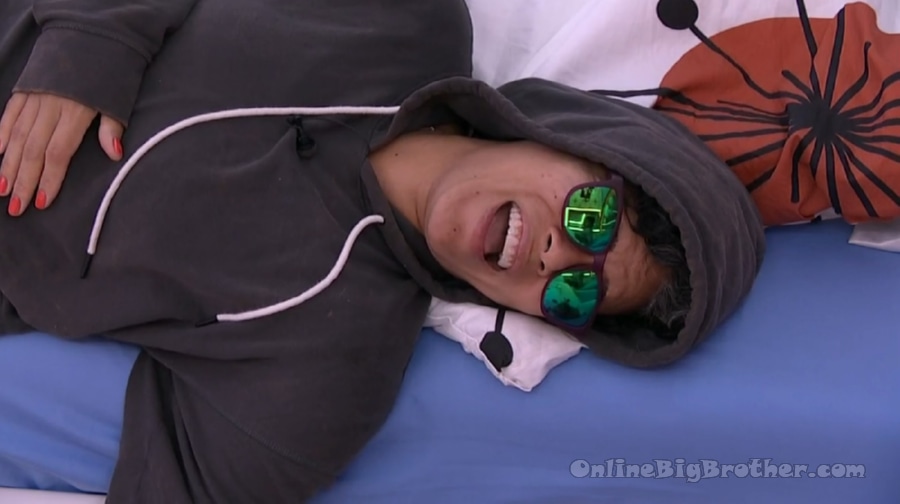 10:40 am Ameerah, Nicole and Alyssa/INdy Sleeping
Ameerah – I was up until 7 am. Pooch wanted to talk too he had a plan and it's such a horrible plan. I was like Jasmine you might as well listen to him let him have that.
Ameerah – I was like what am I listening to. He wanted to put up some girl. He wants to take Taylor out.
Ameerah – He wants to go up on the block beside Britany. He said that somebody will win the veto and save Brittany and backdoor
Nicol e- Ohh and backdoor Taylor. DAmn.. that would be the play anyways if she wants to backdoor her
Ameerah – I'm sorry if Pooch is on the block I'm voting for POOCH..
Nicole – Same, Taylor's not going home
Ameerah – I would vote for POOCH over Taylor. I know everyone's fu**ing scared of Taylor who cares.
Nicole – You keep her here she's not coming after you, She's just grateful to be here.
Ameerah – just be her friend nice whatever. I'm not afraid of Taylor like everyone else is
Nicole – same
Ameerah – she was my least favorite to win but..
Nicole – Like I told you if she won we were all good
Ameerah – she doesn't want to put up Brittany because Brittany has so upset last week because of Backstage. She's hard to calm down and relax. She thinks if she puts up Brittany she'll thinks she's going home and all that shit.
Nicole – she would be the paranoid pawn.
Ameerah – she would start talking like she did with POOCH last time.
Nicole- if she goes on the block she will win veto. if the plan is to really get her out.
Ameerah – everyone going into the veto comp would have to be onboard to save Brittany. The whole house
Nicole – oh my god a blindside. If we voted out POOCH that would be the best move in the beginning of the season.
Ameerah – I like POOCH but I'm here to win Big Brother
They agree it will be hard to take Turner and Pooch out later in the game.
Nicole says Turner and POOCH is a duo. With them still here none of the females will be safe EVER
Nicole says Taylor was going to throw the HOH last night. Nicole tried to talk her out of it.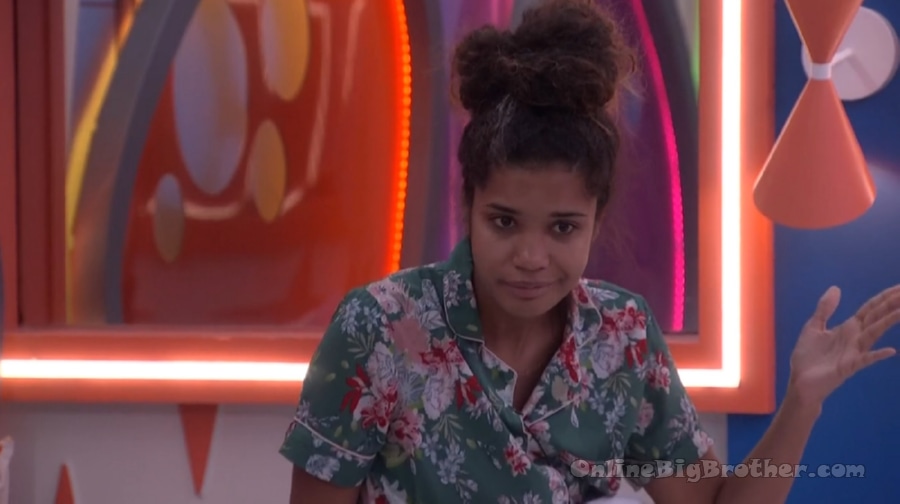 Ameerah – the people here are not that smart
Nicole – Paloma was one of the smartest people here.. She went to Berkley. She's not dumb
Ameerah – yeah yeah I know
Ameerah mentions how POOCH was counting votes last night, "he was like I got Alyssa. I was like you.. I don't think he thinks he has you or Indy"
Nicole – he will be good one to see go.
Nicole – We don't have to backdoor Taylor but we're going too blindside you [POOCH]
They agree the Taylor has their back right now.
Ameerah – I think she's a wild card but right now she's trying to win our trust.
Indy – She's a badass
Indy – I don't trust her
Nicole – you don't need to trust her completely we just need her to get us where we want to get to and she's going to help us get there period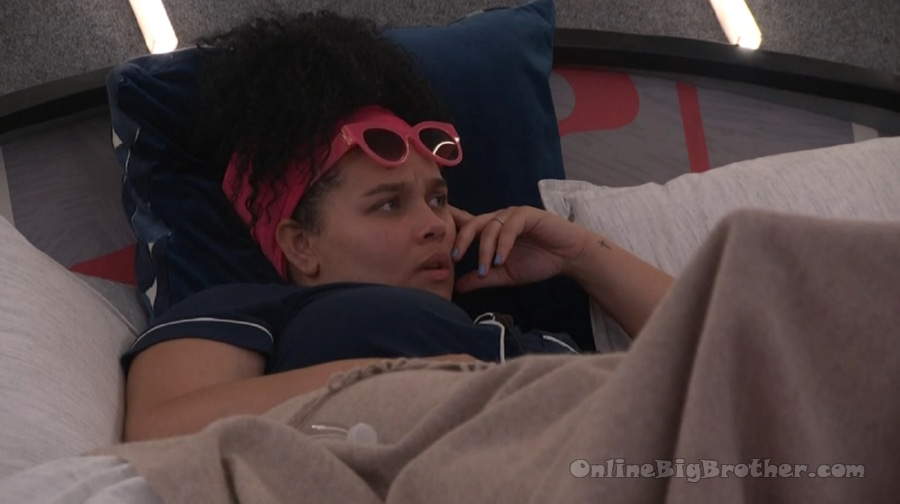 11:00 am Jasmine and Nicole
Nicole saying that Taylor will go after the guys right now if she wins HOH. All the girls would have been safe.
Jasmine says if Taylor had won HOH "It would have been hard for me to come up here and hold face"
Nicole – if she had won she would have kept all the females safe
Jasmine – that would have been the best move for her cause they would all be like OHH shit she with them. it was possibility she was cool with them (Guys)
Nicole – she was all over you after you busted up your ankle
jasmine -that whole situation was so… I dunno I thought shew as just being nice to be nice
Nicole – she is being nice to be nice
jasmine gets called to the diary room
11:13 am Nicole and Daniel
Nicole – make sure you talk to her today
Daniel – I know
Nicole – POOCH did it again he wants to go up on the block. He's going home.. It's insane.
Daniel says POOCH is a number for him "I would rather ride with girls than guys in this game"
Nicole – these girls want these guys out
Daniel – good
Nicole – now we have this alliance we have to protect Monte and Kyle. This stupid f***Ing Oasis. It makes me wonder what Monte and Kyle's actual plan is.
Daniel – who is in Oasis
Nicole – Me, Alysaa, Monte, Kyle and Michael
Daniel – literally everyone is working with everyone
Nicole – we need to take a shot at POOCH and Turner now they are going to be a strong duo
Daniel – then I lose numbers and they are weaker guys
Nicole – you won't lose numbers you have all the girls.
Daniel – when it comes to Drawing a line I want to be with YOu and Ameerah all the way.
Daniel – I'm worried that Alyssa will ride with the boys. That's what I'm thinking about. She loves flirting with every single one of them.
Nicole thinks Alyssa in Oasis is like a Azah, Xavier, BIGD situation where Azah was trying to go with the boys.
Nicole – its very clear she (alyssa) does not like POOCH.
Daniel – we have to chip away at the guys when it comes time we'll get Kyle and Monte out.
Nicole – I need Taylor or Brittany in this game. I can convince them to put Monte up. Heres the thing if Taylor stays she needs to show everyone in this house that she can be trusted. If she wins HOH she is going to do whatever we ask her to do.
Daniel – I thought the girls don't like her
Nicole – they don't, If the girls can get out POOCH that's perfect for our situation. We already lost a girl.
Daniel – what if POOCH won veto
Nicole – if POOCH won veto Taylor would go
Nicole – the grand master plan is POOCH and Taylor go on the block and if someone wins Veto Brittany goes up. If noms stay the same we'll just vote out POOCH
11:25 am
They hear music outside. Taylor does a dance.
#BB24 POOCH Volunteering to be nominated. pic.twitter.com/DOdfpfYWZ2

— OnlineBigBrother.com (@bigbspoilers) July 15, 2022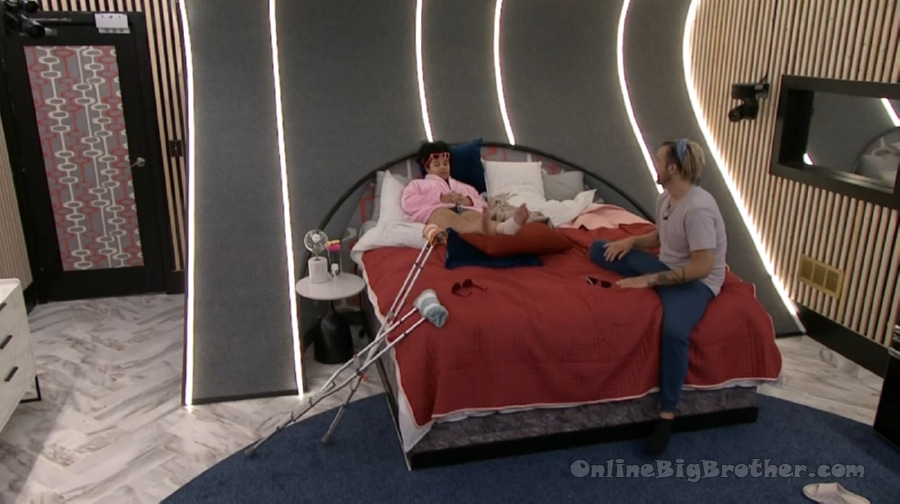 11:25 am Jasmine and Daniel
jasmine says she still "KINDA" wants to get Taylor out but POOCH is volunteering to be nominated.
Jasmine – I didn't get to bed until 6 or 7 he was in here all night coming up with this plan. Like what are you doing?
Daniel – he told me right after you won. came up to me and said listen.
Daniel – As much as I am cool with him, he's one of the first people I talked game with and stuff. If guys gotta go I don't want it to be me.
Jasmine – you put three people up and they are still in here.
Daniel – I know it's scary
jasmine – you know I came in here and Shared with you. I got your back so I'm in a very hard place I have someone that is offering themselves on a golden platter. I also have someone I KNOW I want to get out.
Nicole joins them.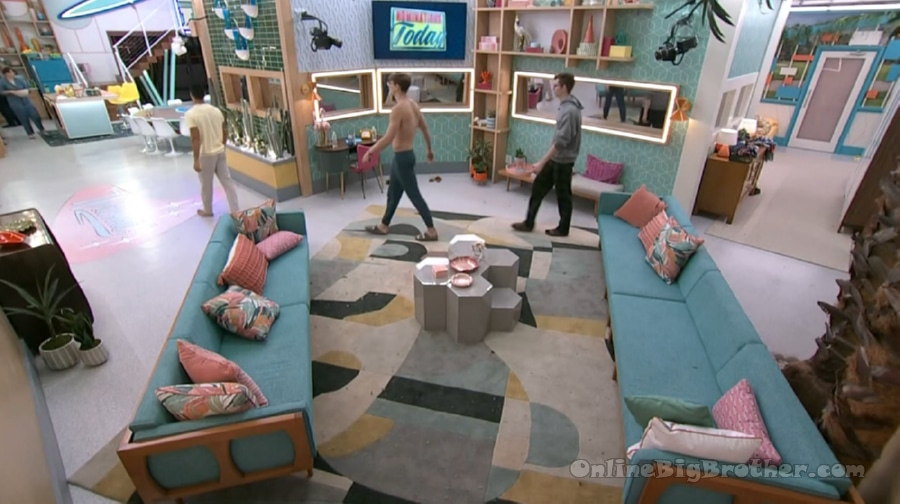 Confirmation that the nominations are today
11:35 pm
Joe waking up his boys
joe – get up it's nominations today it's on the TV I need you guys to.. I have to go into the DR
POOCH – Ok. I appreciate that Bro
Joe – I got you
Joe – Turner, get up it's nominations
Joe to Monte – My Boy, Get up the TV says nomination day
Monte moans
joe – I'm going to the DR we need the boys with Jasmine and shit
(Joe is a solid BRO)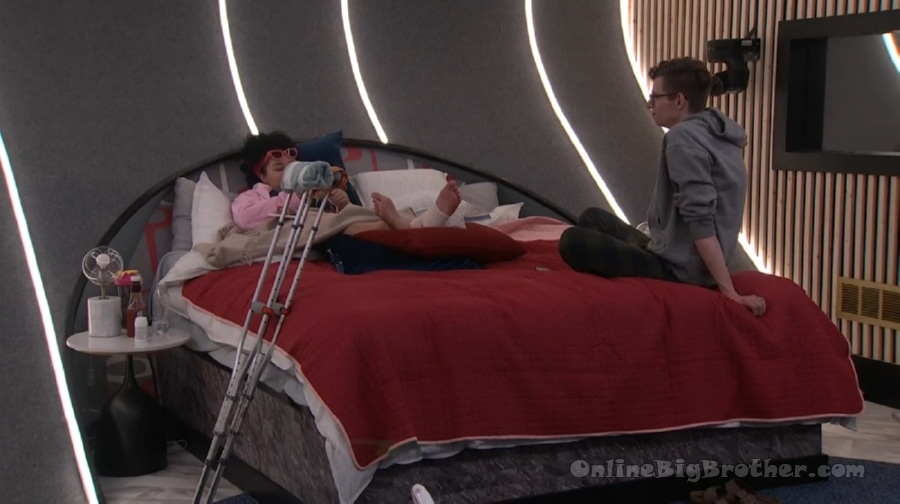 11:43 am Michael and Jasmine
Michael is saying that POOCH is trying to make deals with everyone and everyone is comparing notes.
Jasmine reassures him he's not a thought in her head of him going up.
Michel says before the HOH finals Taylor told him her goal this week was to work on getting back in with teh girls. Jasmine says Taylor has been saying that since she was was put on the block.
Michael says Taylor knows the guys don't have her back.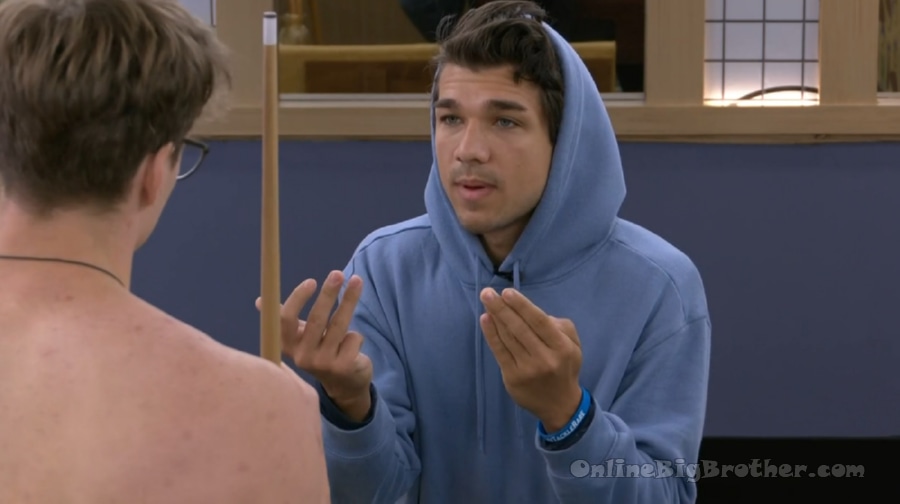 11:49 am POOCH and Kyle
(Pooch is scrambling)
POOCH – that will be sick if I get f***Ed
Kyle – we have the six right, Me, you, Turner, Joe, Monte, and ummm…
POOCH – Daniel
Kyle – Daniel yeah. We need another vote. Terrance or Michael
Pooch – I need one more that gets me a tie all I need is a tie. (LOL)
Pooch – I won't get Michaels, maybe get Nicole's maybe not. who else am I missing?
Kyle – Ameerah, Indy, Taylor
POOCH maybe Brittany will give me hers.
Pooch – Michael is STRONG. I'll put his a$$ up in a couple of weeks. y9ou know what I mean. No problem.
Kyle – she wants Taylor gone so at the end of the day the house will do what she wants.
POOCH thinks it make no sense for Jasmine NOT to take out Taylor "She'll get no blood on her hands"
Kyle – I think we'll be good.
Kyle – I think the girls have something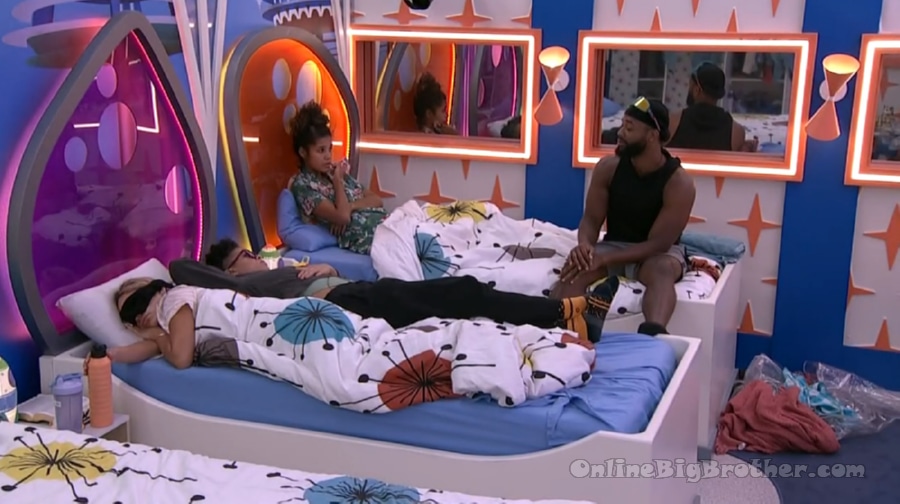 11:52 am Monte, Ameerah and Nicole. Indy Sleeping
Monte says if it's between POOCH or Taylor he thinks it will be good for the house to be aligned.
Ameerah – we wouldn't be able to tell Joe and Turner
Monte – yes good point
Michael joins them
Nicole – we can't tell them let them vote for POOCH
Monte – yeah yeah
Nicole – Turner is the type of person that will appreciates the game for what it is.
Ameerah we got to get him out next week (Turner)
Monte – if me and Kyle choose to get POOCH the hell out of here you have Turner and Joe looking at us like what the f*** YO. Unless POOCH does something very incriminating this week .
Nicole – that has nothing to do with it I'm telling you right now. I have nothing against POOCH
Monte – yeah yeah yeah it's pure gameplay..
They agree that a unanimous vote would be stupid.
Monte – we vote pooch out
Ameerah and Nicole – YEAH
Monte – ohh you guy's are sharks.
Nicole – it's either him or you. you pick. (LOL)
they laugh.
Monte – mommy
Nicole – I'm being serious think about it (holy shit)
Nicole – I don't want you going anywhere.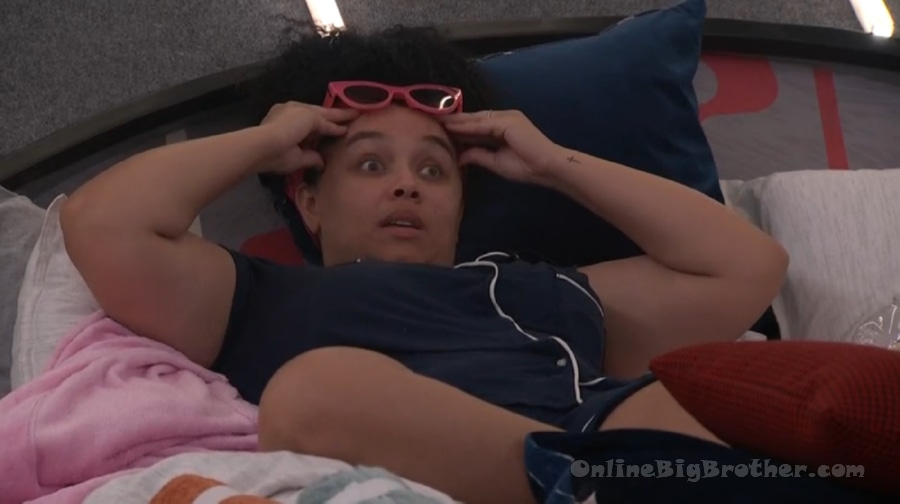 NOON Jasmine and Daniel
Jasmine – have want him and have want Taylor and that's my problem .
Jasmine – I want to make the house happy I don't want to get too crazy in the first week.
Jasmine – POOCH wasn't any where on my radar I wanted Taylor. I was going to back door her buns and be gone.
Jasmine – Right now it'll probably be between those two (Taylor and POOCH)
Daniel says another great play she could do would be put up two strong players and sell it like you are going to backdoor Taylor. If she wins the veto then don't use it and they get out a HUGE player (LOL great advice the girl that can't walk downstairs)
Daniel – I have a feeling girls are trying to get out guys and guys are trying to get out girls I don't know how true it is but I Heard
jasmine – I had a guy coming to me trying to get out another guy
Daniel – coming from me I got your back
Daniel – I've been COOL with Taylor at least to her face since day one
Daniel tells her yesterday INDY wanted to give Taylor a sympathy vote because she felt so bad.
Jasmine says Indy is trying to play Big Brother brazil. "We're trying to understand her game so we can talk to her she's trying to understand our game"
Daniel says he came into the house wanting to ride with Girls. He's cool with the muscle bros but he's working with the girls.
Pooch joins them..

12:13 pm jasmine and Brittany
Jasmine – who would you put up
Brittany – if I were you I probably would make sure Taylor is up there
jasmine ohh yeah for sure..
jasmine – what if there was someone that came to me to offer themselves. what if it was a guy that offered themselves as a pawn.
Brittany – POOCH.. he screwed me over by putting me in the whole backstage thing are you kidding me
Jasmine – in his defense he really didn't know