Quick Big Brother Spoilers
Head of Household: Turner
Nominees: Brittany and Michael
POV Players: Nicole, Taylor, Michael, Brittany, Turner, Jasmine, (Joe is host)
POV Winner:
Veto Ceremony:
Havenots: Alyssa & Indy
Lock your ranks in before midnight
Festie Besties:
Turner & Jasmine (She's also safe)
Joe & Monte
Daniel & Kyle
Brittany & Michael
Alyssa & Indy
Ameerah & Terrance
Nicole & Taylor
How Nominations will work: One pair will be nominated
How the Veto Player Pick will work: Turner/Jasmine, nominated pair, and drawn pair
– If one of the pair wins the veto, the other is also safe.
– If the nominated pair comes off the block, Turner would nominate another pair.
– Eviction: One of the pair on the block will be evicted
– Last pair standing gets a power.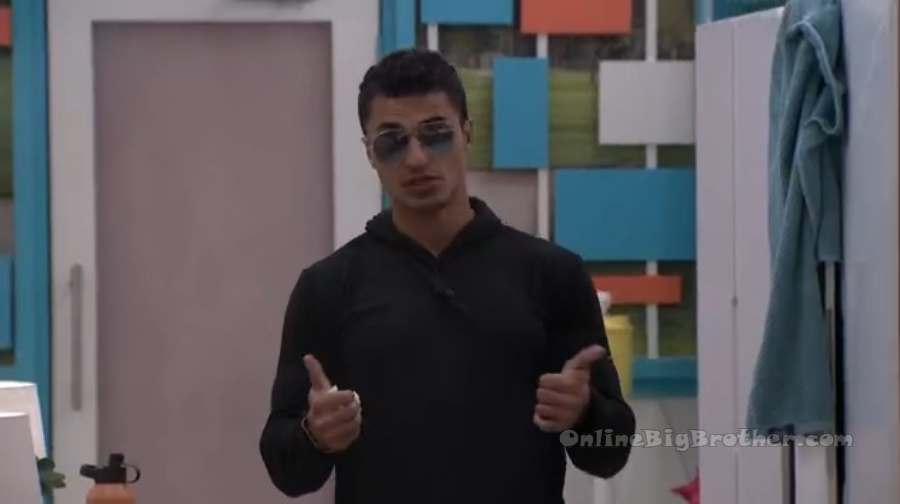 12:11pm Living room.
Joe comes out the back bedroom. Joe – she (Nicole) says her mom is good. Kyle – did she say we could go in or do we wait? Joe – there are a lot of people in there now but she seems pretty good. She said she is fine. She said she is still going to stretch and play so.. I was worried she might be leaving if it was worst case scenario but I asked her if she was good and she said yes. She didn't give me any other details but I also didn't want to pry.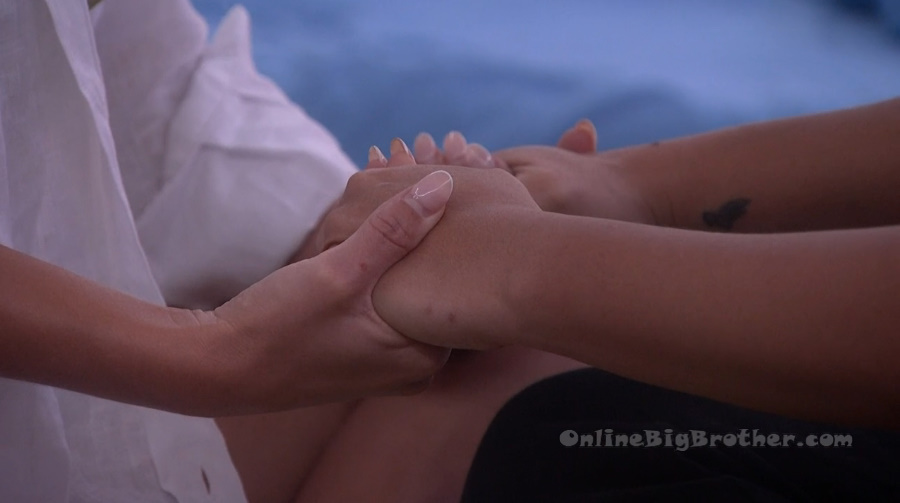 12:16pm Bedroom – Indy holding Nicole's hands and praying.
Indy – Make us brave. You're the only resource we can count for real so take care of everything and everyone that we cannot take care of right now. Watch over us. Protect us from all the bad stuff. And keep us all healthy and loved. Help us go through this with health and strength so that we know that you're in control of everything and we can trust you. We're protect, we're loved and we're blessed. Show us the bigger picture so that we can trust you and have faith in your plans for us. I love you. Nicole – Thank you. I love you so much. Indy leaves. Taylor comes in and hugs her. Nicole – this game pulls us in every which way obviously like with each other and so I just never know what is going to happen. My main thing was walking in there and coming out of there thinking the worst that wasn't and also thinking the other things that go through our heads. Sorry I am obviously trying to have this conversation without saying anything that could get me yelled at. Like I know that I am here for the right reasons and I am here to do what I have to do and fight. I'm a fighter and I am here to win and that's what we have to remember.
12:20pm HOH room. Joe, Turner and Monte.
I am hoping they give us a little time to recoup because she (Nicole) needs to play. I am just glad that it wasn't that because dude that would have been crazy and sad. I thought she was in there packing. Monte – thankfully its not that at all (worst case news for Nicole). Everybody should be very grateful. Joe – we should use this as an opportunity to be grateful and thankful and it wasn't that a false alarm. We're good. Monte – I don't know if there is anything else you want to chat about that but since she is good.. we're getting back to the present… Ameerah – is tripping out and you can tell. Joe – I felt bad too.. she was comforting me while I was kind of losing it. It was breaking my heard.. I know game aside she is a good person. Joe leaves. Monte – Ameerah is good at creating the narrative .. what she does is she says hey.. what is Joe doing and she kept repeating that to everybody in the house. I am not sure, I don't believe Joe. She kept repeating that. And I had to sit here and play f**king damage control. And be like no, Taylor is the one trying to manipulate Joe and everybody in the house to make them think that he is working with her. And I think Nicole is still inline .. she wants to throw the comp. That is what she said in the bathroom. That will be perfect if she throws it. This is our only option because that side of the house is definitely working together. Kyle confirmed it.
Bedroom. Nicole, Indy, Jasmine, Taylor and Ameerah.
Nicole – We are f**king beasts and we're not here to play some f**king mans game. Taylor – I know that's right! Nicole – period! So I know that thought would never enter my mind. If something is happening with my mom right now and that is a reality of what is going on out here .. I already know.. I know my sister so well that she would wait for something until after I left here. I know that she did it for my mom. And I know that I would never leave this game for anything for that matter for circumstances that I cannot control. I know that I am here to fight! Lets go! Taylor – lets go! Its on today! Nicole – I got to pee. I am hoping to poop! (Words of wisdom after rallying the girls to fight)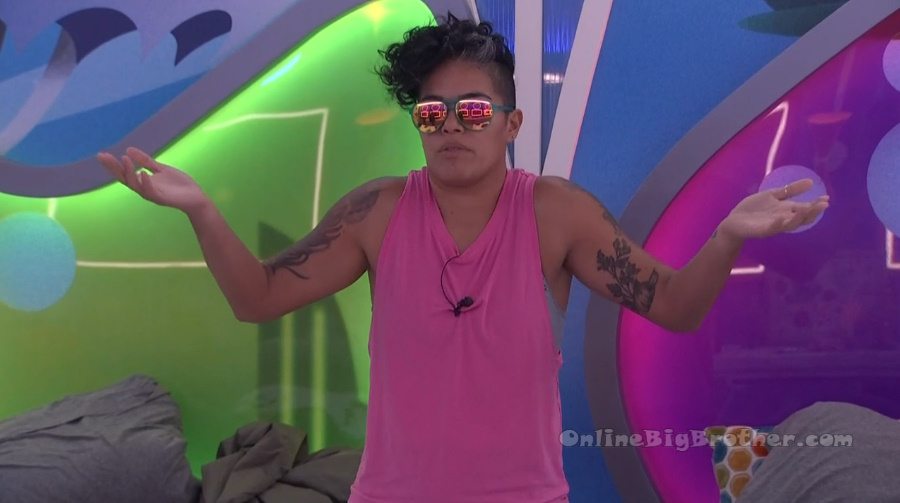 12:44pm Big Brother blocks the feeds..
1pm The live feeds switch to the kitten cams… it looks like the veto competition is starting now.

3:16pm The feeds are still blocked.
4:57pm Still nothing..
5:53pm Not back yet… the veto comp was likely an individual comp which takes longer as each house guest has a set amount of time to complete the comp.