Quick Big Brother Spoilers
Head of Household: Turner
Nominees: Brittany and Michael
POV Players: Nicole, Taylor, Michael, Brittany, Turner, Jasmine, (Joe is host)
POV Winner: Michael/Brittany
Veto Ceremony:
Havenots: Alyssa & Indy
Lock your ranks in before midnight
Festie Besties:
Turner & Jasmine (She's also safe)
Joe & Monte
Daniel & Kyle
Brittany & Michael
Alyssa & Indy
Ameerah & Terrance
Nicole & Taylor
How Nominations will work: One pair will be nominated
How the Veto Player Pick will work: Turner/Jasmine, nominated pair, and drawn pair
– If one of the pair wins the veto, the other is also safe.
– If the nominated pair comes off the block, Turner would nominate another pair.
– Eviction: One of the pair on the block will be evicted
– Last pair standing gets a power.
1pm – 6:12pm Big Brother blocked for the power of veto competition. When the feeds return we learn that Michael/Brittany won the veto!
Michael/Brittany WON the VETO!
– They competed as pairs and won as pairs.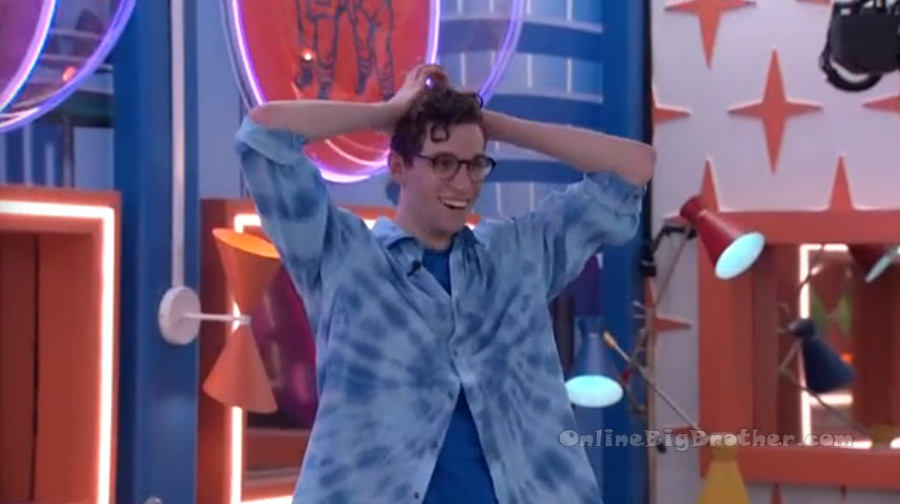 Bedroom – Michael and Nicole.
Nicole hugs Michael and says – I didn't even have to throw that. Michael – really? Nicole – yes. Michael – I noticed that she was dropping pieces but.. Nicole – she dropped the second piece. I was even telling her what to do. Michael – that worked out perfectly! I was so nervous when Jasmine and Turner weren't competing. Just one on one then. Nicole – I know! I am just like, I have a heart you know and …I just am so like speechless to the point where I don't even know what to say to her. Like I want to talk to her. Michael – I am glad that you didn't have to sabotage her or anything. Nicole – no, and I am happy I didn't have to either. But the whole situation is like… I just said to Alyssa, I hope that she didn't do that on purpose. Michael – oh I don't think so. No, there is no way she threw that. I think she knows that its going to be her. Nicole – I feel like such a villain. I feel horrible. Michael – oh you didn't do anything. Nicole – I wouldn't have even said anything if Daniel hadn't blown up on her. But I can't be mad at him for expressing his feelings. Michael – no, I know you didn't want any of that. Nicole – I was pissed when I walked out of here but that was to vent. Michael – yeah. No you didn't ask us to do or say anything to her. Nicole – I wasn't going to say anything to her. I just, I .. once I saw that you guys were ahead I was like now I just have to motivate her to keep going. Michael – I don't really know what you do say in these situations. Nicole – I just don't know what to say because I feel like I said everything I needed to. That wasn't me, I'm not confrontational. Michael – I don't think anyone is like oh Nicole is stirring things up. Brittany joins them. Brittany to Nicole – whatever happens this week or next week. I got you. Nicole – I am very proud of you. Brittany – thanks. Nicole – way to f**king fight! You killed it! Brittany – it feels good. Nicole – hold on to it. Brittany – I hope other people see that I'm an asset. I'm not expendable. Nicole – you killed it! You're a force to be reconned with. Nicole leaves. Michael to Brittany – it worked out perfect!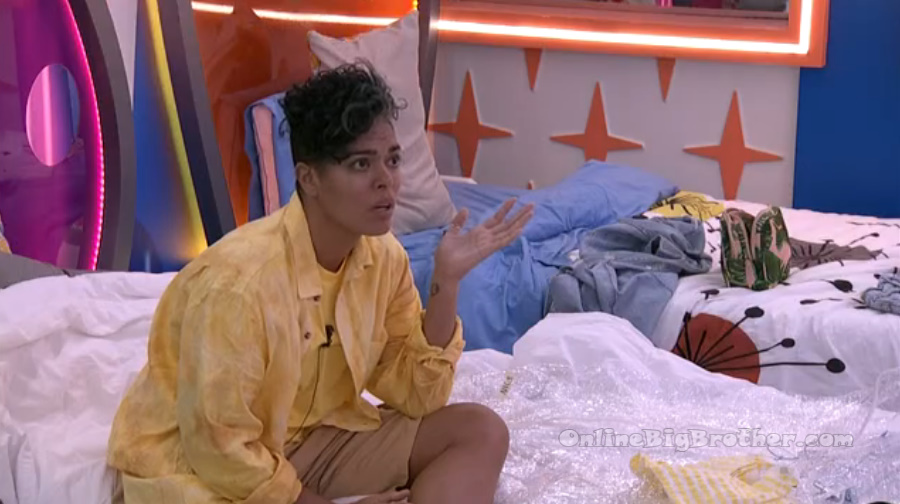 Outside the diary room. Taylor and Brittany.
Taylor – I just want you to know that I love you and you vote how ever you need to vote to get yourself further in the game. All I want to do is leave on a high note and make apologize to everyone that I hurt.. but you do what you need to do for your game. Ok? Brittany – love you to Taylor. It isn't over till its over. Taylor – you never know. I love you. Brittany – I love you too. Taylor – I am so proud of you.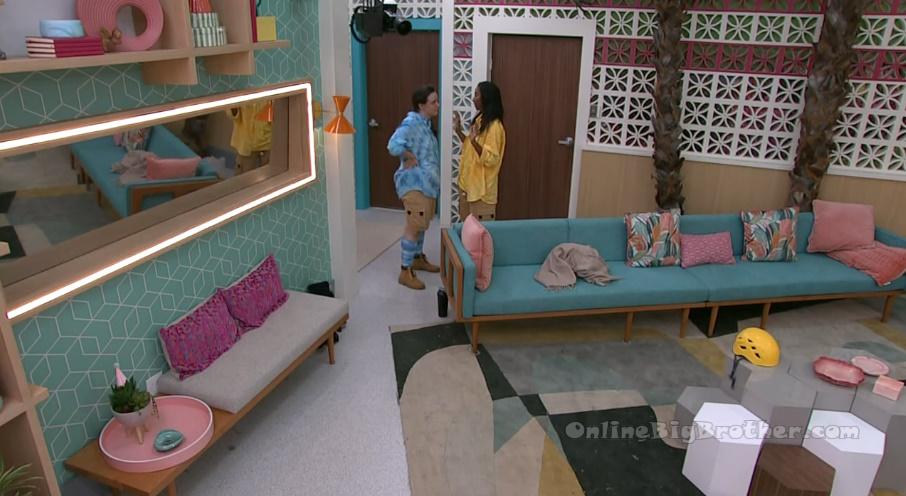 6:42pm HOH room Turner and Kyle.
Turner – that was an interesting outcome! Kyle – how are you feeling dude? Turner – I honestly don't even know what to make of it. I would have liked to play for it but I can't control the circumstances. I know earlier .. Taylor is going to be on my a$$ today with what we talked about earlier. I want to talk to the boys because I talked to Taylor and I was like dude I think its going to be harder to get her on board.. I think it is going to be easy to get her on board but it will be harder to trust her. What do you think about the bestie situation? I think the house is going to be sharing knowledge with their besties. Taylor basically told me that whatever happens has to go through Nicole as well before the whole thing happened. And I wasn't even there so I don't know what happened.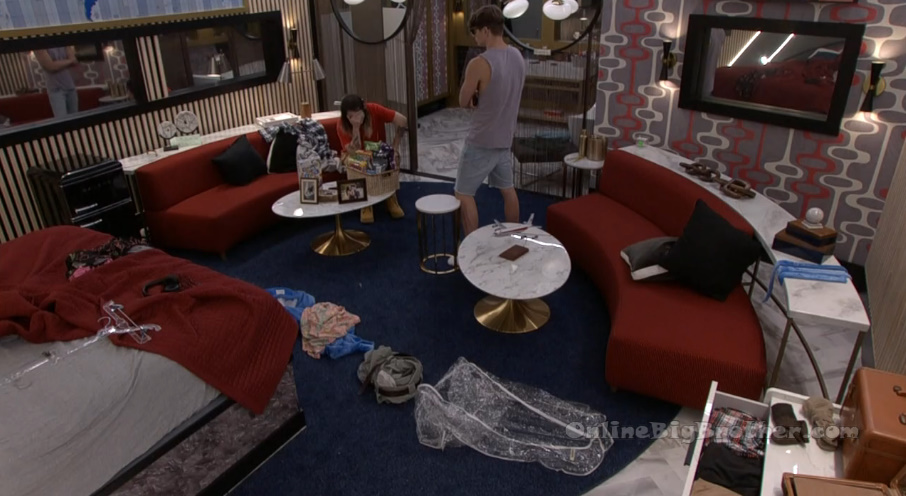 Kyle – so Nicole had some issue and Taylor went in to try and console her and I think it was genuine and she said something like game aside if its necessary to focus on your mental health and leave the game that is totally fine. And Nicole FLIPPED! And she wants me out bla bla bla .. she is trying to play mind games. And then Nicole basically chewed her out for like 10 minutes in the bathroom. Her loyalty dude, she is in conversations and she is not even a part of them. Turner – my only other concern is every other person in the house.. Daniel explained the long and the short of it .. obviously more of a position of the opposition .. everyone was like she (Taylor) needs to be f**king gone by the end of the week.. not like that but .. But I want to do our plan (Getting out Ameerah).. but we have to have all the boys in here to discuss it. I would hate to not kick out Taylor, have my bestie and the rest of the house be so god damn mad that I did not take her out of the house but I am down to talk through everything with us. Whatever we decide I want all of us on board. Kyle – I talked with Michael and he and Brittany are feeling on the outs and just looking for a home. He was like how are we feeling with the girls teaming up and Nicole and Daniel .. I was like yeah I was thinking about that yesterday. Turner – I think whatever we decide to do this week .. its like the boys HOH, not just mine. I want everyone to be down. Whatever happens whether we pull in Taylor or not we can pull in Michael and Brittany .. in a world where we don't put up Ameerah.. all we would have to do instead of pull in Taylor is just win one more HOH. Nicole joins them. They talk about the veto comp.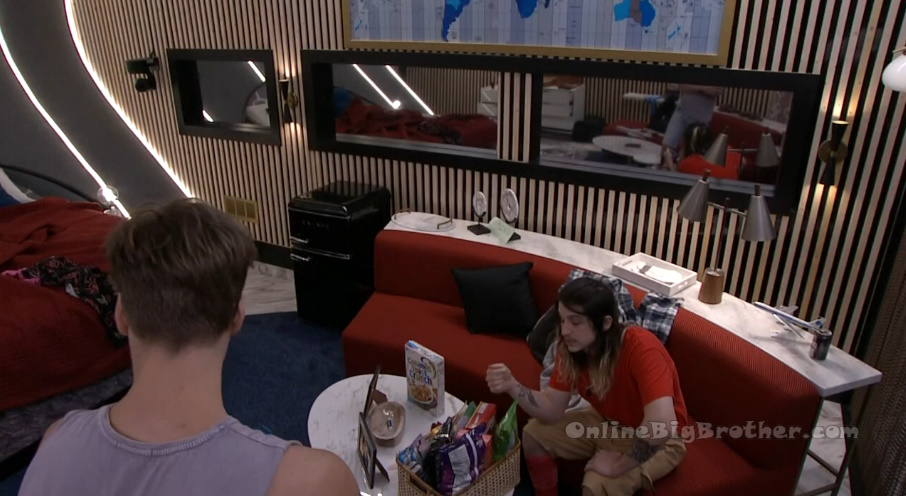 7:04pm HOH room. Daniel, Joe and Turner.
Daniel – I am just going to chill like I have no desire to cause anything. Joe – that's what I was going to say just stay away from her (Taylor). Daniel – if we're in the same room, I am not going to be weird. I will probably just get up and chill and walk out. I am not trying to make it weird. Joe – and Nicole called her (Taylor) out and made it really clear like you need to watch your words. So like Nicole did put her on notice… so her social game is going to be so interesting to watch in terms of her word choice and how she talks and how she treats people. But I don't know, I naturally don't talk to her much anyway. Dude this season has been so crazy already. Daniel – and now 2, well three have been because of personal / medical things. Paloma, mental part .. not the drama. Jasmine's foot. Joe – and Nicole ..(Mom's cancer diagnosis) that was draining for me. Daniel – I don't know is this just kind of normal for a season and they just don't show it? Big Brother switches the feeds.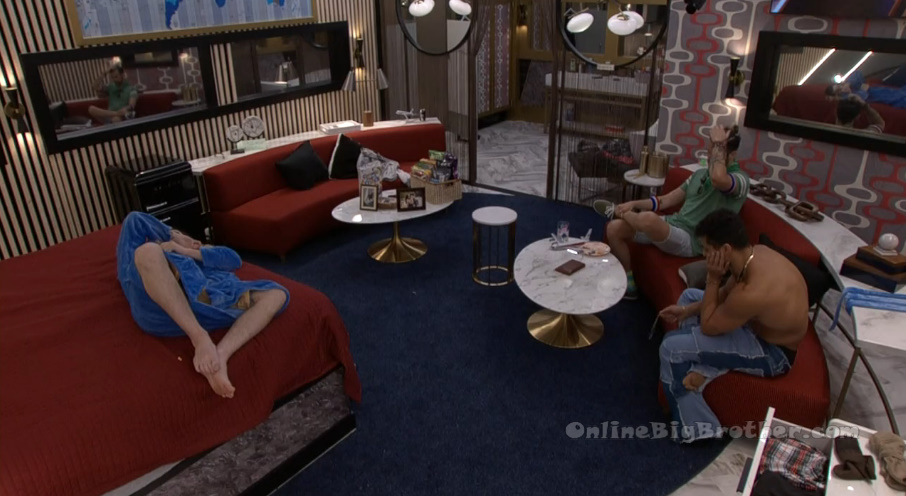 7:19pm Bedroom. Joe and Taylor.
Joe – I don't think someone should be constantly .. I don't want to say attacked up … put the pressure on. So take some time here.. People know that you like to be alone and stuff and talk to Turner.. and I don't think you're dead in the water. I know it might look that way. Taylor – you got to feel the feelings but there is time between now and Monday. Joe – so give it some space, give it some time and Taylor try to have those conversations with Jasmine. Have those conversations with people and make it so like as genuine. You've had a few miscommunications. Taylor – I know how many chances do we give her (meaning herself). Joe – I know that loss probably hit you. You needed that. I still believe in you. Taylor – I appreciate you always being a friend in here. Joe – I know I don't care.. every time I talk to you, I get attacked ..I get a .. there is something going on there and I am literally just trying to be there for you. I am not going to leave you alone. One thing I will tell you is get close to Michael and Brittany. Taylor – I am close with them. Joe – just stay close with them. They're good people. You can trust them. Taylor – I am sorry you've received backlash for… Joe – its okay, I don't mind. I'm not going to leave you.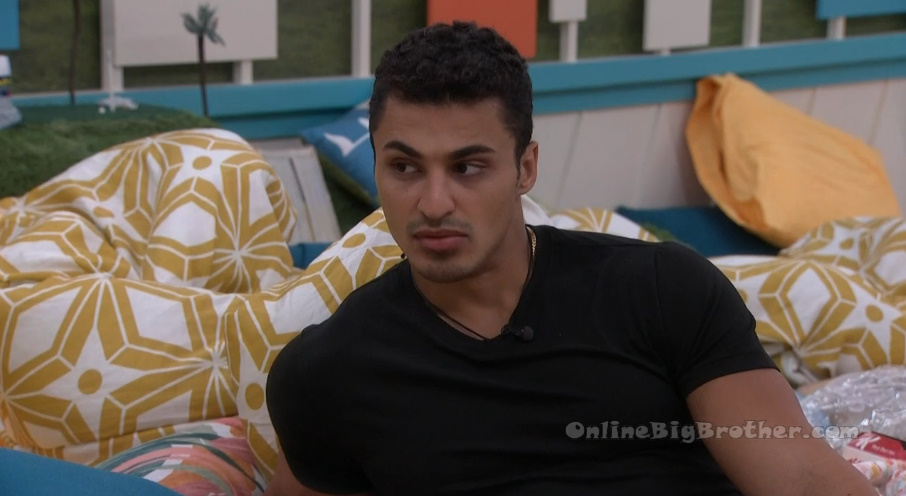 Ameerah and Taylor
Ameerah – I hope that you don't .. whenever you do go home.. I hope that you don't take that with you because that's a sh*tty a$$ feeling. Taylor – I don't think anyone in the house is explicitly.. Ameerah – no, its subconscious ..everyone knows that.. its a bias. Taylor – I've just upheld a black b***h stereotype. Ameerah – its true.. I don't think people are perceiving you like that on the outside. I don't think the viewers are viewing it like that. Taylor – I hope not. Ameerah – I think people are rooting for you. I think we've been here for 3 weeks and you just had a bad start. Taylor – I just hate that I hurt both of them (Nicole / Daniel) today. And it is hard.. I just hope when I talk to Nicole and that she can talk to Daniel and that he doesn't continue to hold me responsible for Paloma. Ameerah – yeah I don't agree with that. Big Brother switches the feeds. Ameerah – I don't think when you get out you're going to be like the villain. Taylor – I hope not. Ameerah – I don't think so at all.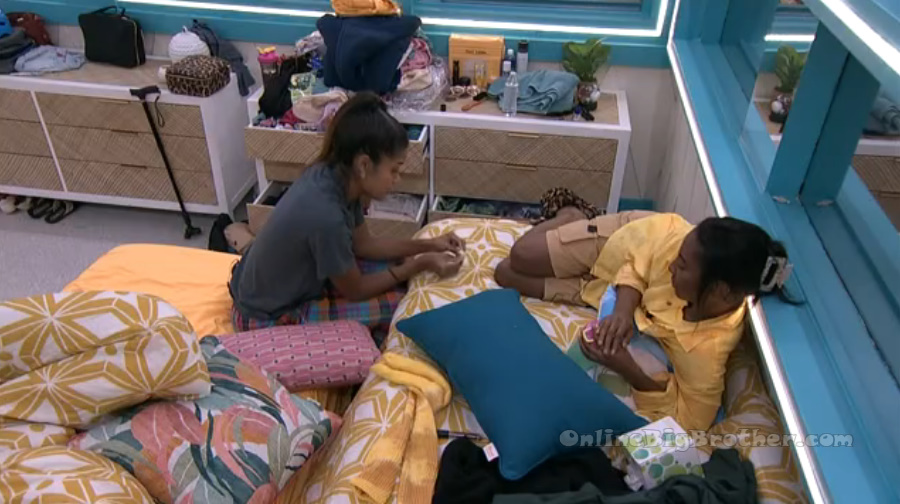 7:25pm – 7:40pm Storage room. Joe and Michael.
Michael – I went to bed early last night, did I miss anything? Joe – not anything intensive but I made it clear that I am not going to let you and Brittany be this like sacrificial thing and get booted to the side. Especially Brittany because you obviously have a better reputation game because you win a lot. But still I am not going to let Brittany be booted like that. She is a good person and she is trying hard. Like she shouldn't be penalized for that. And I feel bad for Taylor as well.. like she came to me right now asking if she could talk. She said she likes to be alone but doesn't know who she can talk to. And we're talking and I see people walking by.. not you and we're getting sh*t for it. Because I am not letting her rot away. And I don't care if it hurts my game .. if it doesn't. If someone had their mishaps like Taylor did .. and I don't think she meant it. I think its just miscommunications. And I don't think she should be bullied .. bullied is a strong word … or ostracized.. and left alone. Like me and her are not close… the fact that she is coming to me and being like please can I talk to you. I am not letting her sit in there alone all day. I would do it for anyone.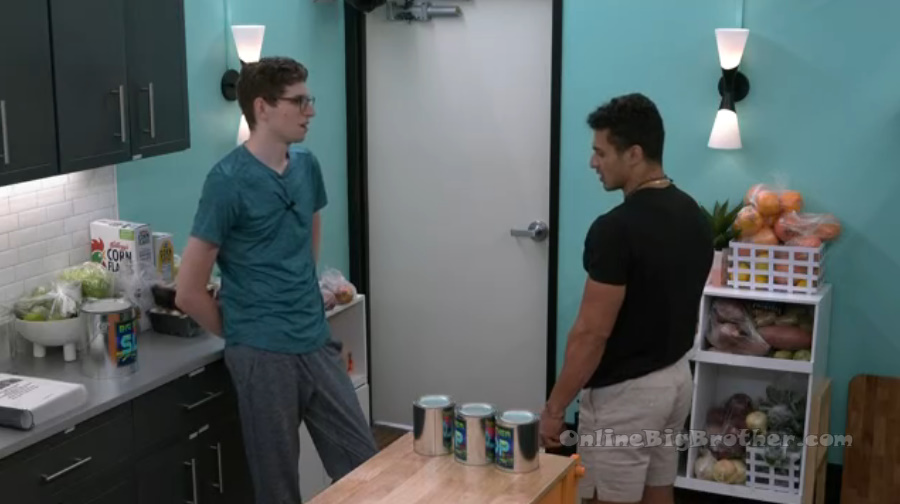 7:57pm Bathroom. Joe, Turner, Nicole, Ameerah, Jasmine and Daniel are hanging out chatting.
8:10pm Bedroom. Taylor and Michael.
Taylor and Michael discuss the votes this week. Michael – 6 votes (how many she needs if she goes up on the block). Taylor – I just need one more vote if something is happening. Michael – I don't know if something is happening but I think if Turner might be involved in it and he picks the replacement .. I don't know but it sounds like there might be a move he wants to make and its not you. I just don't know a whole lot because he just came to me and we got interrupted. All he said to me was that there was some people in the HOH and they see the game going in a certain way with who they wanted to go with. Taylor – okay! Michael – everyday is a new day. I am really glad you're here and I know America sees everything. They hug and Michael leaves.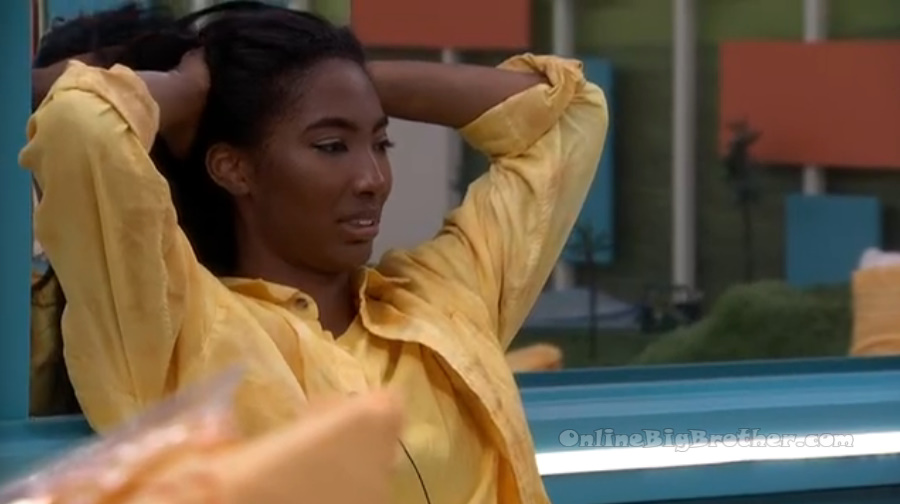 8:13pm Bedroom – Taylor and Monte.
Taylor – right now I don't want to talk game. I am just kind of struggling with .. I told you when I came into this game I wanted to be strong, fierce and independent. That is how I am in the outside world. I told Terrance this .. but I won Miss Congeniality and Miss USA so to go from that person and being rewarded literally for it and being the same person here and hurting people with the same behaviour .. that is what is hard for me. And the one mission I had coming here was to not be the black B***H. Monte – yeah. Taylor – and I am like am I living up to the stereotype?! And that is why you always see me apologizing because I hurt people and that is just what you do. That is what good people do. I am just struggling with that right now and knowing that I hurt someone that I cared about. I just want to give the people that I hurt.. space. Monte – I am sure when you went into that room and you said what you said you were coming from a good place. Its just how it was interpreted in a sensitive moment. Taylor – telling someone how its an option to leave, I get how that can be hurtful. Monte – people look at how that could benefit you and that's how it becomes hurtful. Is there a benefit to you for saying it? You know. Taylor – and I was just trying to learn from the whole Paloma situation. Monte whispers – you may have a chance this week. And I am telling you this because we definitely have to chat later. Taylor – with Turner. Monte – with Turner. Taylor – and Daniel? Monte – no. We're starting to realize what is happening in this house. I'm involved. Josephs involved. Kyle is involved. Turner is involved. Brittany is involved. Michael is involved. You're now involved. Seven people. Taylor – I need seven votes to stay. Monte – you're not even going to go up. Monte tells her they'll talk later.
9pm Workout Room. Joe and Brittany.
Joe – I just have this weird feeling that I am on the outside. Brittany – me too! Joe – maybe I'm not the target now and I think that you and Michael might be more on the outside. I can just tell from last week with the whole Pooch thing that we were definitely not in on what happened. Brittany – we were told at the last minute which it wasn't us but it might be next time unless we create our own inner circle. Joe – unless the outside people band together we're going to lose to whatever. Brittany – Turner told us that he was going to take us in no matter what. I don't know if I believe it. Brittany – lets start thinking about who we trust. I trust Michael. Joe – I told Michael that you and him are my hardcore people .. like that's it.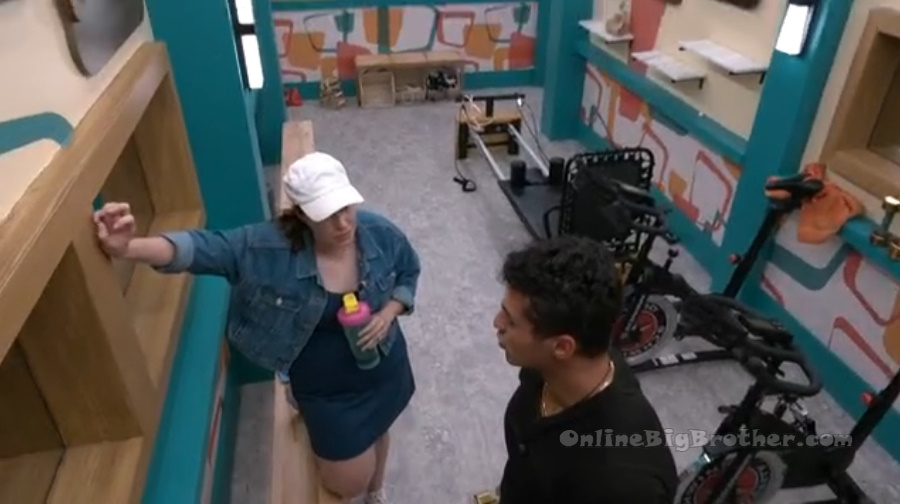 9:25pm – 9:54pm HOH room – Kyle, Michael and Turner.
Kyle – Alyssa told me a lot of stuff that I have not shared with you guys but I've talked to Monte about it. We'll lay out all the cards tonight. I am putting all my eggs in this basket. Like we have no other choice. Alyssa told me that Paloma started an all girls alliance like day one or two we were in the house. And Monte is like looking back on it Taylor could have been possibly telling the truth that maybe Paloma was starting an all girls alliance because she is a big feminist and that means a lot to her. She started multiple alliance the first week. Monte is like wondering if I brought it up to Paloma, she blew it up and then the house kind of flipped it on Taylor as the bad guy when in reality she might have just been looking out for him. That's where his head is at. I feel good about you (Michael). Do you feel good about Brittany? Do you think she would be open to something? Michael – I think so.. I don't think anyone has brought her into anything. I think she will be loyal. Brittany joins them. Kyle – just talking a little game talk. Where do you stand in the house? Brittany – that's a good question. Joe joins them. Brittany – I get nervous .. Tuner I get scared if we hadn't won. Tuner – it was a awful pick and then me and Jasmine couldn't even play. Kyle – do you feel close to the girls especially after last week? Brittany – like arms length. For example I won and I thought there would have been more celebrating. Not so much celebrating, just some pats on the back. And that is scary. Michael – I don't even think I got a hug from all of them. Joe – I got the same energy from his (Turners) win. Like sh*t that's not a part of the plan. Kyle – I am all in with you guys. Alyssa opened up to me a bit. For like obvious reasons.. She kind of has a crush on me .. and its played to my advantage. She said when Indy got the alcohol she said there was an alliance made that day called Old School. She said it consisted of Terrance, Nicole, Daniel, Jasmine, Ameerah and then the adopted Alyssa. Alyssa I love her and I have feeling for her and I know she does for me too but at the end of the day I am here to play the game.
10:40pm Kitchen – Joe, Ameerah, Brittany, Michael and Alyssa are hanging out. Joe is cooking and Ameerah is doing the dishes.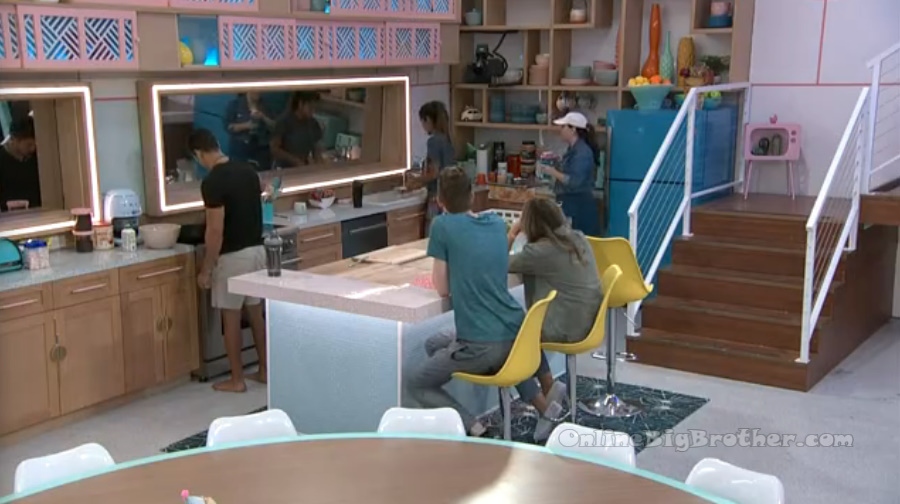 10:45pm Storage room. Michael and Brittany.
Brittany -… I know and I feel good about it. Turner is like a question mark. He wasn't talking much. Michael – he was talking more earlier before you came up. Brittany – but him and Daniel, aren't they close? I feel good about us too. It was such a defining time because Joseph was talking to me about the like hey we need to go all in. The only thing .. I would need to know who was talking about scenarios where Ameerah said she would vote me out if we were to stay on the block. Michael – oh he did say that. Brittany – I need to know who would have done that because if I am going to vote Ameerah out or something like that I need to have a solid reason with the other girls. So that I could be like my name was thrown around by you guys, you took the first shot. Michael – if they do put up Ameerah and Terrance .. you could also just say that the house was keeping Terrance so you went with the house. Brittany – that's true.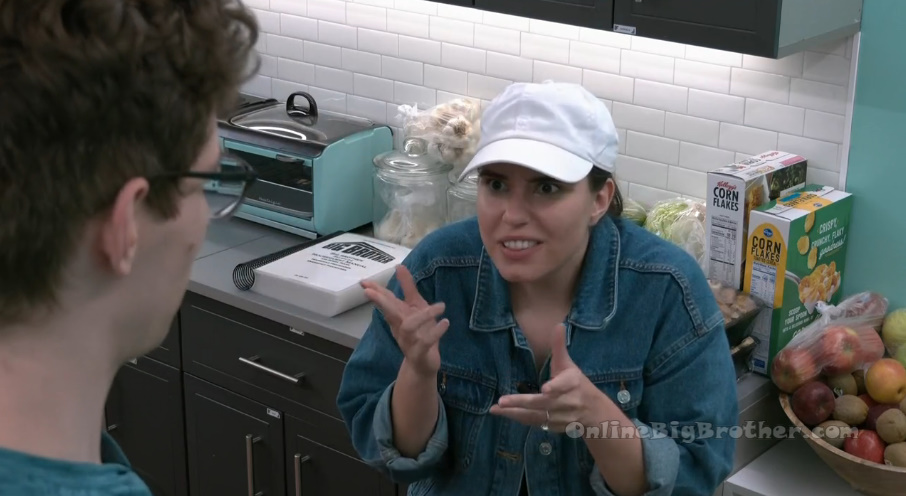 11:30pm – 11:52pm Bedroom. Joseph tells Jasmine and Alyssa about his conversation with Taylor earlier in the night. Alyssa – I am not telling her that I am saving her this week, when they (Nicole / Taylor) go up I am just going to say I am sorry. I'm not going to tell her I am voting her (Taylor) out, I am just going to say sorry its not looking good. Joseph – no, she knows she won't stay over Nicole. Taylor joins them. They talk about past big brother house guests and past seasons. Brittany and Ameerah join them. Jasmine turns the conversation to talking about her IBS..