POV Holder:
Zach
Next POV
Aug 9th
POV Used
?
POV Ceremony
Aug 11th
HOH Winner 1:
Nicole
HOH Winner 2:
Christine
Battle of the Block Winner
 Frankie/Ca;eb
Next HOH
Aug 15th
Original Nominations:
Nicole's Noms (Caleb & Frankie) Christine's Noms (Zach & Donny)
Final Nominations:
?
Have Nots
Donny and Zach
POV Players
Christine, Zach, Donny, Nicole, Caleb, Derrick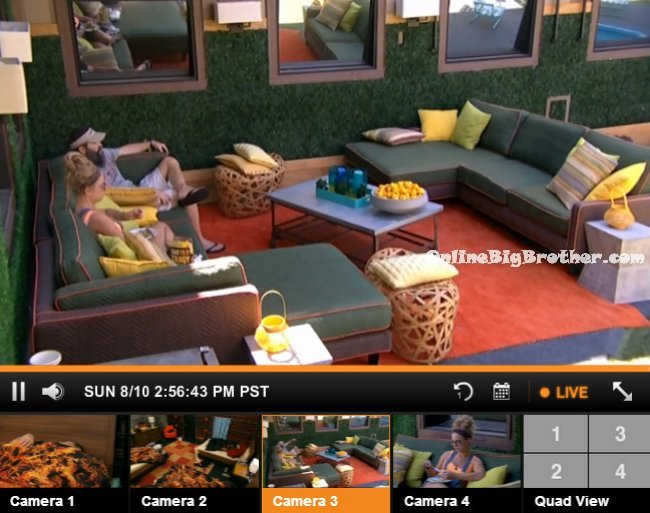 Take Advantage of the FREE 2 day Trial to watch all the drama!
2:55pm – 3:15pm Out in the backyard – Nicole is talking to Donny in the backyard. Nicole says Frankie is probably telling Christine 100 times today to put me up! I hope she doesn't. Christine said that she wouldn't put me up. If she doesn't then the whole house is going to go after them. If she does the I will tell her that she gave me her word. At this point I don't think there is anything I can do. If she does then her intention is to get me out because she knows how angry I would be if I was left in the house. Donny says it doesn't seem like Derrick is going to let Victoria to go because they're the voters. If she does go up then they want me out. Nicole says I don't want to say anything to give them any reason to put me up. Donny says you see how it shakes down and then we can say all we want. Donny says sure is a good day! It would be a good day if we had a visitor. Nicole says and please don't say anything I've told you because I would go up and right now I don't think I will go up. Donny says I won't. Maybe everyone will stay in bed all day and then when they come back they will tell their story and stay up all night talking about it. If Zach does talk he could say Donny said something. Nicole says that's what he did with my name, I am just so glad that Derrick got to the bottom of it so quick. Donny says if we did go there would be a lot of fighting and carrying on with all the promises they've made to each other.
Nicole says I am just hoping that one of them can be us. Donny asks you reckon its about time for the photo booth? Nicole and Donny talk about Jocasta and Hayden in the jury house. Donny says I bet they're having a ball. Nicole says she bets he's sad. Nicole says as long as you and I aren't sitting beside each other then we'll be okay. Donny says I think having me up, they want me out. Nicole says a lot can change. Donny says I say don't worry about nothing till after the veto meeting because then you know who you're sitting beside. Donny says I haven't had one person tell me not to worry. Donny says typically you need someone though to take your friends down. Nicole says that's what I was thinking. Donny says because you've got to get there with the least amount of blood on your hands.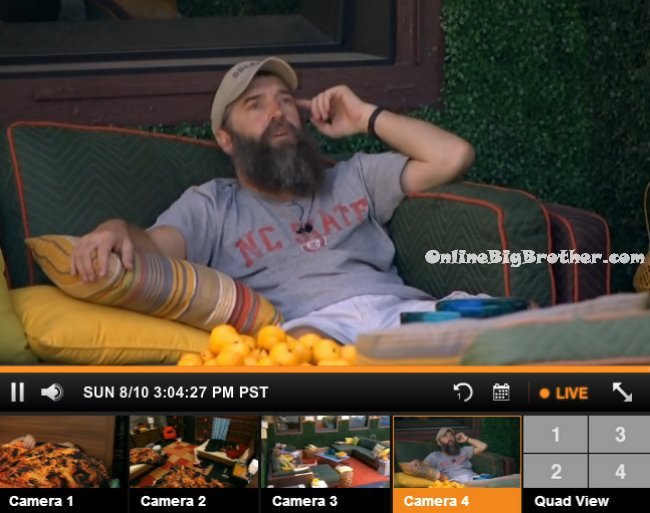 3:17pm – 3:40pm Big Brother says "Hey everybody! Its photo booth time!" Donny and Nicole head inside to take photos in the photo booth. Nicole thinks theres something wrong with the photo booth. Nicole heads out of the room. The photo booth turns on and Donny starts taking photos. Nicole comes back and she takes photos. They take a few and then quit. Nicole then heads back to bed. Donny heads out into the backyard and starts filling up the hot tub with water.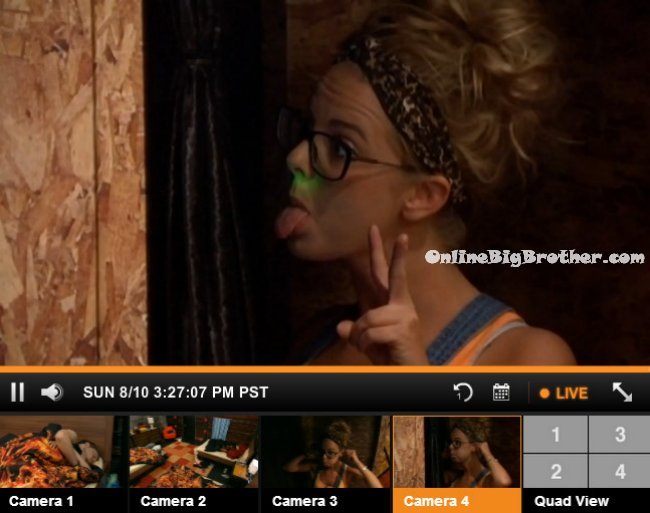 3:45pm – 3:55pm In the fire room – Nicole asks Derrick are we good after everything that happened last night? Derrick says of course we are. I think it was good for me and you. Nicole says I'm glad you approached it in the way you did. Derrick says I knew the way he (Zach) said it to me and how he said it to me I knew immediately that he was lying. Nicole says that I know that Frankie is telling Christine a 100 times today to put me up. She told me she wouldn't so I am just going to wait and see what she does. Nicole says I am just tired of people using my name and putting words in my mouth. Derrick says then that would ultimately fall on her. Victoria joins them and Derrick leaves the room. Derrick heads into the storage room and tell Cody about how Nicole thinks she could be going up. Derrick says for me when people start talking like that it looks like they have a guilty conscience.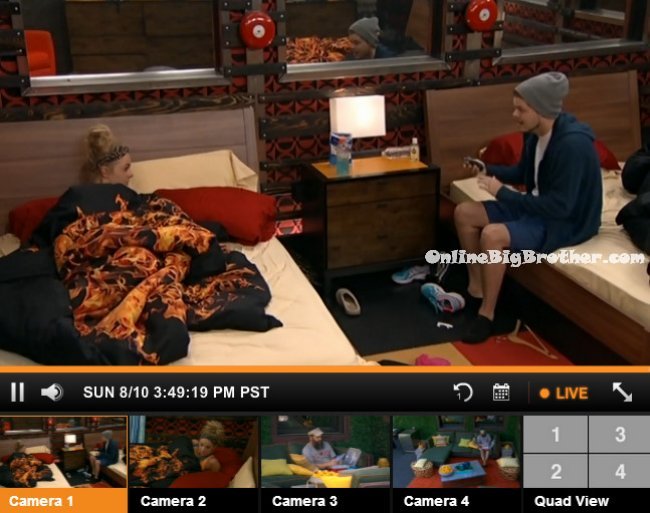 3:55pm – 4pm In the bathroom – Cody tells Derrick how Christine wasn't sure if she should tell Victoria she would be the replacement nominee. Cody tells Derrick to not to say anything game related to Christine. Derrick says I don't.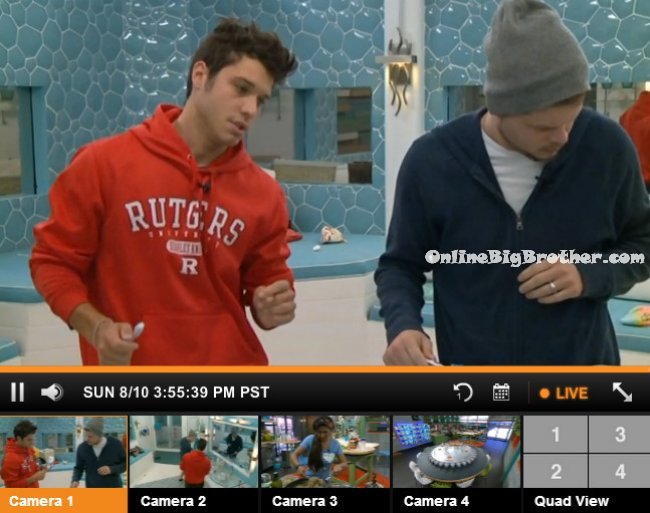 Alliances:
"The HITMEN" – Cody & Derrick
Team America = Donny, Derrick, Frankie
More polls here https://www.onlinebigbrother.com/big-brother-compendium/big-brother-16-polls/
[polldaddy poll=8233586]