POV Holder:
Chrisitne
Next POV
Sept 6th
POV Used
Yes
POV Ceremony
Sept 1st
HOH Winner
Caleb
Next HOH
Sept 4th
Nominations:
Nicole and Victoria
Have Nots
Derrick and Nicole
POV Players
Victoria, Nicole, Caleb, Cody, Christine and Derrick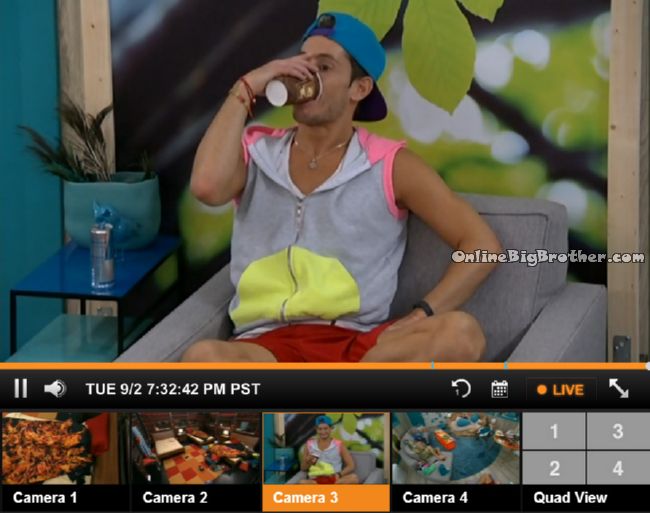 7:31pm HOH Christine, Frankie and Cody
Frankie brings up talking to Victoria about studying the dates and she asked him a sample question
Frankie – Was Cody dethroned before or after week four
Cody – that is so sad
Christine just laughs
Cody and Frankie start to laugh "oh my goodness"
THey start talking about how disgusting smoking is.
Frankie says he was raised by a lung Doctor.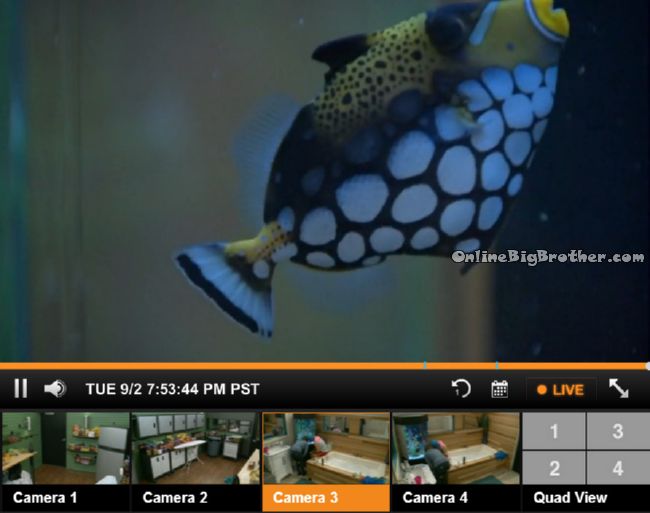 7:53pm Feeding the fish
Christine says she took too many birth control pills, "I took one extra pill or three.. and now it's supposed to start Thursday but maybe I jacked it up taking too many.. I was like why does my tummy hurt"
Christine heads downstairs.
Frankie starts to change "as soon as I get naked the cameras go nuts"
Christine – Everyone is watching..
All 4 cameras move off Frankie.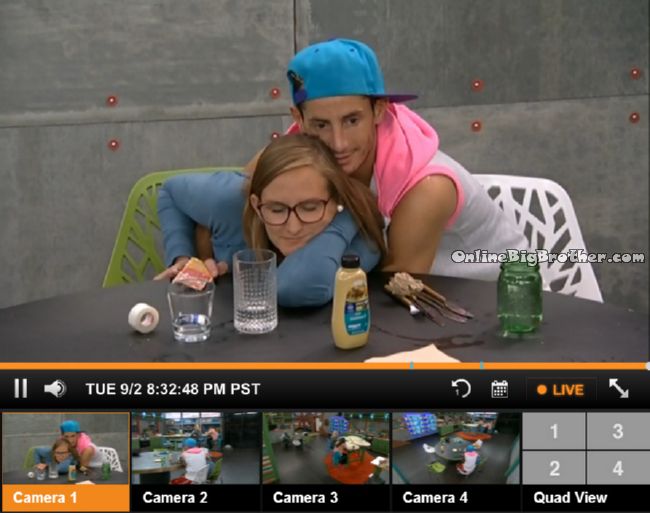 8:34pm Kitchen Frankie and Christine
Christine tells Frankie about coffee enemen "I heard they're amazing Cofees enema's they give you energy really fast.. it's the best way to get Coffee to get the caffeine to absorb the caffeine "
Frankie – are you serious can you buy that at CVS
Christine says you just stick coffee up you BUTT, Sound like she had a friend who did that. Apparently "It worked really well"
Frankie – are you serious I've never done it that's so weird.. I thought i've tried everything.. what I didn't say anything.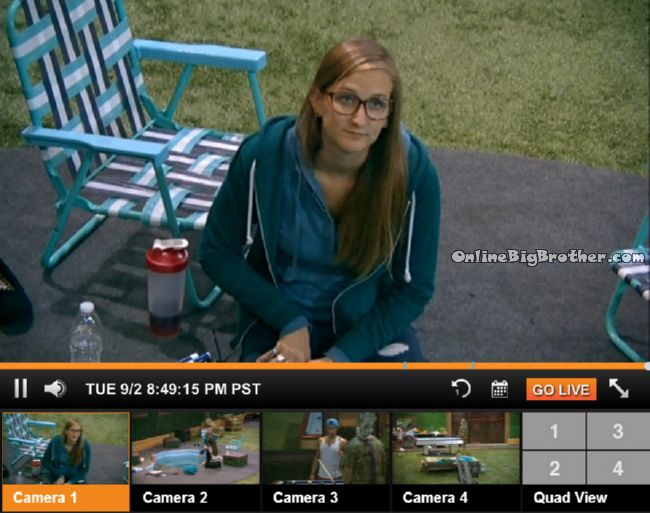 8:48pm Hot Tub the girls Christine is talking about the rings in Tim's ears "Tim takes his gauges out every shower"
Christine lets out a big SIGH looks up at the camera "ohh Timothy I miss you"
9:00pm Christine brings up taking Anti Depressants and getting off them. She wasn't able to have deep emotions when on the anti depressants.
Christine – I never wanted to have them in my system if I got pregnant and I literally got pregnant when i stopped taking them… Feeds cut..
Christine says it's been 2 years now but she's off them it's doable.
Victoria – I've heard in other big brother not this one they give people.. Feeds cut.. Or which one that's just what I heard they give them Anti depressants near the end.. Feeds flip to Cody and Frankie playing pool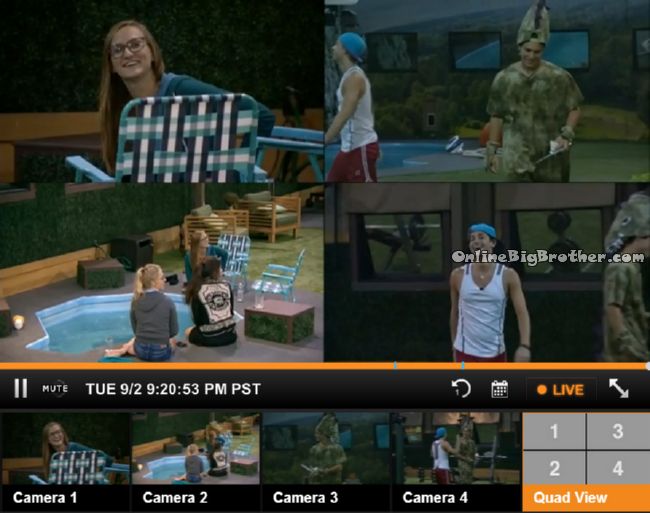 9:25pm Nothing….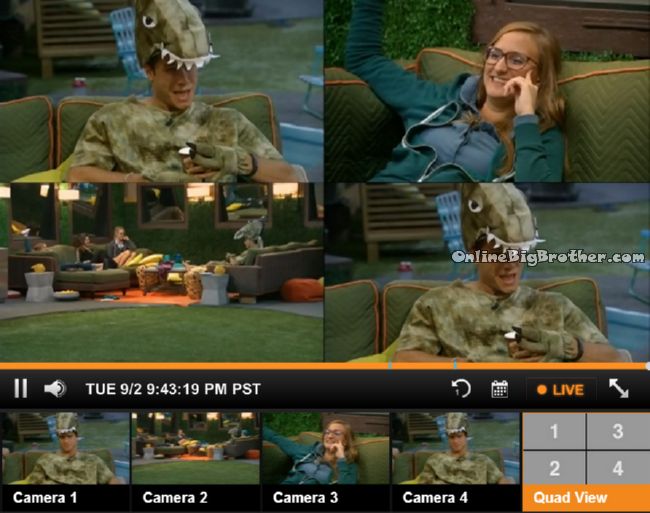 9:43pm Nothing really…
Frankie says watching Top model I learnt so many posses
Christine wants to know hoe Cody meets girls at the bar.
Frankie does a Joe Pesci impersonation… MUTE…
Cody talks about how much money he use to spend going to the bars, Says every night him and his buddies would wake up in the morning and be out $100 each.
Frankie talks about his friend john Eric, says he's in his 30's… says he's going to take Cody to nice gay bars, "It's neighborhood like.. the gay bars I go to are neighborhood bars not club"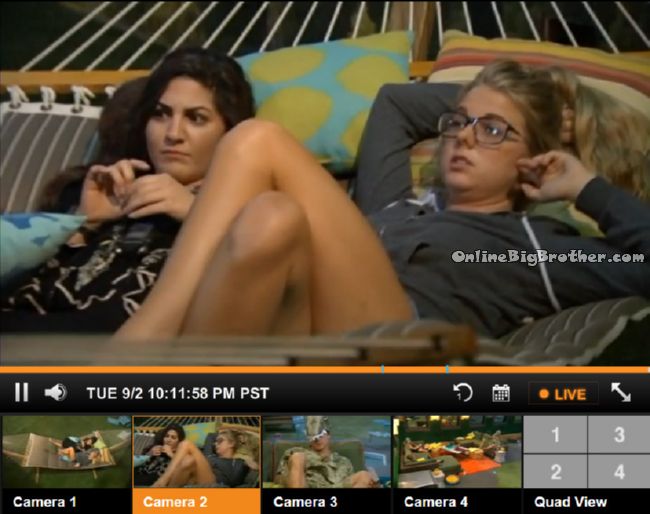 9:57pm Backyard
Cody asks if the feeds are always boring. Christine says at this stage they are (Not all the time) Victoria and Nicole head to the hammock.
Nicole apologizes for being quiet.
Victoria – Cody is ridiculous.. he annoys me a lot..
Victoria says Cody was trying to get information out of im.
Nicole – do you think Derrick told him.. what did you tell him
Victoria – I'm not telling him..
Nicole – If you throw out names he'll use that against you.. he's kissing your butt
Victoria – ohh f*** crazy.. I called it last night for sure Derrick spoke with him.
Victoria is not going to waste her HOH, "He wasn't Frankie goes so bad him and christine or at least that is who they state"
Victoria says she speaks more game with Caleb than Cody and he's coming
Nicole – I'm really mad at Derrick if he told COdy .. I trusted that Derrick keeps stuff to himself
Victoria – he does..
Nicole – She pretends not to like him but she's kisseing his mbutt more than anyone else… she's playing her cards right
Victoria – yup.. I can't stand all this fakeness and kissing butt
Nicole – it's getting to me I've never been so much and at such a high dose.
Victoria- She literally laughs all the time..
Nicole – I hope it's a double eviction on Thursday.. everyone is feeling way too comfortable.. look at those two they aren't worried at all.. Caleb doesn't care if he goes.. Frankie is paranoid.. if Frankie doesn't win he's in trouble if he doesn't win HOH or POV he's going home.
Victoria – he's a beast.. A BEAST
Victoria and Nicole say they are being themselves in the house. Frankie was telling them that he's playing a character.
Victoria- he's in Character 24/7
Nicole – he's getting exhausted of it he wants to break free
Nicole says it's frustrating how much people threw things in her face and used her name for fun.
Victoria thinks being put up the first week shook her confidence if that never happened things would have been different, "When people get put up on the block they freak out"
Nicole- people have not had to deal with the stress we have..
Nicole – don't fall for his fakness (Cody)
Victoria – I'm not
Nicole – it's going to get bloody in here once they start turning on each other.. you are the next easiest one out and I don't think they are going to go after you.. they are definitely going to turn on each other if there is a double eviction.. They are going to get pissy..
Nicole – Is that Derrick
Victoria – ya .. I love him
Nicole – he so nice
Victoria – I'm so blessed to have him in this game
Nicole – he's so nice he cares about people's feelings
Victoria says derrick and her are a lot alike but he's a lot stronger.
The Live Feeds are archived. You can go back and watch everything that happens
Try It Free! Subscribe now to the official BB16 Live Feeds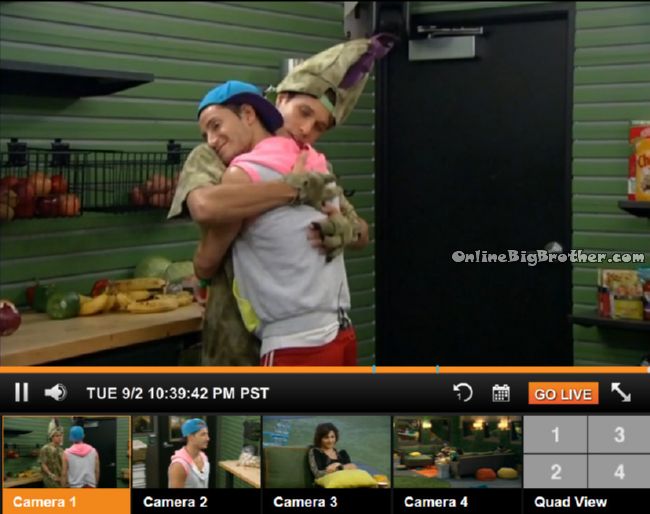 10:33pm Storage Room Frankie and Cody
Frankie – are you concerned that I would put you on the block.
Cody – NO is that coming from Caleb.
Frankie – YES.. that's coming from Caleb.. He';s concerned.
Frankie – the point of the matter is we're going to be the final 4 mother f***rs in this game.. I don't question you and Derrick at all"
Frankie says Caleb is infusing paranoia in them all.
Frankie says if Caleb is a mastermind in this game he would be worried Caleb is trying to pin them against each other But Frankie know he's not.
Frankie – I'm so excited I love you
Frankie says he didn't' think he needed a check in but he doesn't think it would hurt. "It's nice to have check ins they hug
Frankie – I don't distrust any of you
Cody says that is why they are going to the end, they win all the competition. and never put each other up.
Cody asks if he'll keep Christine, Frankie says no.
Frankie – I never lied to you I never lied to Caleb except for small manipulations at the beginning of the game..
Frankie laughs.. THey grab the new badminton rackets and head outside.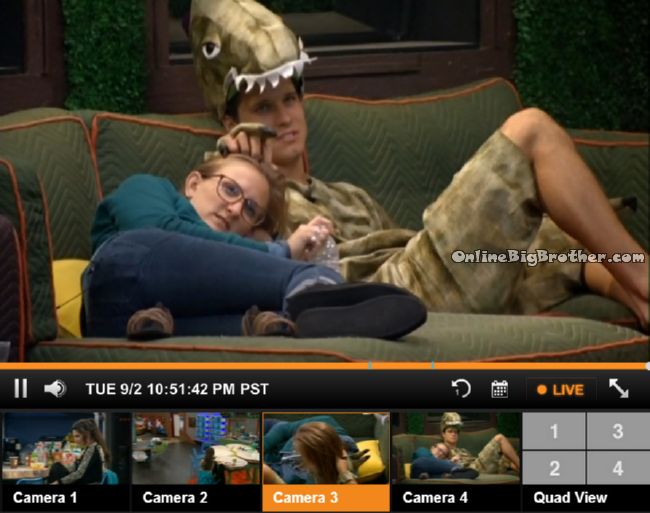 10:51pm
This is still going on I thought it had ended.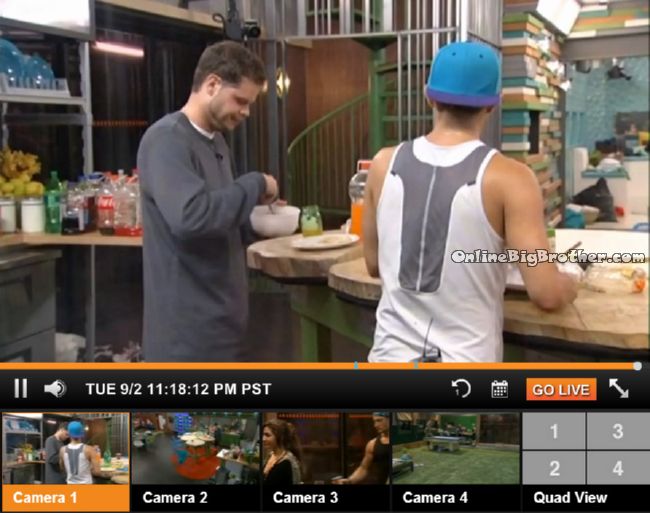 11:18pm
Derrick doesn't think the TA tasks is over because Donny is gone he's think it's just done for the season.
Frankie doesn't think so he thinks it might be a week off.
Frankie brings up "THey" could hate us
Derrick doesn't want to think it's because Donny went home he would rather believe it was scheduled to end.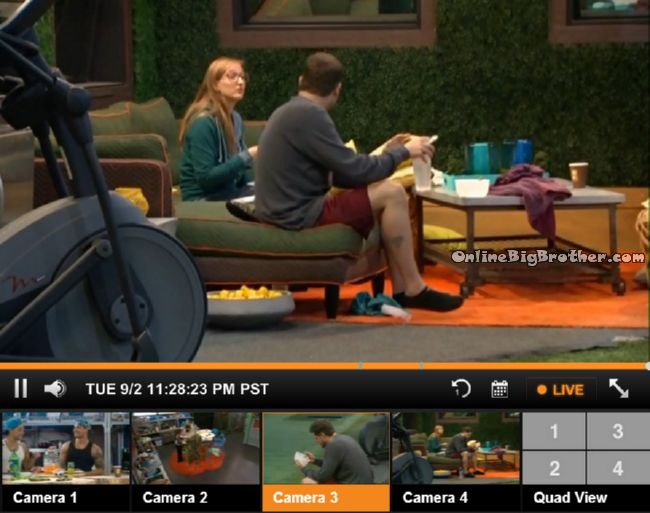 11:27pm Christine and Derrick
Christine says Frankie confronte her and said she was being too nice Nicole, "He said I gave her special treatment" CHristie explains Frankie got after her for telling cody to not make slop for Nicole that contained milk because Nicole is lactose intolerant.
Christine says if Frankie wins HOH it'll be Cody and Derrick going up, "I don't want that"
Derrick – it's possible.. i've resigned to the fact if I don't win a couple bigs ones i'm going home.
Christine says Frankie is SKERRY in the final 2
Derrick tells her not to play down her accomplishments she's building up a nice resume. Points out that he's one the least comps.
Christine says theres different ways to play the game.
Derrick says Cody is genuinely a good guy "I've never heard anyone come up to me say Cody is talking sh1t about you ever… definitely means a lot"
Christine – If you won HOH are you still going after Victoria
Derrick – Yes.. I wouldn't say I'm goign after Victoria .. VIctoria is going up
Christine – Oh obviously if I win she's going up.
Derrick ultimately one of them have to go.. but ya she definitely has to go up there you have to… would be a waste to send her home.
Christine says as nice it would be to make it to the final 5 as a group she started thinking about the money and likes that more.
Derrick says if Victoria make it to the final 3 it's going to be scary. you'll need to win HOH to make it to the end.
Victoria joins them.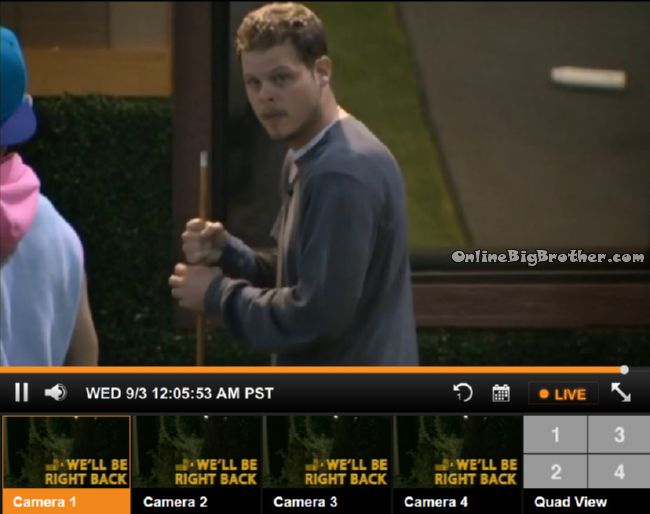 12:03AM Frankie and Derrick
Derrick says he's nervous about the end game, "I'm feeling the pressure I know we all are" .
Frankie whispers "I think we're good"
Derrick says everyone with the exception of Beast Mode is sitting here saying "AS long as I don't win i'll still get America's Player"
Frankie says he wants Derrick to know he's got Caleb 100% in this corner and he's got Frankie 100% in his corner.
Derrick says he needs to earn his spot in the finale doesn't expect for someone to take him "I gotta do what I gotta do"
Derick Say they had a bond from the grandfathers they've lost they've been close all season.
Make your Amazon purchases through the links below it Supports this site
[polldaddy poll=8274218]