POV Holder:
Chrisitne
Next POV
Sept 6th
POV Used
Yes
POV Ceremony
Sept 1st
HOH Winner
Caleb
Next HOH
Sept 4th
Nominations:
Nicole and Victoria
Have Nots
Derrick and Nicole
POV Players
Victoria, Nicole, Caleb, Cody, Christine and Derrick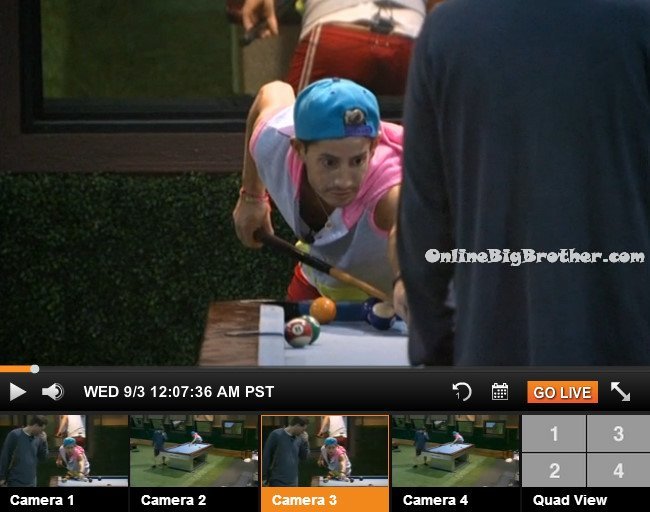 Take Advantage of the FREE 2 day Trial to watch all the drama!
12am Derrick and Frankie are playing pool. Derrick says definitely nervous if there's a double eviction you don't know what's going to happen, like hey Derrick take a seat. Frankie says well Christine doesn't talk game with me any more.. and I don't know that I want to necessarily initiate it. Have you spoken to her about it? Derrick says not game other than when we're all up in the room saying final five, final five. Frankie says right exactly. And we're also the dad's of the house and every time I look at them I think you really are children. Derrick says like I said you don't know. You don't know what deals have been made or what promises have been given. Frankie says what I do know is that Caleb has absolutely no ability to lie. Which is nice and literally as soon as something happens he runs and tells you. Caleb joins them. Victoria comes out. She says that she wants to say something cute on Thursday. I don't want it to be boring. Caleb says she knows, she already knows she's going out. Victoria says I know. I'm not talking about that. Her's is going to be very entertaining. Caleb says her's isn't going to be entertaining. Victoria says I know she's not going to just say hey mom, hey dad. I don't want to be the boring one. Christine joins them and then conversation ends.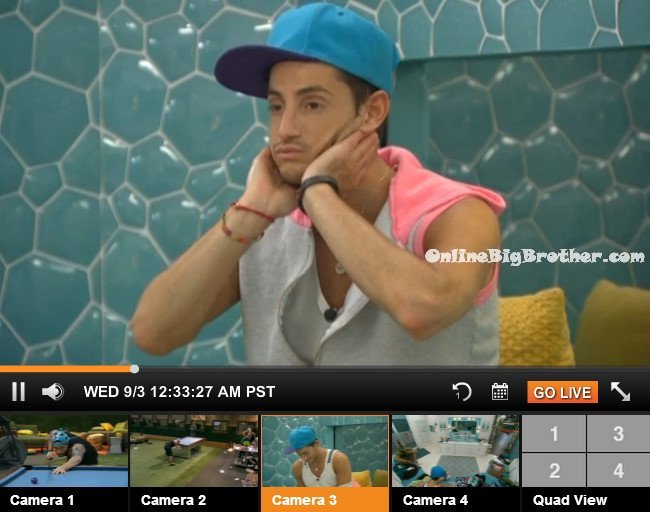 12:25am In the bathroom – Cody and Frankie are talking. Frankie says that he (Derrick) told me he feels like he hasn't pulled his weight. Like I sent Zach home and kept you and him safe. Cody says and I won HOH and veto and sent Donny home. Cody says we've been winning HOH / veto back to back. Frankie says the last time the beasts made it to the end was the Brigade. Frankie says I'm looking forward to it. Frankie says when Derrick is on slop he gets super depressed and then seeing the video and winning 5k for his daughter also gave him a taste of what could be you know. I think he does feel guilty that he hasn't saved us. Like it really has been you and me. Cody says all we can do is get ready for the next one. Frankie says we've had opportunity to take advantage and take a shot and we haven't. Am I capable of course but I don't want to. I'm a smart player. I want to make it to the end. I feel like I am a representative for the gay community. I think a lot about how I'm perceived outside of his house. I think we all do. Its a cool thing to get to the end with my boys. I feel like in my life I've never been perceived as a bro. Its not a good thing or a bad thing but I'm excited to show the world. Like a right wing republican who murders animals (Caleb) and then the Dad (Derrick) .. like we're awesome. We all come from different walks of life. We have a hunter that believes our president is evil. Like that he will walk into your house and take everything. Cody says its just fun to play with a group of people and get to the end. We've been a big part of the core group. Frankie says I will feel accomplished if we make it to final 5 and then final 4. That jury is going to have a decision to make. Cody says we have crossed a lot of them. Christine, Victoria and Caleb join them. Frankie says Amber was blind sided. Hayden was blind sided. Jocasta was blind sided. Nicole wasn't but going up she was. Frankie says I reminded Zach all the time he was going home. Like you're going home do you want to talk about it? Frankie says I feel like Pow Pow was one of the more popular players even though she left week two. I wished she could have stayed to loose more competitions. Frankie talks to Caleb about how next week there will be guaranteed a luxury competition, guaranteed money and a host for the veto. Caleb says and there's America's Favorite if I don't make it to the final 3. Frankie tells Caleb I can't see anyone beating you in getting America's Favorite.

One way to support this site that doesn't cost you anything extra is making your
Amazon purchases through the links Below
For in Canada use the following link:
Amazon.ca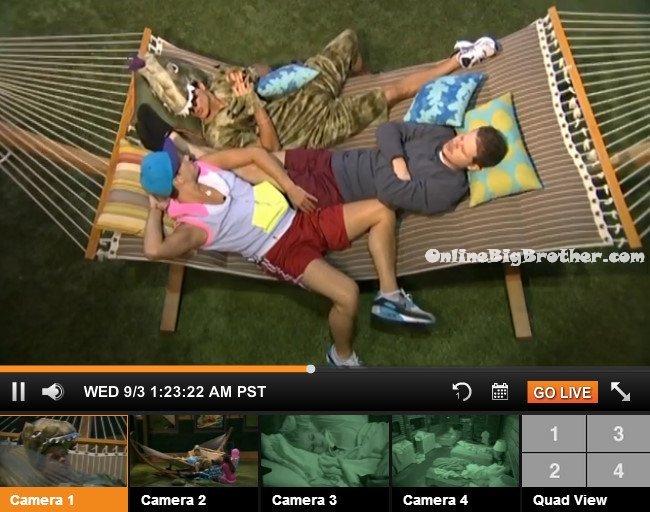 1:20am Derrick and Cody are in the hammock. Frankie just left. Cody says I don't trust him. I don't trust him at all. Derrick says of course not dude. I feel the same way about him and Christine. I think they would take each other and they would have equal chance of winning. Cody says I don't think they feel that way. Derrick says so Frankie doesn't think he will beat Christine. Cody says I don't think he thinks he will beat her as much as you think he will. I think he will take Victoria. Derrick says that ain't happening. Its a huge risk taking Victoria to the final 3 and risk your money on you'll beat her. Derrick says if you take Victoria to the final 3 and you lose the other person will entertain the idea of taking her. I promise you if Victoria made it to the final 3 and someone took her over the other person just because its a guaranteed win .. I will give f**king Victoria the money. Cody laughs. Derrick says I am deada$$ serious. You think I'm kidding, I would. You think you're so smart. Cody says I'll do it too if its just me. Cody talks about his conversations with Frankie and Christine. Cody tells Derrick I would love to take a shot at Frankie. I know you would rather Christine. Derrick says If I think about big brother and take emotion out of it ..I think my best chance at winning would be against her. Cody says why wouldn't you want to keep her till at least final 3 just in case she goes Derrick I'm going to bring you. Derrick says because if she had an opportunity and Frankie stayed in she would vote us out. Cody says but that's the game dude. I don't think it would be you. Derrick says I don't think it would be you. Derrick tells Cody I have a lot of pressure to take home the money. We will talk about it after the finale. I never wanted to put it out there. I don't know what other peoples stories are but I'm got a lot of pressure. Frankie and Christine join them. They talk about the possibility of All-Stars next season. Derrick thinks they would have a big brother champions season with the winners. Cody starts running around the backyard like a dinosaur.