POV Holder:
Chrisitne
Next POV
Sept 6th
POV Used
Yes
POV Ceremony
Sept 1st
HOH Winner
Caleb
Next HOH
Sept 4th
Nominations:
Nicole and Victoria
Have Nots
Derrick and Nicole
POV Players
Victoria, Nicole, Caleb, Cody, Christine and Derrick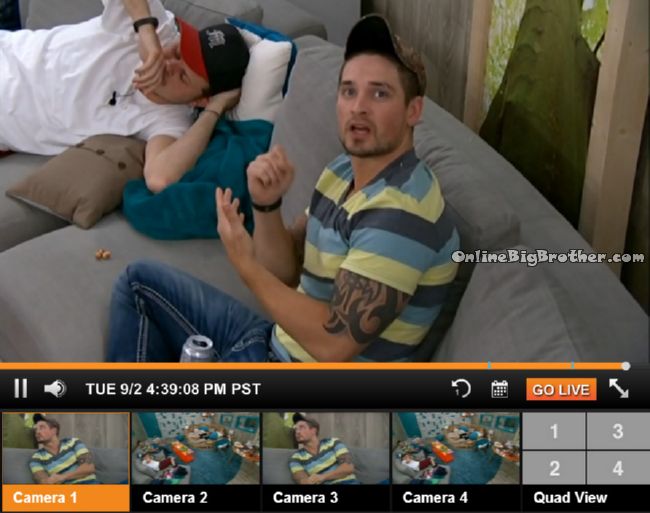 4:38pm HOH Caleb, Derrick and Victoria
Caleb – It's crazy how in love with Cody Christine is and she's married.. that's bad.. that's bad.. that's bad .. She can't stay away from him she' literally melted to him "
Caleb looks at the camera (See image) – Tim sign the divorce papers.. sign them up sign them up they are in love baby .. THEY ARE IN LOVE . there's nothing you can do baby .. None of us house guests can separate them"
Caleb and Derrick start laughing.. "I don't know what to do.. "
Derrick – jenna I love you I got my ring on
Caleb – you notice Victoria ain't wearing it around the house playing pool and badminton with it Like when Cody was wearing Christine's wedding… ring ya umm.. "
Derick – speaking of which HI tena hi Jenna love yo a lot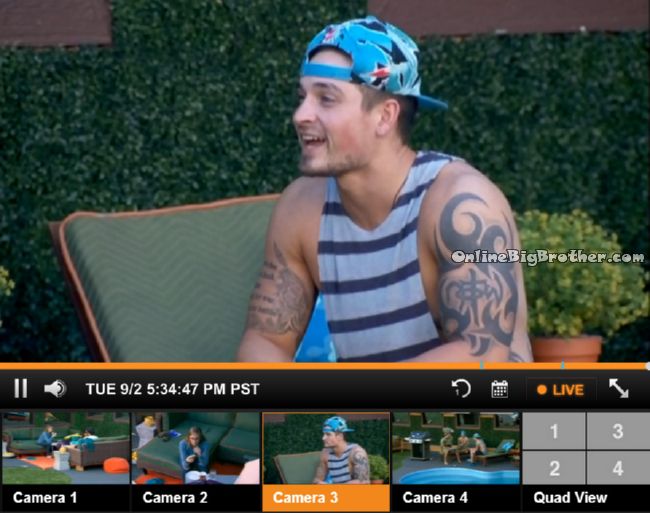 5:31pm Backyard Caleb and Cody
Caleb – I just want to go out see some chicks get some numbers.. I'm missing.. like female..
Caleb – wouldn't it be nasty if what Derrick says happens.
Caleb explains that Derrick told him the fans pay $500 to go to the after party to meet them.
Caleb – Imagine if a girls pays $500 just to see you and she was a smoke bomb
Cody – can you imagine
Caleb – I would probably marry her you are the girl for me.
Caleb – a girl just walks up to you hey beastmode cowboy.. or two of them together
Cody – they are best friends
Caleb – we literally paid 500 a piece to get into this party just for you I love city boys I love country boy 's
Frankie joins them Caleb tells him his fantasy about meeting two SMOKE BOMB Big BRother fans that paid $500 each to see him "SMOKE BOMBS"
Caleb brings up a fantasy about a man nice looking smoking businessman coming up to Frankie saying he paid $1000 to meet Frankie
Frankie – I don't sleep with fans doesn't turn out well .. it's bad. they are already obsessed with you
Caleb says he would SMASH Jessie from BB15 says he liked her behind.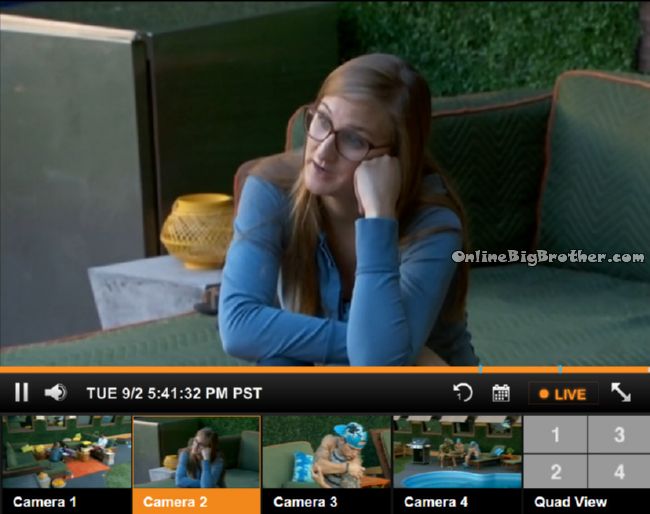 5:41pm Christine and Derrick
Christine says she's thinking about Targeting Frankie she'll put Victoria up as a pawn. Derrick doesn't plan on going after Victoria because she's not a threat to him. Derrick is concerned about hi chances to win the game. Says when he came in he wanted to be a frank Character that is why he had the shirt. Christine says it's hard to tell who wins in the end, says Ian did nothing at all and won.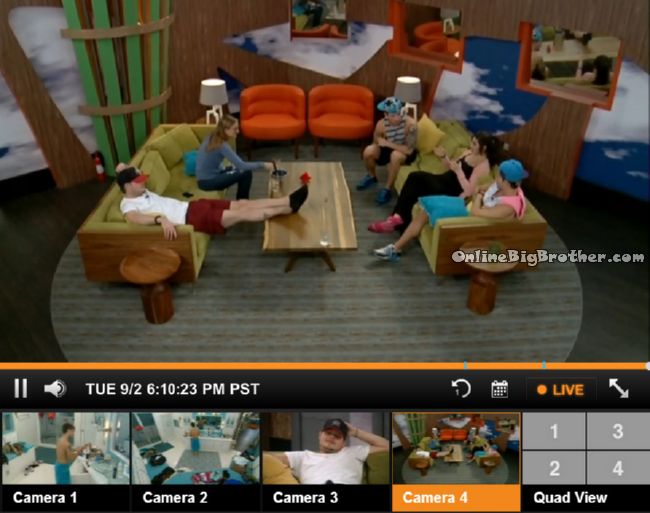 6:04pm Random chit chat around the house.
Frankie mentions lots of screen actors have been making it to TV "There's hope for me yet"
6:09pm Caleb challenges Channing Tatum to a dance competition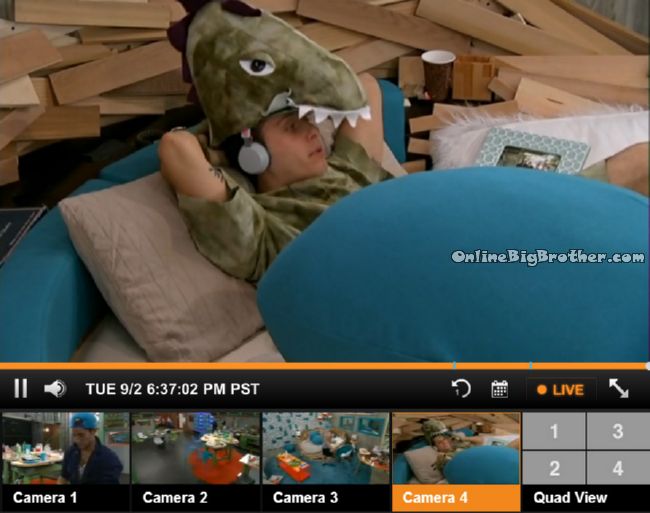 6:17pm Frankie and Cody HOH
Cody screams "LET IT OUT I'M POOPING"
HE jumps on the bed .
Frankie yells at him from inside the HOH bathroom using his english accent. "How's it going"
Cody – It's going great"
Frankie comes out of the bathroom and starts studying with Cody.
Cody – I'm beyond bored.. we've been doing the same thing over and over.. there's no game talk we all know what we're doing.
Cody says once they hit final 4 they will be bored again.
Frankie leaves..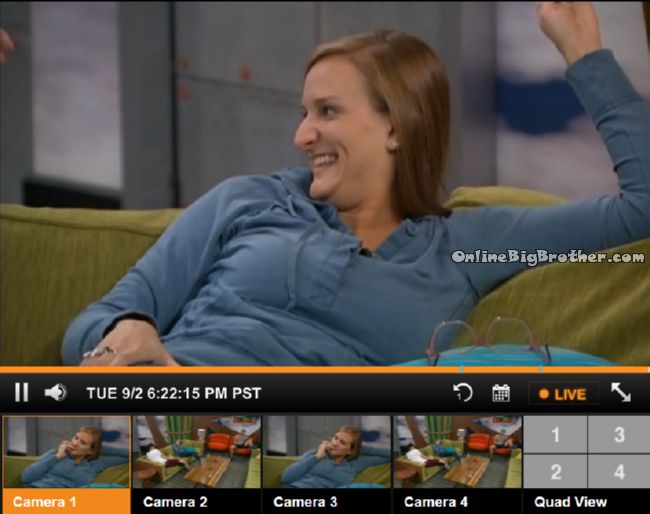 6:20pm Derrick, Caleb, Christine and Victoria
Derrick tells them about the final 3 last year. Christine says Spencer did absolutely nothing in the game.
Caleb says the final HOH is literally luck
They start chit chatting about about the final competition in the final HOH. Caleb Says some of the question they ask are so har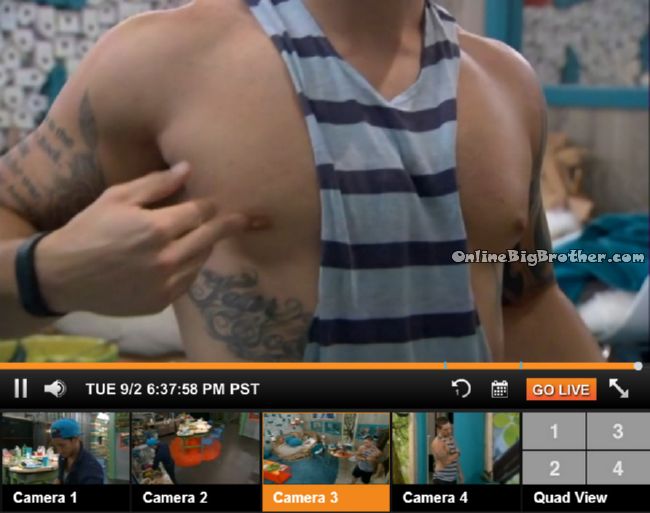 6:37pm HOH Caleb and COdy
Caleb comes in rubs his left breast says his gland is acting up.. "Nothing has stopped it.. I gotta get it taken care of.. especially if I win this or come in second"
Cody – Get that cut out
Caleb – There's a girl out there that is going to get the lucky chance to go to a FGL concert, We need two girls
Explains two "Lucky Girls" get to go on a dates with Beastmode and Cody to a concert to see FGL "Hit us up two lucky girls.. WE need two hotties with some bodies"
Christine comes in "Smells good in here"
Caleb keeps calling out for fans to hashtag give them beer, drunk dinosaurs etc etc..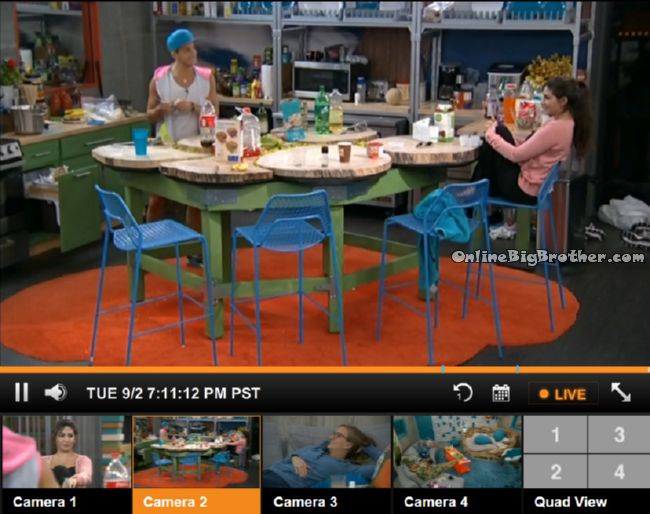 7:12pm Victoria and Frankie
Frankie says everyone is giggling upstairs in the HOH he would rather clean. They start to study together while Frankie cleans the kitchen.
If you're enjoying the live feed updates this season, please consider donating.
Dawg and I work 24/7 all season long to keep you updated on everything that happens inside the BB US house. Any amount is greatly appreciated! Your donations go directly to paying the server and bandwidth fees required to run this site.
[polldaddy poll=8274218]