Quick Big Brother Spoilers
Head of Household: Jasmine
Nominees: POOCH and Taylor
POV Players: POOCH, Jasmine, Taylor, Ameerah, Terrance, Michael (Host Daniel)
POV Winner: Michael
Veto Ceremony: Veto was not used
Havenots: Terrance, Nicole, Pooch, Daniel
Lock your ranks in before midnight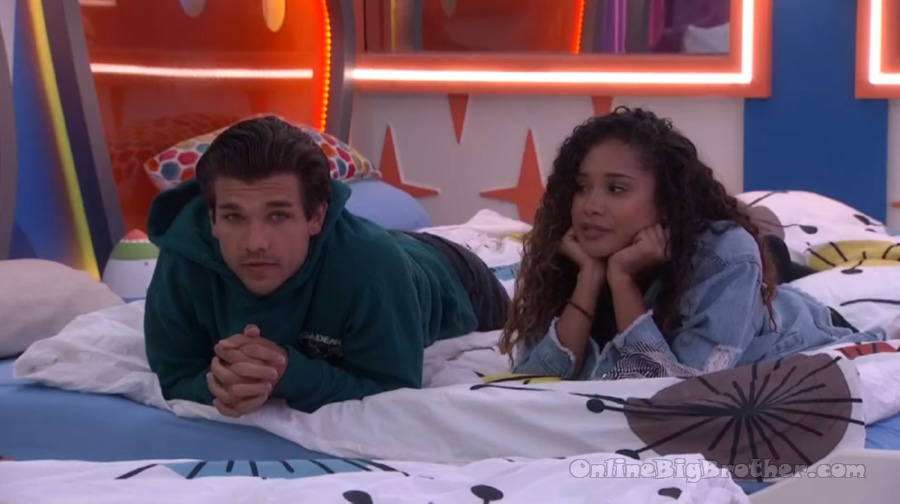 1:37 pm POOCHE and Ameerah
Ameerah – I'm going to go to bed early tonight cause I'm tired.
POOCHE – Tonight I'm going to chill. I need 7 I just need to confirm 7 which I feel good about.
Ameerah – Yeah you're good
POOCHE – I think so I just want to make sure
Ameerah – yeah
Pooche – We're good.. How do you feel about everyone in the house?
Ameerah – I feel good I haven't heard anything
POOCH – gamewise?
Ameerah – I feel comfortable
Ameerah – my favorite girls in the house are Alyssa and jasmine. I love them both equally
POOCHE – Kyle I like more hanging out around the house. Turner is more gameish.. even both I dunno. Those are my two. Then Monte/Joe both of them are friendly relationship both of them not much game.
Ameerah – I don't know what my favorite guys are.. You are all too shady
POOCHE- you think we're shady bro?
Ameerah – I ACTUALLY like you guys a lot.
POOCHE – I probably say too f***ing much to you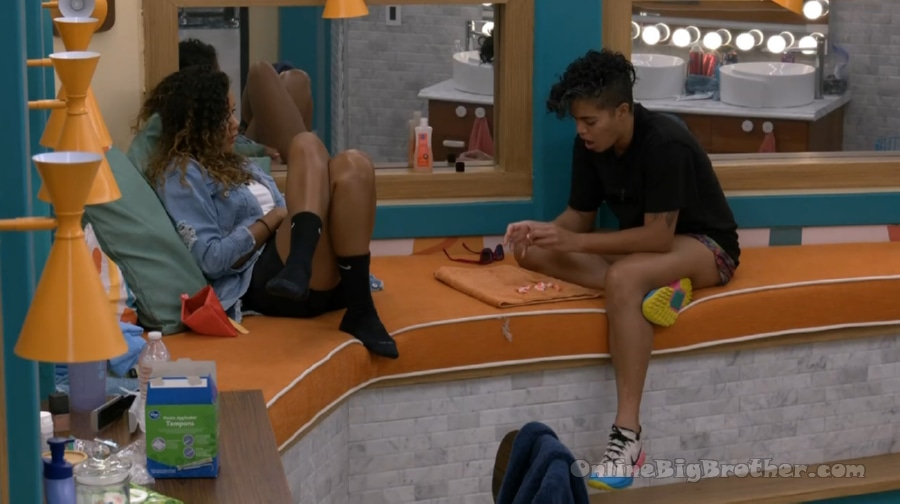 1:53 pm Nicole and Ameerah
Nicole says Taylor is moping on the couch with her homemade tomato soup.
Ameerah – she asked me if I embarrassed myself last night. I was like Damn I hate that feeling
Nicole – so do I. I told her. Listen you just have to be your best self if that means you are going to be flirting or whatever own it.
Ameerah – own it..
Ameerah – I don't know if she embarrassed herself..
Nicole – I was like you're good with me. You didn't do anything to offend me because if you did I would have told you
Ameerah – I think it's good she expossed her feelings. Now he's going to stop.
Nicole – 'she won't leave me alone' Now we know why. She just wants to make out with you.. or f*** you .. or both
Ameerah – whatever you'll give. it was surprising to me.
Nicole – it was surprising to me to. did you see my face on the bed?
Ameerah – apparently when Alyssa and Daniel were talking she pulled Alyssa aside and said back off because she likes Daniel
Nicole – get the f** out of here.
Ameerah – that is what Jasmine told me
Nicole – sick and funny and totally uncalled for. When you want the D you gotta be a B (LOL)
Ameerah – when you want the D you got to be a B
Ameerah – she should have came to him in the beginning.. it's a little late now. That might be her downfall she doesn't make move soon enough.
Ameerah – POOCH came to me again to make sure he's good..
Nicole – AWE
Ameerah – he was like I have the votes I have 7 I have you. I was 'ohh my gosh'. He told me I was his top girl. Sorry poochie I got to win this money.
Nicole mentions how the two of them can talk anywhere and nobody suspects it.
Ameerah – POOCH was like who is your top two, Alyssa and jasmin right? I was like YES
Nicole – that's funny.. they'll never know. Poor Joe he'll be heartbroken yesterday.
They suspect Joe and Monte have a final two. Nicole says Joe is the perfect final 2 for MOnte because Joe won't win the game.
Ameerah – Monte is the better player. I sometimes think I would vote for Joe so he can help his mom
Nicole – I want him to help his mom too.. god she's like
Ameerah – that story was heartbreaking
Nicole – he's such a good son
Nicole – God I would love to pay my moms medical bills..
Ameerah – the same.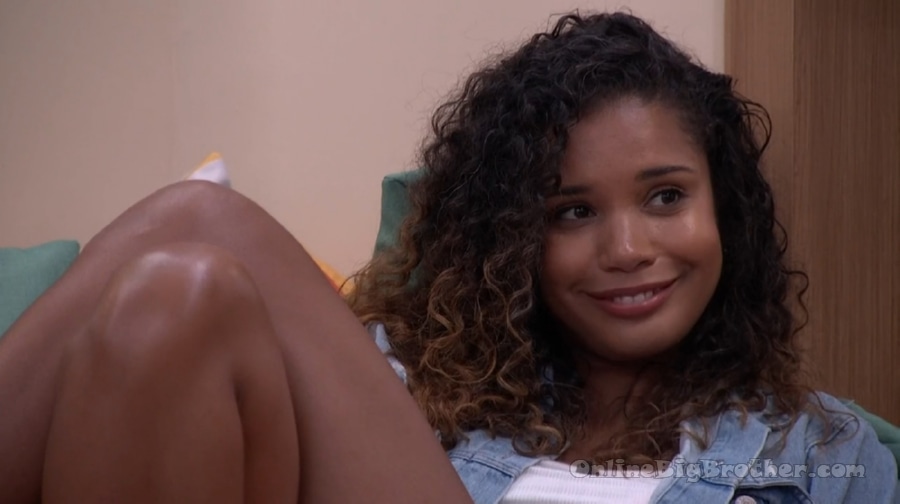 Ameerah – Poor Turner, If I win I'm putting him on the block with umm.. Either Terrance. Someone I know who't go out. Either Terrance or Whats her name?
Nicole – you don't think you're talking too loud?
Ameerah – no..
Nicole – I always feel like people can hear us
Ameerah – They're all our there talking and cooking and sizzling
Ameerah – Yeah if I win HOH I would put Turner up with either Terrance.. and I don't want Terrance out.
Nicole – Michael
Ameerah – I'm not putting Michael up he's in our six.
Nicole – he would win veto
Ameerah – I can't risk that they will vote him out over Turner
Nicole – you think they will we have the numbers to keep Michael.
Ameerah – I don't want to put Michael on the block man I don't want him coming after me at 6
Nicole – who do we put up next to him
Ameerah – o'l girl (Taylor)
Nicole – honestly it's for the best
Ameerah – for next week who would you do?
Nicole – I would definitely do Turner. I would have to put Taylor up
Ameerah – I think so she's going to kill us. She'll be like you mother f***ers
Ameerah – it has to be them for me and you if we win
They start whispering about Indy and how they have no idea what she will do now that she's trying to make an alliance with Monte and Joe.
Ameerah – she has to go before Jury
Nicole – that is the only advantage with POOCH cause he would put her up
Ameerah – yeah I know
Nicole – he would have put us up first
Ameerah – I don't think he would put me up
Ameerah – If Turner wins he could put her up otherwise she's going to f**ing jury
Nicole – I don't want her in jury
Nicole says she could never put Indy or Terrance on the block unless they were final 4.
Nicole thinks there's no way Terrance will make it that far.
Ameerah points out how Terrance was everyone's target in the beginning now everyone talks to him.
Nicole – where's jasmine's head at?
Ameerah – I don't know I haven't talked to her all day
They go over names for their 5 person alliance. (Nicole, Ameerah, Alyssa, Daniel, Jasmine)
"the great divide, the king and queens, femme fatale"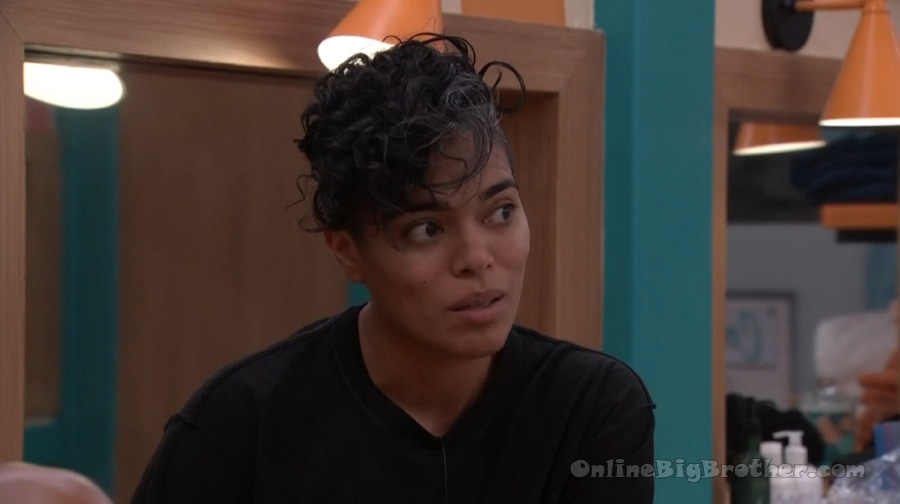 They talk about how much of a competition BEAST Michael is. They agree he could win the game just on that.
Nicole – I love seeing him win. He gets so excited
Ameerah – I feel like he's been hurt a lot. he doesn't want to open up a lot.
Ameerah talks about the week one alliance with Paloma (MAMBA), "At one Monte wanted POOCH in it at one point. we were like no that's a bad idea"
Ameerah – Then Monte was like I want Nicole.. it was his idea.
Nicole says if her Monte go head to head again like they did in the storage room the other day "it'll be WORLD WAR X"
Nicole – if he ever comes at me like that again.. OR you, OR Alyssa I'm not here for it.
Ameerah – yeah
Nicole – nobody speaks to me that way (ZOMG)
Nicole – we already told you we're in an alliance and we have each other's back.
Ameerah – we will protect him if Taylor wins.
Nicole – he made it seem like his point was more important than our point
Ameerah – he's playing for himself
Nicole – we all are
Ameerah – we win next week, Taylor and Turner take out Turner than Taylor the next week.
Nicole – It'll be Taylor or Turner but y'all can decide who to vote out
Ameerah – I'll vote Turner.
Nicole – I don't care either one. For the women though keeping Taylor another week will be beneficial.
Ameerah – I'm not gunning for her
Nicole – you want a scary b1tch like that on your side
Ameerah – she's not going after Daniel either
Nicole – I was like do not make out with do not do anything with her cause if you break your heart you are going home. I can't protect you after that
Ameerah – is he thinking about it
Nicole – NO. So then I'm like if she gets HOH next week you better sleep with her
Ameerah – he better be up in that bed Snuggling and cuddling
POOCH is talking in the kitchen
Nicole – Ohh PUDGE.. I mean Pooch..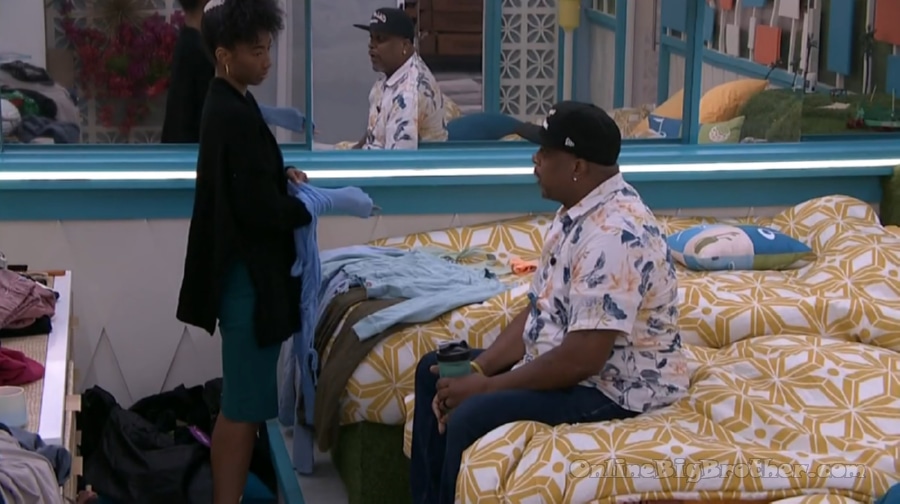 2:30 pm Terrance and Taylor
Terrance – who would your initial put up be?
Taylor – whoever votes me out the door those are the people I put up
Terrance – those are the mother f***ers that can't win the HOH
Terrance says Turner and joe will be "Out for it"
Taylor says if Monte or Joe win HOH she's going up.
Terrance – the initial put up for me personally would have to be Turner and Joe. No matter what go ahead and win the veto we don't care.. Either way it's a shot to be taken.
They laugh about the replacement nominee will be Monte.
Terrance – we would set the tone. We're about to play ..
Taylor – HAve you talked to Monte to make him feel comfortable
Terrance – oh yeah yeah. It has to be him in my opinion. He gives me no energy either way. No confirmation .
Taylor – he's the worst
Terrance – just the surface portion
Taylor – I'm sick of it. play the game. Give me something I can respect.
Terrance impersonates Monte 'I think you should be fine. Everything is okay.. '
Terrance – BRO.. you better talk to me on a people level.
Terrance leaves
Taylor – Got a target just got to stay.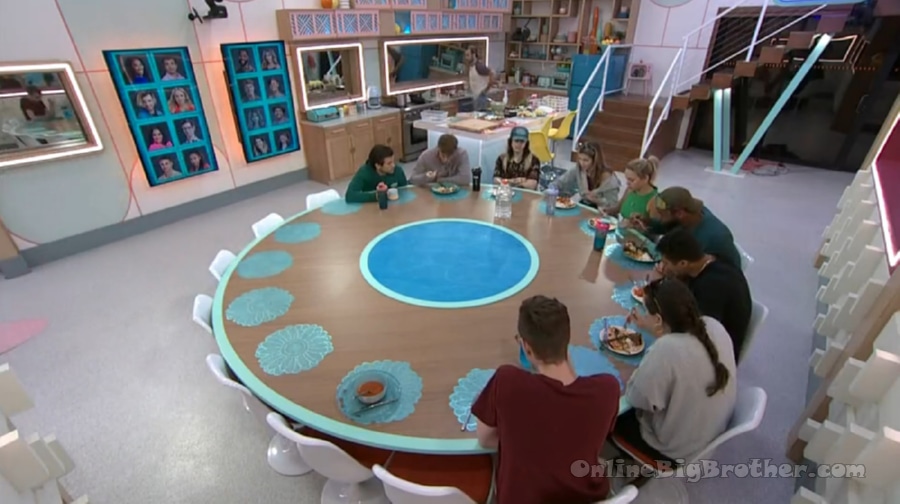 3:10 pm Mealtime