POV Holder:
Corey
POV Competition
July 16th
POV Used
YES
POV Ceremony
July 18th
HOH
Paulie
Next HOH
July 21st
Roadkill Competition Winner:
Tiffany
Original Nominations:
Tiffany, Natalie, Corey
After POV Nominations:
Tiffany, Natalie, Da'Vonne
Have Nots
James and Natalie
CBS All Access: Live feeds are only $5.99 per month – Try it FREE for 1 WEEK!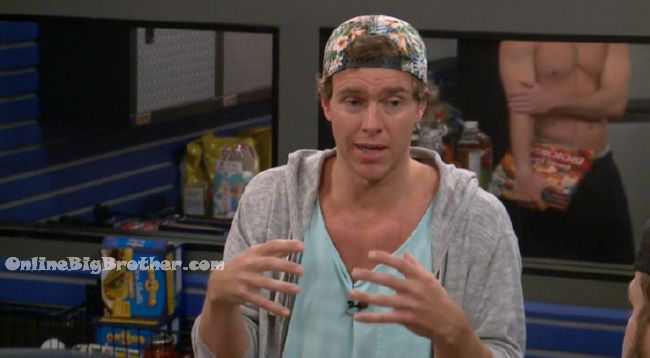 8:00pm Storage room Frank, PAulie and Corey
Frank trying to get Da'Vonne out this week..
Hammers with with all the same reasons we've heard before, Tiffany's a lone wolf, DA'Vonne can influence people, DA'Vonne is close to more girls.. Etc etc..
Frank's pushing the angle that Da'Vonne is getting hooks into the girls.
Corey – think of the 3 people Da can get her hooks into.. She can get one other and she's good
Corey – I'm game for whatever
Paulie – I don't want Tiffany lingering around
Frank – If TIffany god forbid wins next week she's going to make a small move put up Natalie, Michelle maybe Zakiyah
Paulie thinks Tiffany will make a big game move.
Frank – we can talk her into throwing it
Paulie thinks Tiffany is diabolical
Frank tells them about Tiffany's Diabolical plan to talk Nicole to hide in the chest in the safari room and get Da to admit she was going to vote Corey out
Frank – She's not diabolical .. she's goofy .. She's so f****g goofy.. She's like this big kid all the girls don't like her.. Don't talk to her..
Frank says Tiffany feels "Fuck those girls" right now and that's what Frank wants to keep going so if she wins HOH she'll not go after them.
Frank – Da will get her hook into people
Paulie says if Tiffany stays the girls might start thinking the guys have an alliance.
Frank tells them honestly the only person that will be left in the dark is Zakiyah .
Frank – JAmes is on board with getting Da out.. He wants to take the shot but make sure we have the numbers
Frank – you me Corey, Bridgette and Paul you break the tie.. Then she's not in Jury
Corey – I'm happy either or
Frank – you boys are everything long term
Corey – we get that
Paulie – we get that
Frank says Da is trying to drive a wedge between them.
Paulie says Da coming after all three of them but Tiffany is only coming after Paulie and Frank, this leaves him more exposed.
Frank warns them that DA could get her hooks into PAul
They agree Da won't put up "one of her girls" and she's not putting up James and PAul.
Frank – 2 of us 3 no the block
Paulie – With everything she pulled i'm trying to find the rational reason
Corey – She (tiff) just put me up
Frank – you know.. Da.. .
Paulie – with Tiffany I think I could have a conversation to my face then boom (turns on him)
Corey – dude Da's into acting..
Frank says da's got this matriarch figure.. She's the mom in the girl group she's the only one that can band them together.. She's the mom and nobody wants to get out the mom.. This is when we can do it when we have 2 girls on the block.
They decide to talk about it later.
8:15pm Corey and Frank kitchen
Frank – my biggest worry is jury..
Corey agrees
They mention hearing construction noises outside. Frank brings up his last season he felts that they did more construction work at night.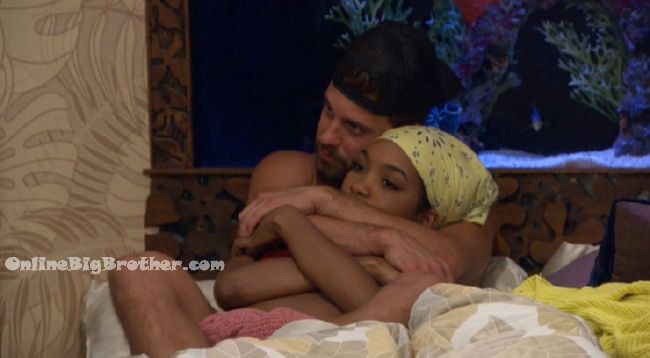 8:20pm COrey and Zakiyah HOH massage
(@ 9:04pm down in the kitchen with Frank, Zakiyah, Nicole, PAulie and Frank. Paulie goes on about how strong ZAkiyah's back is. It's so strong in fact "Rubbing her back is like rubbing a brick")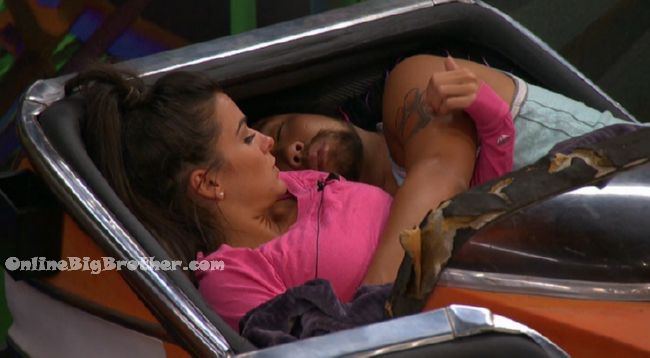 8:22pm James and Natalie
James says Da is going to try to cut people.. They're cruel.
James- eventually people are going to cut you.. Even me
Natalie – That makes me sad
Natalie says she wants to win HOH before she gets cut
James will throw it to her if it's the two of them hanging on He'll make some joke like 'Natalie I'll jump off if you don't put me on the block"
After she won he'll sneak up to the HOH and be with her.
8:32pm Living room
Tiffany is teaching Bridgette french
Corey is working out
Frank is clipping his nails
Bridgette – I'm definitely have a thing looking at people's hands and knees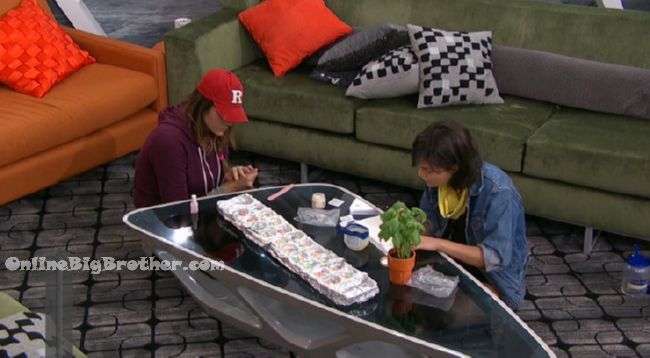 8:44pm Bridgette talking about her childhood. She went to a arts school and was into singing. When asked why she didn't pursue a signing career becuase she has such a unique voice.
Bridgette never wanted to be famous she's going to disappear after Big Brother she doesn't want to be in the spotlight.
Bridgette – it's difficult to be yourself here..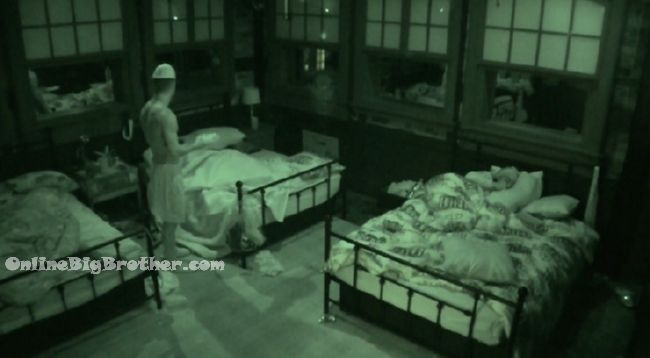 9:02pm Paulie delivers a friendship pizza to Paul.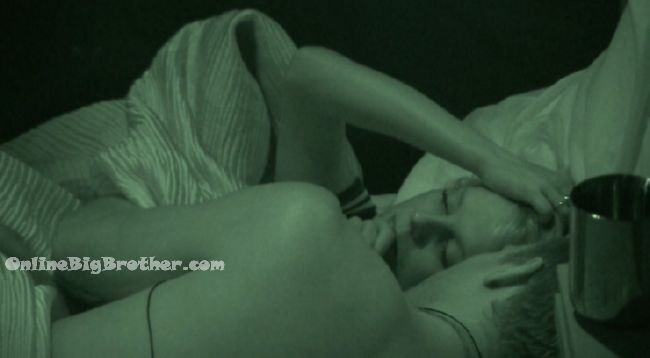 9:12pm Corey and Nicole
Corey says he totally agrees with Frank.
Nicole – we do need to get Tiffany out.. her Bridgette and Frank are a solid three automatically
Nicole doesn't think they have the numbers. Corey thinks they can get them.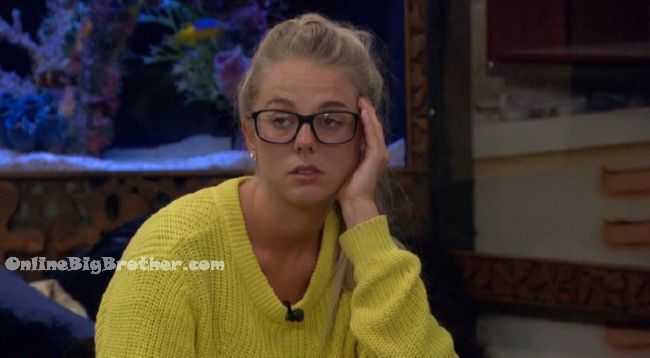 10:03pm HOH Nicole and Zakiyah
Corey must have told Nicole about a ex girlfriend that was recent.. Nicole's melting down because of it, she thinks Corey is still interested in the ex.. Sounds like this ex girldfirend is crazy and super jealous and beasts people up.
Nicole thinks this ex is "model beautiful".
Nicole feels bad because this ex probably hates her, "It'e been a year and a half and she's still acting like this (Hung up on Corey).. when would it ever stop"
Nicole – it'll never stop it's not even worth flirting with him because it can't go anywhere..
Nicole – there's no point at this point
Tiffany says if things move along with their relationship Corey will protect Nicole.
Nicole – I hope he's not trying to make her jealous..
Tiffany – I don't get that.. I guy would make someone jealous with Natalie… You know what I'm saying. (HAHAHAHAHAH.. )
Nicole – he said he doesn't like her at all or never marry her..
Nicole – Gosh.. crazy a$$ ex girlfriends..
Zakiyah – Nicole I've dealt with Baby momma's .. feeds cut
when we're back Nicole is whining away about this ex girlfriend..
(At this point I'm cheering with whoever gets the showmances out.. ugh)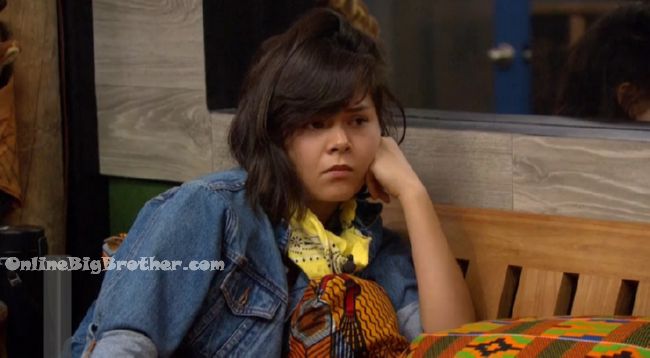 10:18pm Bridgette and Frank
Frank gives her a rundown with the conversation with PAulie and Corey. Tells her Corey is on board but Paulie is still unsure. Da talking to Natalie today made Paulie nervous but he's still worried that Tiffany will target him next week.
Bridgette doesn't see that happening she knows Tiffany is after "Those Girls" that lied to her.
Bridgette says Zakiyah doesn't even look at her. Frank and BRidgette both say they don't like Zakiyah.
Bridgette says even Natalie is moving away from her, "At this point she hangs out with those girls more than she hangs out with me"
Frank – I know.. I hope she's doing it because she's on the block.. You win HOH trust me she'll be hanging out with you the whole damn time
10:33pm Tiffany and Frank Safari room
Frank says he's making progress with Paulie and Corey "Wants to drop the hammer"
Frank – Paulie is scared you're coming after him
Tiffany – I'm not I swear..
Frank – I try and tell him she's not diabolical..
Tiffany – I'm not
Frank – PAul is 100% on board..
10:44pm OH MY GOD why are you being weird
Corey you said you're sleeping upstairs
Nicole – so I don't get beat up ..

10:49pm PAulie and Paul
Paulie wants Tiffany out and next week he wants Bridgette and Frank to be nominated.
They both call Frank a lying piece of sh1t.
Zakiyah comes up.. They have a laugh that Frank is going up next week along wit Bridgette.
Paulie – He (Frank) calls all you girls Mean Girls
Zakiyah – what is he talking about .. Bridgette talks to me every day.. I don't talk to Bridgette.. Bridgette comes in the room I walk out.
Pualie wants to trick Frank and Bridgette into thinking there's a problem between them. Just to see how fast they come to the two of them.
They all agree Frank is a funny guy.
Paul – he blew it..
Paulie – he blew it..
Zakiyah about Bridgette- that will be a celebration when she leaves.

11:28pm Frank and Bridgette.
Bridgetet getting after Frank for flinging boogers at her. Frank says boogers are fine they're clean. Bridgette says they are not. She informs him that he has a long nose hair.. Frank starts pulling them. BRidgette helps. Pulls too many Frank screams, "my nose is bleeding"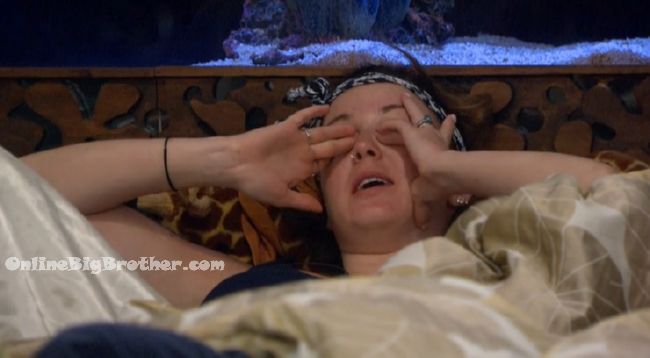 11:40pm – 11:50 Zakiyah and Michelle
Zakiyah complaining about Da'Vonne's lies.
Michelle saying they can still trust Da'Vonne, "Why did she tell Tiffany all this crap and not us.. I'm in the same room as her"
ZAkiyah – It hurts my feelings..
Zakiyah says Da and Natalie were talking for a long time
Michelle – really Natalie…
Zakiyah says Da'Vonne has been acting weird today
Zakiyah – She's no on my radar.. I don't want her to pull a frank
Michelle- Or Tiffany… what if Da move over and joins Frank.. I think tings will be normal once Tiffany leaves.. Definitely when Frank leaves..
They start in on Tiffany calling her "So creepy… so so Creepy.. weird.. awkward.. "
Zakiyah talk about her, Nicole, Paulie and Corey sharing the bed..
Da'Vonnne comes up points out the entire house is in the kitchen eating pizza. Da'Vonne points out how cheerful everyone is together, "When you are on the block that's the last thing you want to see"
Michelle – you're 100% she's going home..

[polldaddy poll=9473607]
[polldaddy poll=9471428]