Quick Big Brother Spoilers
Head of Household: Turner
Nominees: Brittany and Michael
POV Players:
POV Winner:
Veto Ceremony:
Havenots: Alyssa & Indy
Lock your ranks in before midnight
Festie Besties:
Turner & Jasmine (She's also safe)
Joe & Monte
Daniel & Kyle
Brittany & Michael
Alyssa & Indy
Ameerah & Terrance
Nicole & Taylor
How Nominations will work: One pair will be nominated
How the Veto Player Pick will work: Turner/Jasmine, nominated pair, and drawn pair
– If one of the pair wins the veto, the other is also safe.
– If the nominated pair comes off the block, Turner would nominate another pair.
– Eviction: One of the pair on the block will be evicted
– Last pair standing gets a power.
5pm Bedroom – Nicole and Joe.
Nicole – … that if I didn't choose her as my partner that whatever reward or advantage or whatever comes next week, I would rather have it than her. Joe – which is absolutely true. Nicole – that was my fear that she was teamed up with someone else that wasn't aligned or having friends with the right people in the house and they would go home and she would stay and she would have the power. Joe – I see how you're playing .. she booted Pooch because Pooch got frantic and he had to lose it. I feel so bad because he was a havenot and tried to do a favour for the house I guess… but he drowned his own boat by playing it wrong. I just want you to know that god for bid .. Indy comes into look for Nicole and then leaves. Joe – same thing everyone loves you and I have no indication that anyone would try.. Nicole – I have no reason for anyone not to trust me. I have never talked sh*t about anybody. Everybody that you and I are close with.. we're close with the same people. Joe – yeah, fortunately you and I didn't gun for anyone or attack anyone.. so like we have no enemies. Nicole – its like I'm the older version of you and you're the younger version of me. Joe – literally and its because we came form the same exact background which is why I look up to you. Joe – you're the first person that shared that with me in the bathroom. That hit me so hard. At that moment in terms of game I was like that is definitely someone I want to trust. Nicole – dude my heart broke for you in terms of the whole Pooch thing. Joe – its sad because I didn't want people to think that from a game stand point that was where I was losing it. What made me so upset was like if you walked out this door .. like Joseph f**Ked me over ..that is going to. Nicole – that is what is different with me. I know that this is just a game and I don't take things personal. Especially when someone lies to me. When someone lies to me they're trying to protect themselves. We're in this for ourselves. I am not in an alliance with people, I just have trust with people. I am not in an alliance with Turner. We just have trust with each other. I just want you to know that I have your back. Joe – same. I just want you to know that I always have your back. Nicole – same.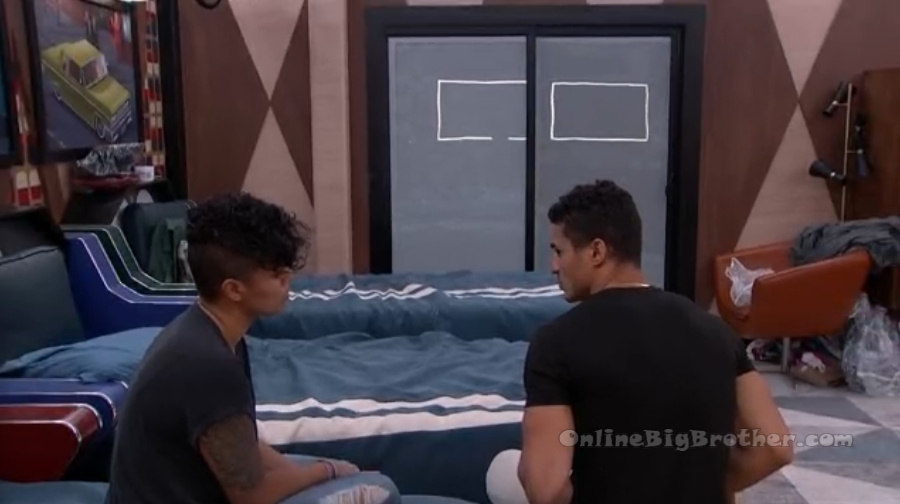 5:30pm – 6pm Storage room – Kyle and Ameerah.
Kyle – what should we do about Joseph because he was all about the boys thing and he had no idea about it until the last minute (Pooch going home).. so I am wondering if he is like freaking out or where he feels he stands in the house. Ameerah – I don't know because I haven't really talked to him in the last day. But in my opinion, I like Joseph. I would like him to stay as long as possible. Kyle – for sure. He is trustworthy. He has proved he's loyal. We could build something with him. Ameerah – We need him to hold it together emotionally. And he hangs out with Indy a lot. Indy is going to be going home soon. Kyle – do you think he would be okay with that? Ameerah – I don't know. Kyle – I think he would be fine with in. Kyle – so Indy, Brittany, Taylor (being evicted before jury). Send my a$$ home but get me to jury! Ameerah – I know that's what I feel like too… I mean I want to go really far but I just want to get to jury. Has Alyssa talked to you at all? I am just stressed that like I think she is in a great position in the game .. She is tight with the girls. She is tight with Terrance and you know Daniel and them.. and us. I think she could go far in the game and I don't want to be the reason why someone says okay that's an easy target .. like her and Kyle are kind of pairing off. Ameerah – I mean I feel like you and her are laying pretty low now. It seems pretty chill. Kyle – yeah we barely talk but when we do.. Ameerah – its very joyful. Kyle – and you can tell its annoying other people. Ameerah – I haven't heard anyone talking or complaining or anything like that. Kyle – has she voiced any concerns? Ameerah – no. Kyle – I think we are on the same terms of like we're not going to do anything. Ameerah – exactly .. I think you should just keep it the way you are. Kyle – I feel good about Daniel. Ameerah – I do too. I was going to choose him. Kyle – as soon as I sat down I was thinking I should have picked Jasmine just so its not guy/guy. Ameerah – its fine.
6:14pm HOH room – Turner and Daniel.
Turner – funny enough I came up here because Brittany said "Hi, I think we should have some one on one face time maybe?" And I was like okay, cool! I am just going to put my hat on upstairs.. meet me in five! And that was like 40 minutes ago. Daniel – and she didn't come up? Tuner – no, and Michael was in the same room… I am like what is happening in their heads?! I was like I don't mind being up here so I was like if they don't come up, I don't even mind. Its better for me if they don't because I don't feel like dealing with that right now. Daniel – well now its not even your problem. Like its up to them if they want to talk. Like you did your job for now. Turner – exactly. And I think everything went as smooth as possible unless you've heard anything. Daniel – no. I don't hear sh*t. Brittany was kind of red eyed, teared up and I was just like don't let it get to you. I think you're safe. I told her the truth, you're with the veto king. You're fine! Turner – yeah dead a$$! Daniel – and I was like just stay your positive self. Like who am I a guru? You haven't been positive, you've been moping around the house. Turner – dude I know! Daniel – I hate the feeling that I have to appease her. The girls keep saying she is an actress.. if she is acting she f**king sucks! Turner – yeah I think its just because she said that she is an extra which anyone can get. Daniel – I'm like dude that is whack! Big Brother switches the feeds.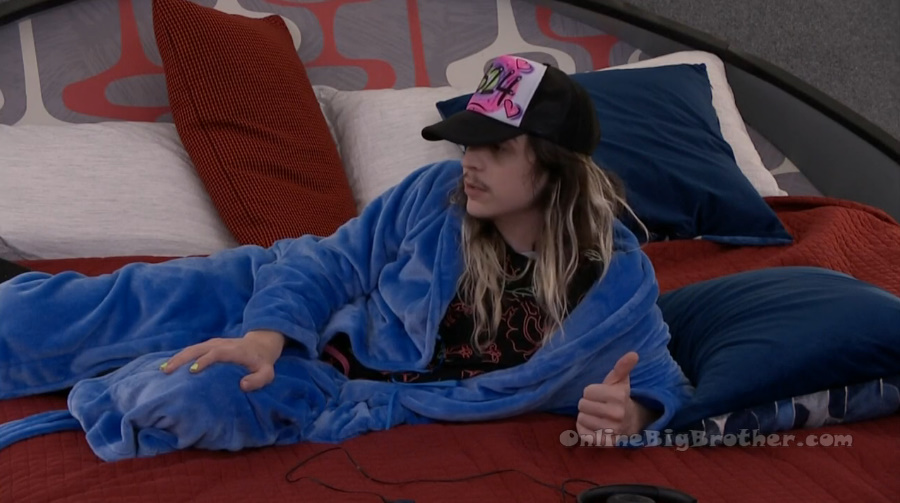 6:35pm Bedroom – Alyssa, Jasmine and Ameerah.
Alyssa – I had a bowl of soup and Kyle was like let me try it. And I was like try it, taste it. And then she was like no Kyle bring it over here to me, I want to try it. She took like 5 bites of the soup. Ate the whole thing of soup and then was like anyone else want to try it. I was like I guess its communal. Jasmine – what is her problem!? Kyle came up to me and he was like I am just so tired of her. He was like she only does that sh*t when Alyssa is around. Kyle was like I'm sorry. And I was like its okay. Then Kyle got pissed and was like I'm going to pour the whole soup on her head. Jasmine laughs.
6:45pm – 6:55pm HOH room. Michael, Brittany and Turner.
Brittany tells Turner about how Taylor bumped into Jasmine's foot before the nomination ceremony and knocked it the other way. She says Big Brother came over the speaker and asked if they were okay. Big Brother then blocks the feeds.
Brittany – everyone is just ready (for Taylor to go home). Turner – oh for sure she is just digging her own grave at this point. Brittany – who do you want if there is someone house guest choice? Turner – I would probably pick because I am tight with Monte and Joseph and I think they're good competitors and big f**king dudes. So I would pick them. Brittany – I think we were thinking a similar option. I know that Taylor has been throwing around Monte's name so I am sure he would love to play a part. Turner – At the end of the day I want everyone to go for it equally. And I will be extra happy if I win it so that I can show you guys and take you off. Brittany – I would appreciate that. Turner – I don't know if its your intention to win another one? Michael – I wouldn't like that attention. Brittany – we just appreciate you being so up front with us. This will just be great to get her (Taylor) out this week and going forward you have us as numbers for the weeks ahead.
7:15pm Bathroom – Taylor and Turner.
Turner – how are you feeling about that whole thing? Taylor – .. its not me. Turner – yeah, that's what I was hoping. I was like I hope Taylor is excited about this. (Not being nominated) Not seeing your face up. Taylor – yeah, I could have done a back flip. Turner – ok, good! I'm glad because you're very good at keeping composed. So I was like I don't know how to read that but that is a good thing to not react. SO I was like I hope we build trust with that. Taylor – we did and I hope that ultimately the plan is not to put me up on the backend. Turner – no it is not that calculated. I was like I definitely do not want to put Taylor up again for a 3rd week in a row. It would seem like bullying at that point. Taylor – yeah. Turner – and I don't know if you're a target for other people but with the speeches …but there is obviously someone else. Like why would I keep pounding Taylor down?! I am like dude, it is just unnecessary. So I was going after that (Brittany) and we don't talk game .. and I didn't want to be rude like you (Brittany) make people uncomfortable so stuff like that.. like just keeping it basic.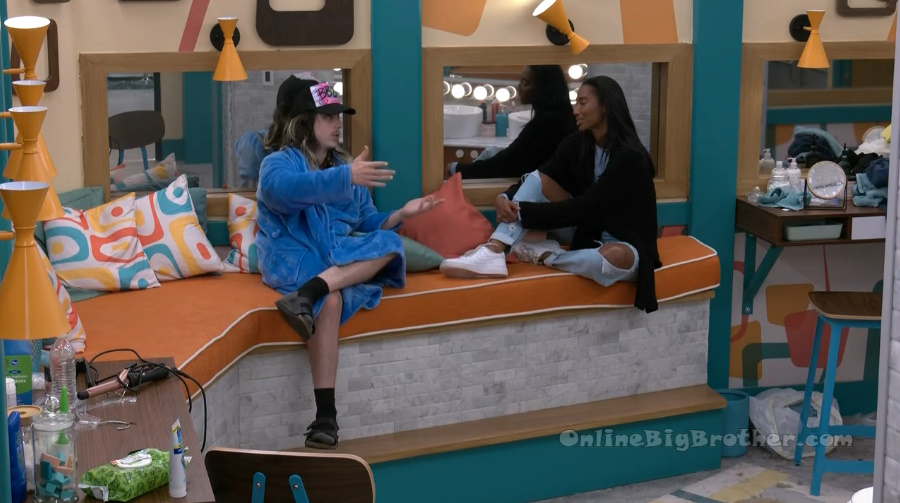 8:08pm The house guests are chatting and hanging out.